This page hardly describes a walk - it was just a wander from a car park up to Haytor and back, accompanying someone less able. It is a typical tourist jaunt. Of course, I had to go back up the hill again with my compass just to take some bearings to identify some far distant tors etc.
Walk details below - Information about the route etc.
This walk: 2007-5-2 - Haytor and nearby Saddle Tor (from another car park).
The view almost from the car park - there are well-worn tracks to the top
A zoomed view, on a day with a clear blue sky
Closer view of Haytor, at SX 75893 77061
Still closer view on approach from the south
End view
View from behind, where climbers were later practising
The second formation a little to the south-west, slightly higher with a spot height of 457 meters (1,500 feet) at SX 75740 77008
The second formation a little to the south-west
View towards the south-west from the second feature showing Rippon Tor at SX 74653 75568 on the skyline and Saddle Tor (SX 75083 75390) to the lower right
<![if !vml]>
<![endif]><![if !vml]>
<![endif]>View almost westwards (but a little south of west) towards the TV mast (left arrow) on North Hessary Tor. This is shown in more detail on the stereo version of this page, where the tors northwards to Great Mist Tor are identified - following last week's excellent map and compass course at Compassworks!
Looking back at the higher Haytor formation from along the road at the Saddle Tor car park (SX 75360 76315)
Zoomed view of the previous photo
Boundary stone, presumably B = "Buckland in the Moor CP" as marked on the map (CP = Civil Parish). On the other side of the stone there was an "I" (= Ilsington Parish).
Saddle Tor (SX 75110 76378)
The roads via Ashburton, following signs to Haytor, were easily driven. The car park at SX 76528 77136 is complete with an information kiosk and toilets.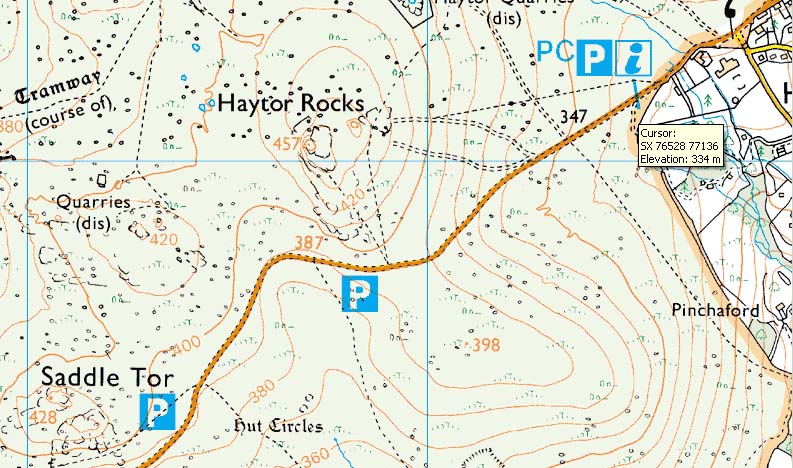 Reproduced from Dartmoor OS Explorer map 1:25 000 scale by permission of Ordnance Survey
on behalf of The Controller of Her Majesty's Stationery Office.
© Crown copyright. All rights reserved. Licence number WL 10021.
Also, Copyright © 2005, Memory-Map Europe, with permission
The route from the toilets car park is 625 meters / 680 yards and climbs 280 feet. The path from the car park immediately south of Haytor is 318 meters / 347 yards and climbs 101 feet - much easier for those who are not so fit.