This walk: 2008-4-10 - Haytor Down, (extending the walks 6 March 2008 & 18 February 2008 on a misty day) along the boundary stones in weather that turned wet. The stones continued as Duke of Somerset stones for a while, being Old Jack and Victoria. Then followed a triangular stone engraved B, M and I on the three faces in turn (marking the junction between Bovey Tracey, Manaton and Ilsington Civil Parishes. The next stone was a nicely shaped Duke of Somerset stone Prince of Wales. The last stone (#6) was a simple upright four-faced stone engraved with what appeared to be M (Manaton) on one face and T on the reverse face but this is probably an "I" for Ilsington(?).
The final stone on the walk (at SX 75245 78866) was abandoned because the weather had turned wet and it was another 150 meters further into very rocky, moss-covered, wet ground in a charmingly dense wood! Maybe one day we will visit this stone along the bridle path from the car park (at SX 74000 79300'ish), on the far side of Hound Tor.
Walk details below - Information about the route etc.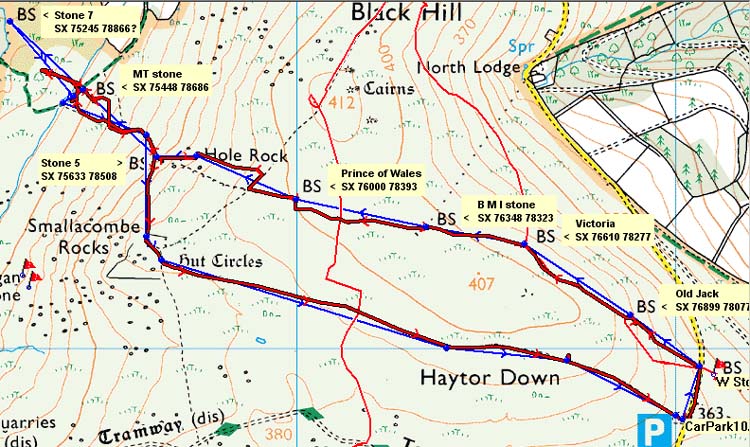 Reproduced from Dartmoor OS Explorer map 1:25 000 scale by permission of Ordnance Survey
on behalf of The Controller of Her Majesty's Stationery Office.
© Crown copyright. All rights reserved. Licence number 100047373.
Also, Copyright © 2005, Memory-Map Europe, with permission
MAP: Blue = planned route, Red = GPS track of the actual walk
The blue lines are the compass or GPS bearings. The red line is the route actually walked: it deviates from the blue lines sometimes to avoid obstacles such as thick bracken, gorse, bogs or clitter, and often to use paths or animal tracks that are not on the map.
DS (Duke of Somerset) AD 1853 at SX 76899 78077 ± 4 meters, with Old Jack engraved on the reverse (see next photo).
As previous.
Another Duke of Somerset boundary stone at SX 76610 78277 ± 5 meters, with Victoria engraved on the reverse side (see next photo). This stone was seen on a previous walk.
As previous photo.
Triangular stone with three faces at SX 76348 78323 ± 5 meters, with B, M and I engraved on the three faces in turn. This is the junction between the Bovey Tracey, Manaton and Ilsington civil parishes (see next two photos). This photo shows I, indicating Ilsington parish.
As above: B indicates Bovey Tracey parish
As above: M indicates Manaton parish
Another Duke of Somerset stone at SX 76000 78393 (from the map, I forgot to take a GPS 'fix' in the rain), engraved Prince of Wales. See next photo for the reverse .....
As previous photo, reverse side with Haytor Rocks (at SX 75770 77050) in the background.
"Stone 5" at SX 75633 78508 (from map) with seemingly nothing engraved on it. "Hole Rock" is marked on the map but we found no stone in that area with a hole through it but pretended that the stone in the background here with a circle engraved on it might be that stone? See next two photos ..... however ...... later examination of a photo shows it may have an "I" for Ilsington on one face. The rain was heavy at this time and, in error, a stereo pair was not taken.
See caption above photo.
As described in previous photo, and again .....
As described above.
MT stone at SX 75448 78686 ± 4 meters, engraved M (Manaton) and T (presumably I for ilsington?). The cross piece of the T can be seen inthe photo, see next photo for the M .....
Same stone as in previous photo, showing "M" for Manaton civil parish.
The woods en route to Stone 7 at approx SX 75245 78686
Access was via the Drum Bridge exit off the A38 (near Trago Mills), along the A382 past Bovey Tracey, taking the left turn off the second roundabout to Haytor/Haytor Vale. Just before the Dartmoor National Park Information Centre/toilets car park at Haytor, turn right on a small road and park at the P symbol on the map, at bottom right corner. Nice easy roads!
Statistics
Distance - 6.03 km / 3.75 miles
Start 2.00pm, Finish 4.08 pm, Duration 2 hr 8 min
Moving average 3.5 kph / 2.2 mph; Overall average 1.9 kph / 1.2 mph
All photographs on this web site are copyright ©2007-2016 Keith Ryan.
All rights reserved - please email for permissions
Sister web sites
Dartmoor Tick Watch
The Cornish Pasty - The Compleat Pastypaedia