This walk: 2009-1-7. Middleworth Farm, Deancombe Farm, granite mushrooms, "Eeyore's House", hut circle, frozen Burrator Reservoir, Down Tor, Snapper's Tor, Norsworthy car park tin mine features.
Walk details below - Information about the route etc.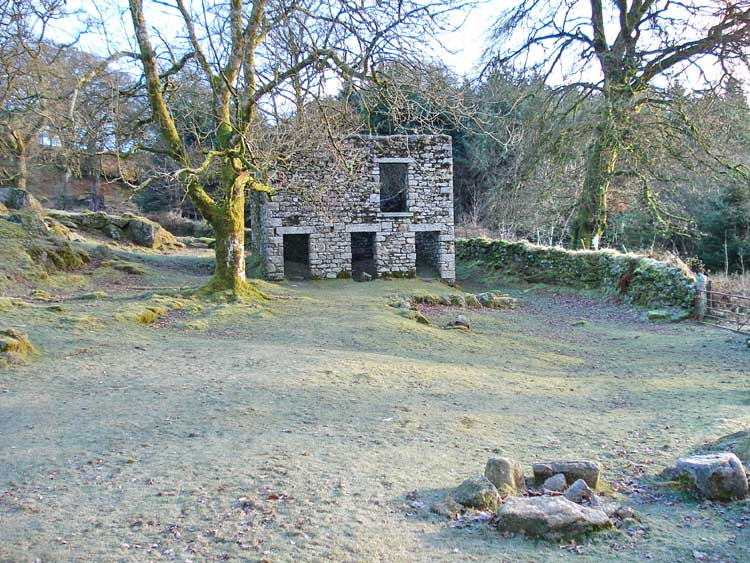 The ruins of Middleworth Farm, at SX 57210 69183, on a freezing morning, about -2°C according to the car outside temperature gauge.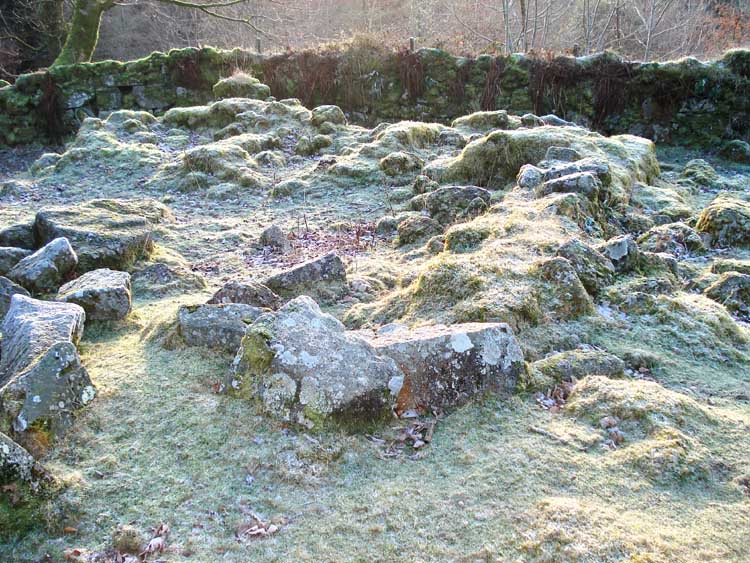 A structure at Middleworth Farm.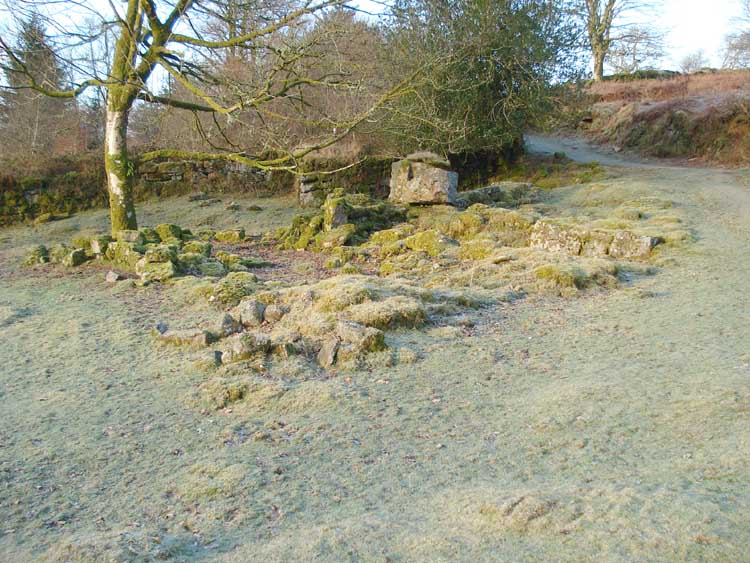 Another structure at Middleworth Farm, where the original longhouse is thought to have been.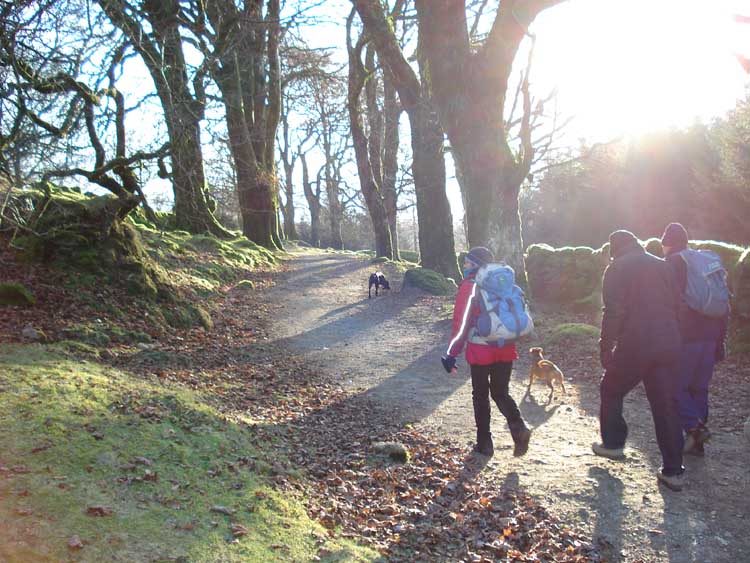 Walkers heading up the track towards Deancombe Farm.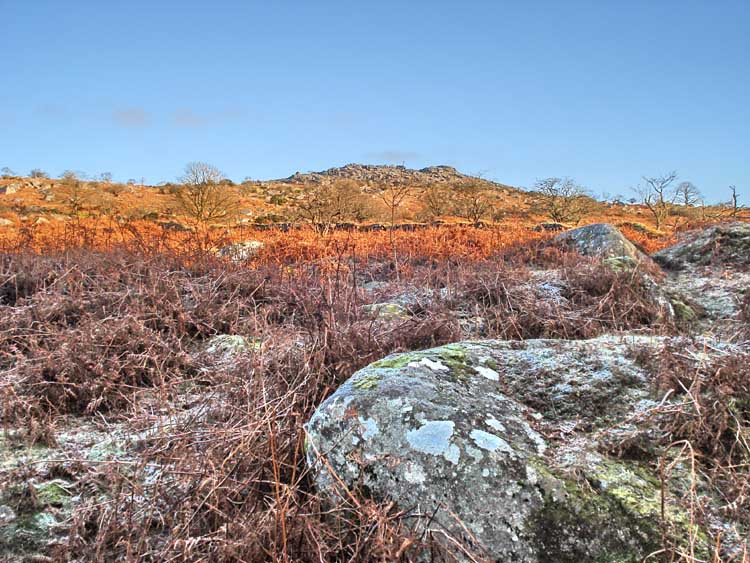 Down Tor (SX 580 694) in sunshine.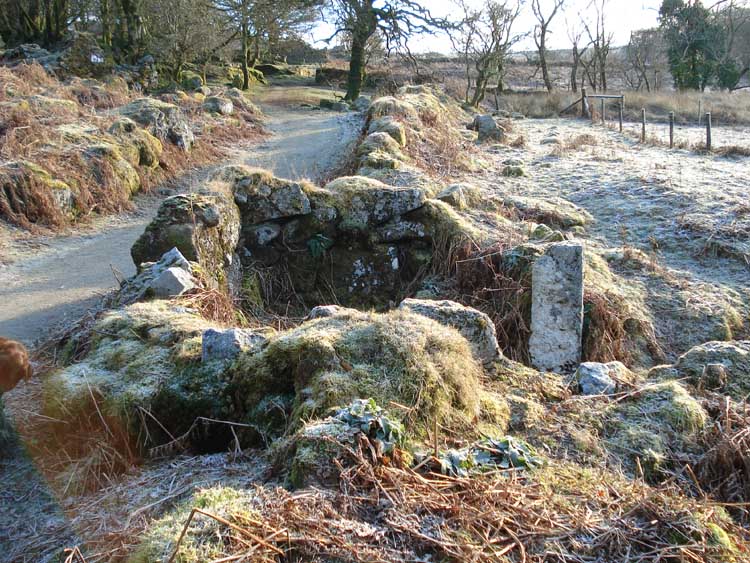 An old ruin along the way.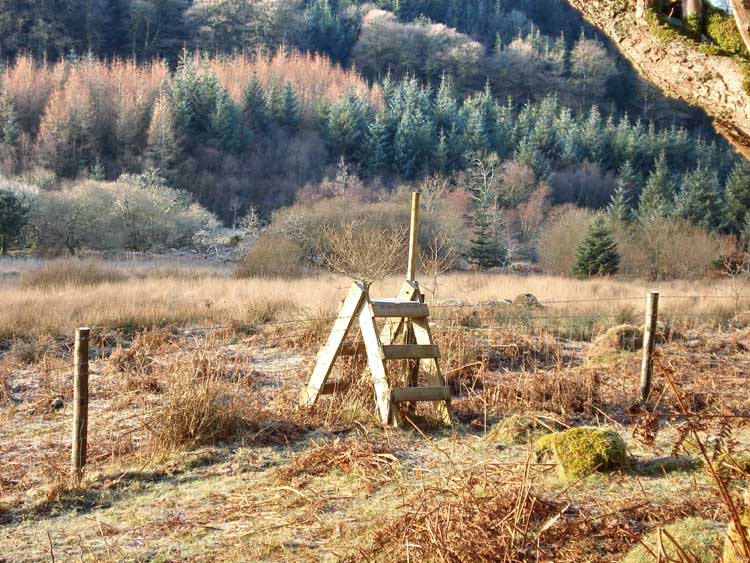 A stile that caught my eye in the cold sunlight .....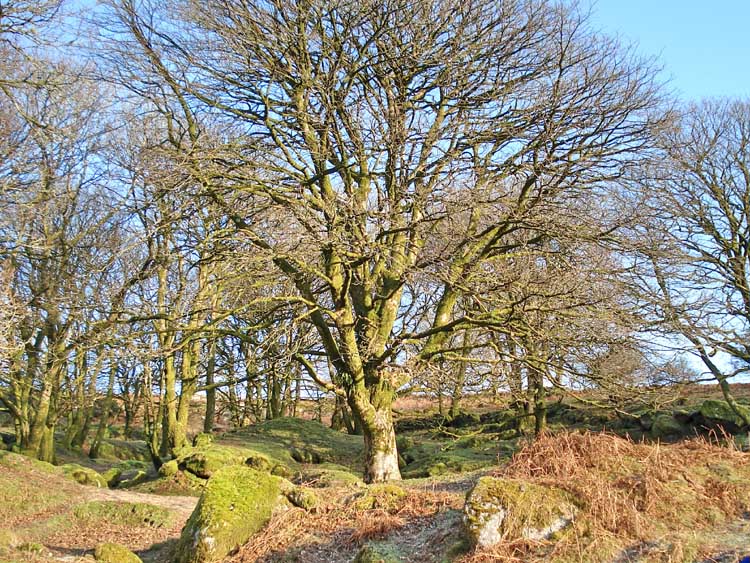 A tree .....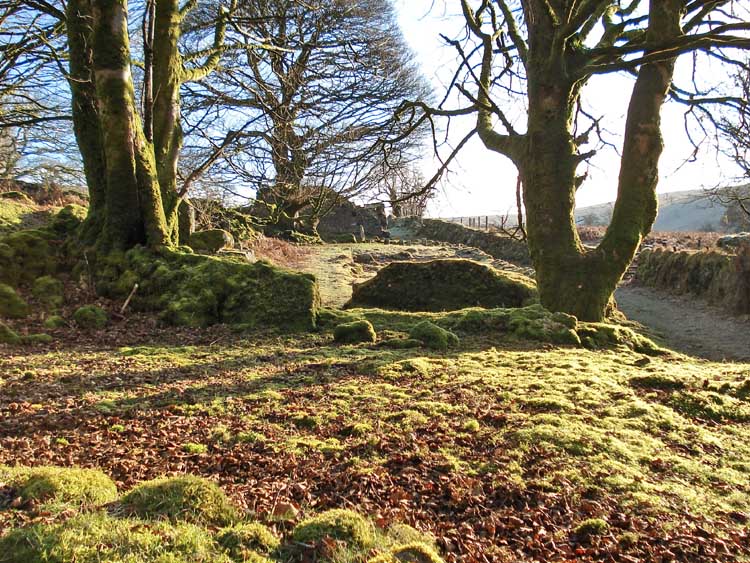 Part of Deancombe farm (SX 57995 68773).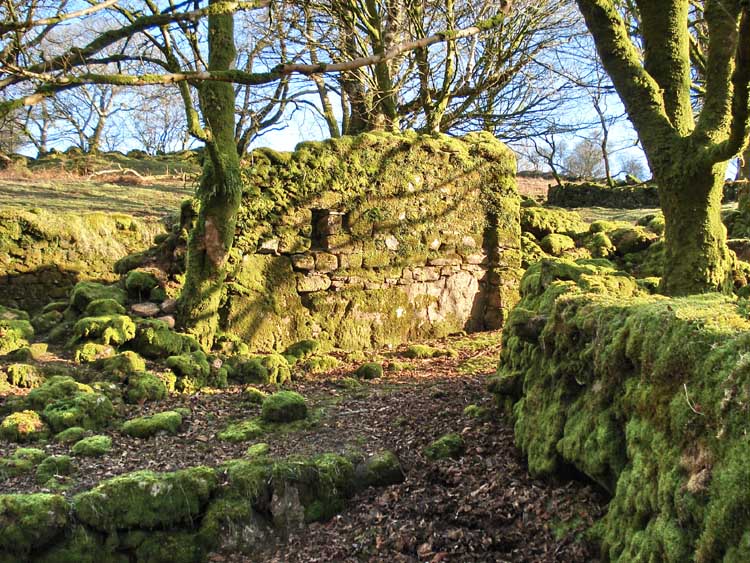 A tree among the ruins .....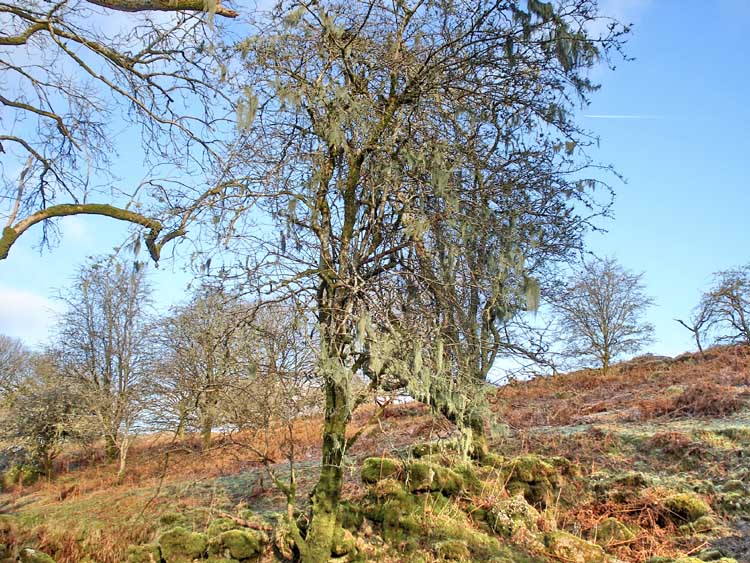 A seemingly 'bearded' tree, with festoons of lichen.
Close-up of lichen.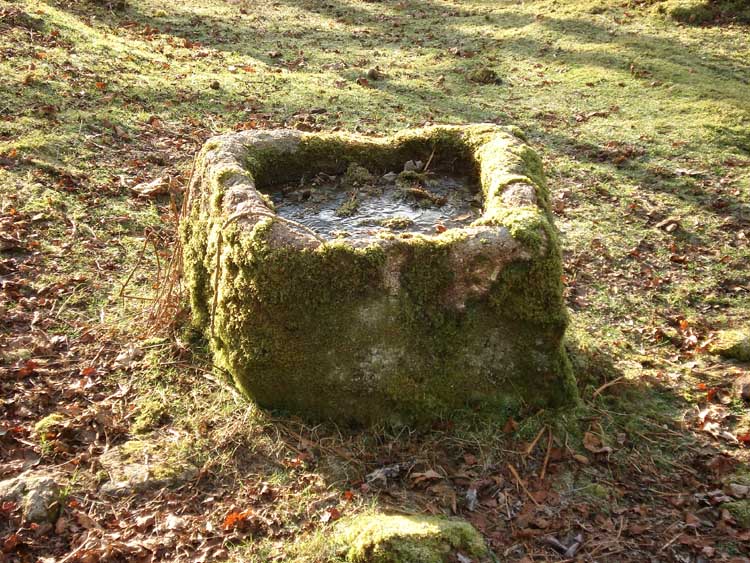 An ancient water trough at the farm.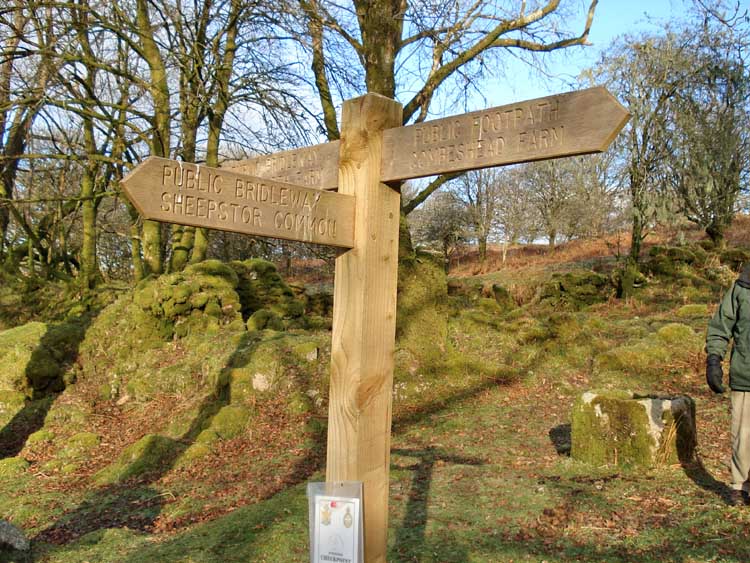 Deancombe farm lays between Middleworth and Combeshead farms, at a junction in the track to Sheepstor Common.
| | |
| --- | --- |
| "... the granite mushrooms came up to here ..." | "... and you needed a very big frying pan ..." |
Explanation - the floors in farm buildings where food was stored were raised on pillars with 'mushroom head' tops that had flat under-surfaces so that rats could not reach stored grain or other food.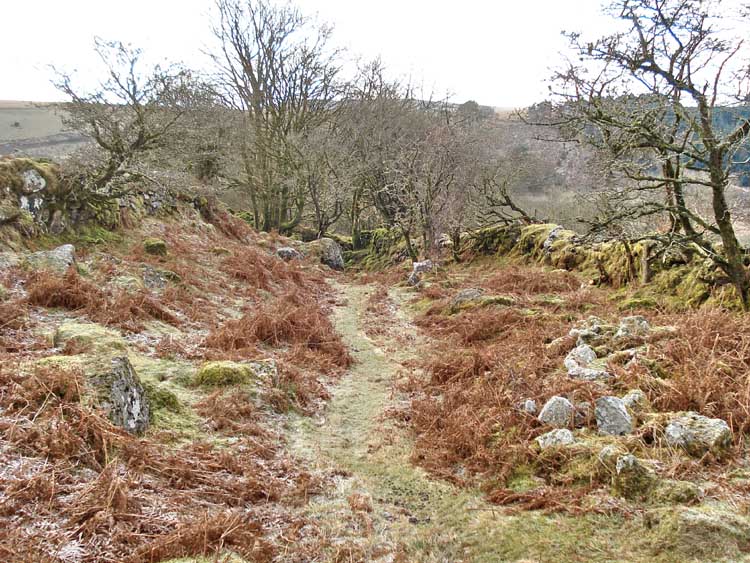 Looking down the track towards Deancombe farm.
Eeyore's house (see Winnie-the-Pooh) .....
Entrance to Eeyore's house.
A structure that is believed to be an old sheep dip ..... with Down Tor behind.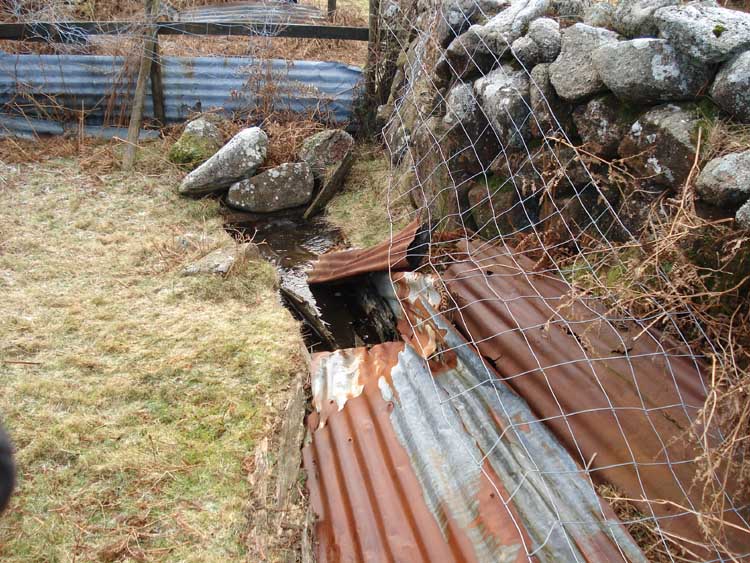 A closer view of the sheep dip.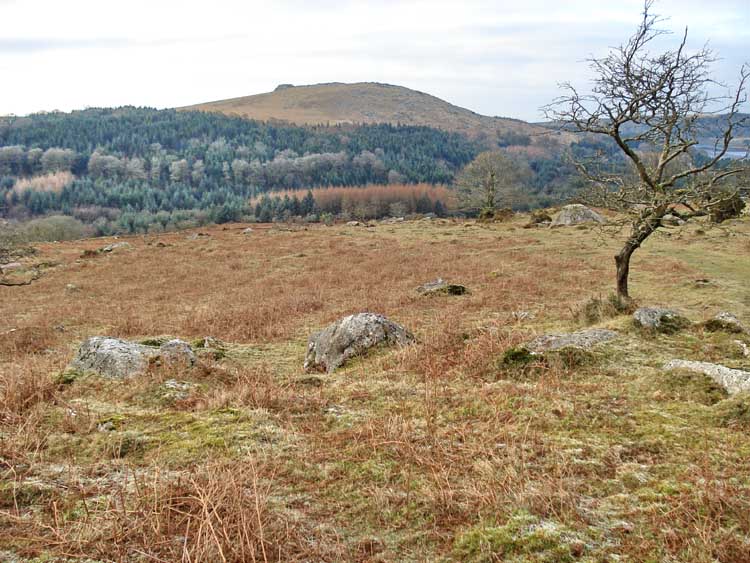 Unusual view of Sheepstor.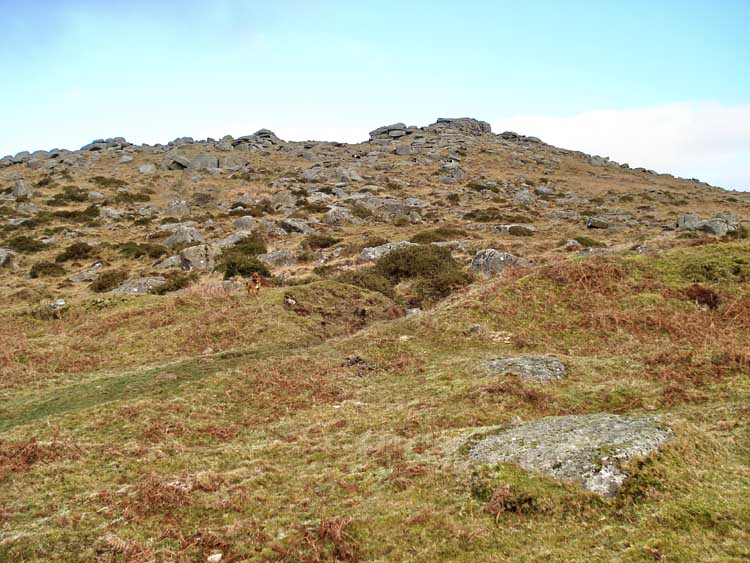 Down Tor, from the south.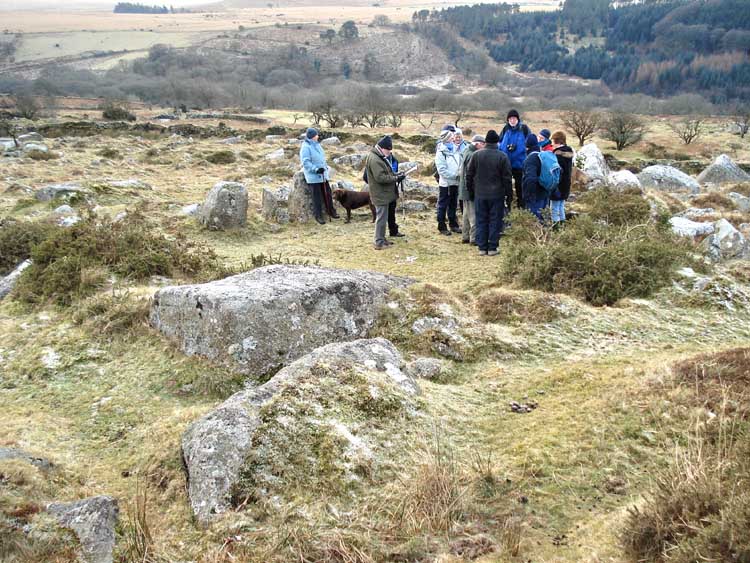 Moor strollers in a Bronze Age round house / hut circle.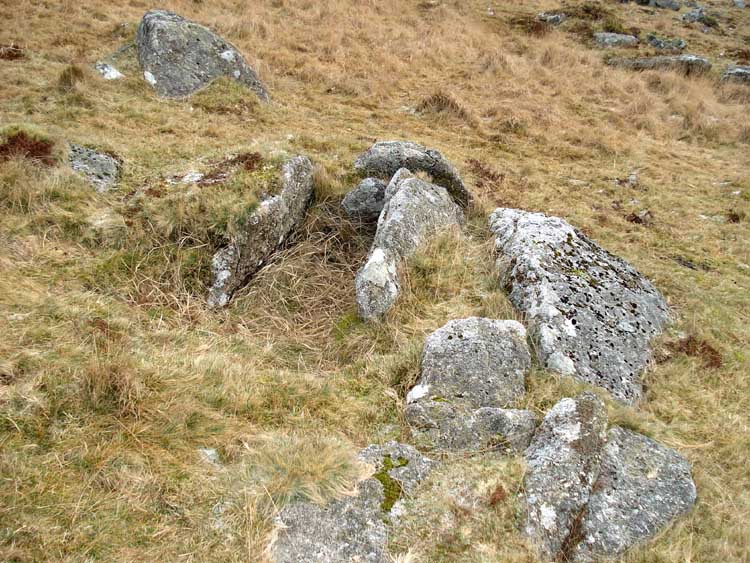 Cist below Down Tor (SX 58035 69293), marked on the OS map as "Cairn".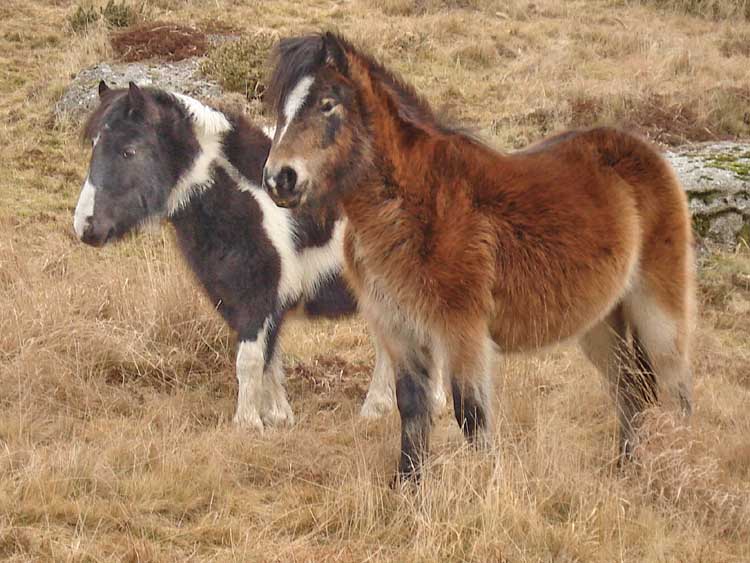 Two friends .....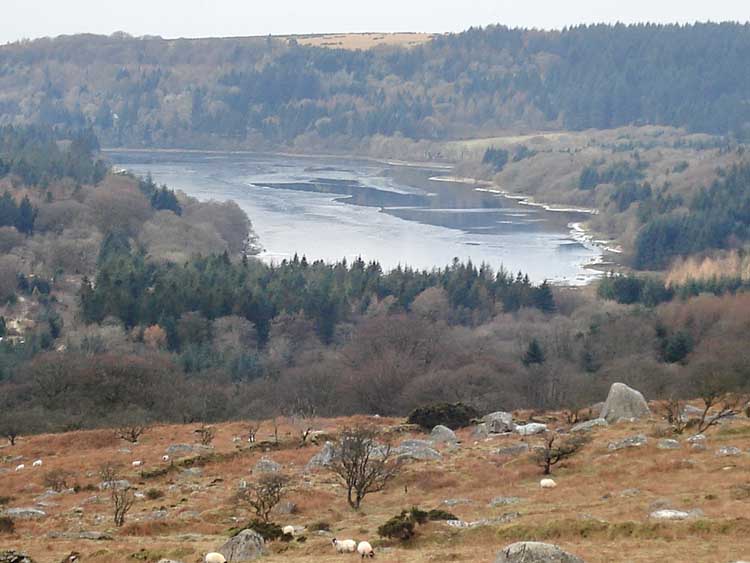 Zoomed view of a frozen Burrator Reservoir, with some free water to the right side.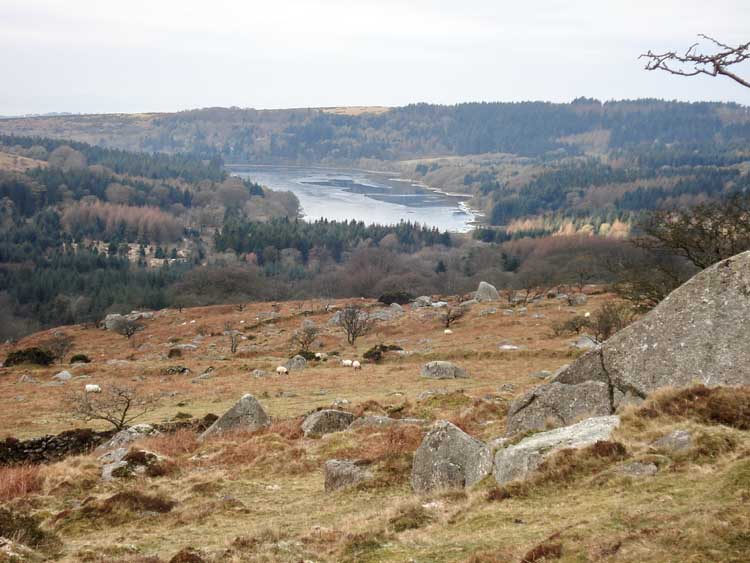 Longer view of the reservoir.
Burrator Reservoir behind Snapper's Tor (SX 57335 69308).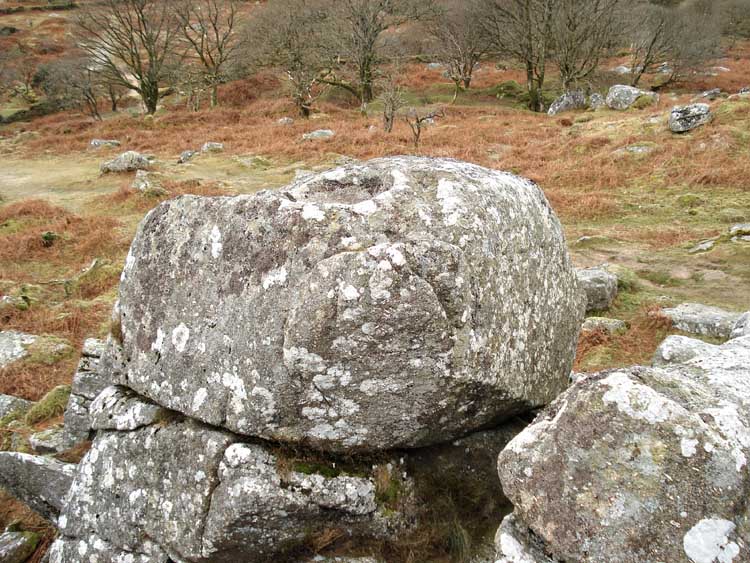 Rock basin on top of Snapper's Tor .....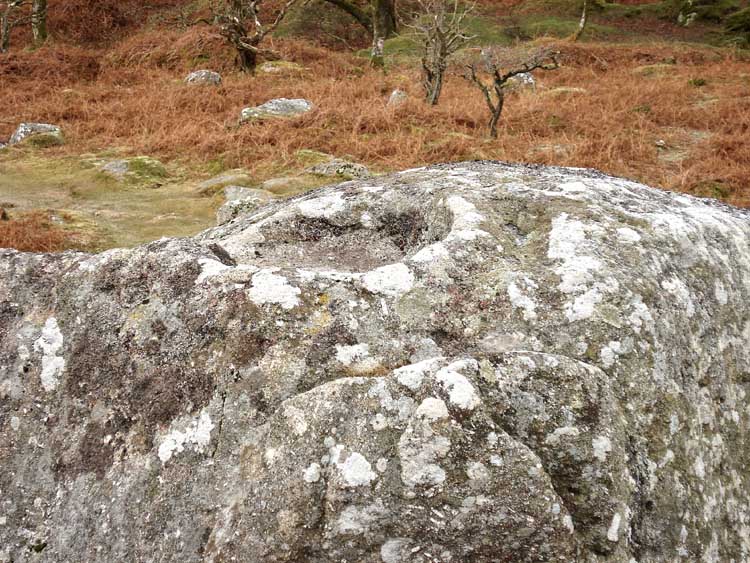 ..... in closer view.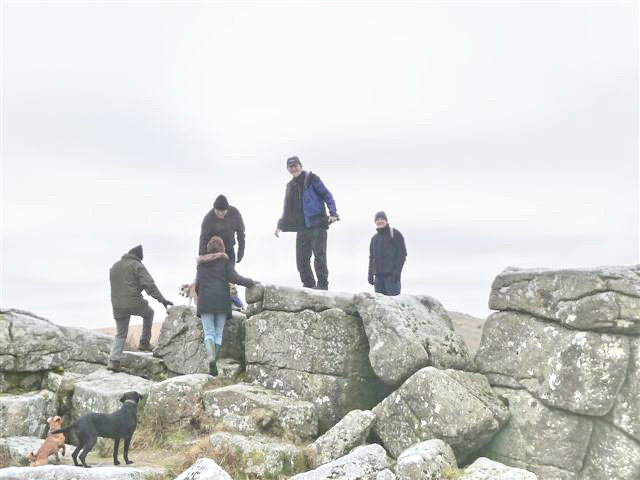 Intrepid explorers, climbing the frozen tor.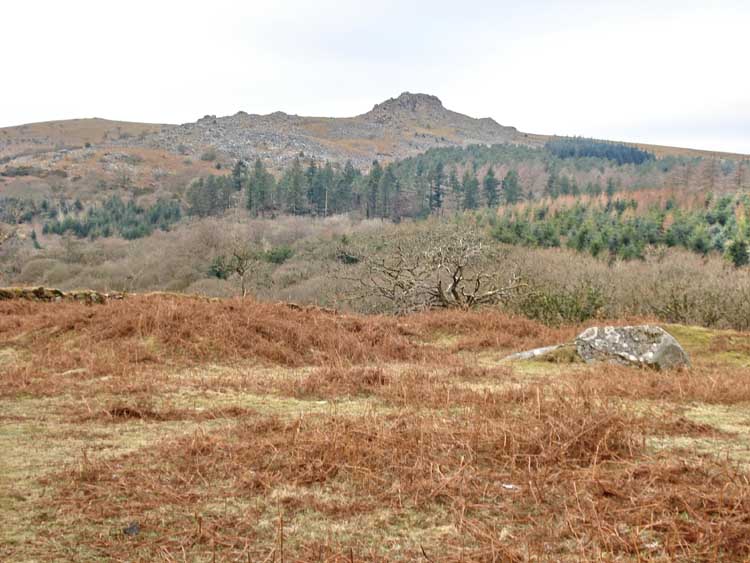 Another view of Sheeps Tor.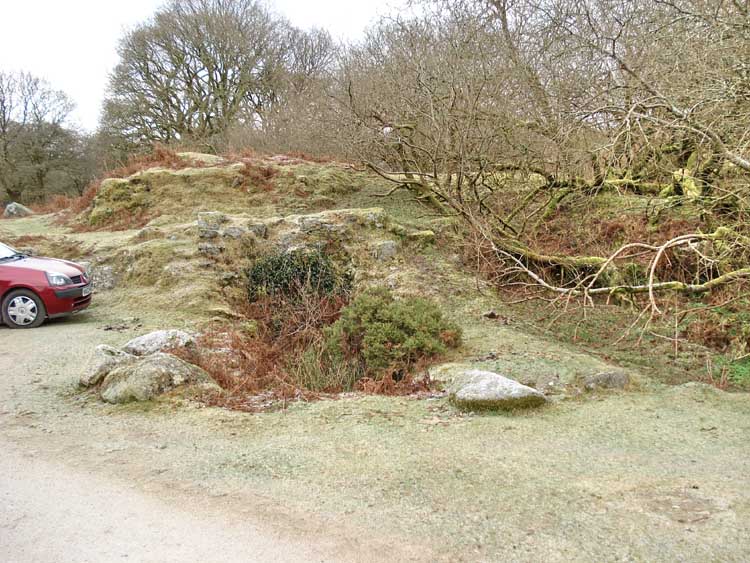 Something I never knew - Norsworthy car park is an old tin working - the central feature above, with the gorse growing in it, is the wheel pit, with a raised bank behind that carried the leat that brought the water to drive the wheel.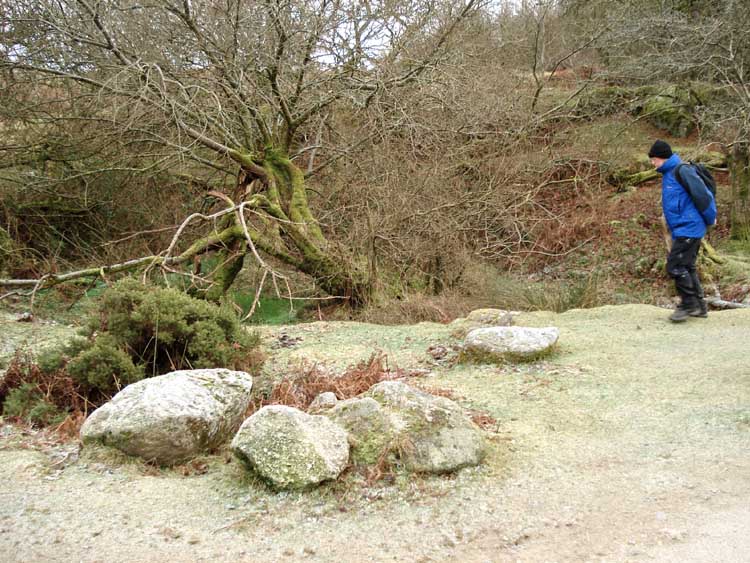 "Is this a buddle I see before me?" .....
Dartmoor CAM Movies
Click the small image to see a short movie

Tip - press F11 (at top of keyboard) to see Full Screen view.

Quicktime movie player: you may also need to press F11 to see the Play icon u at the bottom of the movie image if it comes up in the "Quicktime" movie player.

Windows Media Player: F11 also gives a Full Screen view of the movie. Press again to cancel.

Press F11 again to return to Normal View to get back to the "Back" button t on the browser to continue browsing.

Turn up the sound - hear the wind!



Movie panorama of Sheepstor,
Burrator, Leather Tor, Sharpitor
and around to North HessaryTor
File size: 2.8 MB
?? secs download on BT Broadband.
Plays for 28 secs.

Red = GPS satellite track of the actual walk.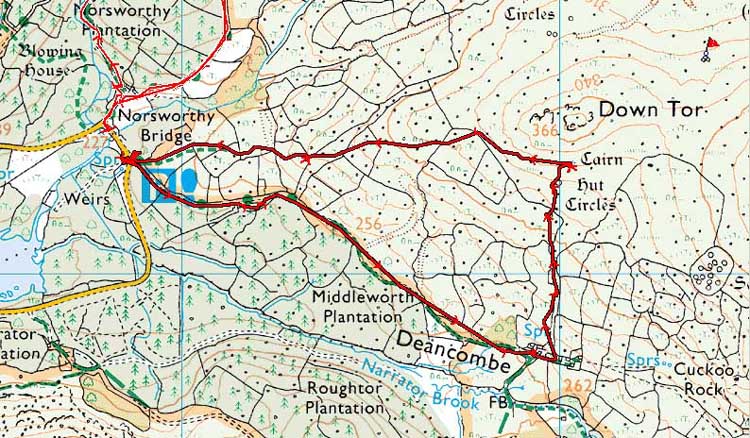 Reproduced from Dartmoor OS Explorer map 1:25 000 scale by permission of Ordnance Survey
on behalf of The Controller of Her Majesty's Stationery Office.
© Crown copyright. All rights reserved. Licence number 100047373.
Also, Copyright © 2005, Memory-Map Europe, with permission
Parking was at Norsworthy Bridge car park, the P symbol on the map. This is reached via the road from Dousland, by driving past the dam around to the far end of the reservoir.
Statistics
Distance - 3.6 km / 2.25 miles.
Start 10 am, Finish 11.55 am, Duration 1 hr 55 min.

All photographs on this web site are copyright ©2007-2016 Keith Ryan.
All rights reserved - please email for permissions
Sister web sites
Dartmoor Tick Watch
The Cornish Pasty - The Compleat Pastypaedia