This walk: 2010-4-7. Grimstone & Sortridge Leat, bullseye stones, Sampford Spiney parish boundary stones, Pew Tor, Prowtytown Rocks, Windy Post, also known as Windy Post Cross, Windystone and Beckamoor Cross, Feather Tor, feather-and-tares, abandoned granite mill stone, "hot-cross bun" Pew Tor marker stones, Dartmoor ponies, WWII bomb crater, Brentor and marker stone, daffodils.
Also - see 2010-4-8, the same walk the following day, for more photos but less descriptive text
Walk details below - Information about the route etc.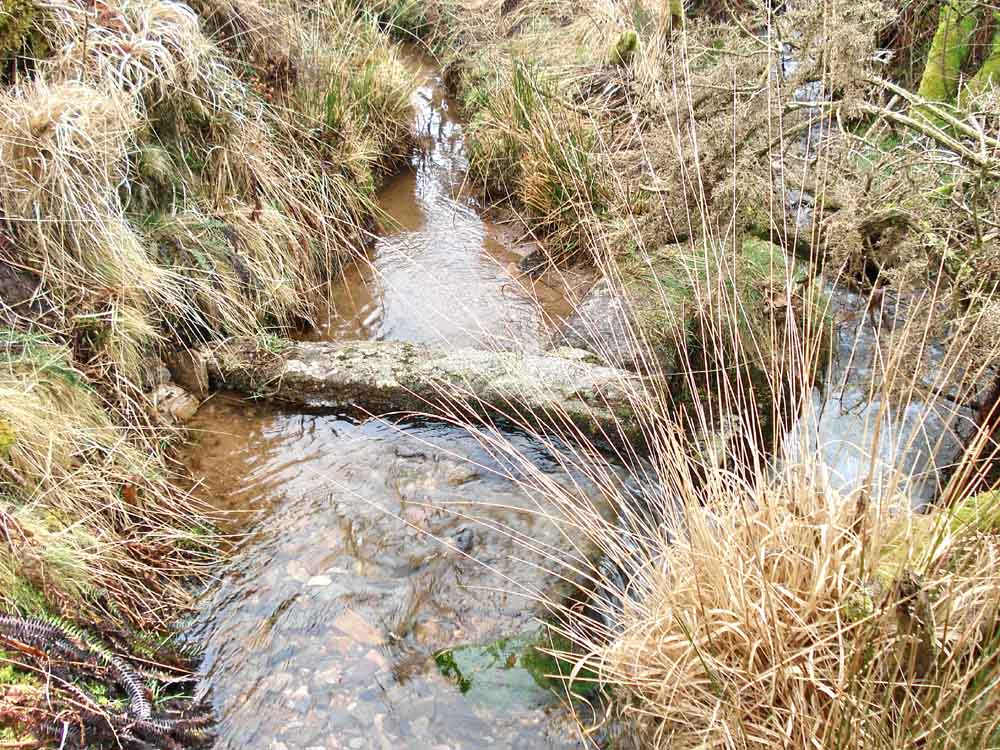 Looking down on the bullseye stone that allows a metered amount of water to flow from the Grimstone & Sortridge Leat to By The Down, Sampford Barton and other places, at SX 52622 73105 ± 5 m (the disturbance on the red track of the walk on the map below).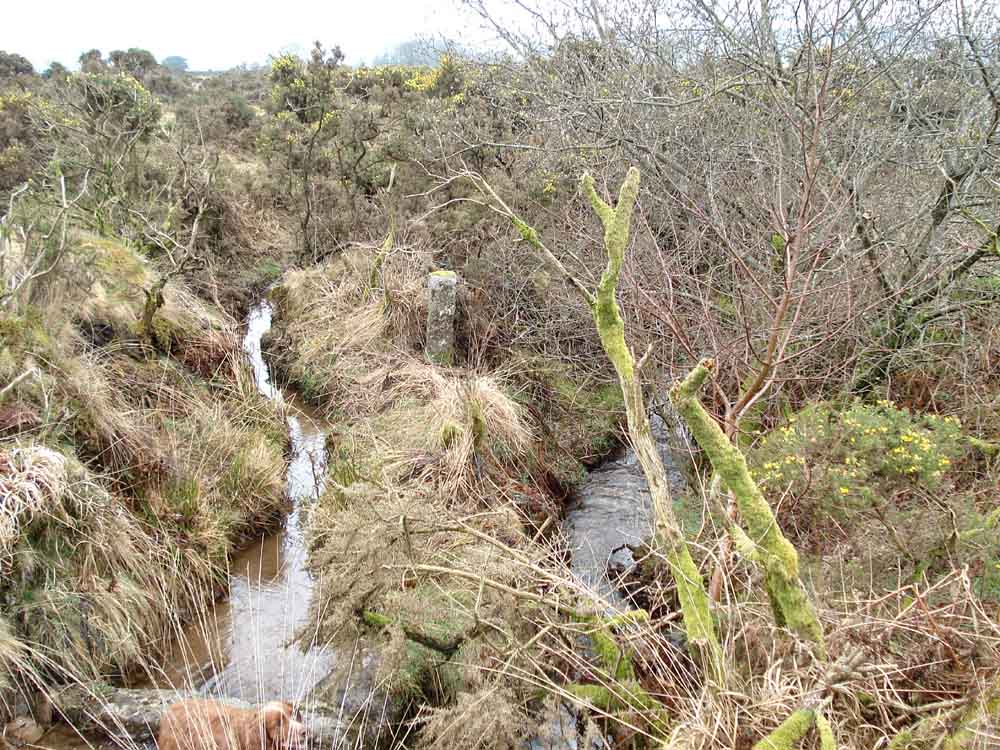 The same bullseye stone (bottom left corner) and a boundary stone ......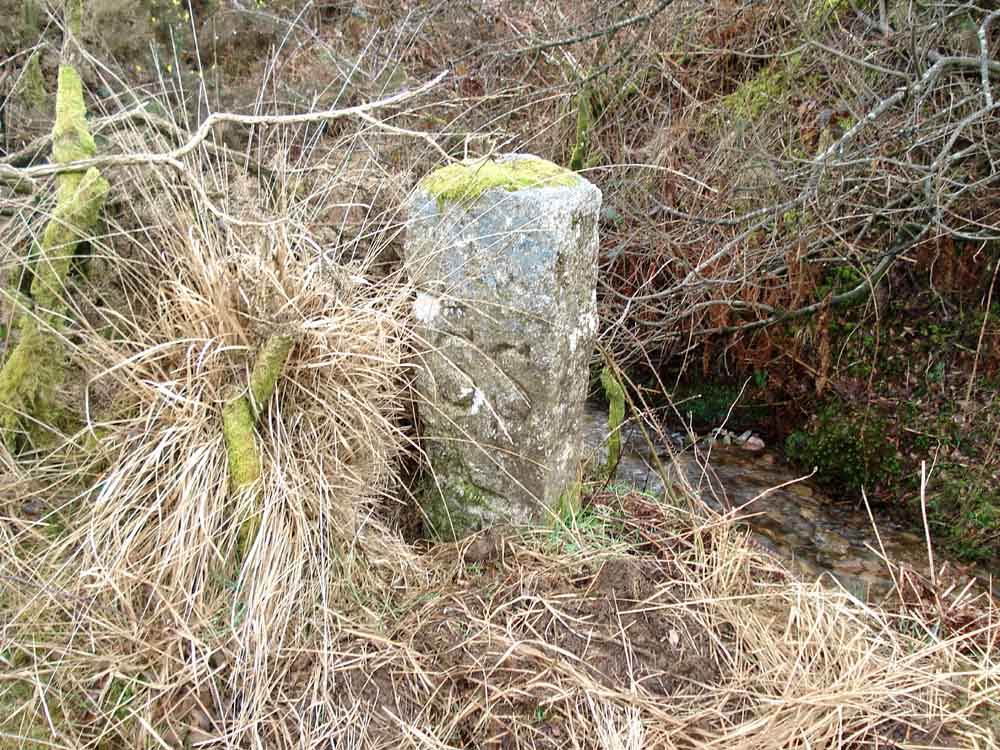 SS = Sampford Spiney, on the parish boundary stone.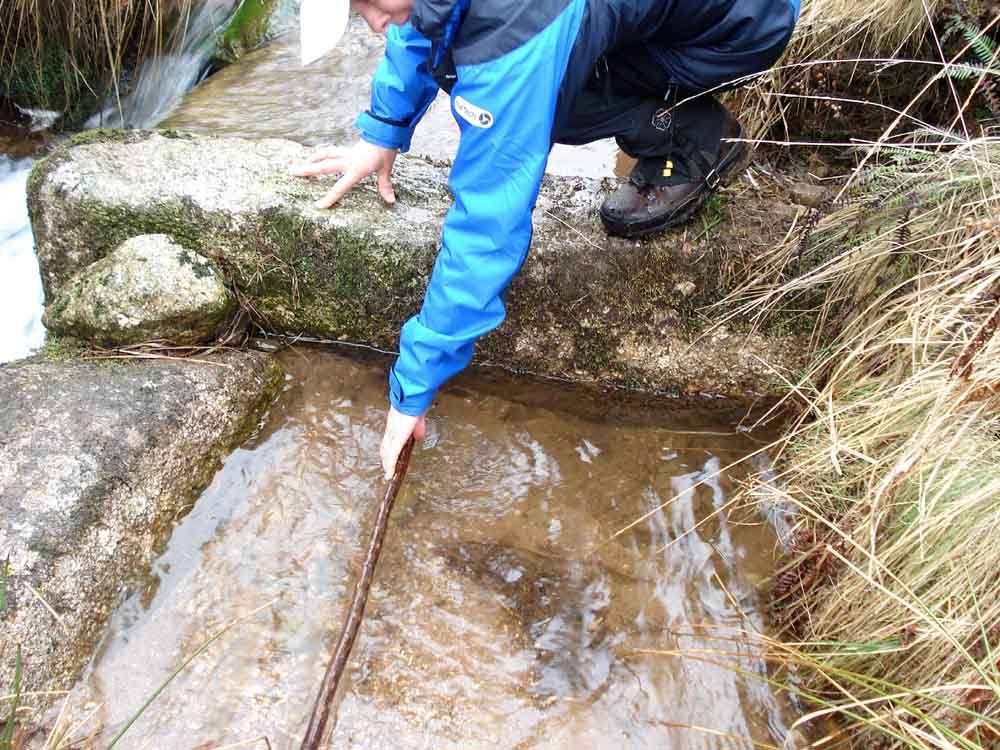 Clearing the bullseye stone of blocking vegetation .....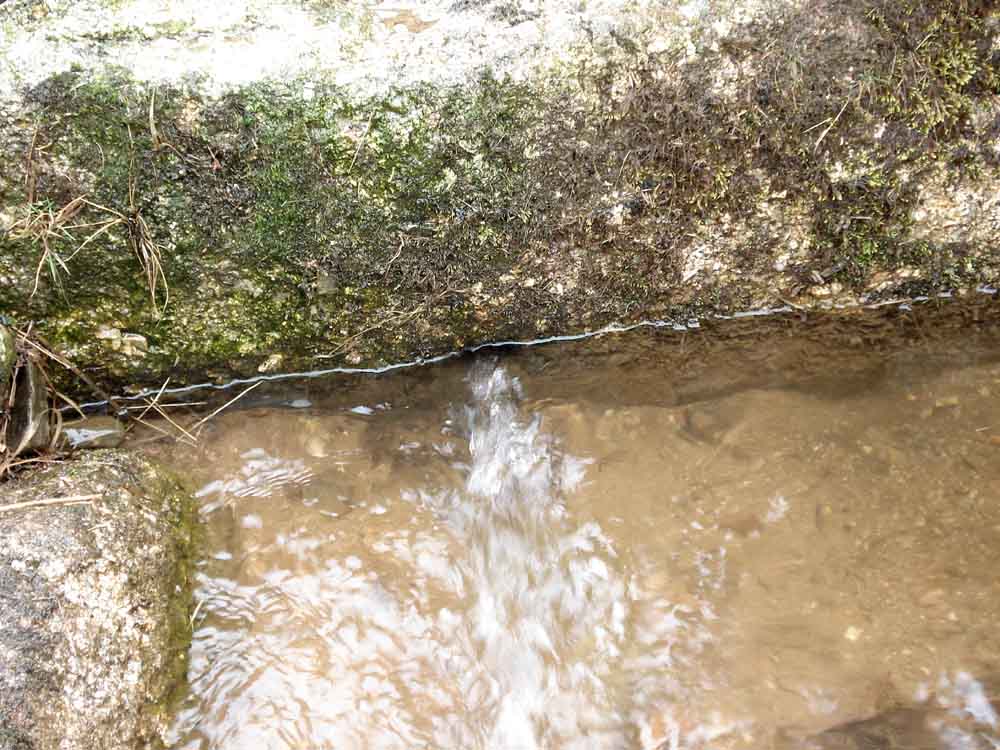 ..... showing the improved flow of water.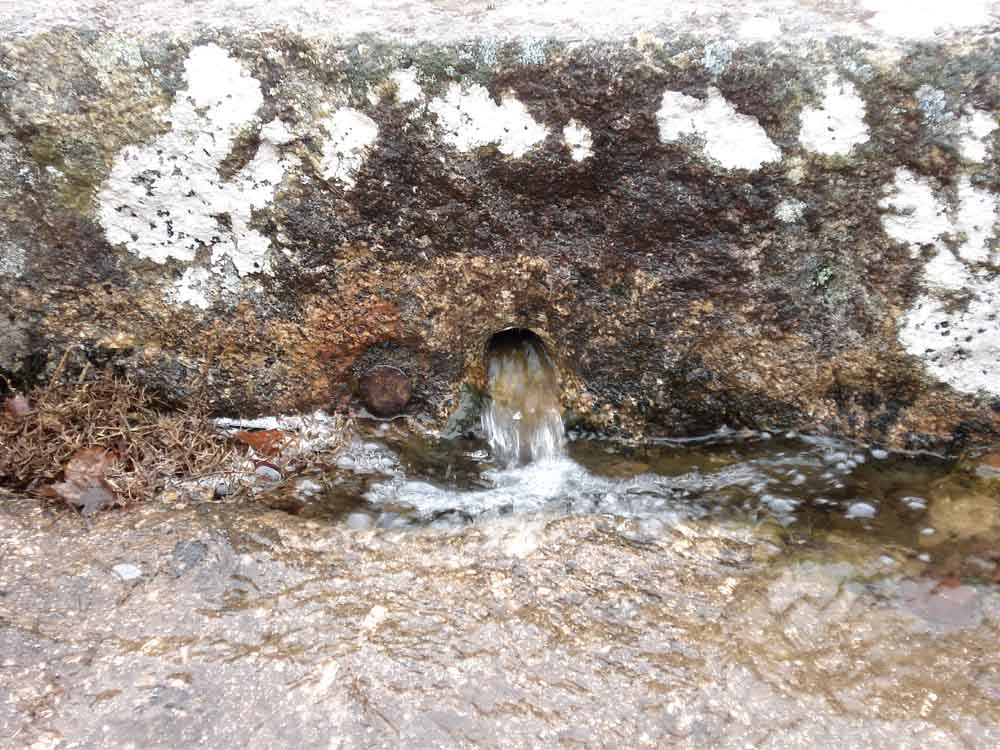 Bullseye stone for Oakley Farm, at SX 52690 73238 ± 4 m .....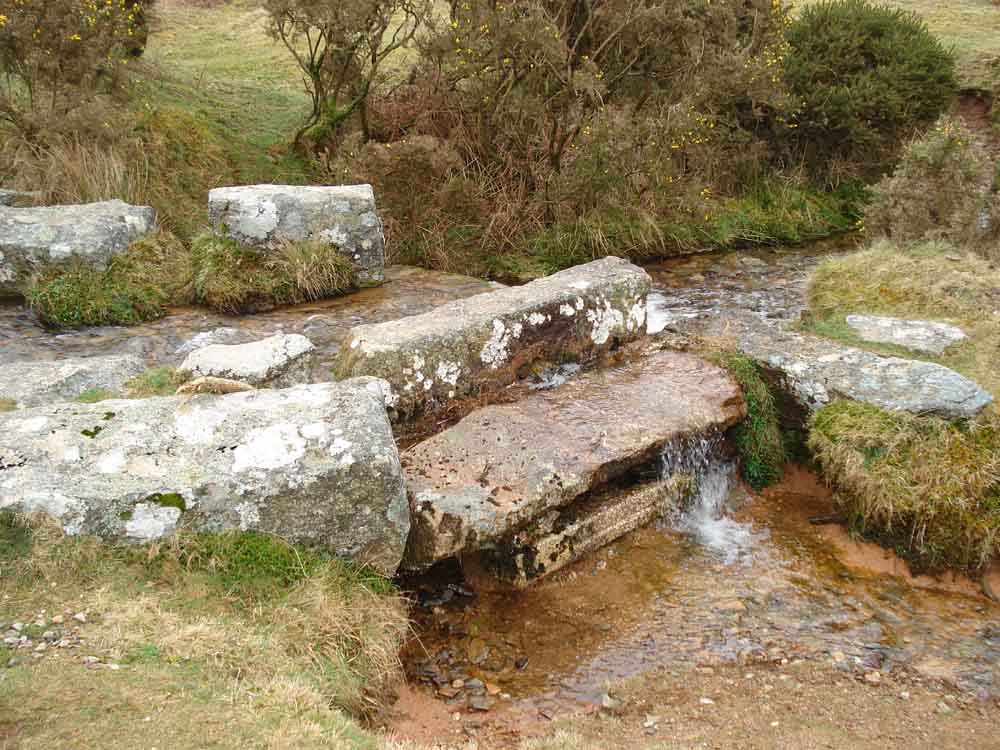 The bullseye stone is the upright slab above the flat stone towards the bottom right of centre, below it is a worked stone with long grooves (see later, at another bullseye stone).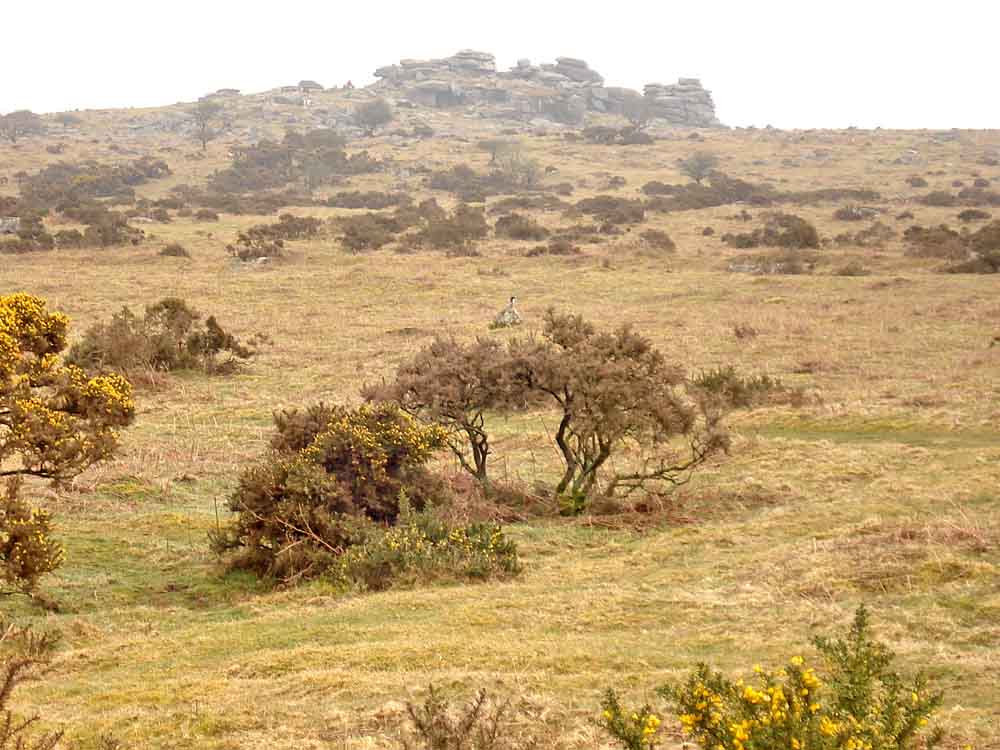 Pew Tor, SX 532 734, elevation 318 metres (1043 feet).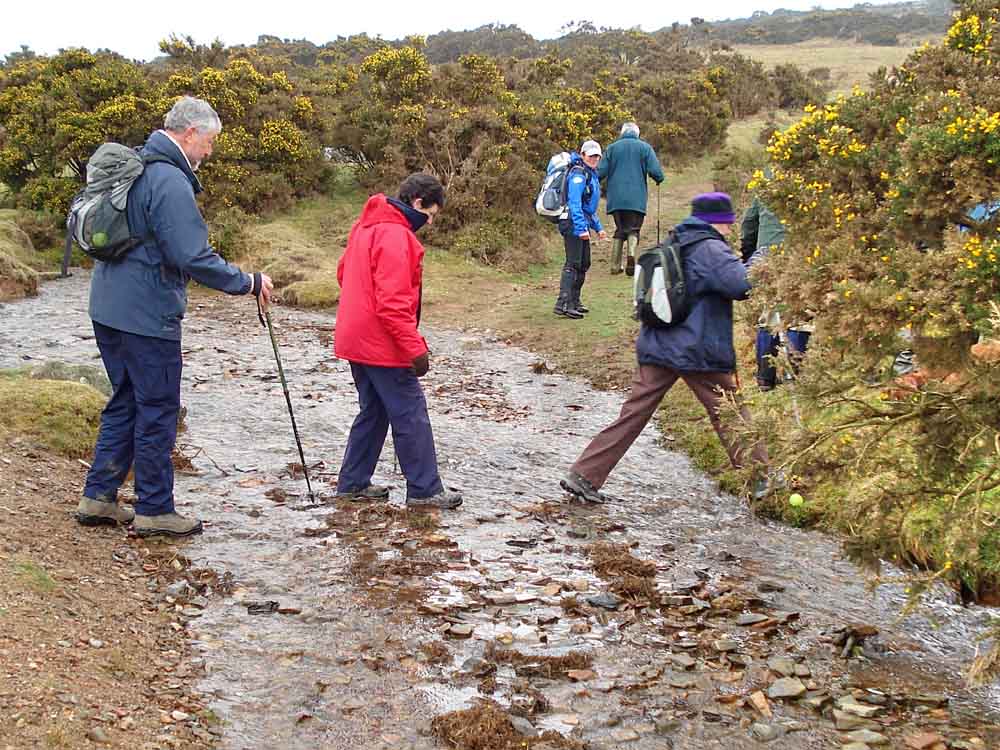 Crossing the leat.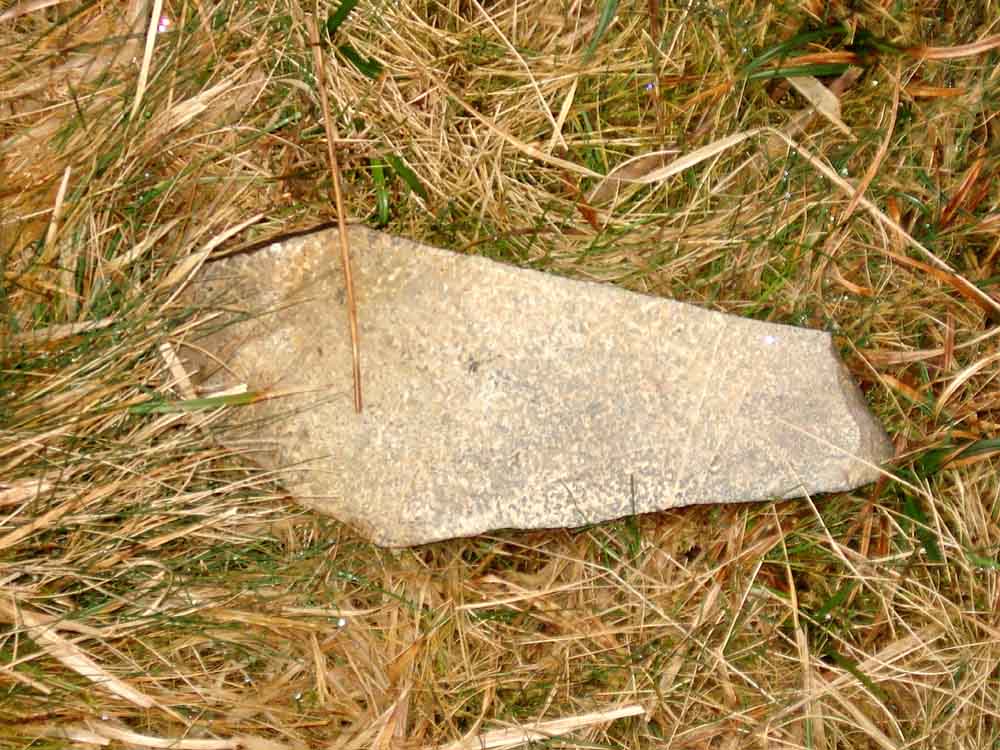 Coffin stone, seen along the path - for pixies?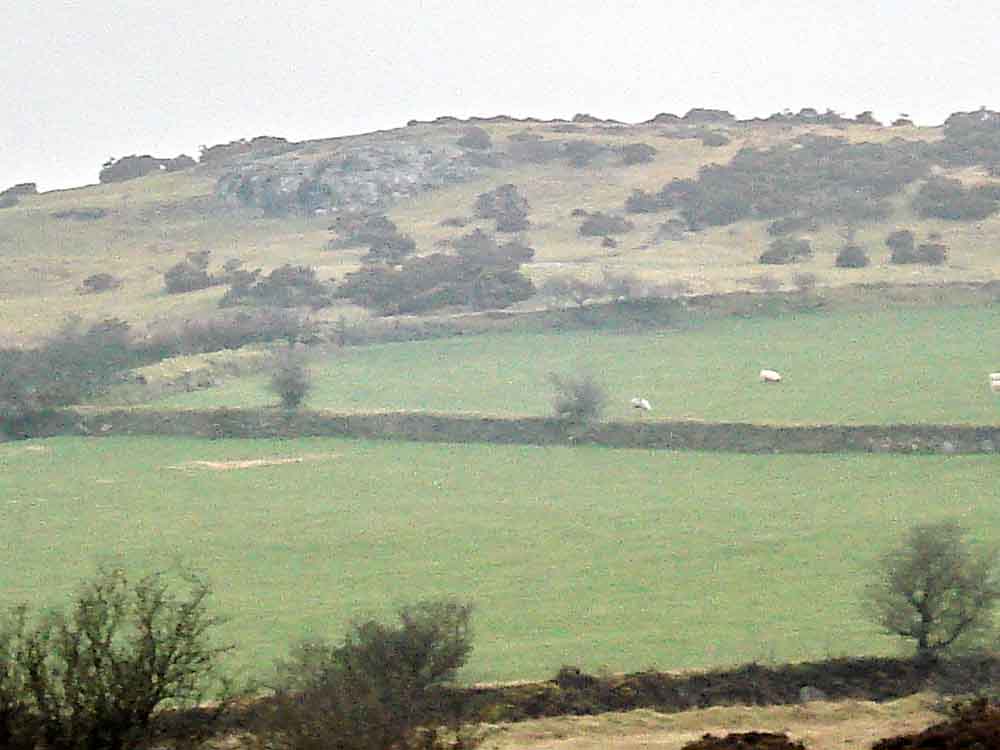 Prowtytown Rocks, in the distance, at SX 528 745, which give a good view over Tavistock.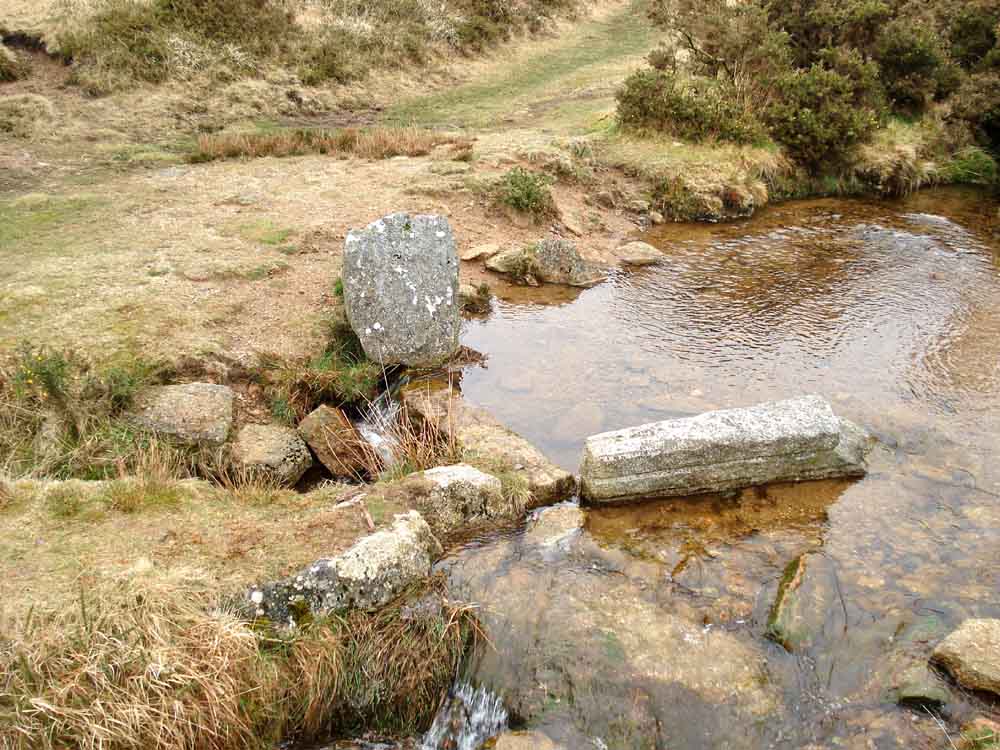 Bullseye stone, at SX 52893 73654 ± 4 m, letting water run to Moortown Farm, Furze Cottage, Higher Quarry, Lower Quarry etc.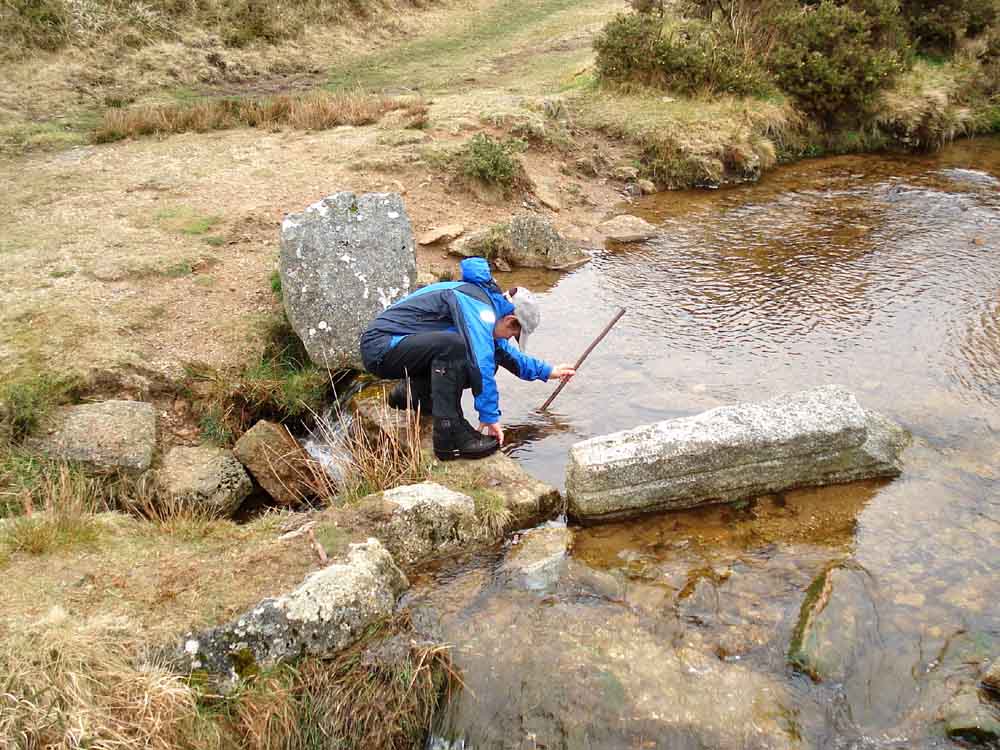 An unblocking job!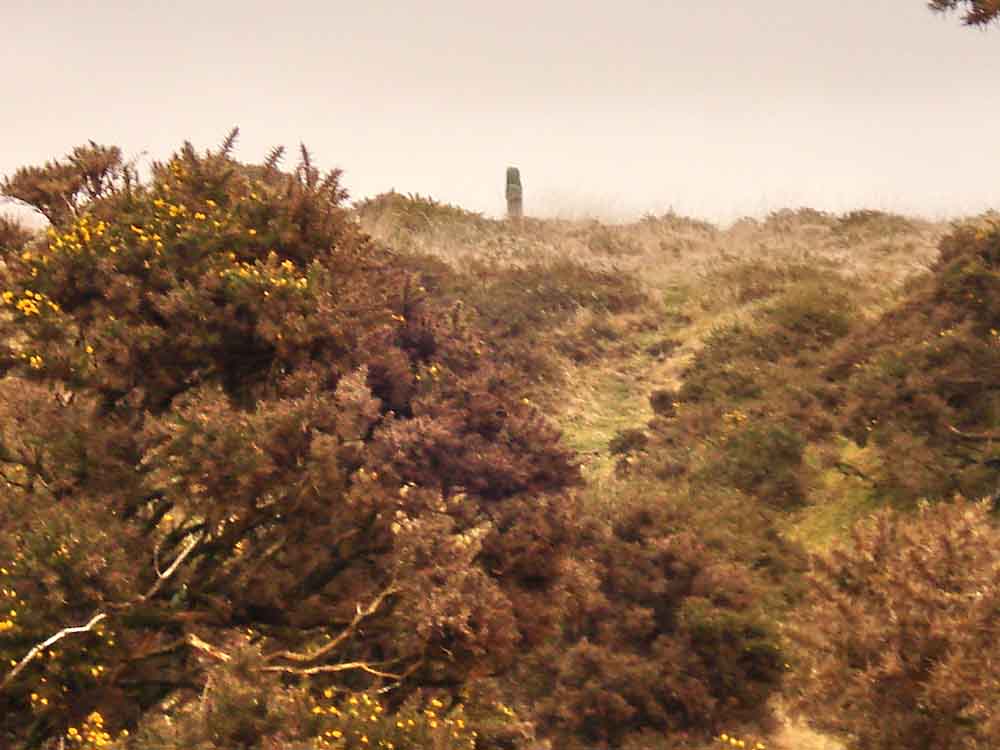 View of Windy Post, also known as Windy Post Cross, Windystone and Beckamoor Cross (see below).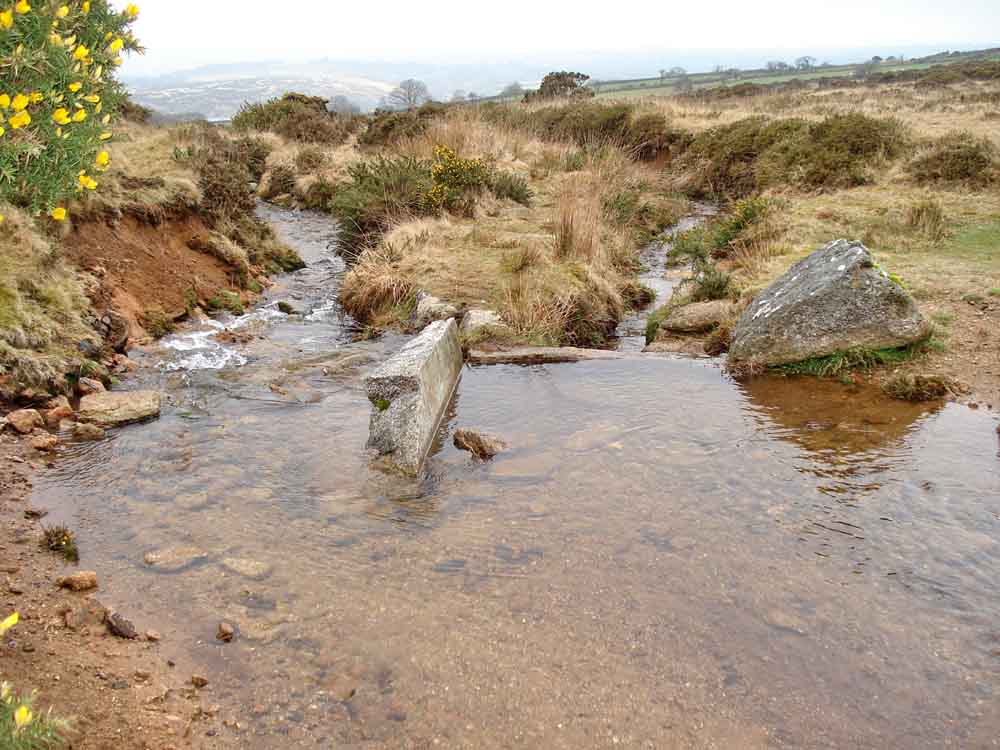 Another view of the bullseye stone area .....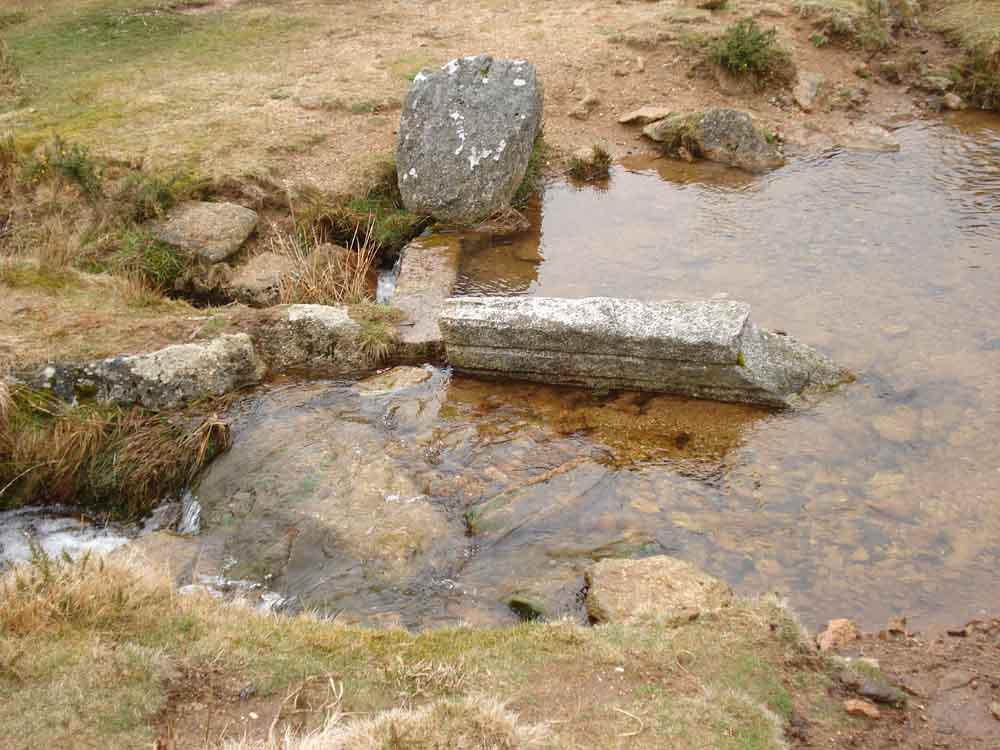 ..... and again.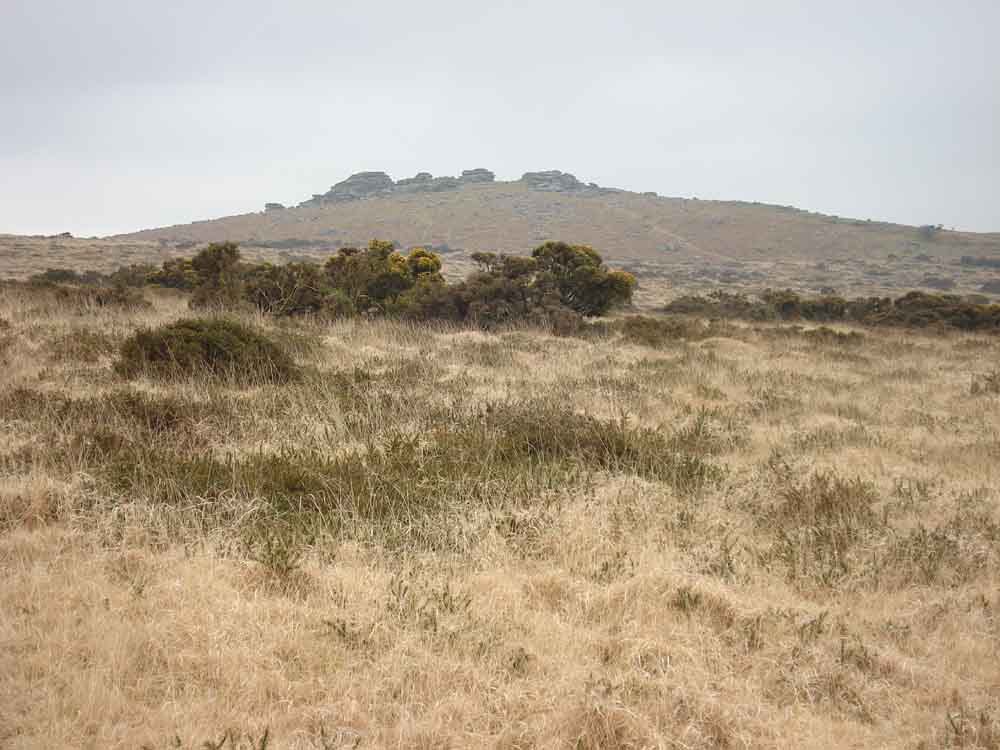 Another view of Pew Tor.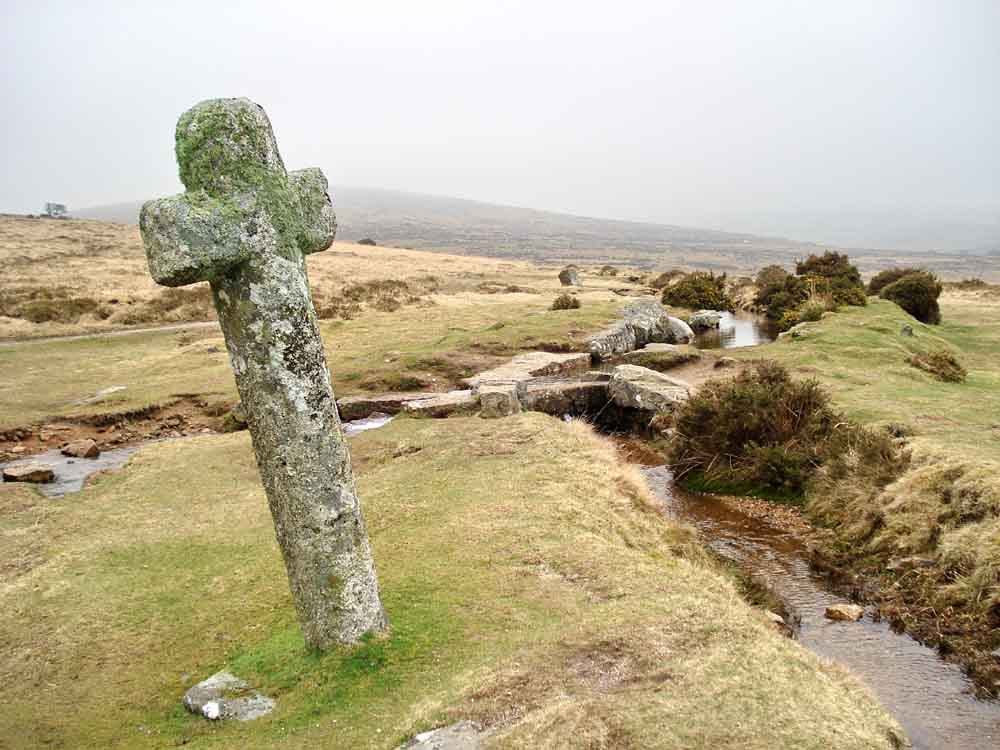 Windy Post, also known as Windy Post Cross, Windystone and Beckamoor Cross, at SX 535 743, with another bullseye stone in the near background. The cross stands on an old packhorse track between Ashburton, Moretonhampstead to Tavistock and is on the old Abbot's Way. It is believed that an older cross stood here once because the present one has a recent octagonal column, this is because "win" is a translation of the Celtic "ean", which means water.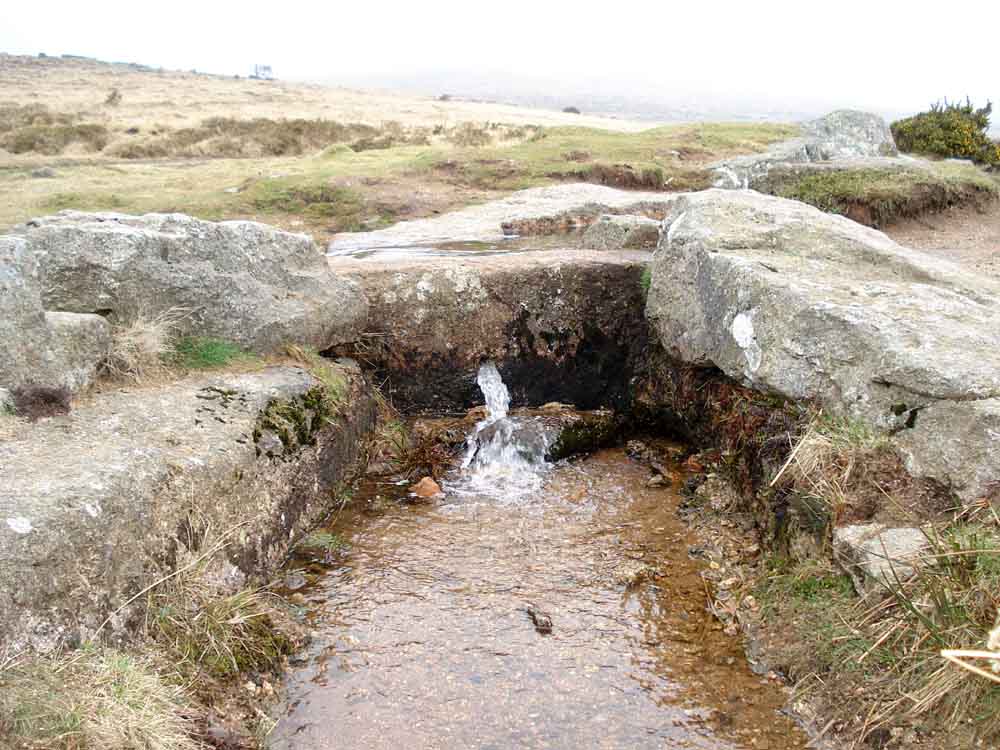 A good view of how a bullseye stone actually functions.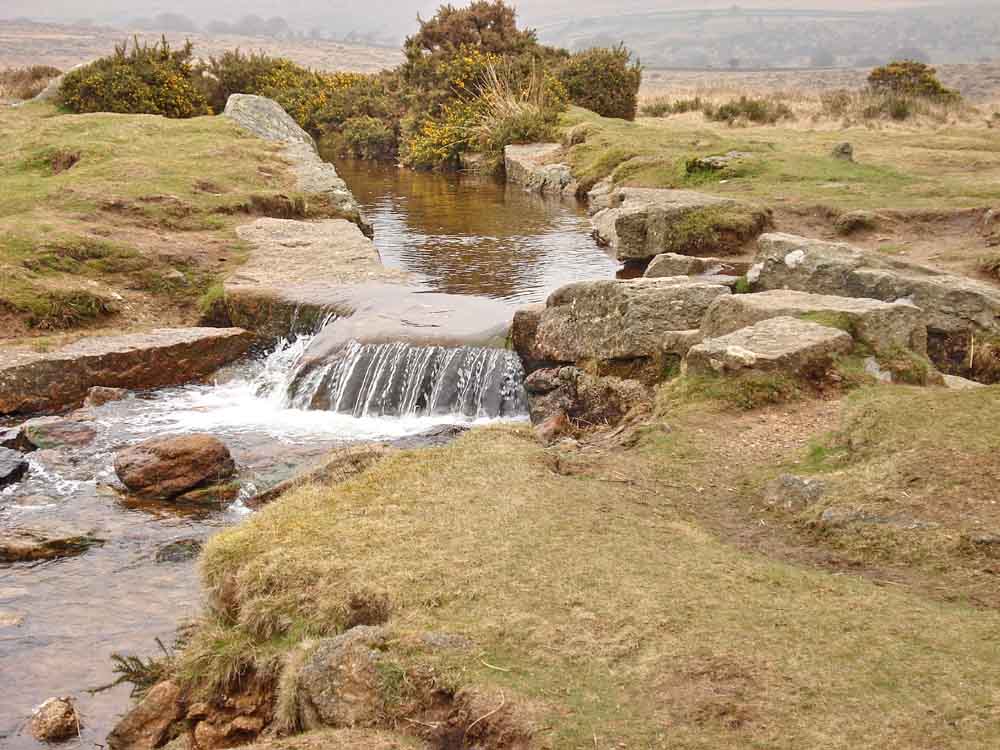 Another view of the area.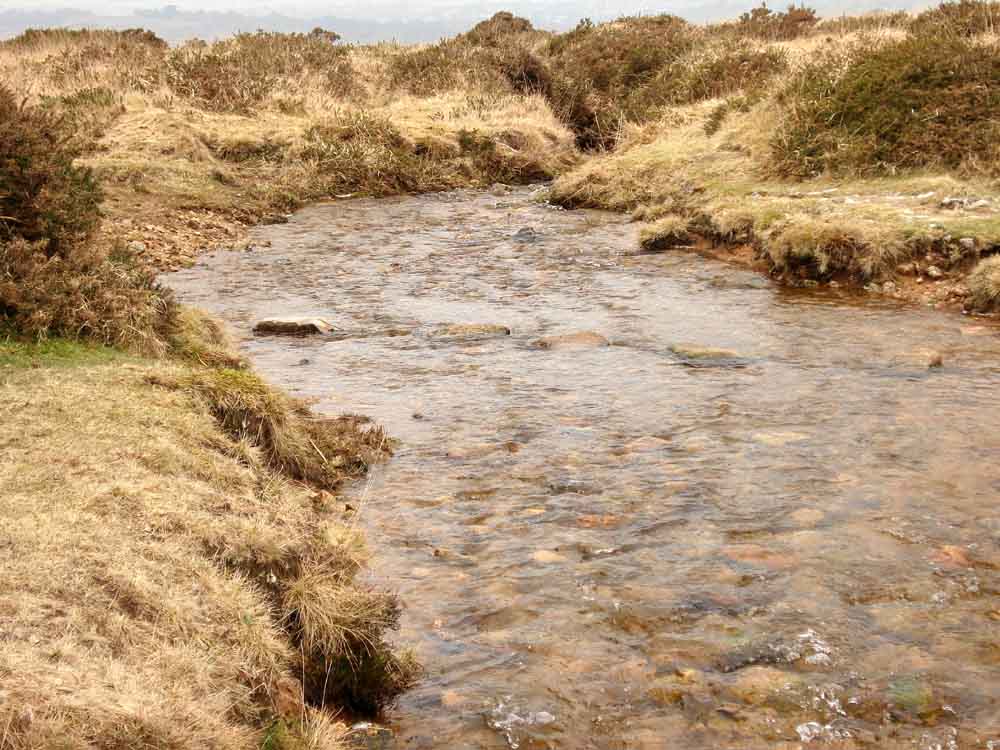 Looking down the leat.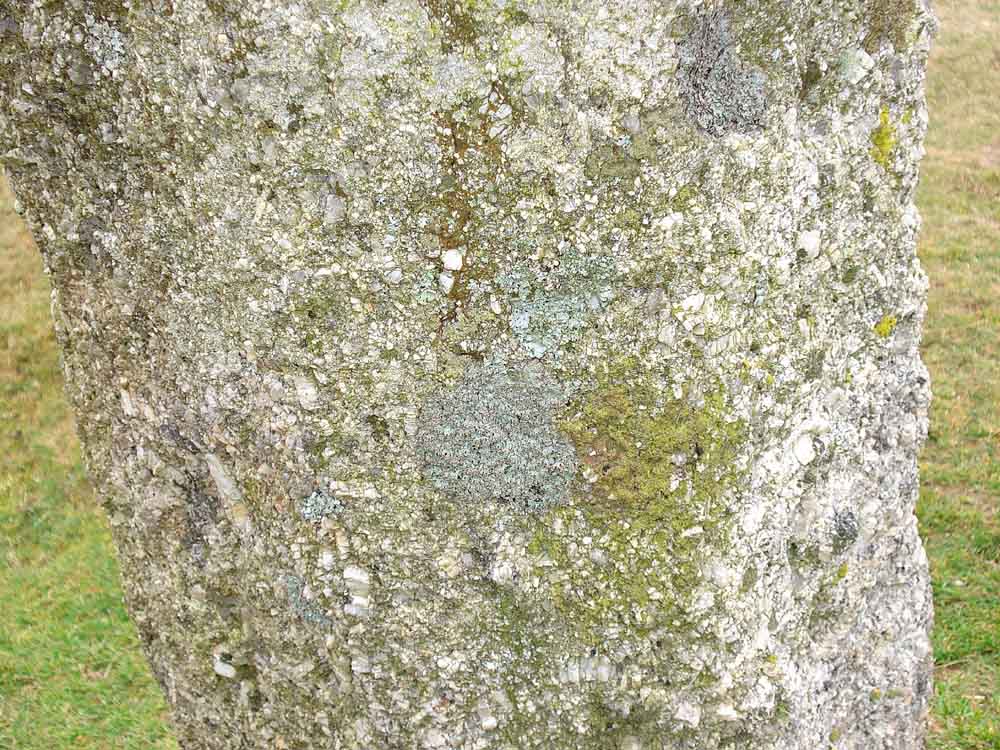 This photograph is supposed to show a surveying benchmark, but it is very faint. The horizontal level mark can be seen on a photograph on page 189 of Bill Harrison's book, "Dartmoor Stone Crosses".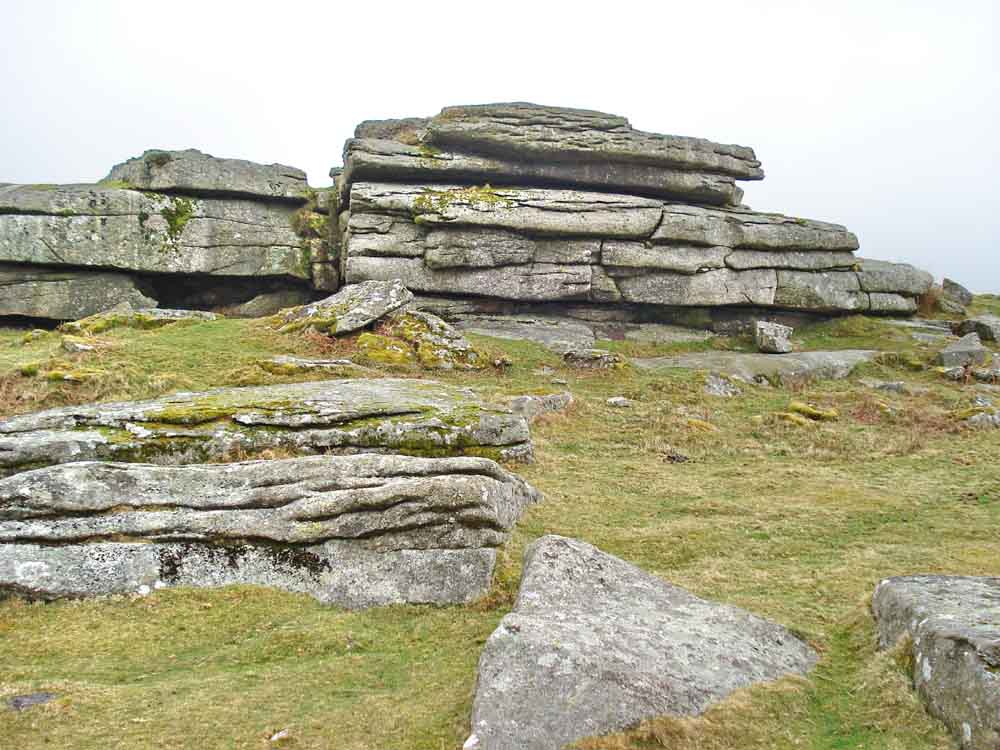 Rock formation at Feather Tor, at SX 534 741, elevation 304 metres (997 feet).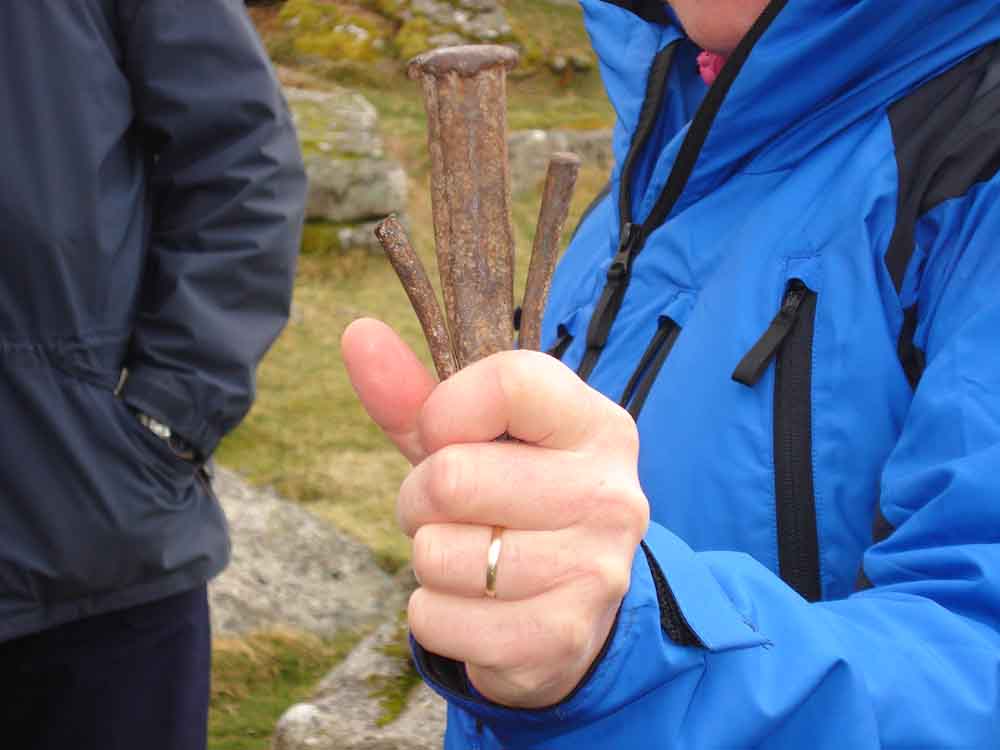 Original feathers and tare, as used at the Merrivale Quarry .....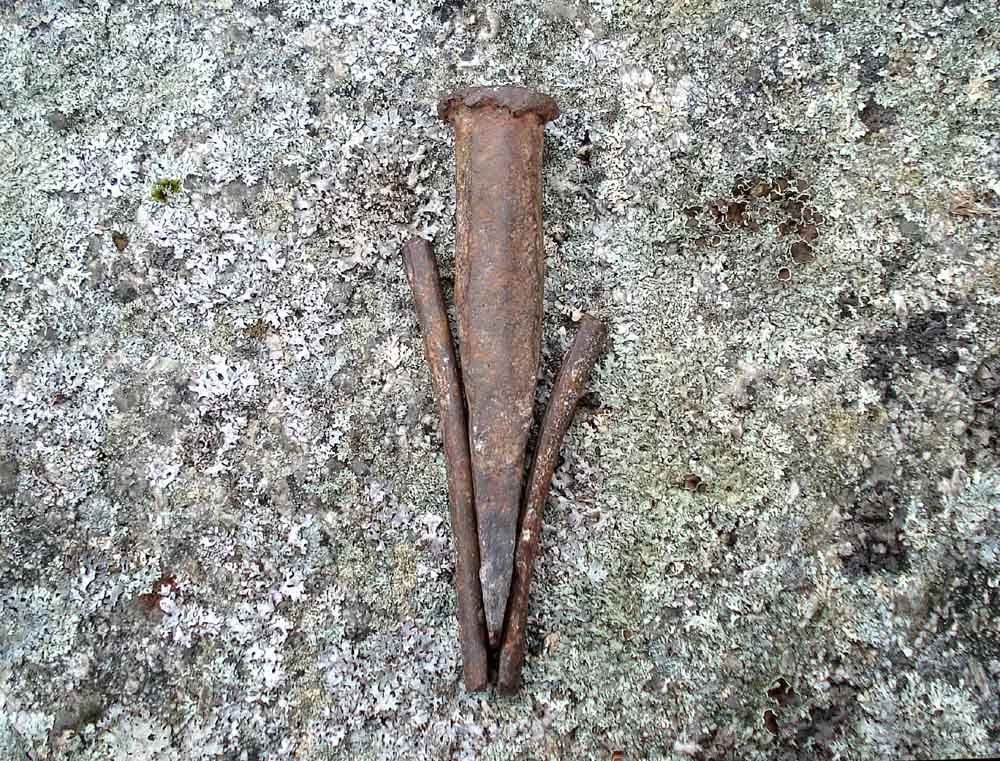 ..... and again. The collective item was inserted into a hole that had been drilled into the granite - in fact, a line of such holes were drilled in a row in the rock and each hole was fitted with a set of feathers and tares. The feathers are the slightly curved half-round steel pieces and the tare is the central "chisel" that was gently tapped in in sequence along the line being worked on to apply gradual pressure to the rock until it split.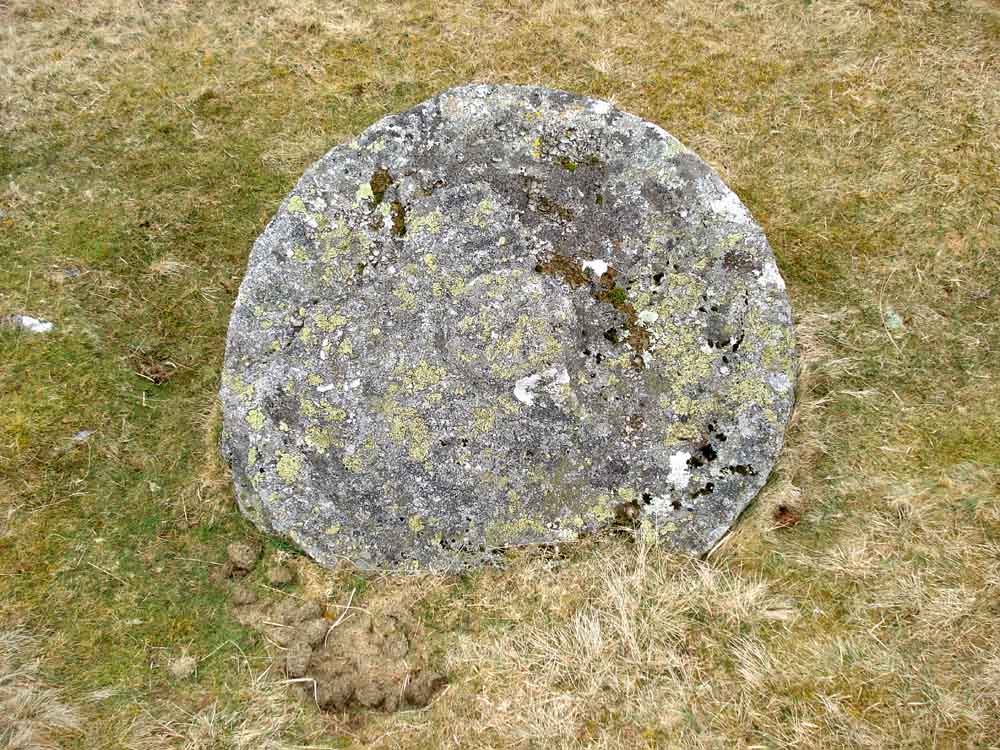 Abandoned granite mill stone, at SX 53473 74063 ± 5 metres.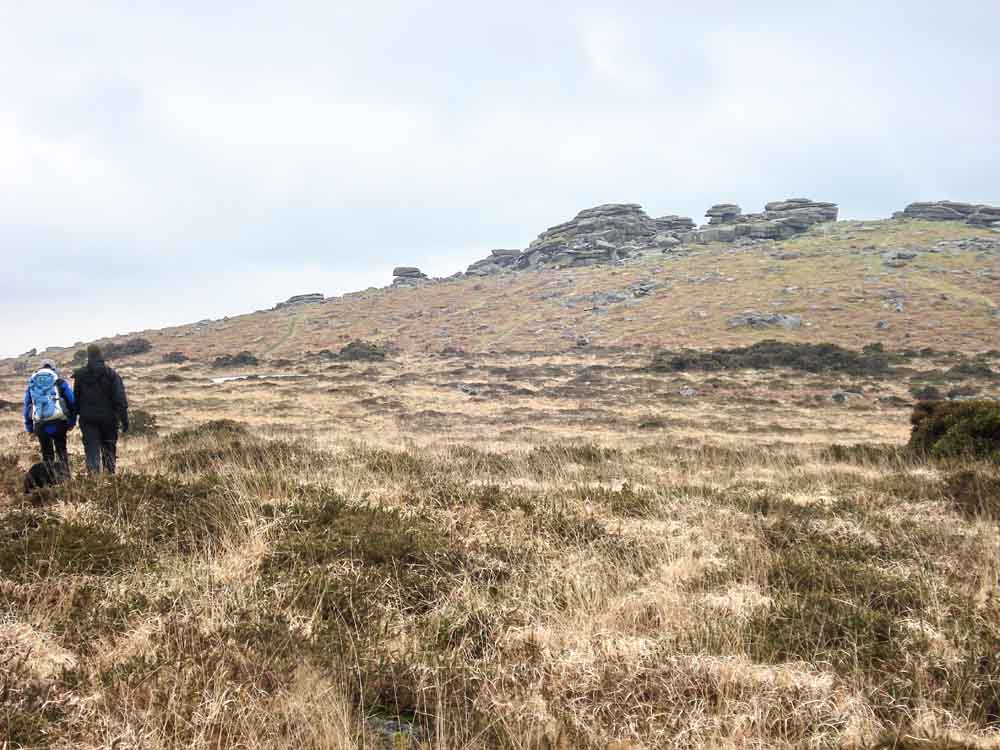 Approaching Pew Tor.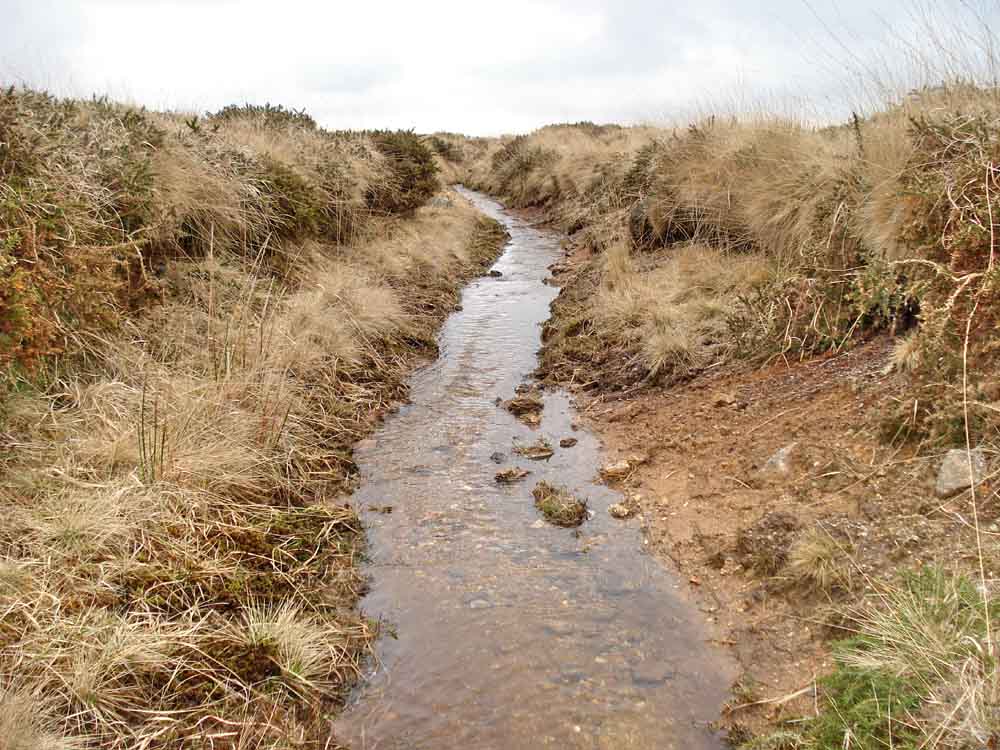 A view of the "slice" taken off the Grimstone & Sortridge Leat at Windy Post which supplies Downfield Cottages etc.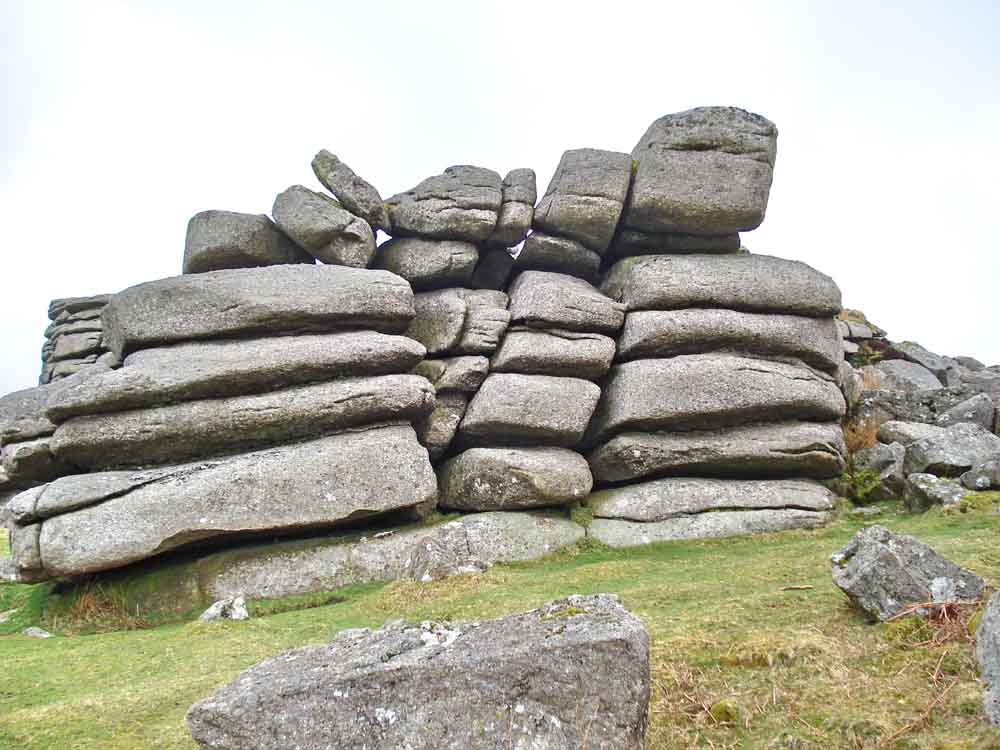 Rock pile at Pew Tor.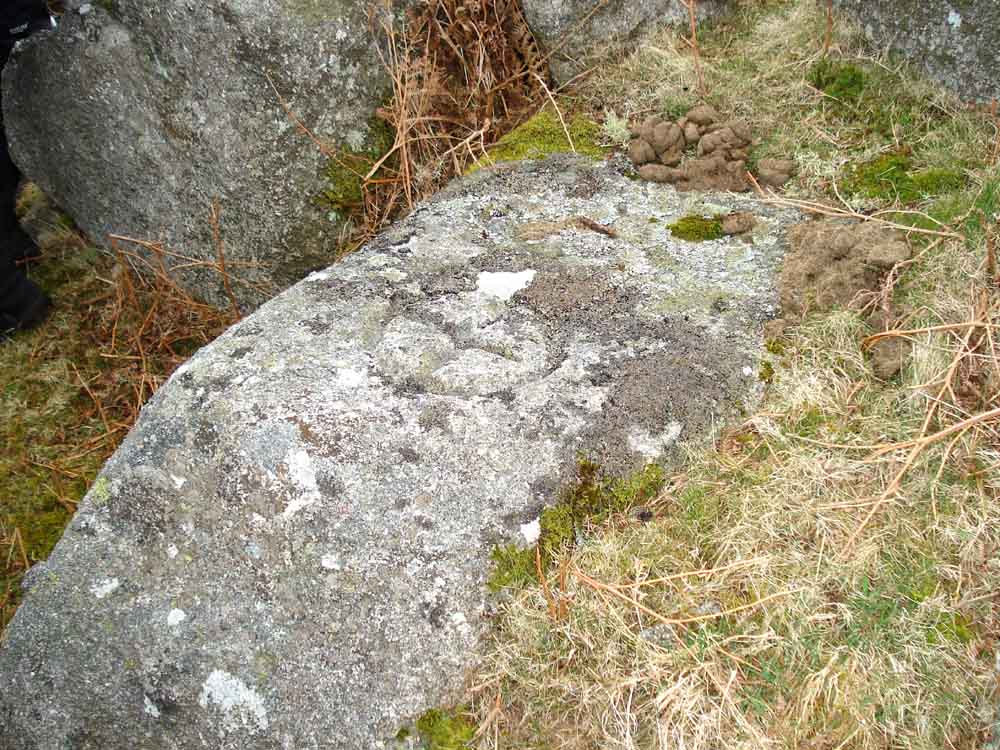 "Hot-cross bun" marker stone close to Pew Tor, SX 53279 73419 ± 5 mters ("1" on the map below) marking the limit for the taking of granite in the past, there are nine of these markers very roughly ten yards from the base of the main rocks .....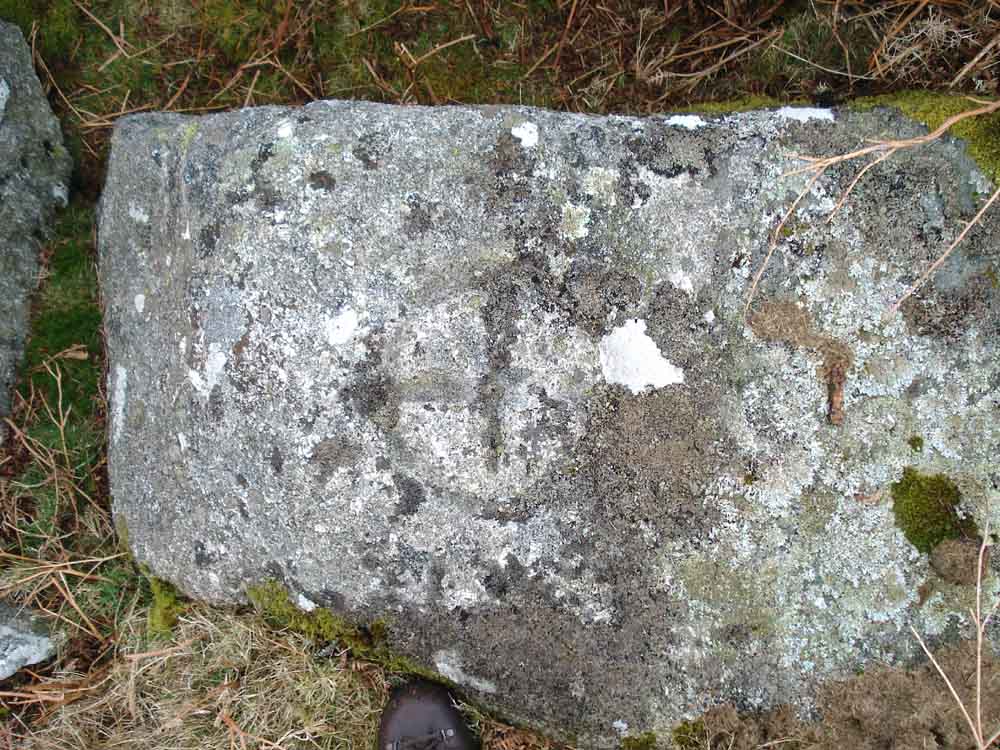 Looking down on the same marker.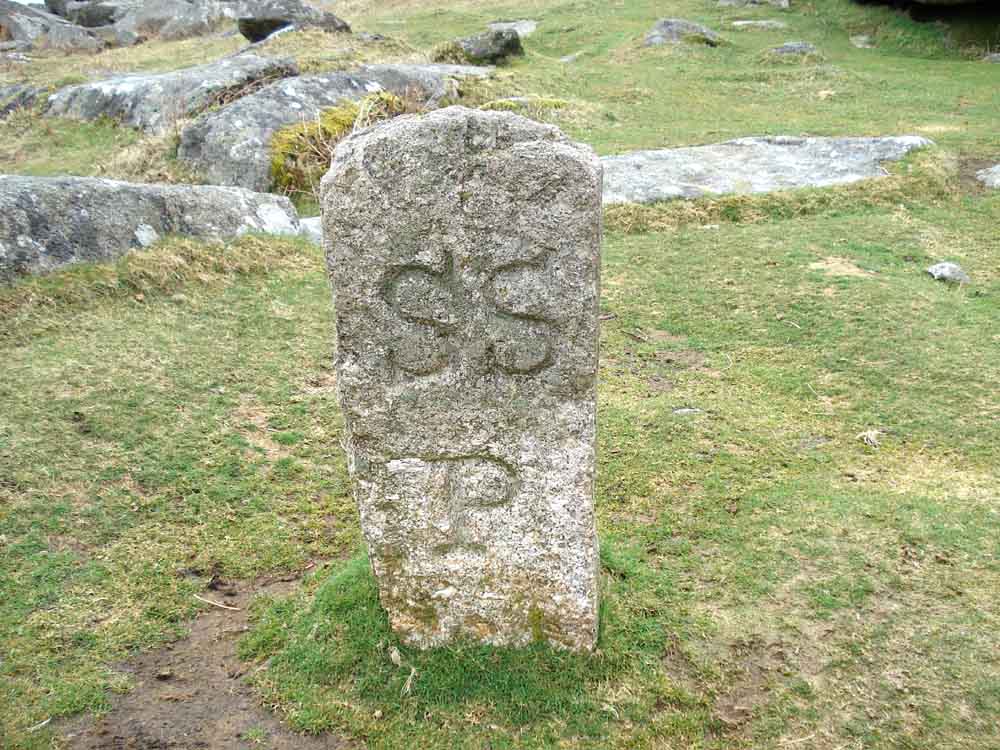 Sampford Spiney parish boundary stone. P = parish: the parish is surrounded by Walkhampton, Horrabridge and Whitchurch parishes.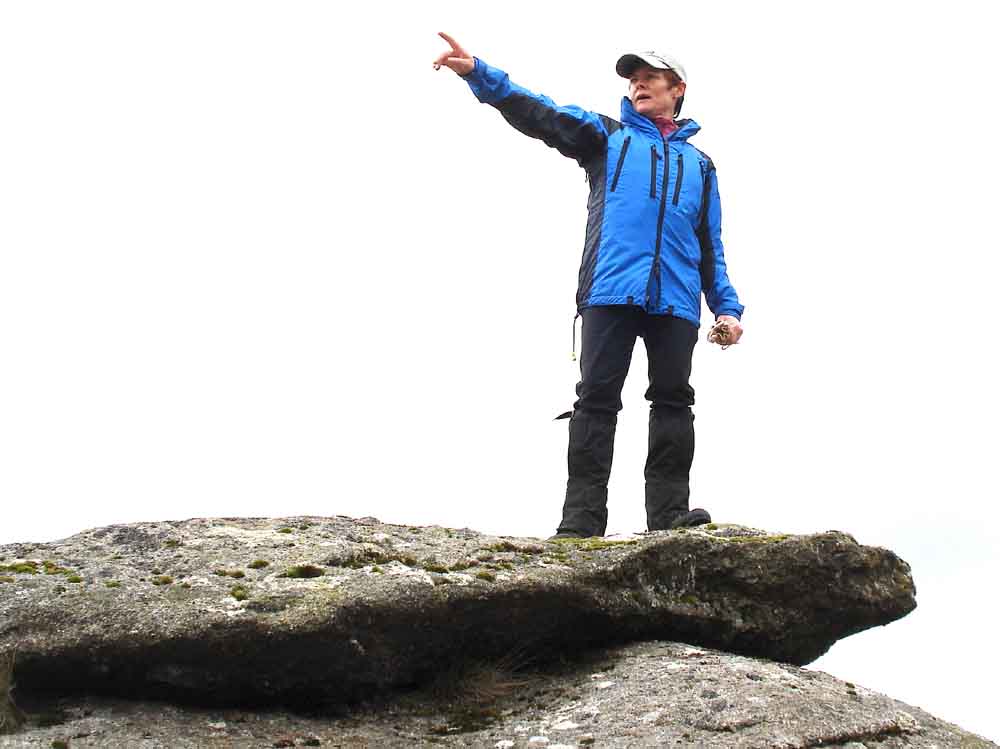 Caption competition .....
1. I think its over there somewhere .....
2. Peter and Pat expect to be in Morocco tomorrow which is in that direction.
3. Emergency exits to your left, do not inflate your life jackets whilst inside the aircraft.
4. Jimmy Krankie shows us the way to Widecombe.
5. Is it a bird - is it a plane - No it is the sun trying to peep through.
6. I've told you before - don't talk while I am.
7. Hey - Grease Lightnin'
8. Model shows off Zippy's latest outfit.
9. Can you look over there whilst I put my hood up.
10. Parliamentary candidate tries to rally her supporters.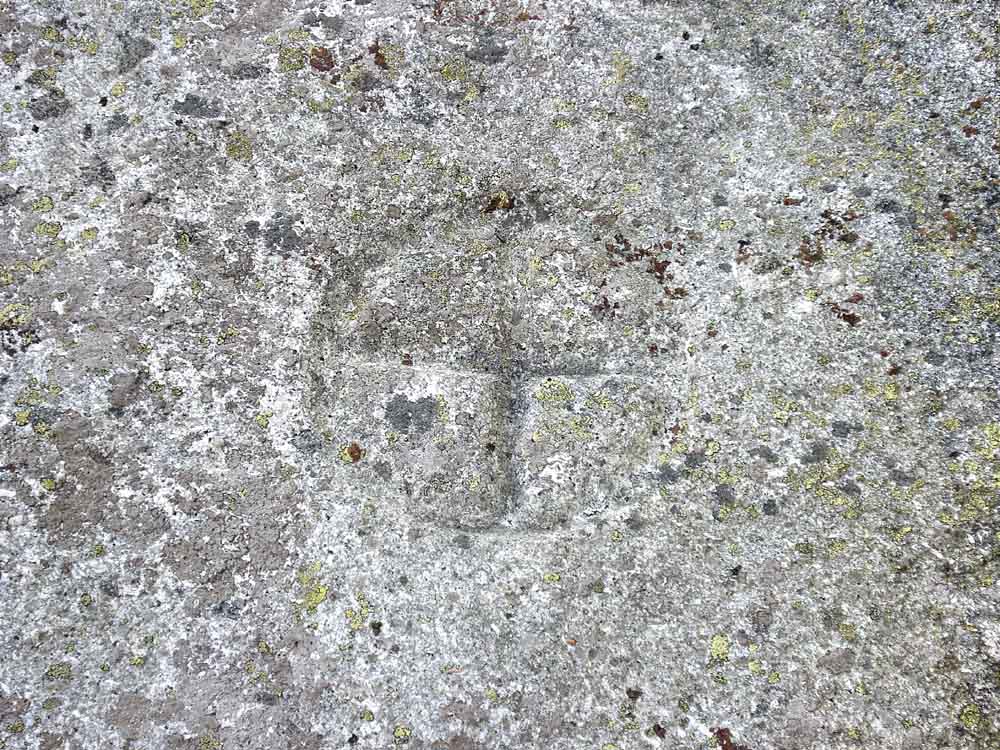 Pew Tor marker stone "2" at SX 53241 73410 ± 5 metres.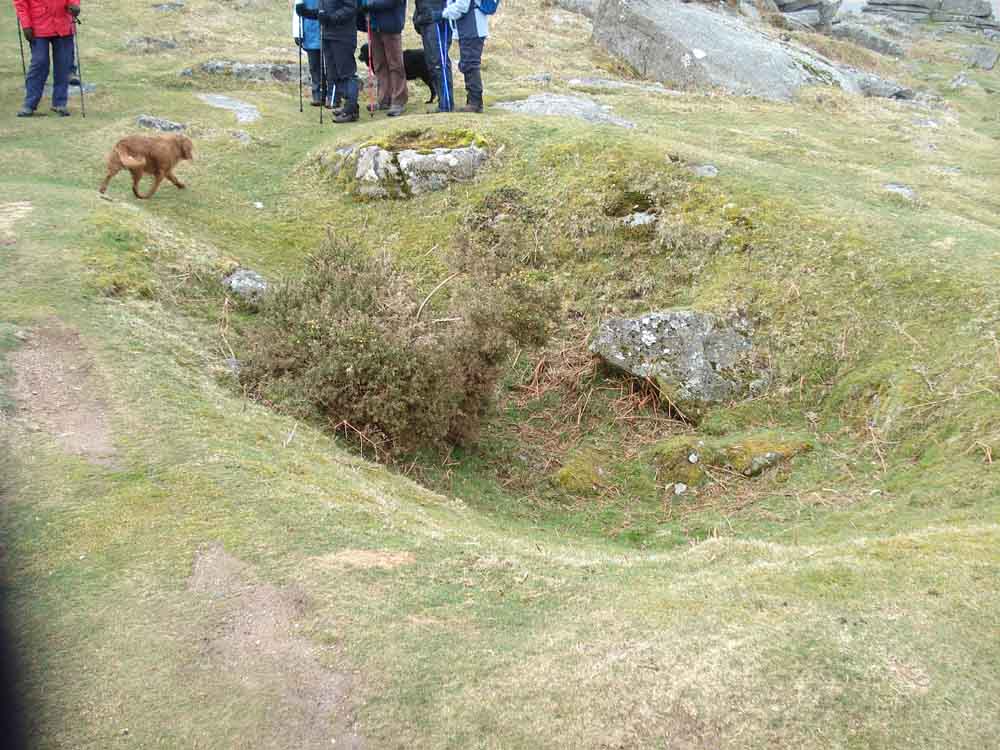 A WWII bomb crater caused by "dumped" German bombs - Pew Tor can claim to be the only tor bombed in the war! There is at least one other crater nearby.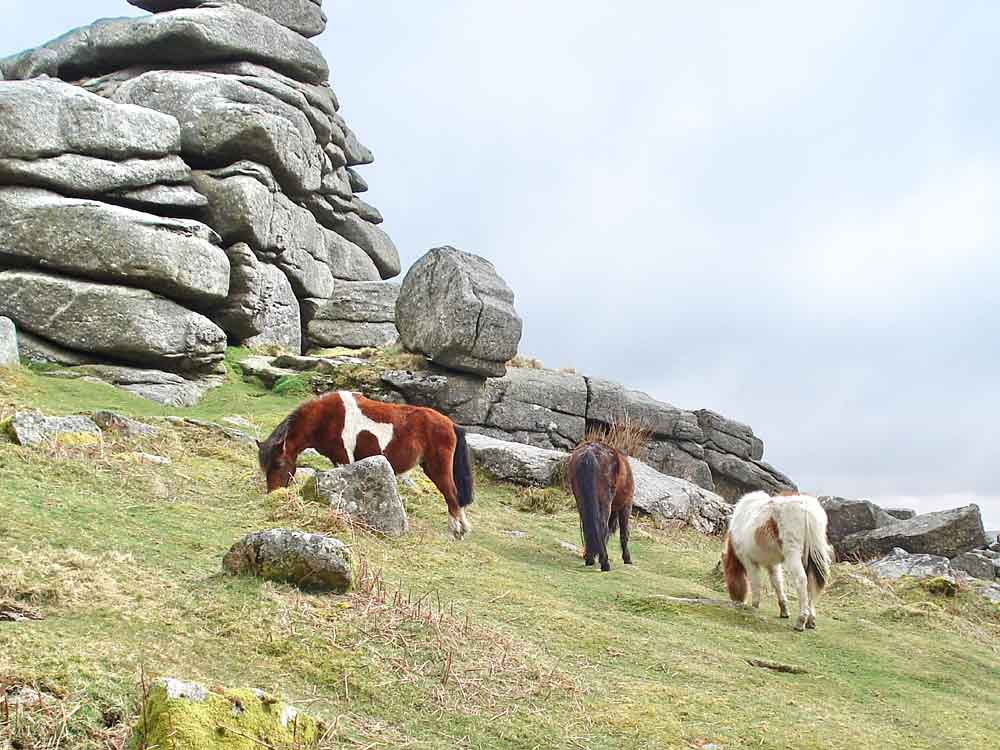 Dartmoor ponies at Pew Tor.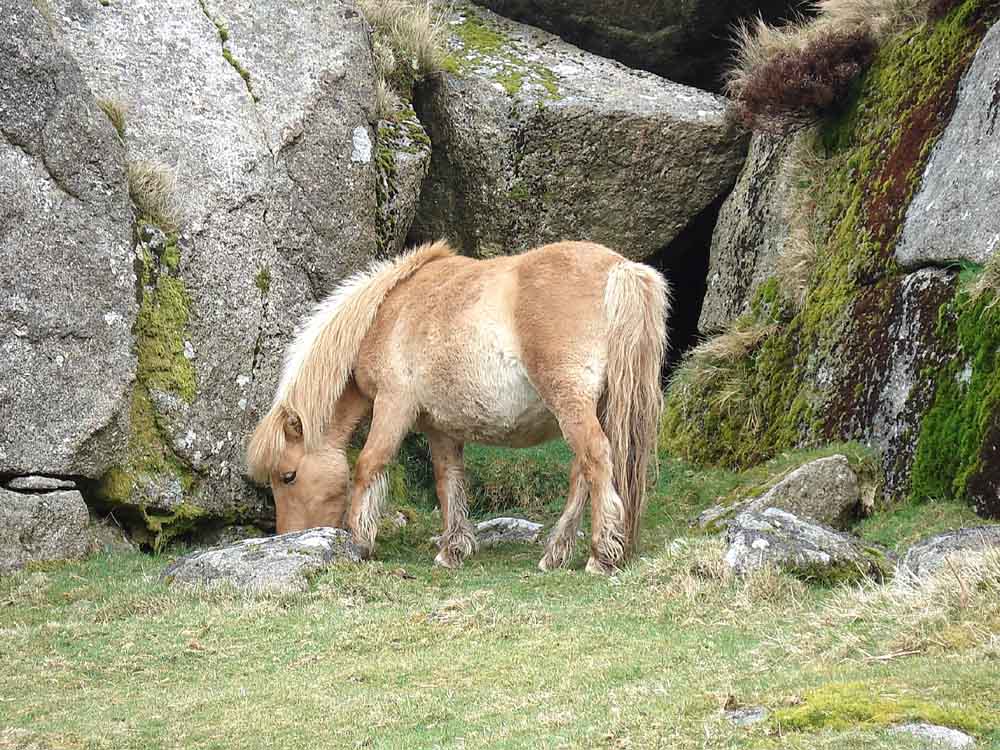 Another pony.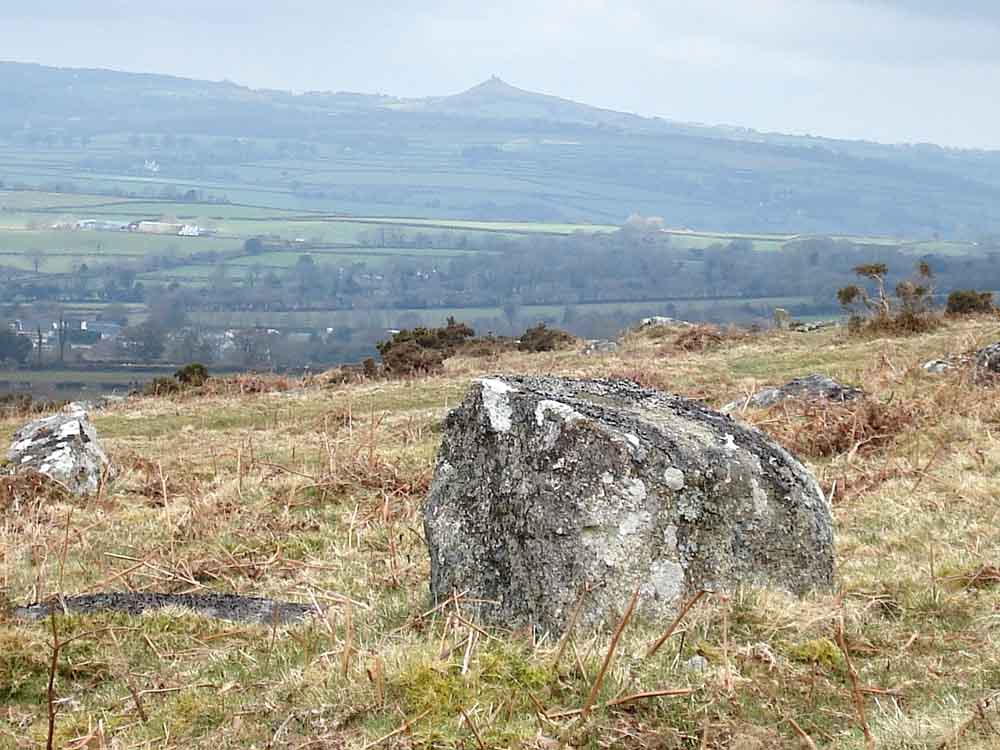 Brentor with another Brentor marker stone.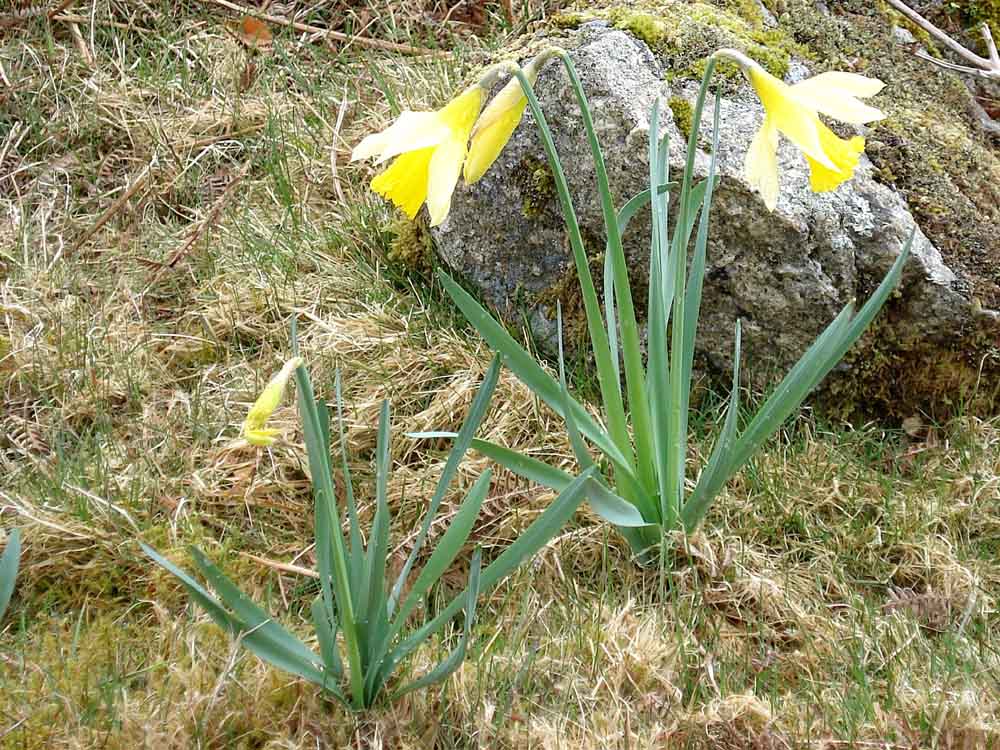 Daffodils .....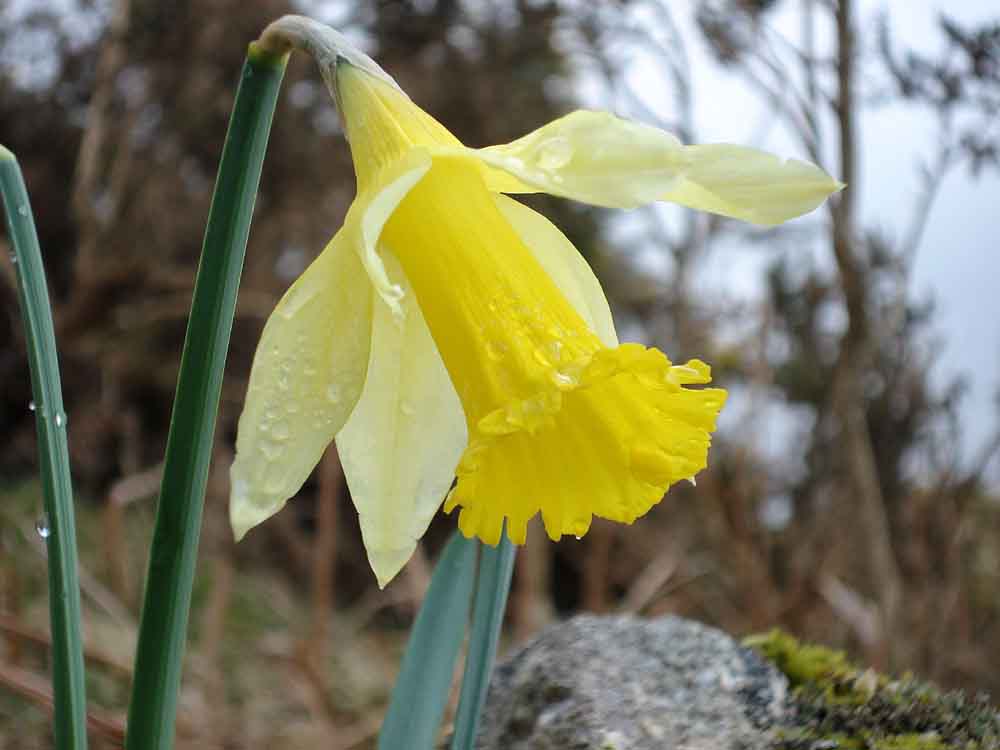 ..... close-up.
MAP: Red = GPS satellite track of the walk.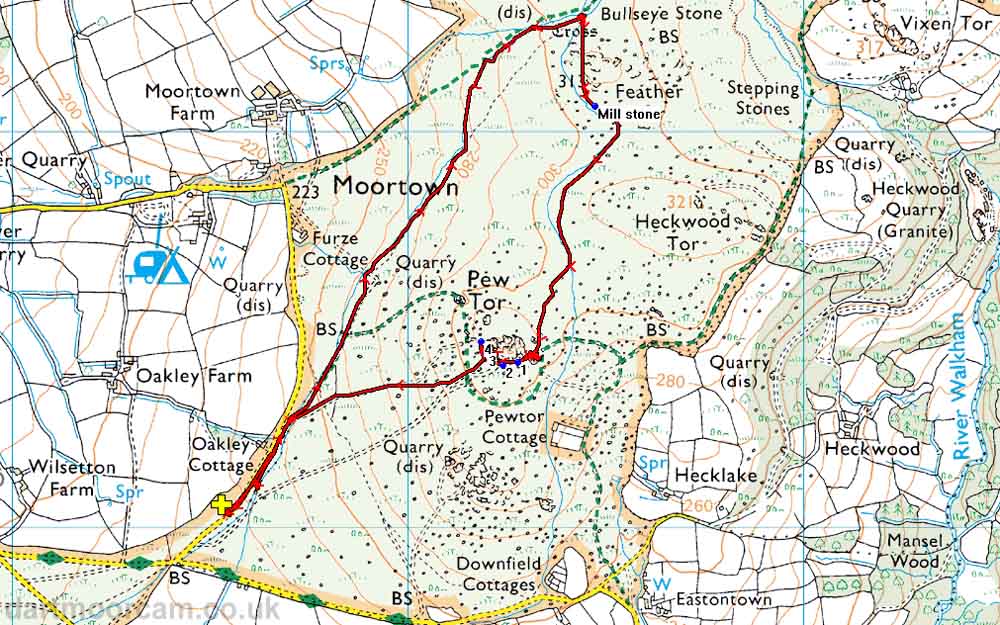 Ordnance Survey © Crown copyright 2005. All rights reserved. Licence number 100047373.
Also, Copyright © 2005, Memory-Map Europe, with permission.
The walk is probably most easily approached via the road from the church in Whitchurch (the south-eastern area of Tavistock), following signs to Moortown but parking before getting there on the roadside below Pew Tor. There is roadside parking in the area of the yellow cross on the map, which is located at SX 52527 73058.
Statistics
Distance - 4.40 km / 2.73 miles.
All photographs on this web site are copyright ©2007-2016 Keith Ryan.
All rights reserved - please email for permissions