This walk: 2010-6-17. Yellow flag iris, Leather Tor Bridge, fern, signpost, Raddick Lane, Raddick Plantation, Leather Tor, Sharpitor, European larch, Keaglesborough Mine leat, blackface sheep, Crazy Well Pool, clapper bridge, Devonport leat, "black" aquatic moss, Cramber Tor, Burrator Reservoir, North Hessary Tor, common cotton grass, hare's tail cotton grass, Cramber Pool, trig. point, rowan in a deep pit, fly, Devonport leat, crowfoot, Newleycombe Cross, Down Tor, Sheepstor, Combeshead Tor, Hingston Hill stone row, Crazywell cross,.
Walk details below - Information about the route etc.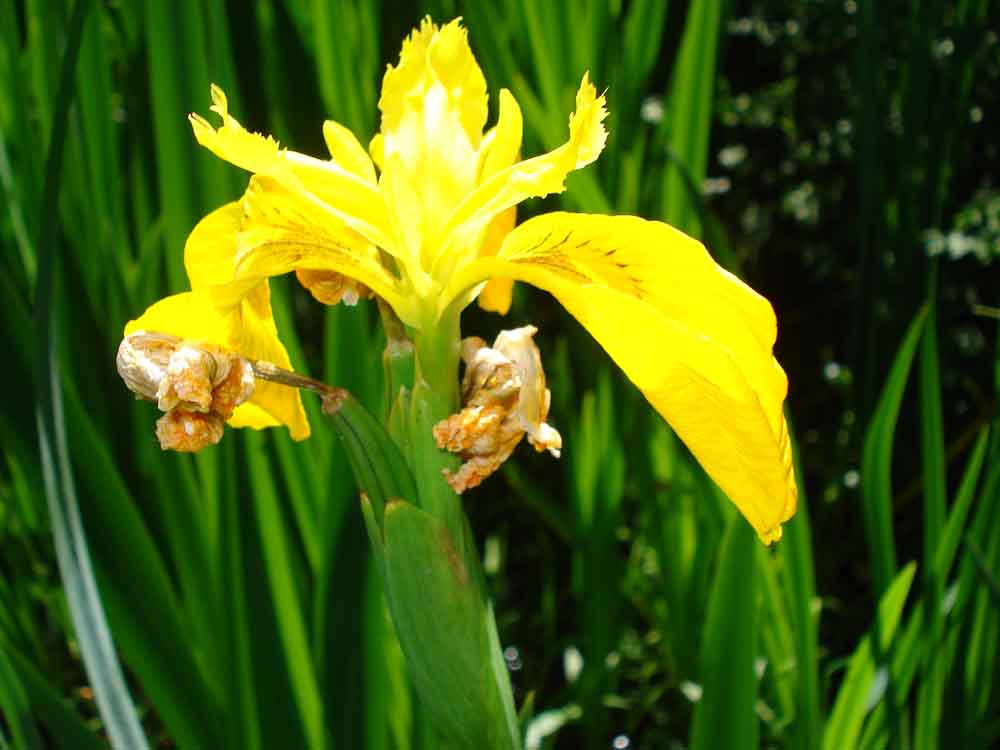 Yellow flag iris, Iris pseudacorus, passed its best, on Newlycombe Lake river bank, just upstream from Norsworthy Bridge .....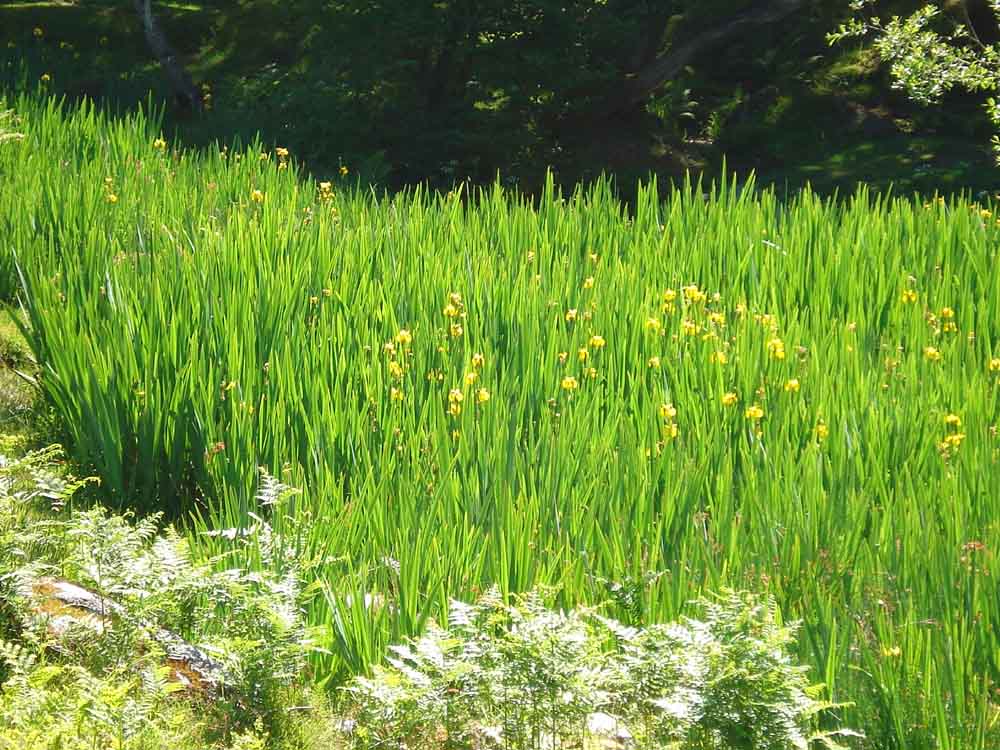 ..... en masse.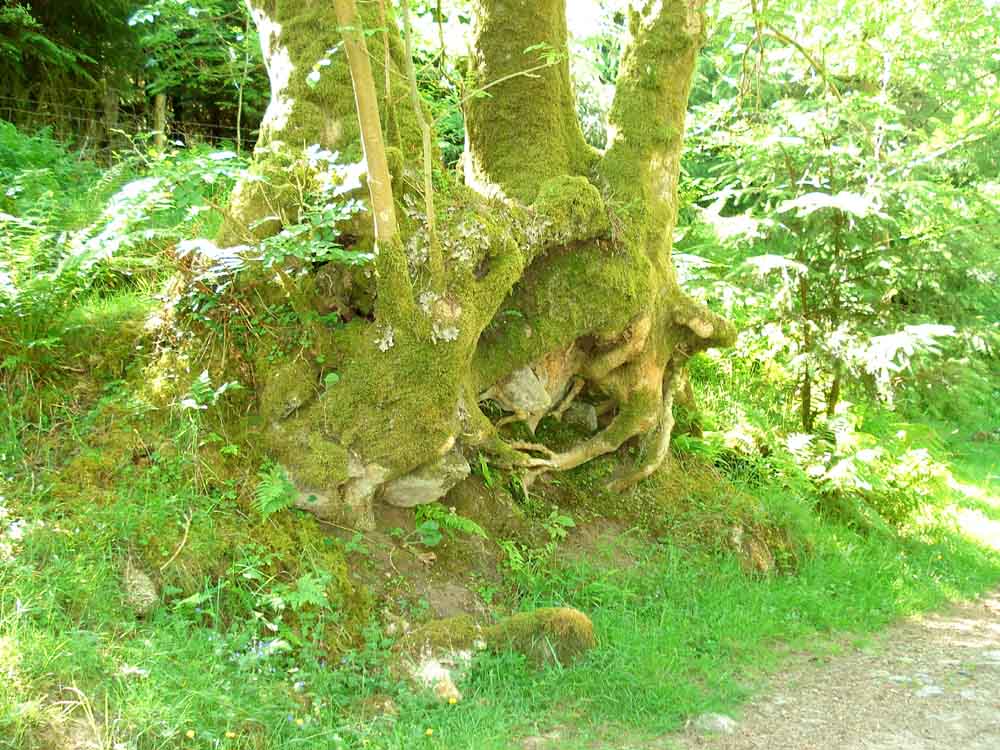 An unusual exposed, conjoined set of tree roots.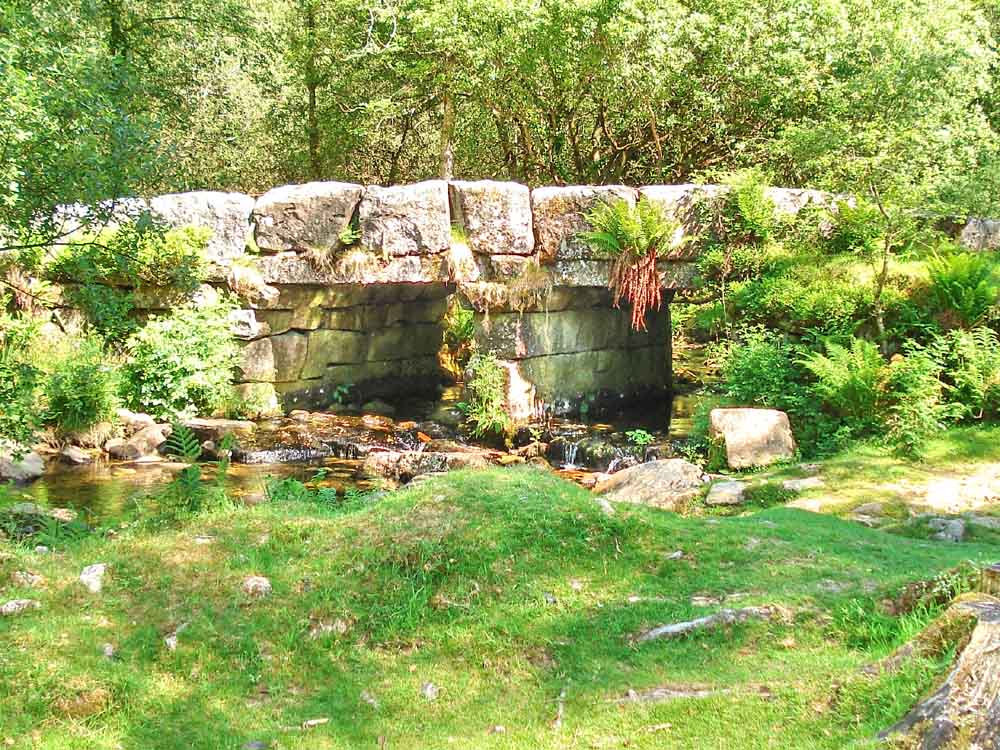 Leather Tor Bridge - the link shows a photo from 1887 - with no trees! (Sorry - the Dartmoor Archive link no longer works).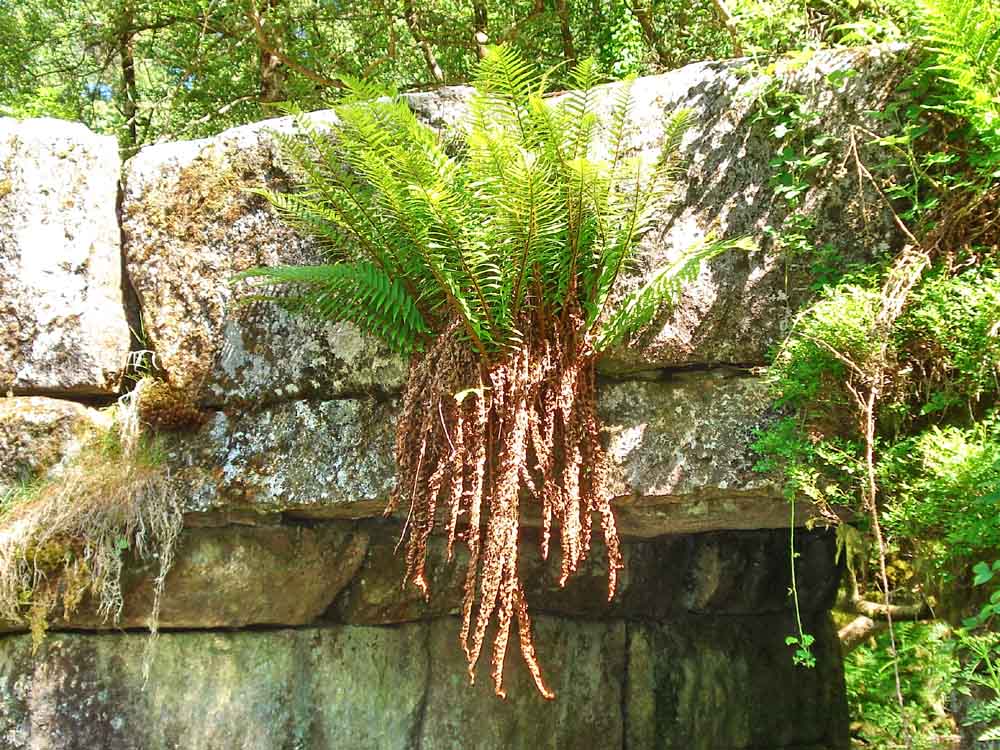 Unidentified fern growing on the side of the bridge.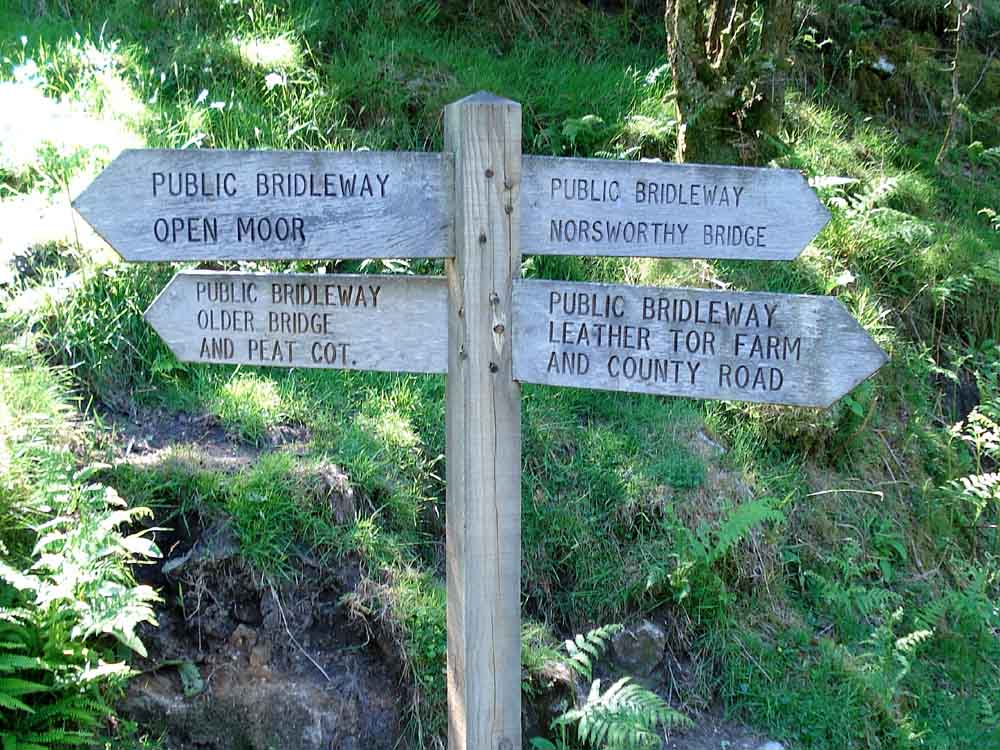 Signpost at the bottom of Raddick Lane.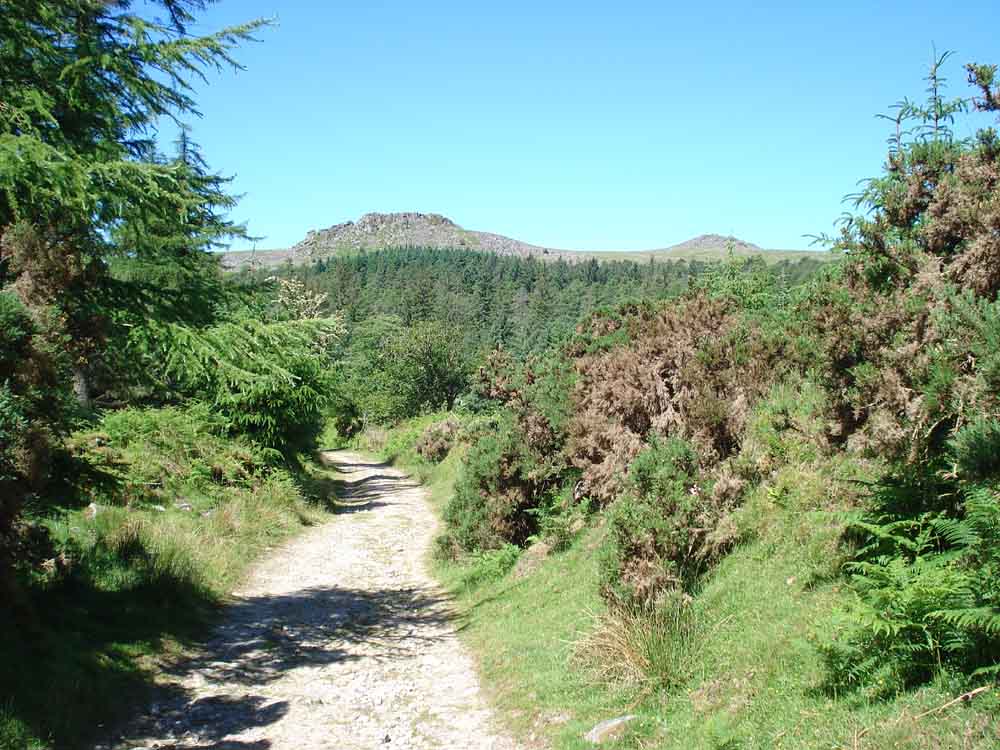 View of Leather Tor (left, Lether Tor or Lodertorre, SX 563 700, elevation 380 metres/1246 feet) and Sharpitor (right, SX 560 703, elevation 410 metres/1345 feet) from Raddick Lane.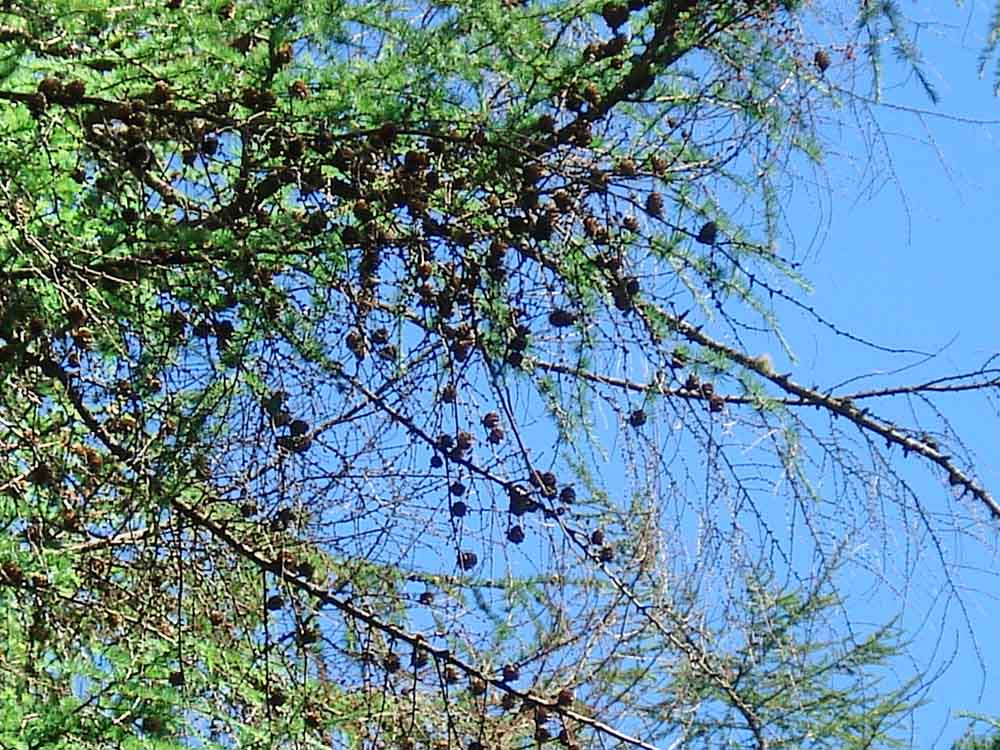 Looking up at the European Larch (Larix decidua) trees of Raddick Plantation.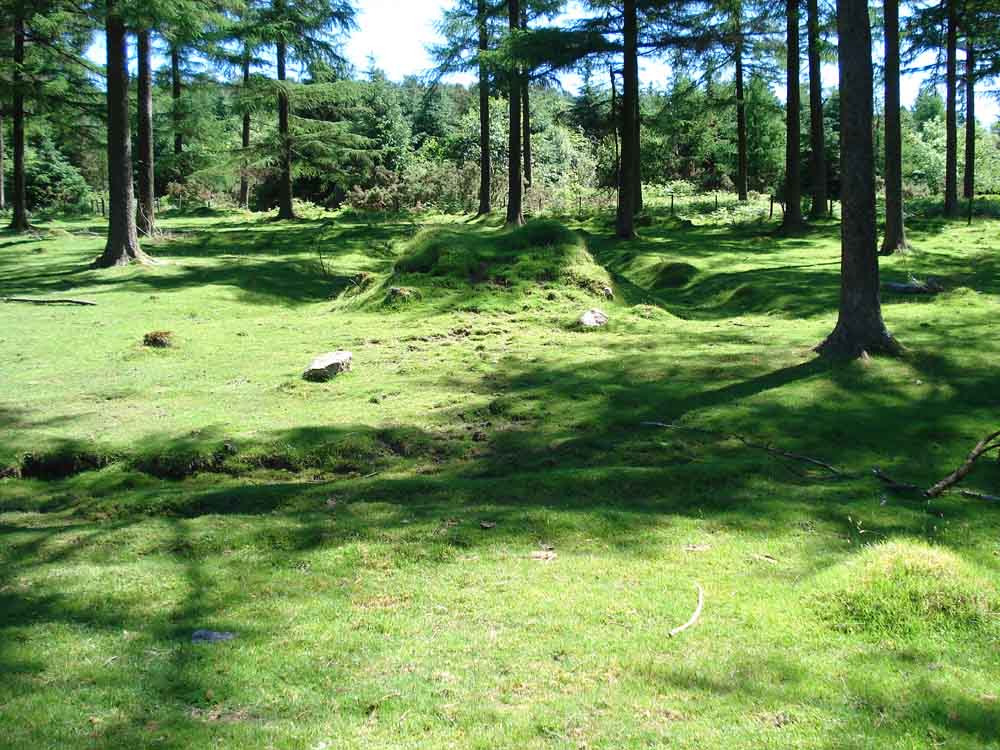 Part of the Keaglesborough Mine in Raddick Plantation. This view looks up from the old wheel pit which was 'fixed' at SX 57377 70140 by GPS. At the top of the photo can be seen the raised bank that brought in the leat to drive the water wheel.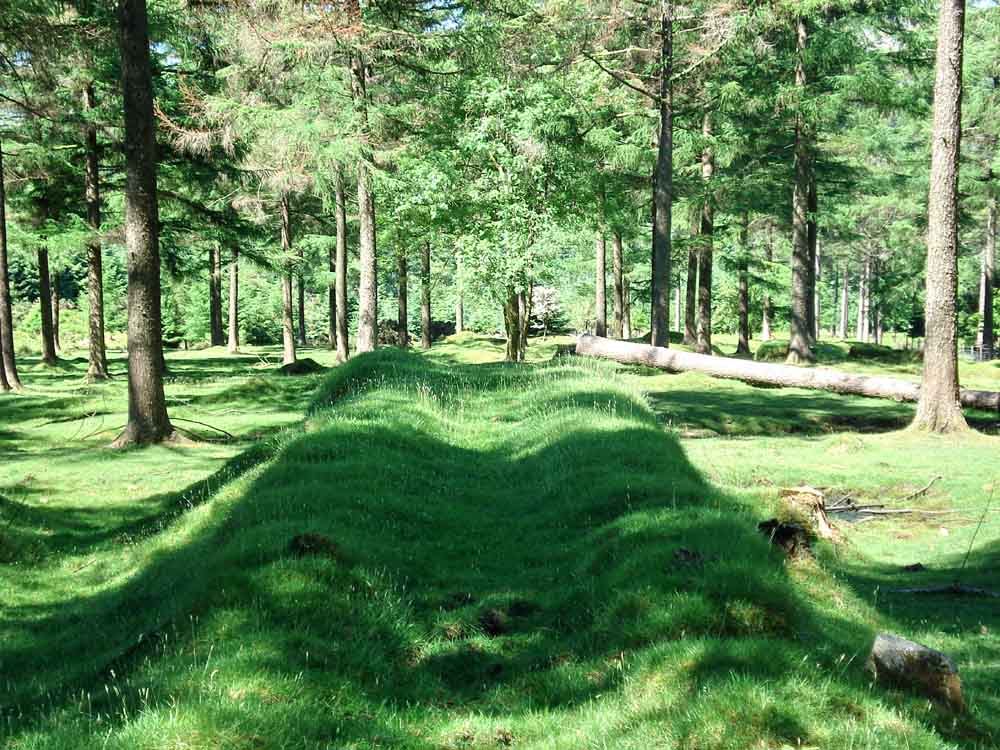 Looking along the leat bed towards the water wheel pit and beyond, down the slope.
Leather Tor, Lether Tor or Lodertorre again..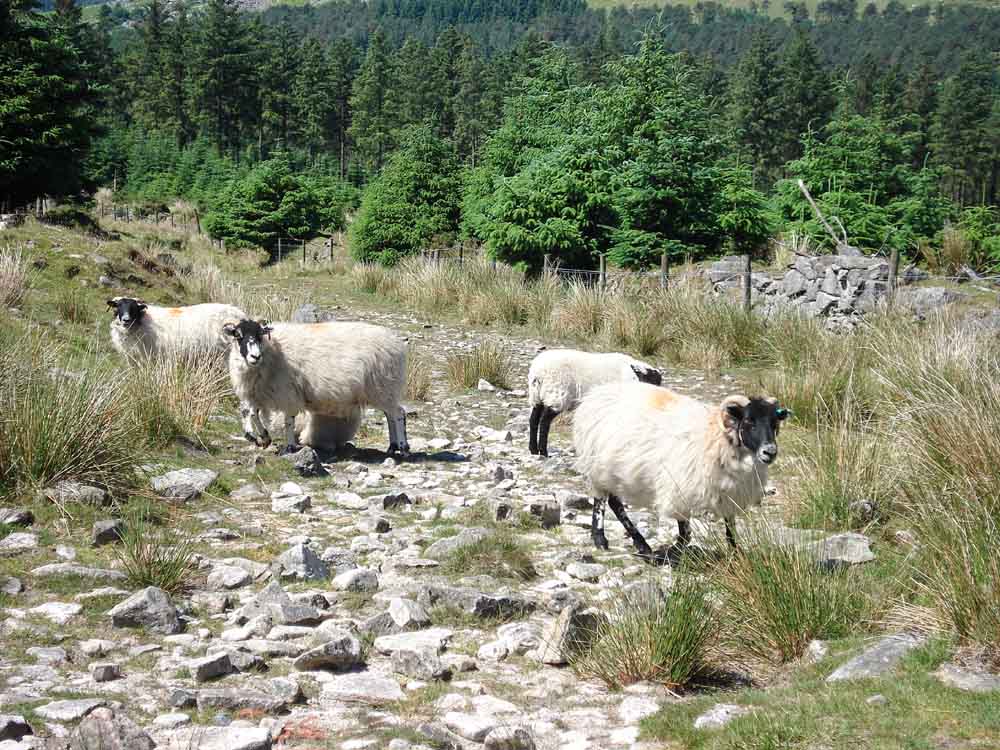 Scotch blackface sheep at the top of Raddick Lane, waiting to pass us to reach the open moor.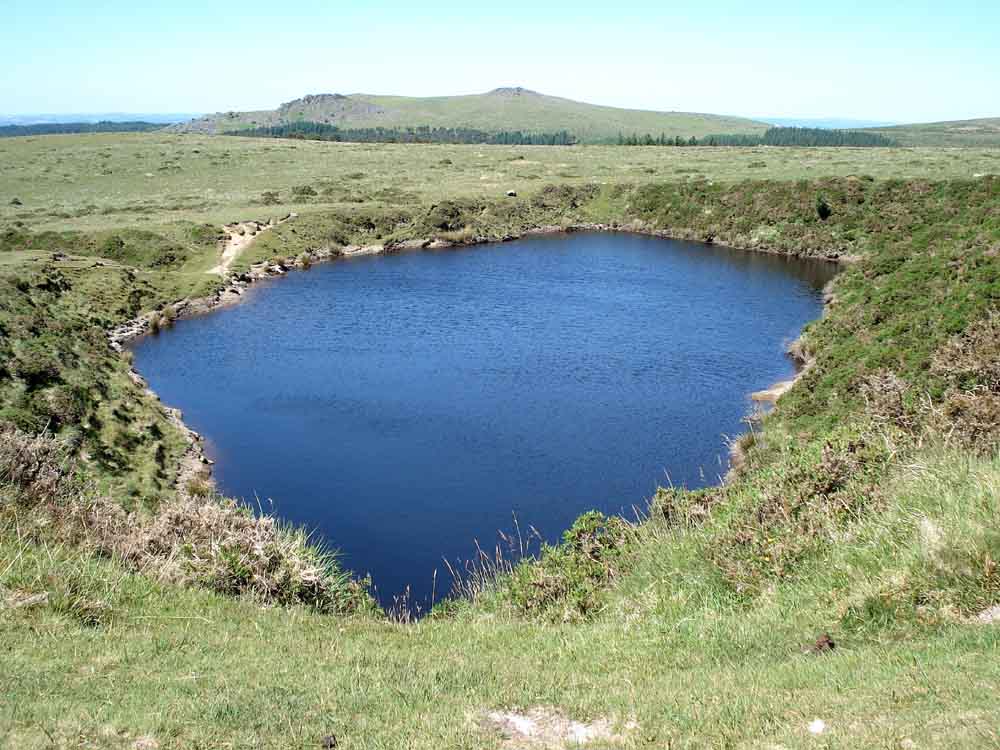 Crazy Well Pool (or Classywell Pool) with Leather Tor and Sharpitor in the background.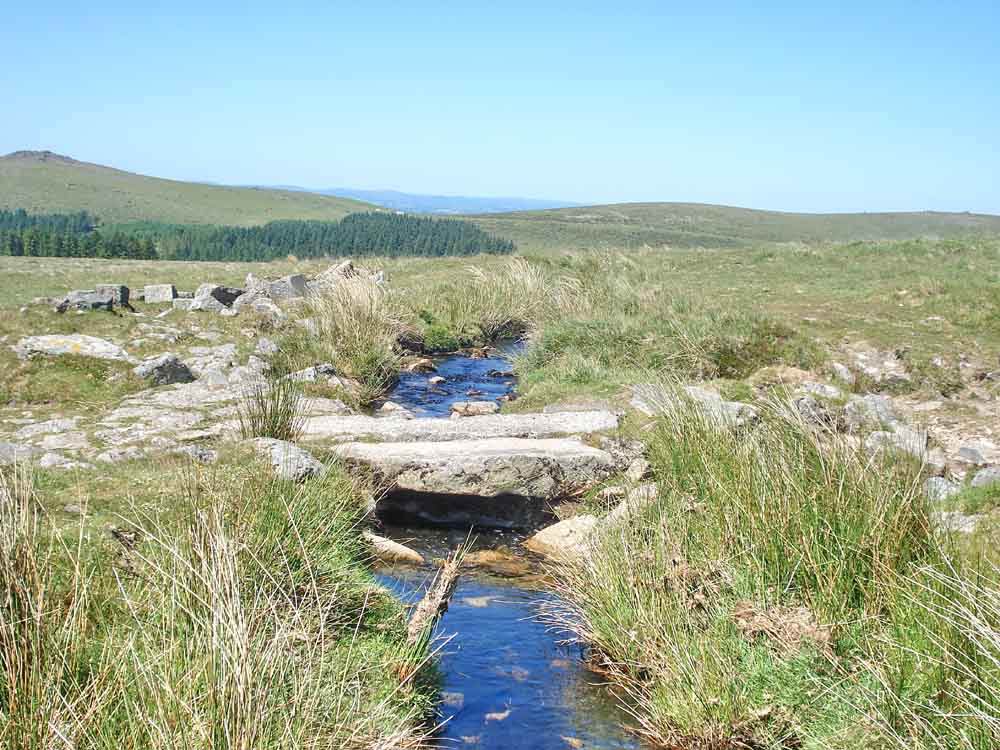 Clapper bridge over Devonport Leat just above Crazy Well Pool.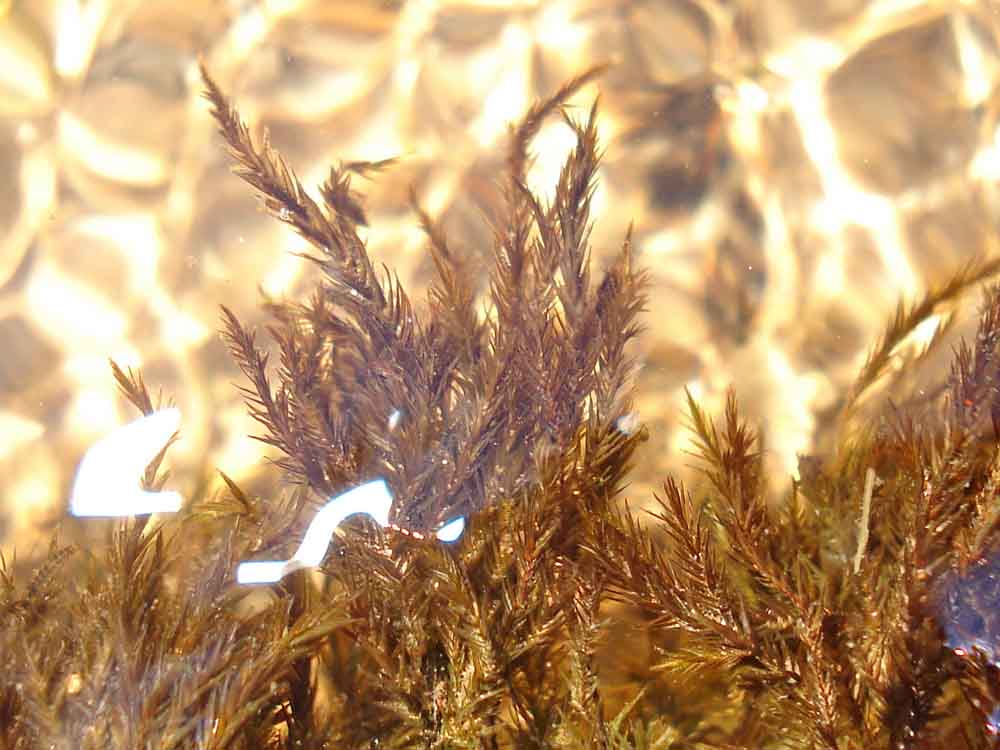 A "black" moss growing copiously in running water in the leat (the dead white areas are probably reflections from the flash on the camera).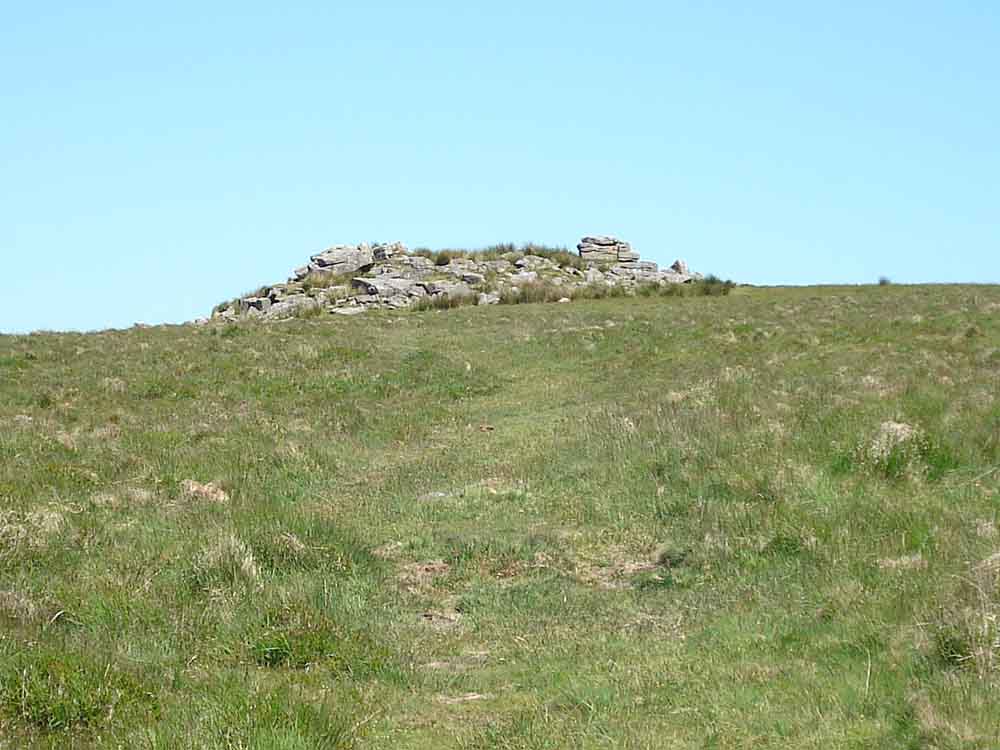 Cramber Tor, SX 583 711, elevation 418 metres (1371 feet).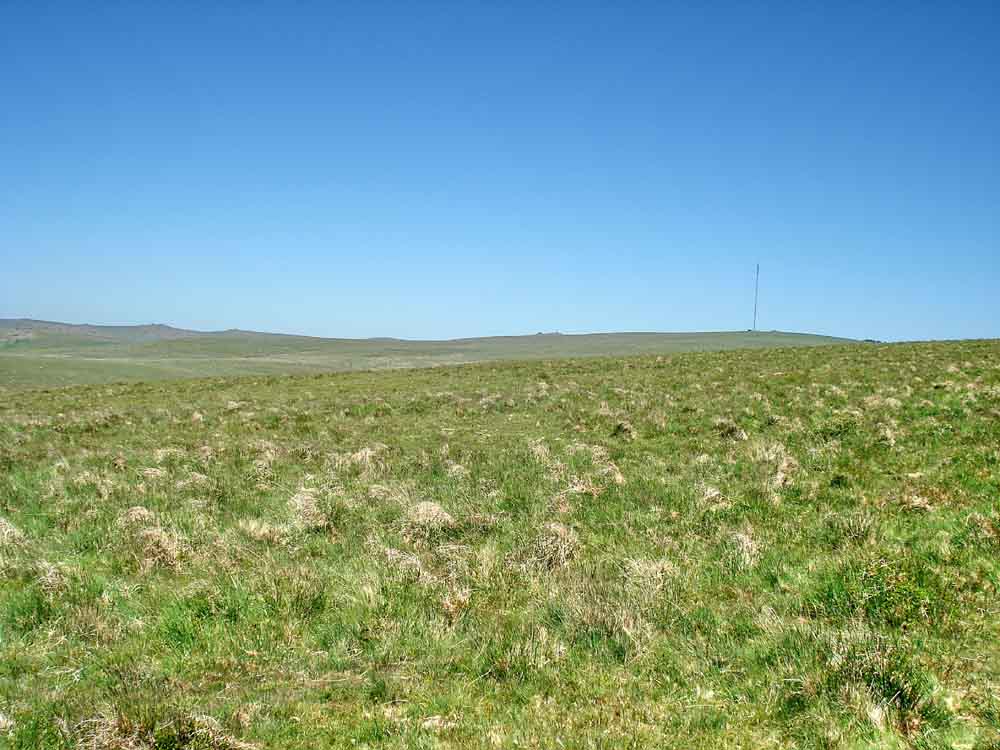 Panorama showing, from left, Middle Staple Tor, Great Staple Tor (notched), Roos Tor, White Tor, Great Mis Tor and the North Hessary Tor TV transmitter. Click HERE to see a larger version, navigate using the keyboard cursor/arrow keys.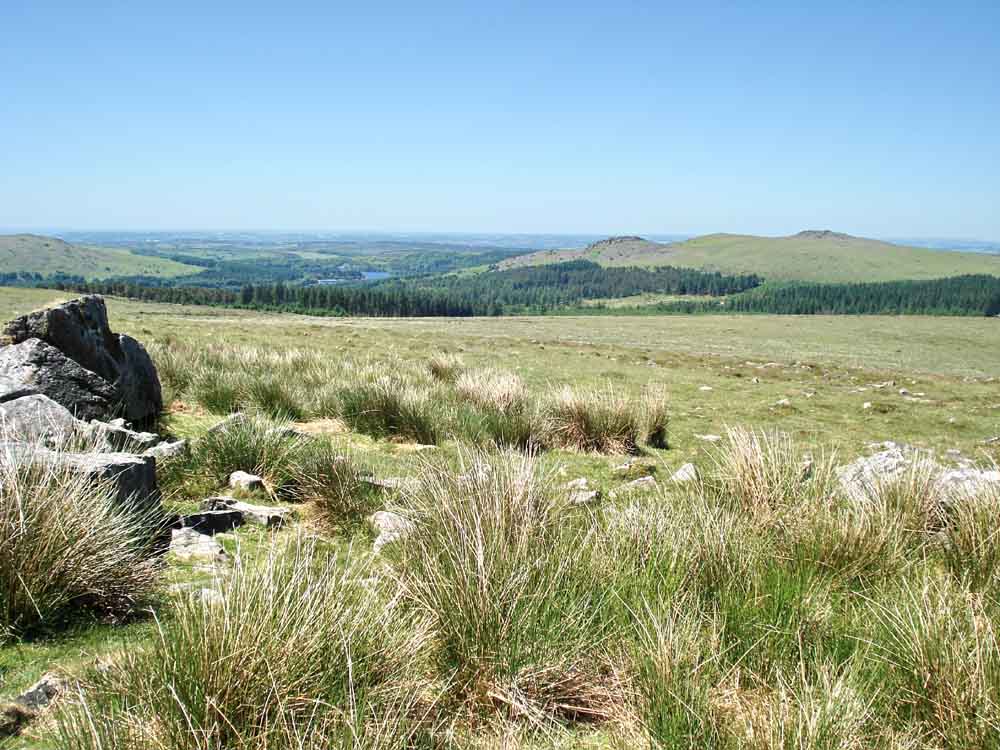 View from Cramber Tor towards Burrator Reservoir,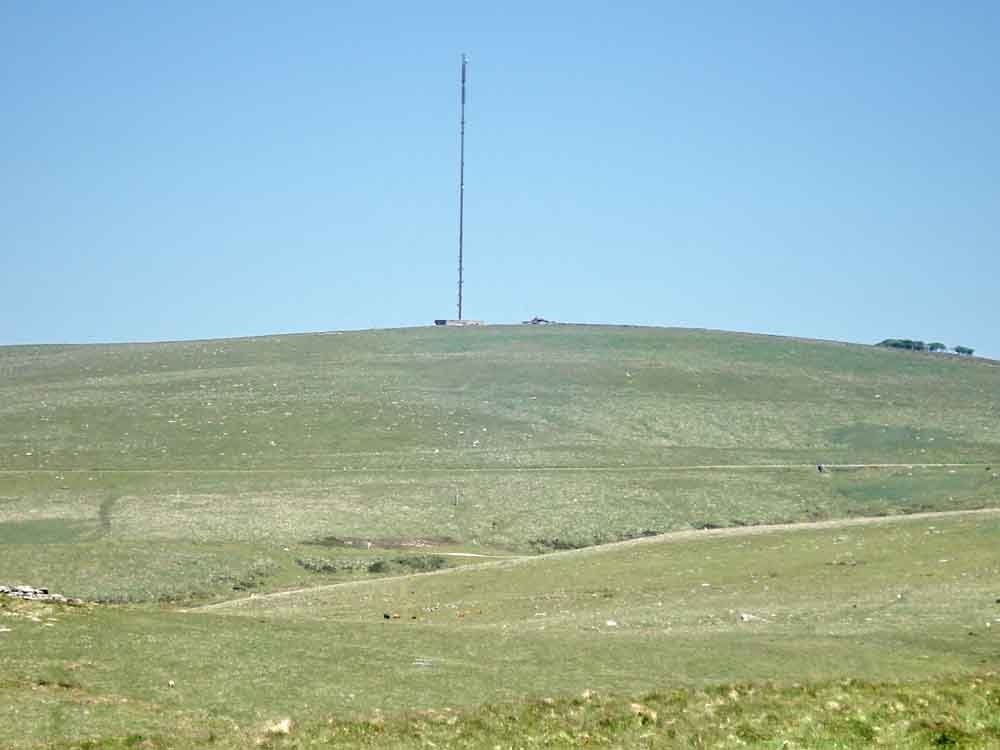 Zoomed view to the tv transmitter at North Hessary Tor.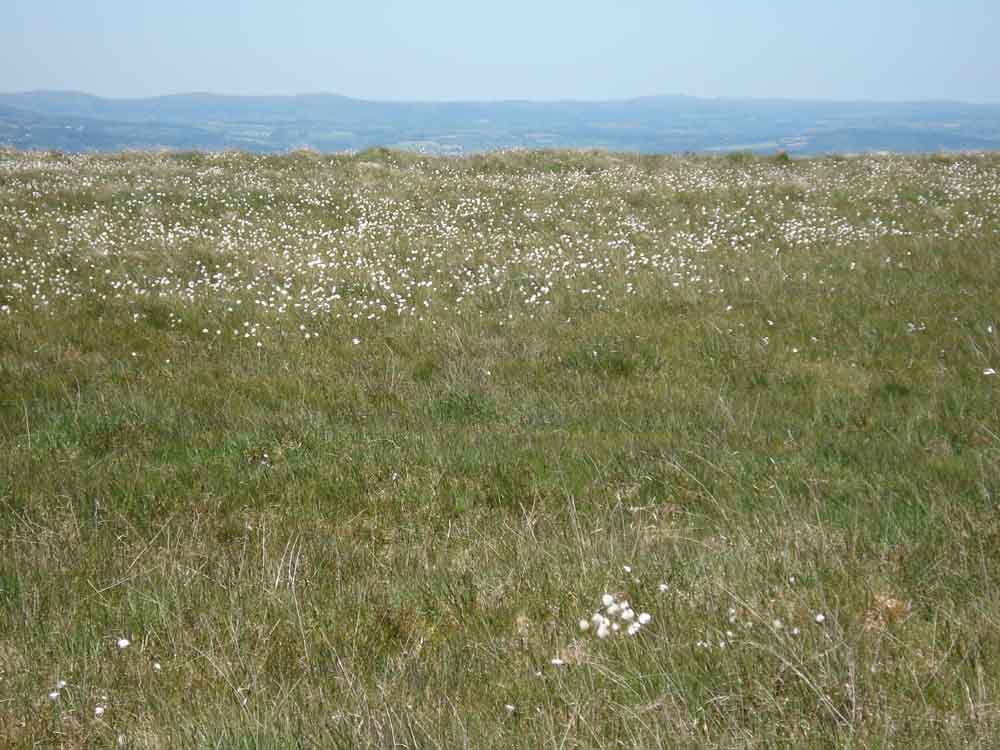 Mixed cotton grasses growing on the top of the hill between Cramber Tor and the trig. point.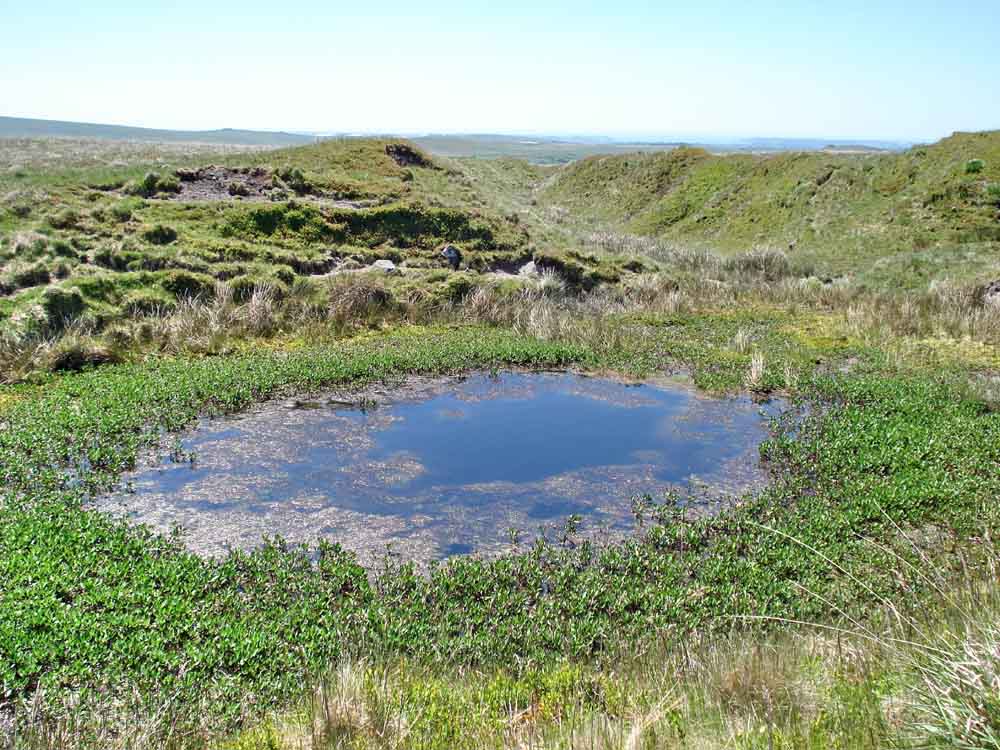 Pool in the gert at SX 589 711 - the margins appear to be very boggy!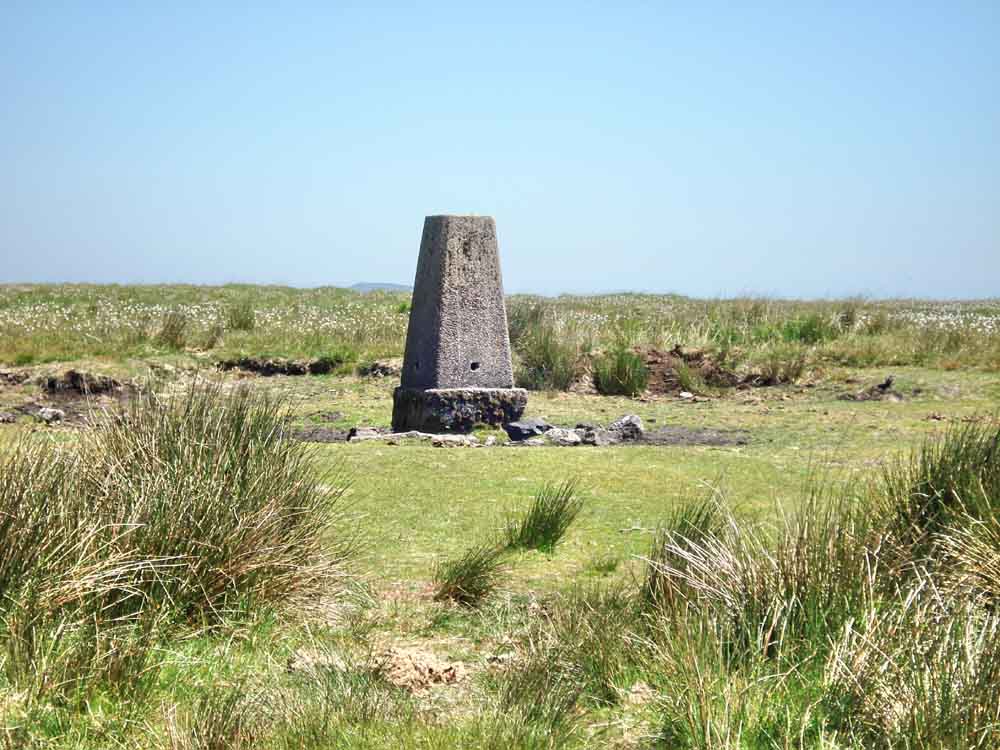 Trig point at SX 592 712, elevation 445 metres (1459 feet). Also: Triangulation pillars.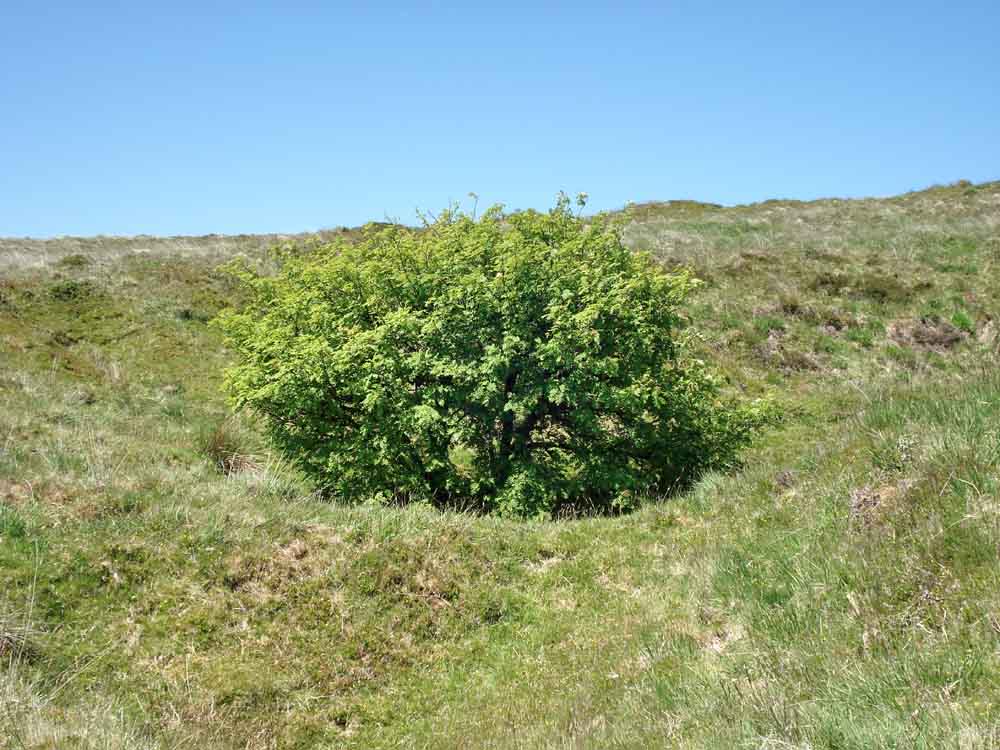 Top of a tall rowan tree growing in a hole in the ground! .....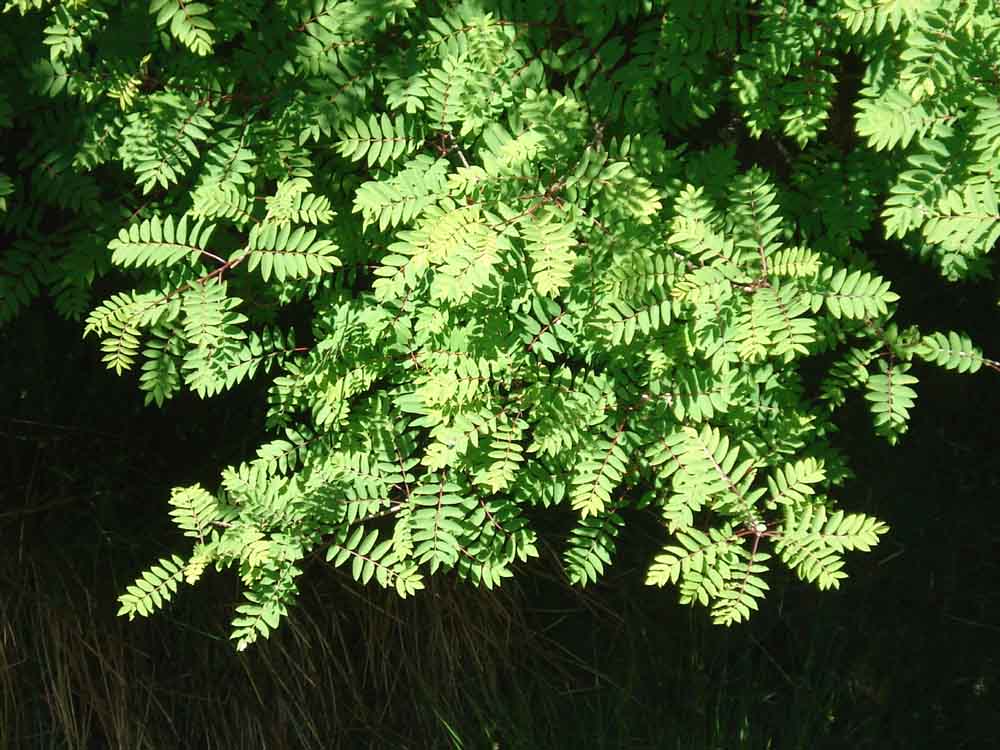 Looking down on the rowan leaves.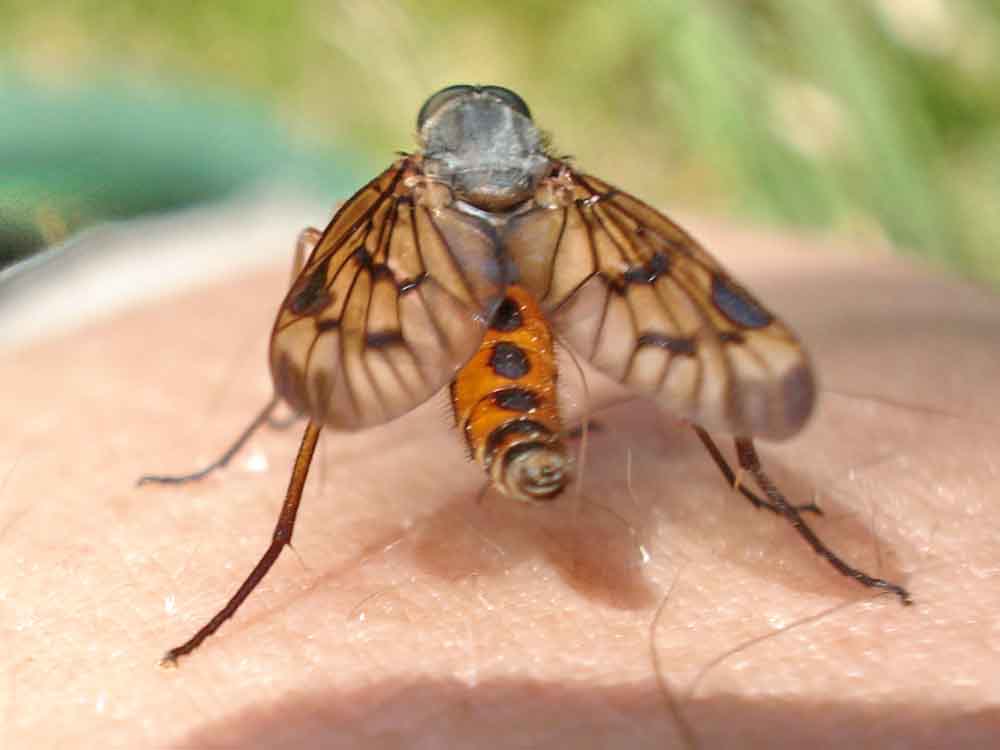 At this point, a believed Snipe fly (Rhagio species) settled on my leg (see 2010-6-9_ColdEastCross, last photo).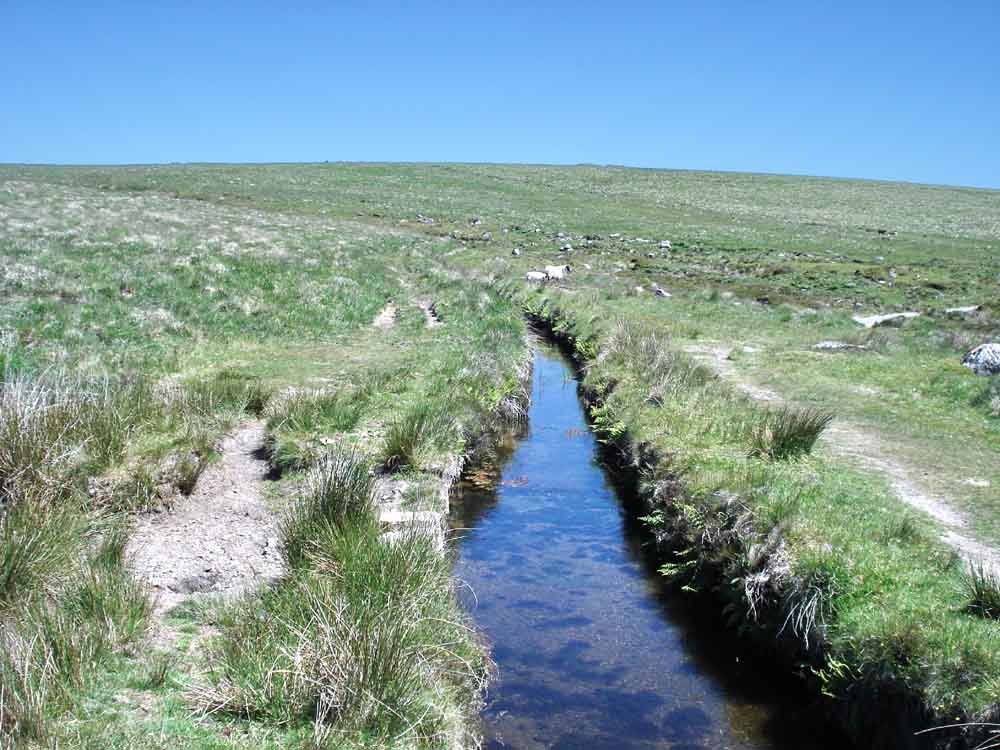 Devonport leat at approx. SX 596 705.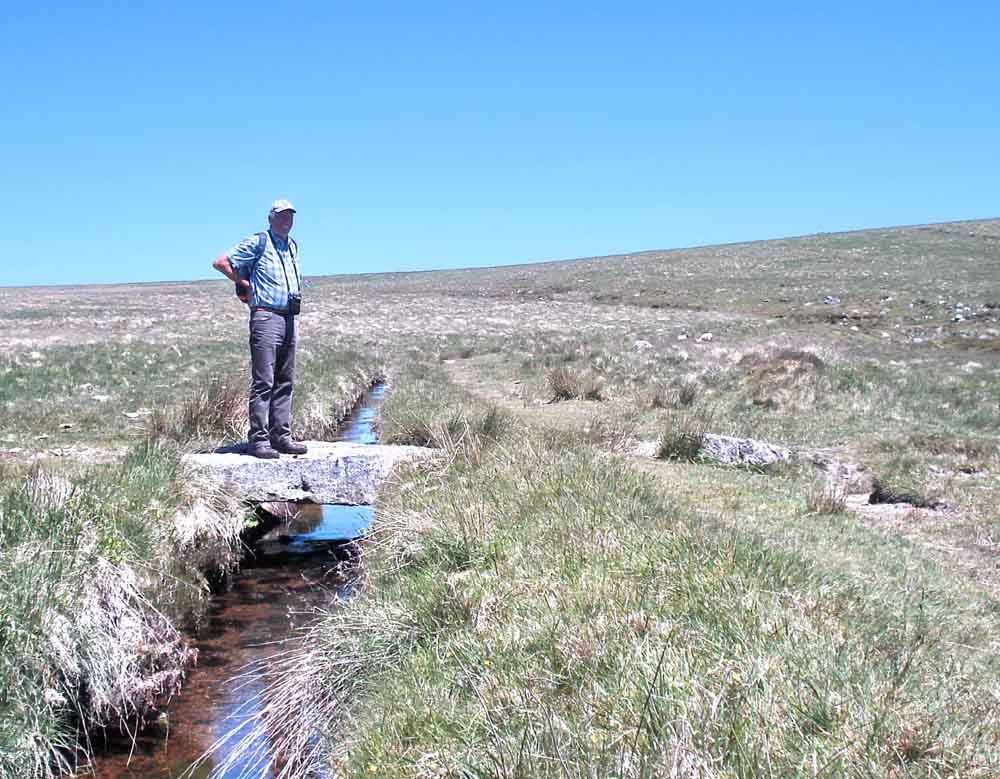 Clapper bridge at SX 59385 70408.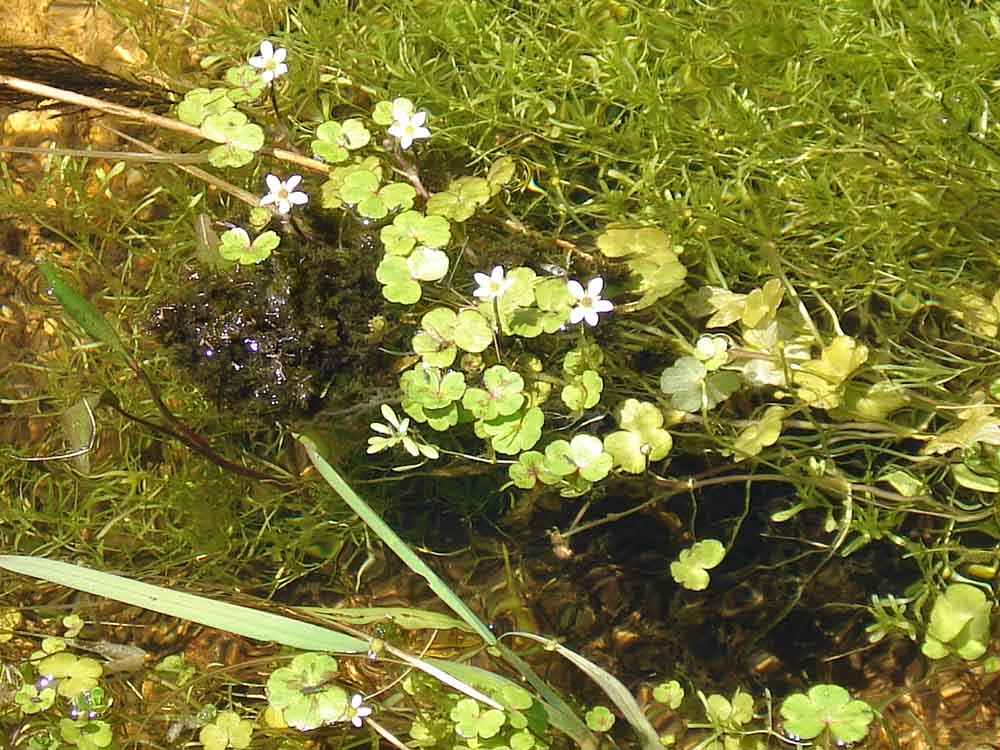 A form of Crowfoot, not Water crowfoot (Ranunculus aquatilis) because the leaves are not divided enough, possibly Ranunculus hederaceus, Ivy-leaved crowfoot, or Ranunculus omiophyllus, Moorland crowfoot.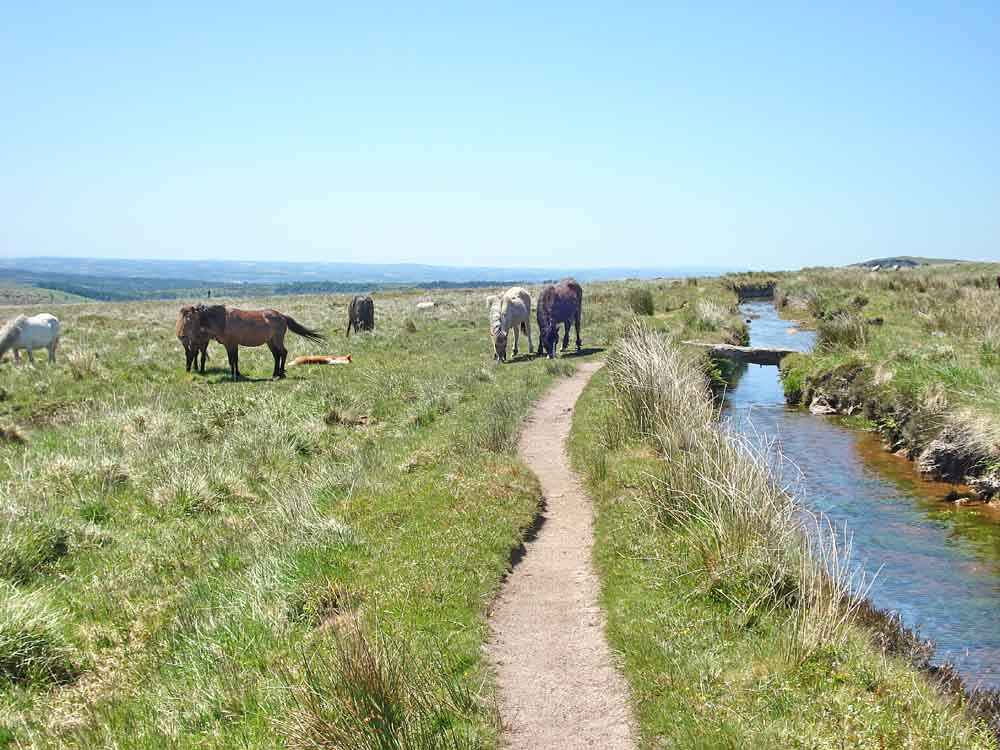 Ponies along the way, by the second clapper bridge at SX 593 704.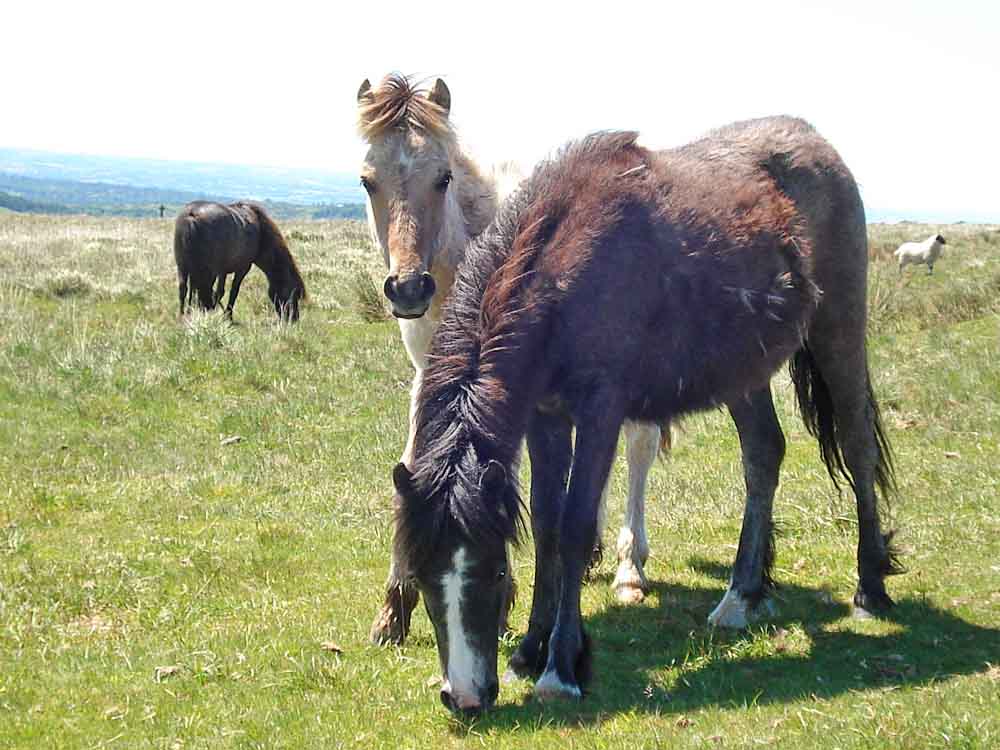 Another image.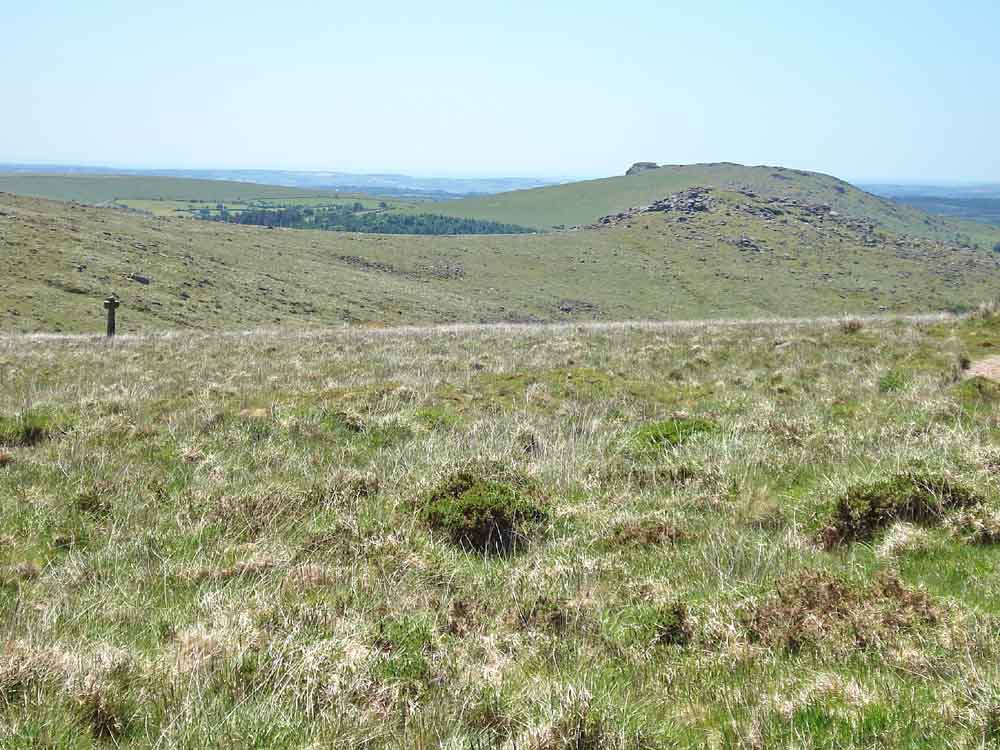 Newleycombe Cross (left) and Down Tor (right) with Sheepstor behind, Roughtor Plantation can be seen in between.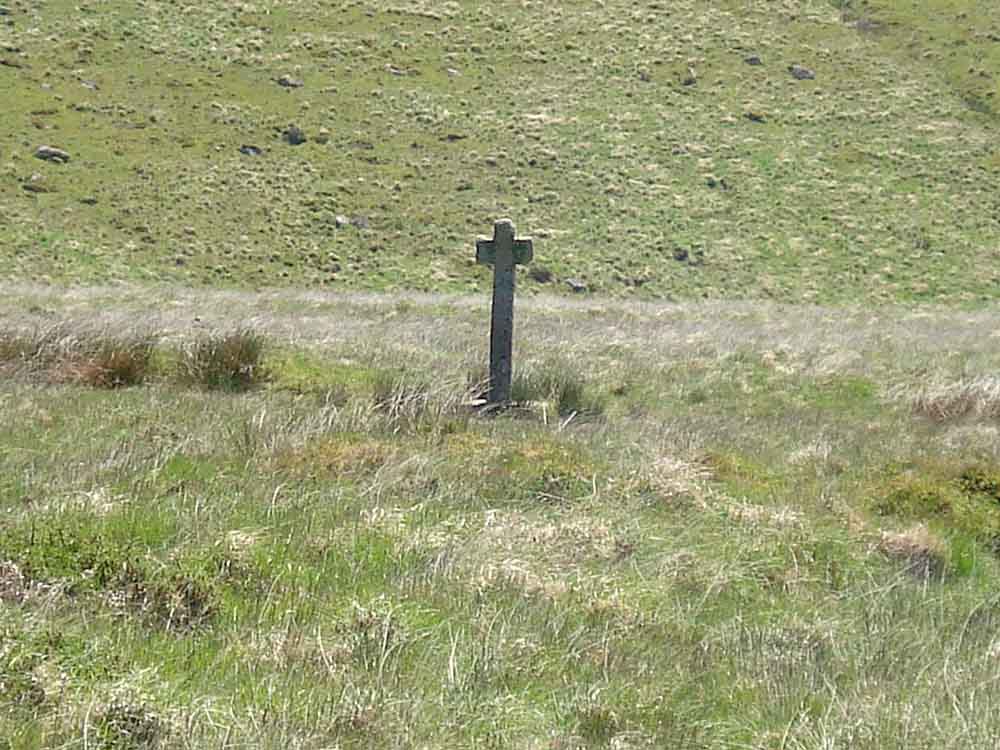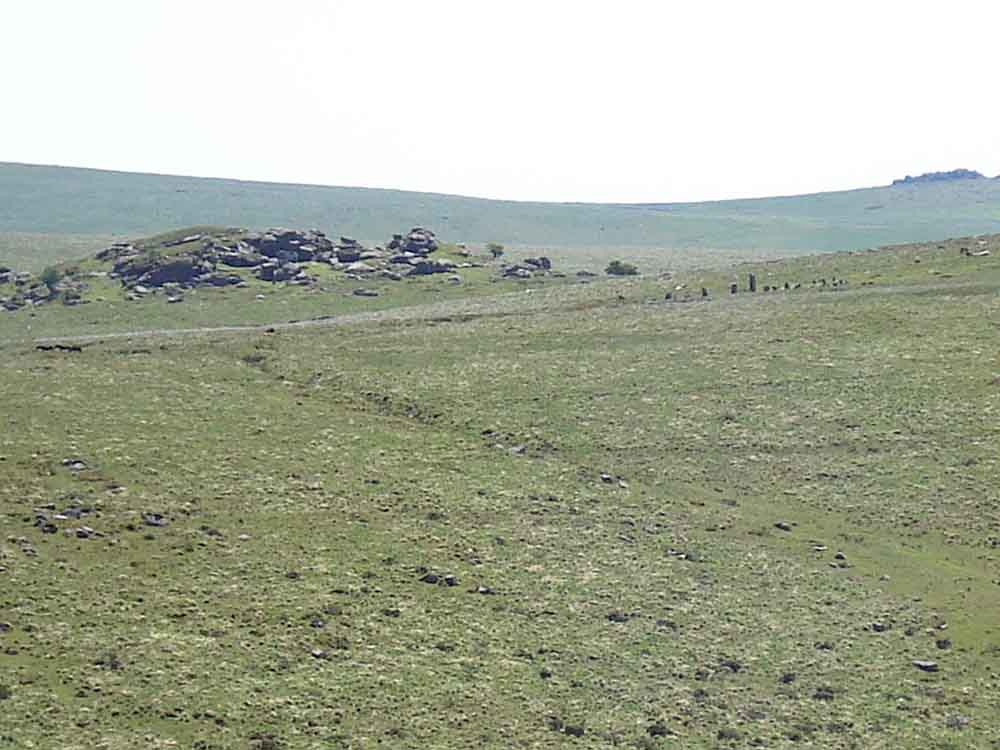 Zoomed view south showing Combeshead Tor, SX 587 688, elevation 371 metres (1217 feet) with Hingston Hill stone row ("re-erected 1894") in front and to the right with the end circle at the right. Sheepstor can just be seen at the right.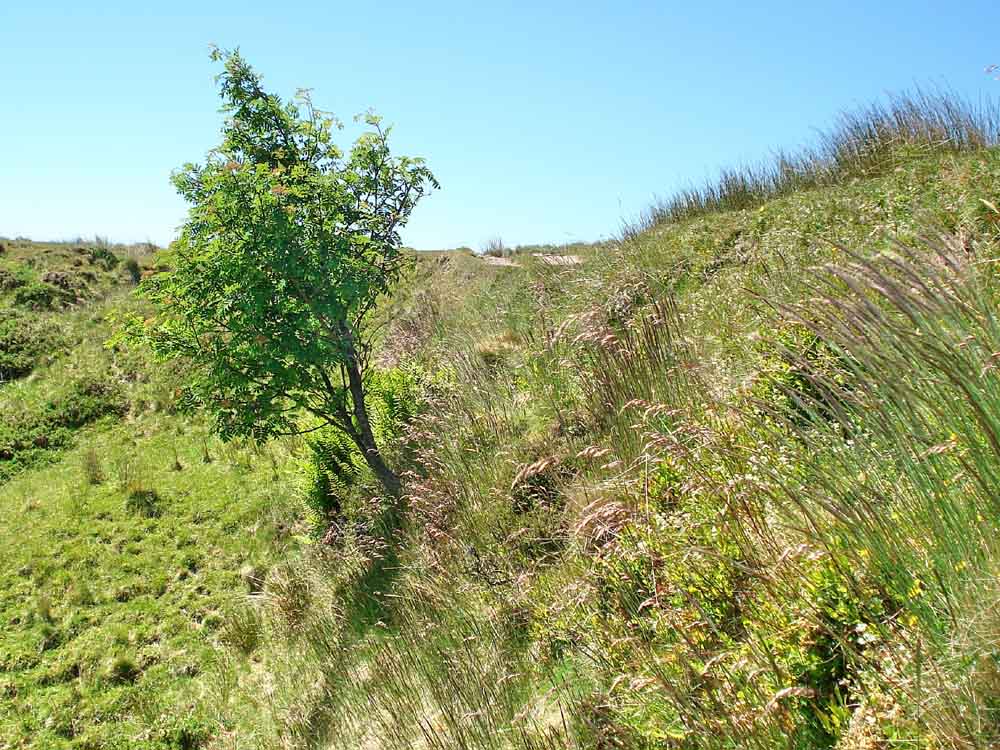 Young rowan tree growing out of the wall supporting the leat at one point.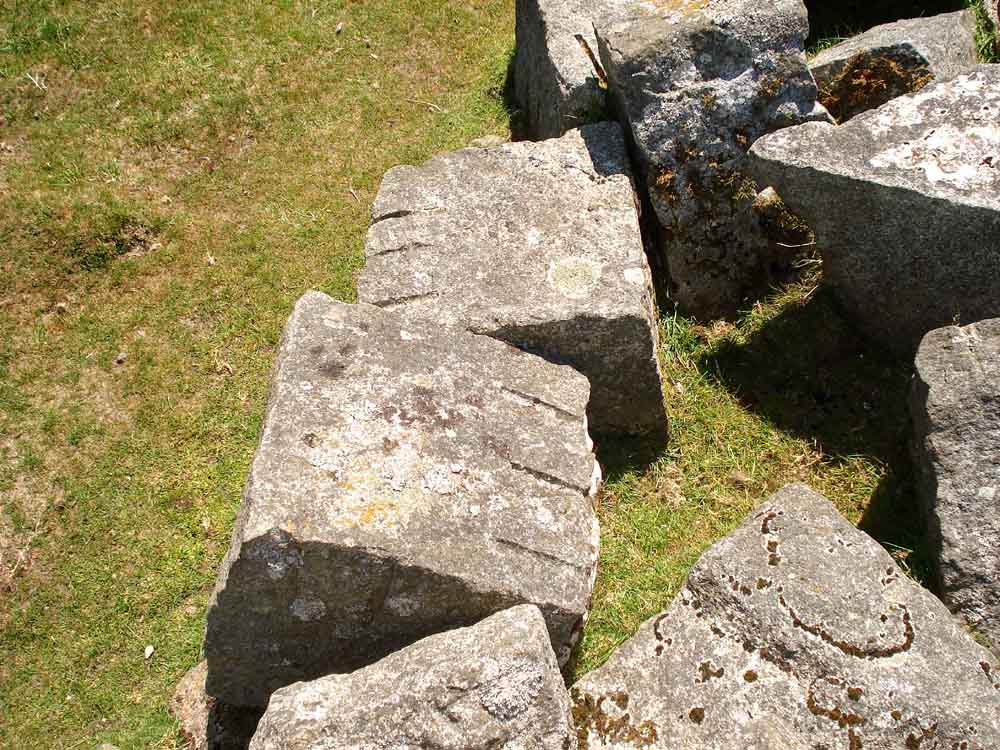 Cut granite blocks left in position for leat repairs, cut by feather and tare method .....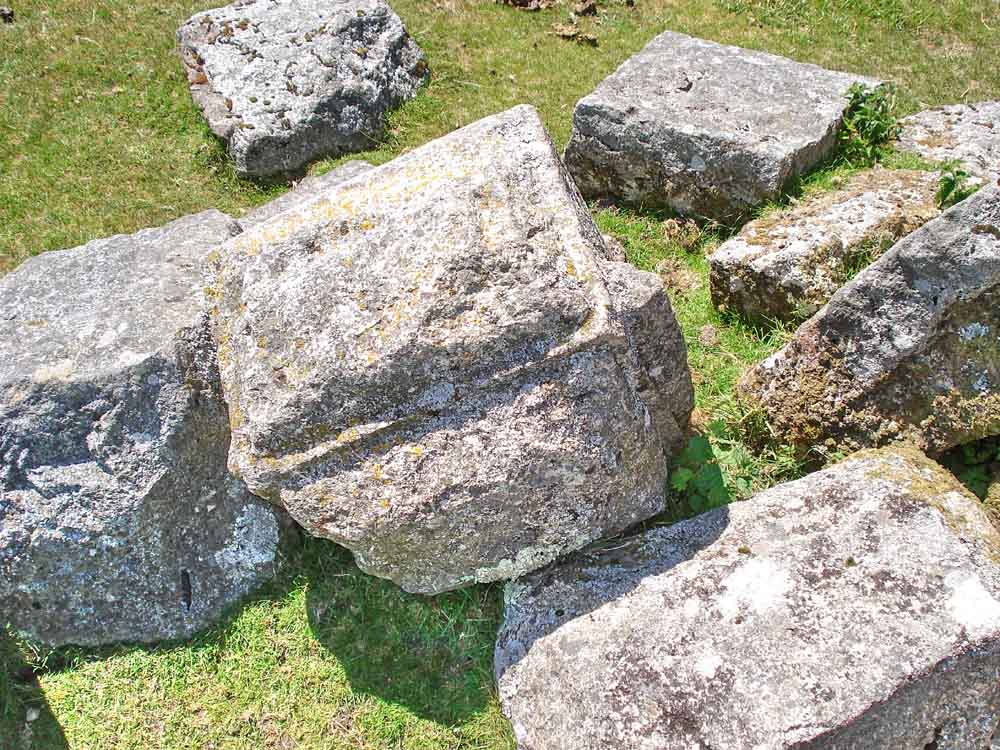 Other blocks, well prepared and shaped for building.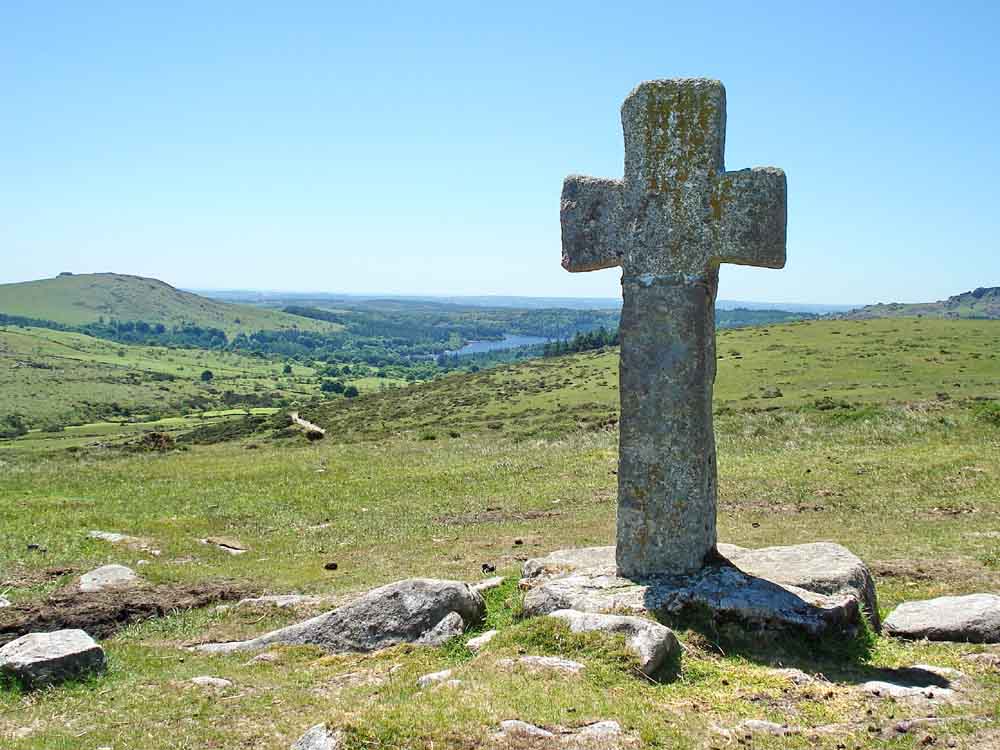 Crazywell cross, with Burrator Reservoir in thew distance and Sheepstor at left.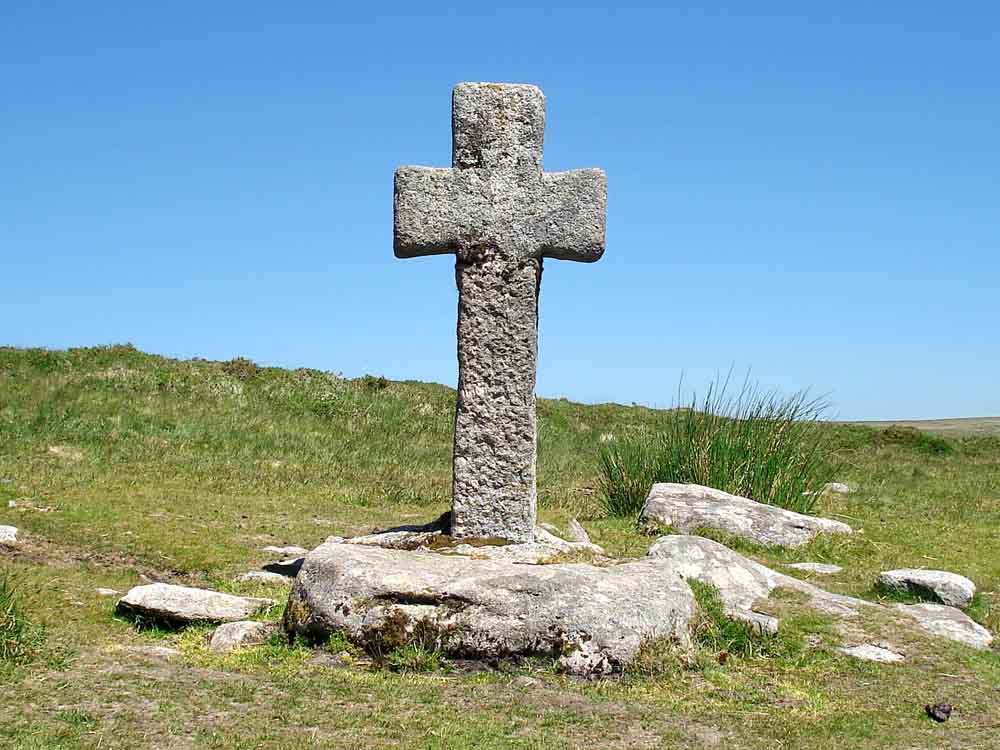 Crazywell cross.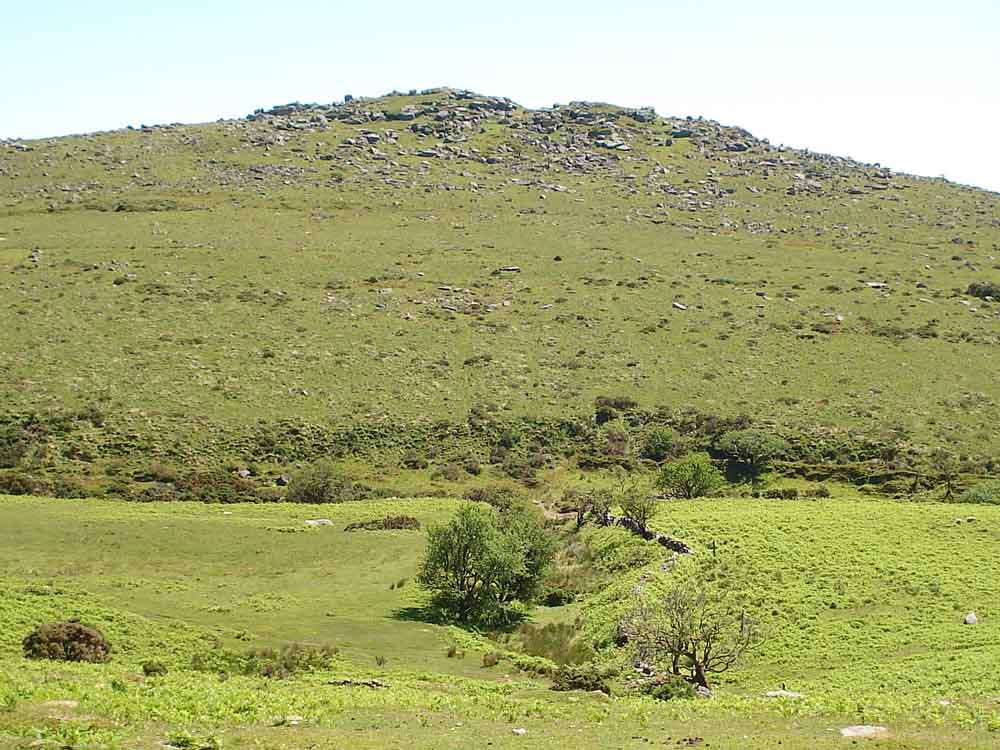 A closer view of Down Tor on the way back to the car park .....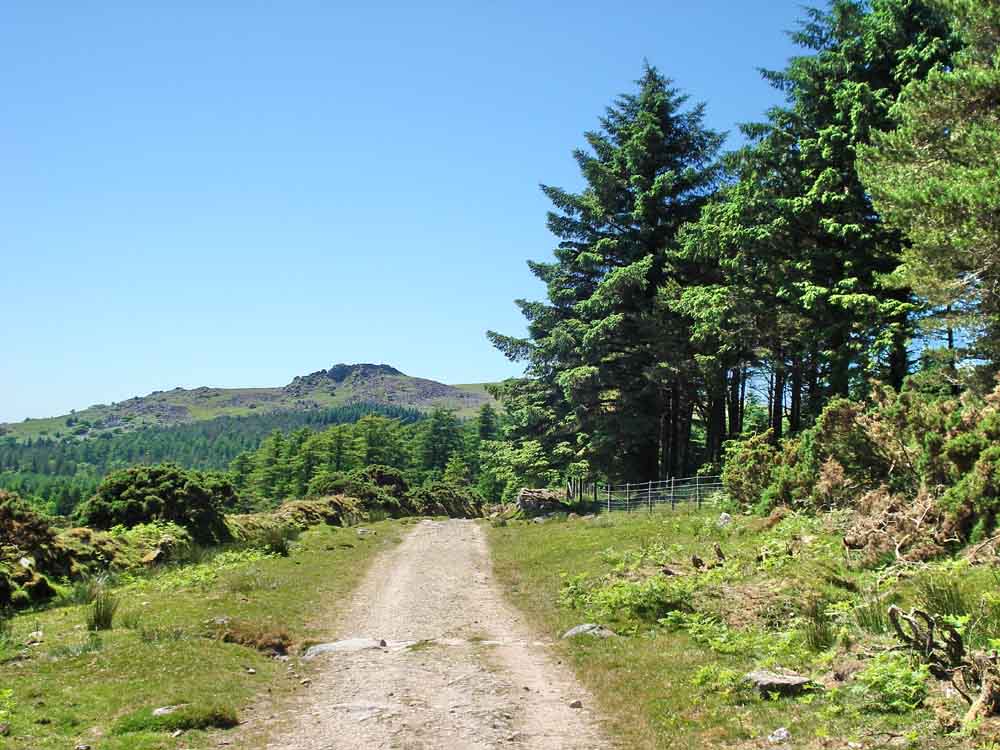 A final view of Leather Tor.
MAP: Red = GPS satellite track of the walk.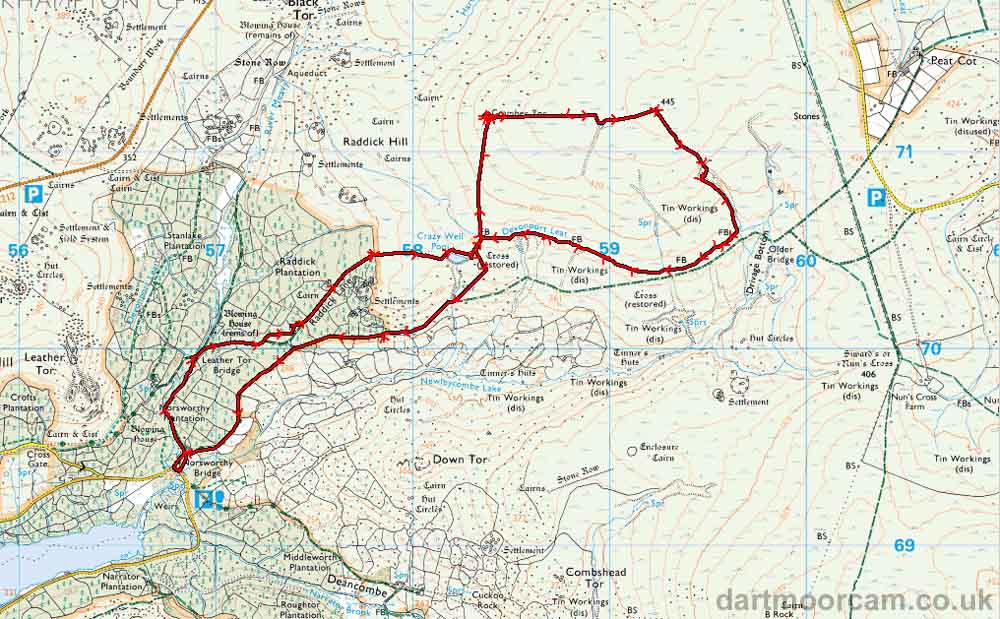 Ordnance Survey © Crown copyright 2005. All rights reserved. Licence number 100047373.
Also, Copyright © 2005, Memory-Map Europe, with permission.
This walk was accessed by parking at the east end of Burrator Reservoir, at Norsworthy Bridge at the P symbol on the map. The are is reached from Yelverton via Dousland.
Statistics
Distance - 9.37 km / 5.82 miles
Start 10.30 am, Finish 3.02 pm, Duration 4 hr 32 min
Moving average 3.1 kph / 1.9 mph; Overall average 2.0 kph / 1.25 mph
All photographs on this web site are copyright ©2007-2016 Keith Ryan.
All rights reserved - please email for permissions
Sister web sites
Dartmoor Tick Watch
The Cornish Pasty - The Compleat Pastypaedia