This walk: 2010-9-22. A misty day! New Waste, Stall Moor, Stalldown stone row, Stall Barrow, Hillson's House, Fox Moth caterpillar, Erme, Tristis Rock, PRDC marker.
Walk details below - Information about the route etc.
A previous walk in this area: 6 Nov 2008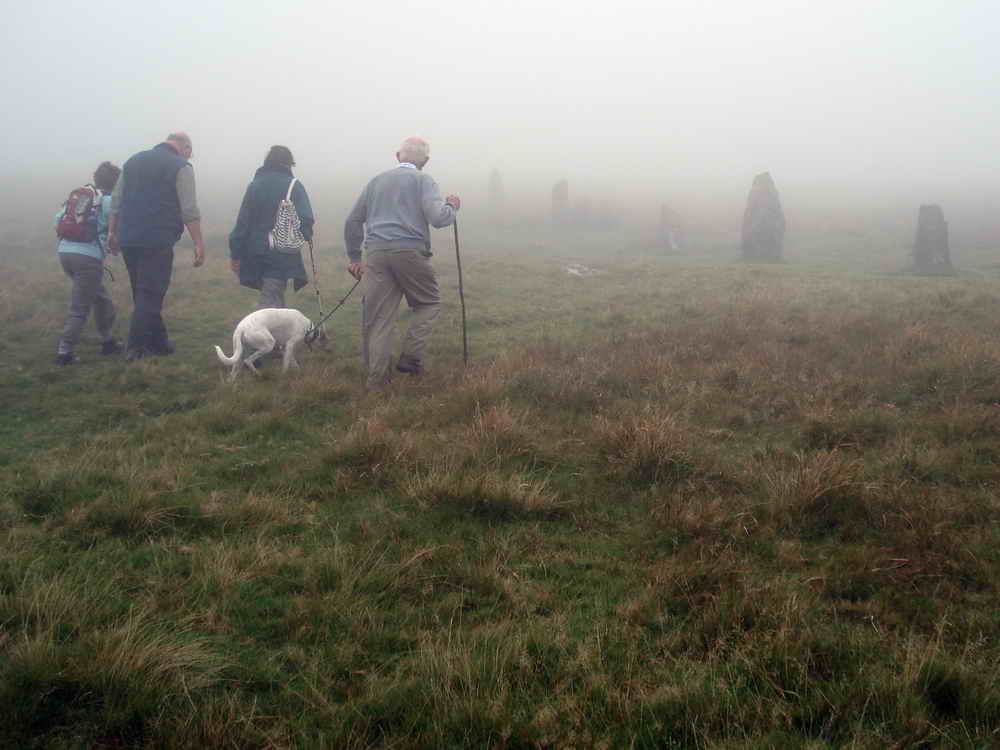 Moor Strollers arriving at the stone row on Stall Moor.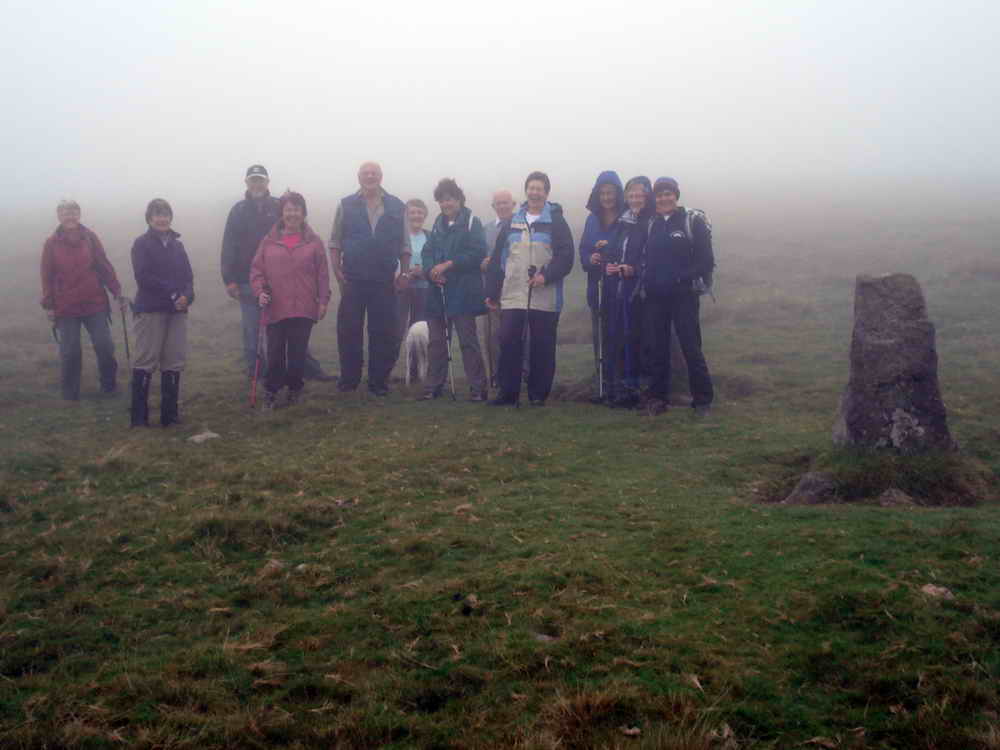 A happy, smiling group photo!
A march of stones .....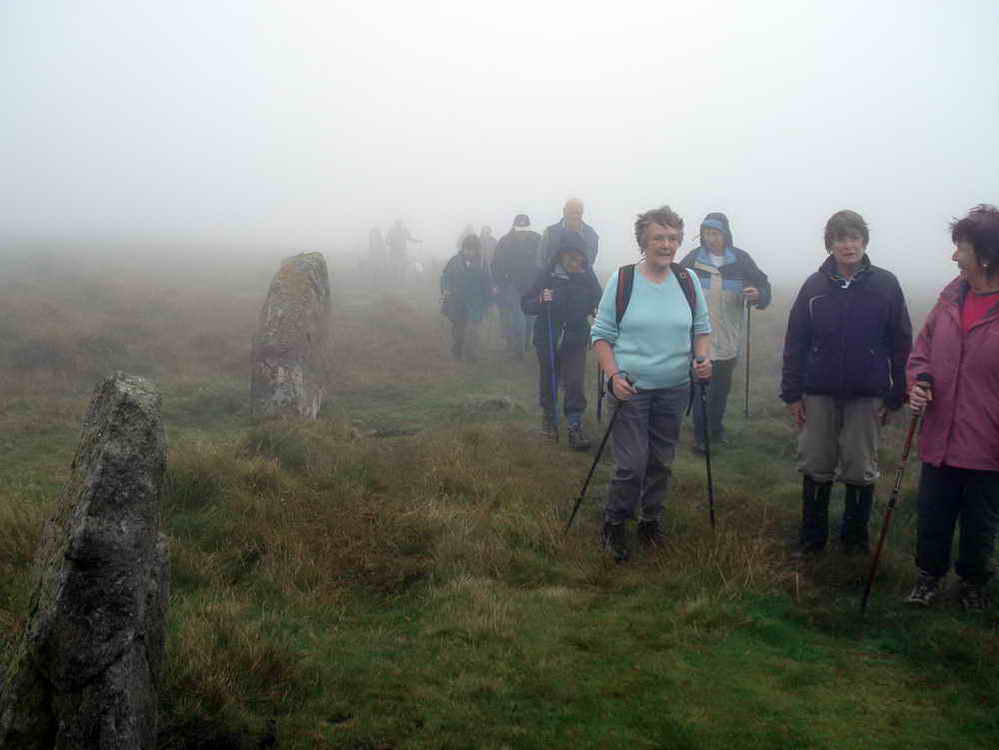 A march of stones ..... a march of walkers.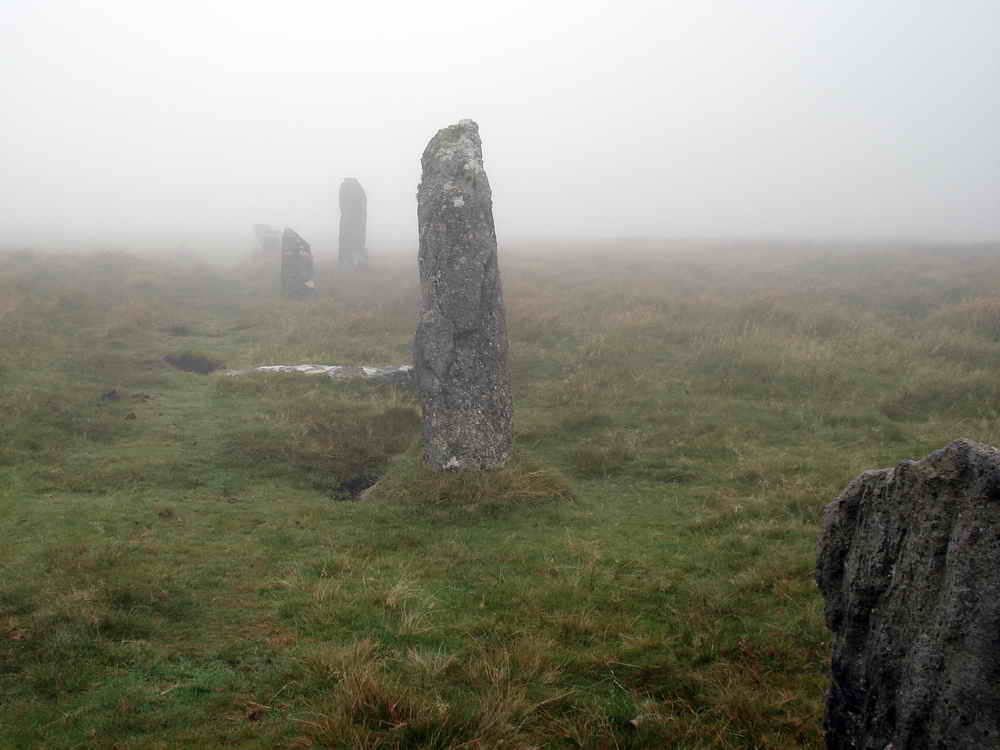 A timeless image - since the Bronze Age, circa 2,000 BC?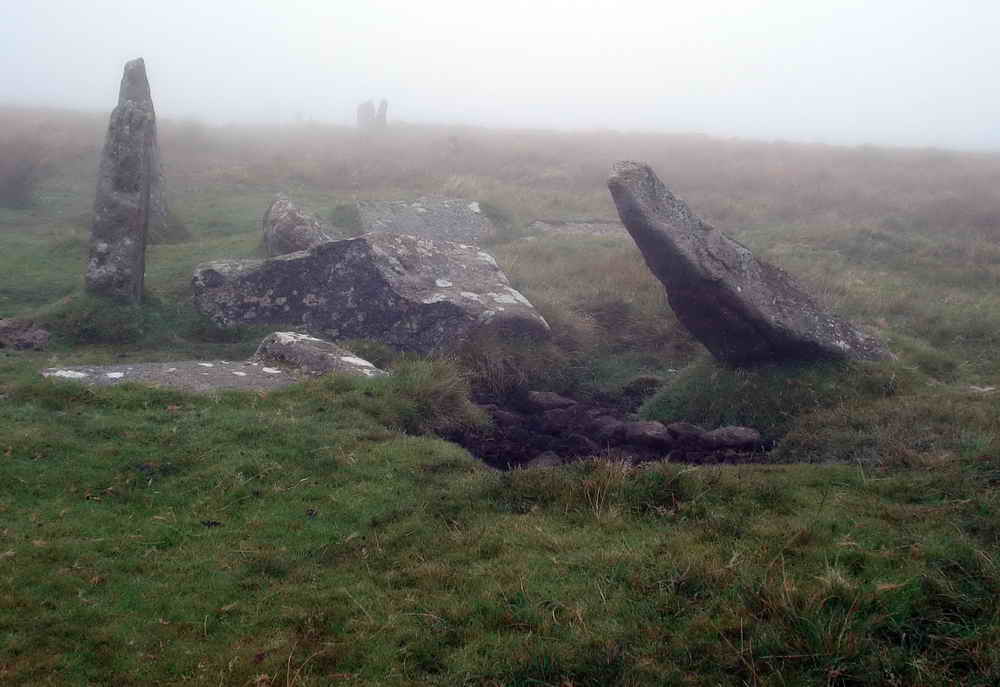 The cairn or barrow on Stall Moor
"Gorillas in the mist" or "Guerillas in the mist"?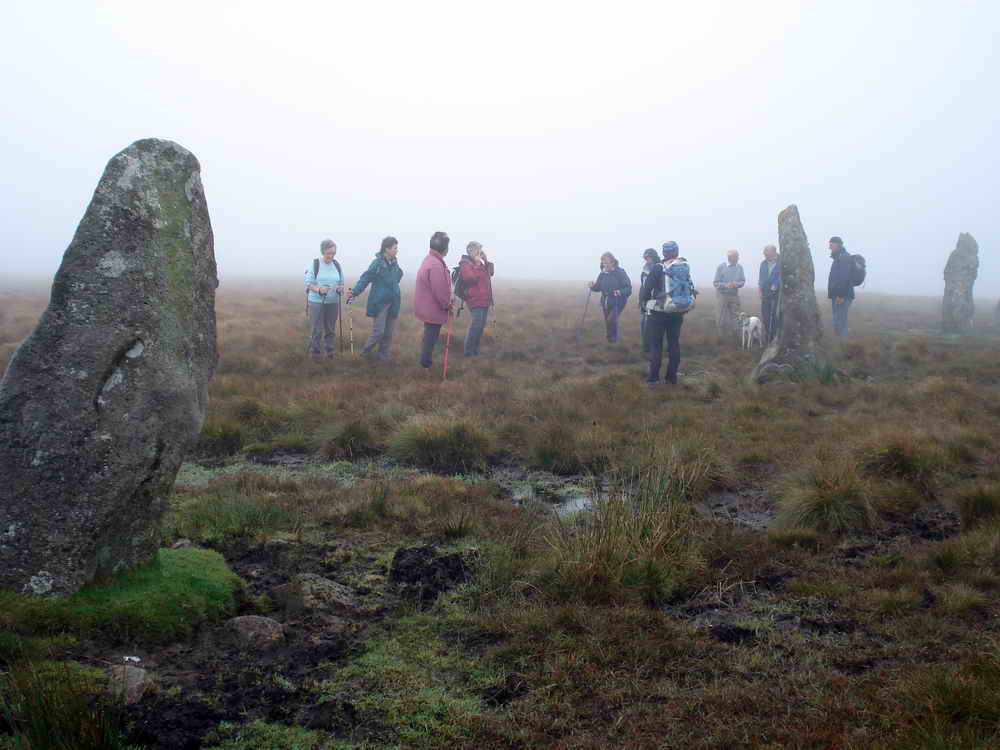 Still misty .....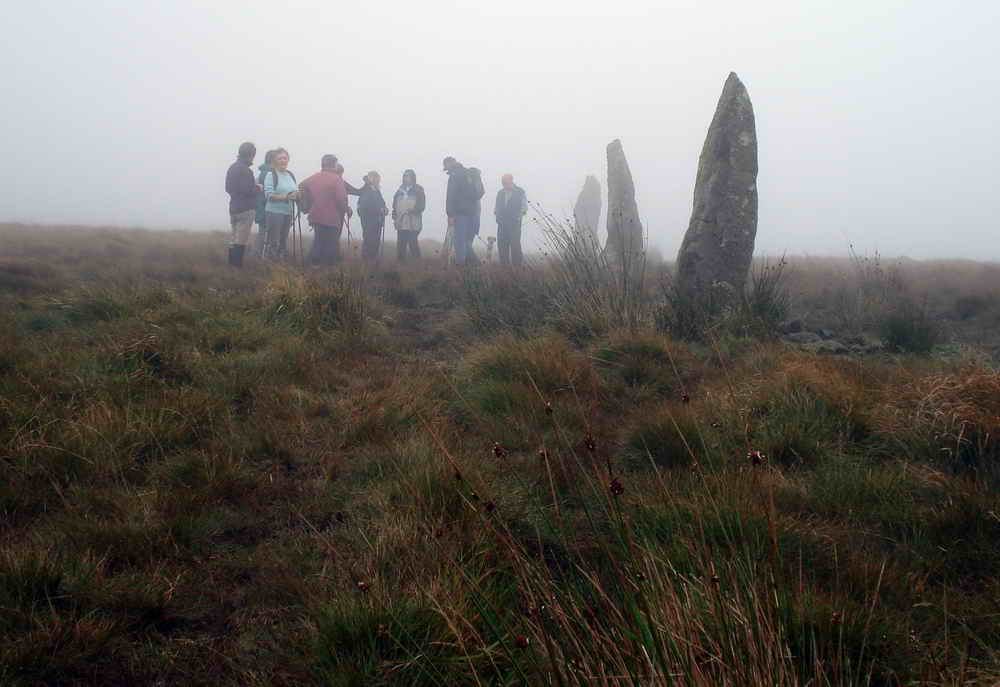 The end of the Stall Moor row.
Unidentified lichen on one of the tall stones .....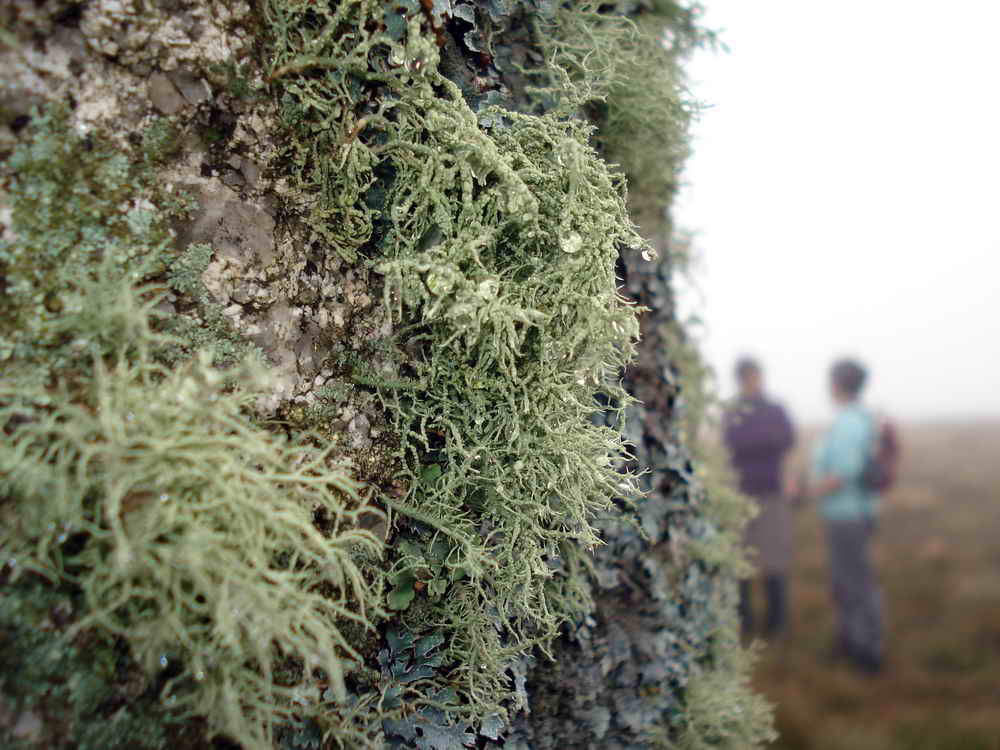 As previous photo.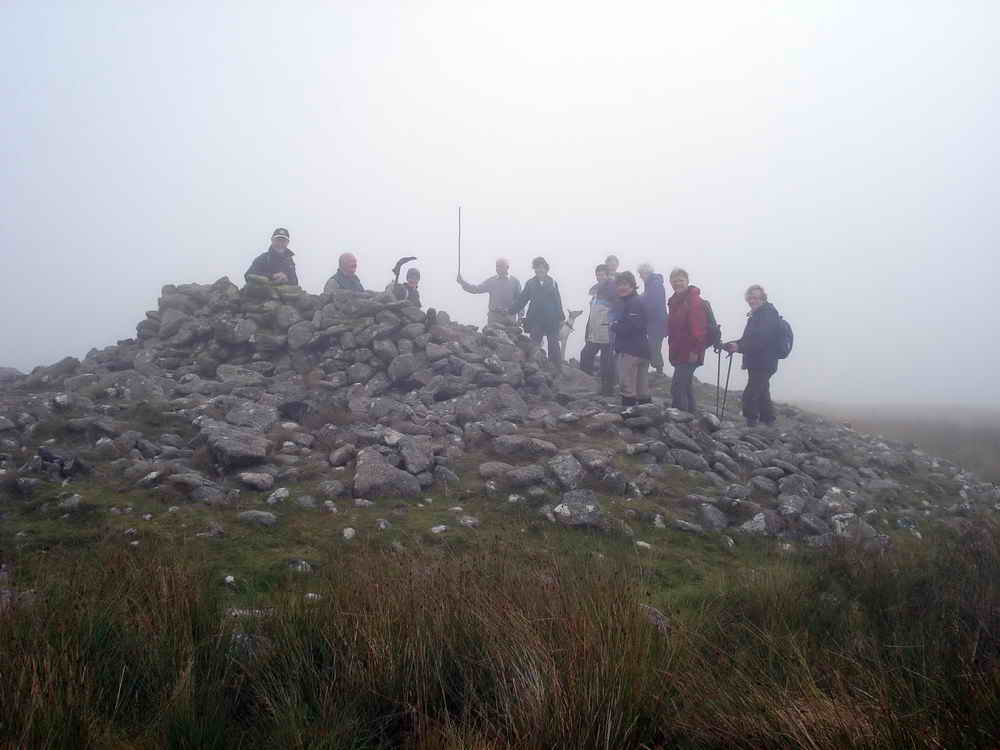 Hillson's House, named after a foundling found on the hill. His name became Hillson as he was a son of the hill!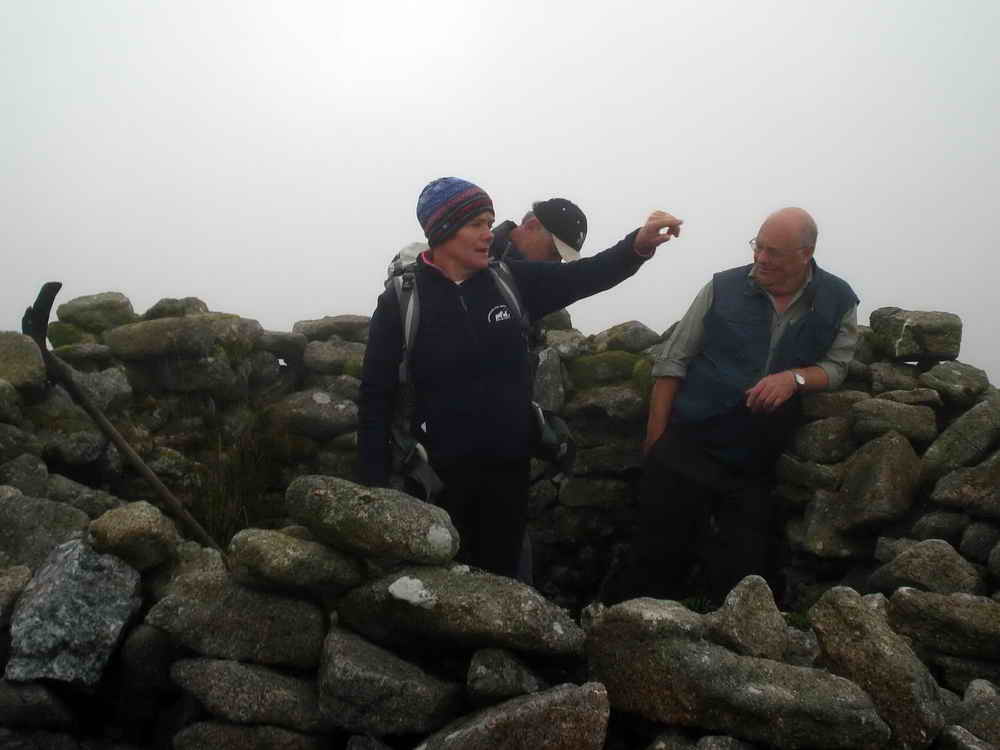 From Hillson's House you can see the Eddystone .....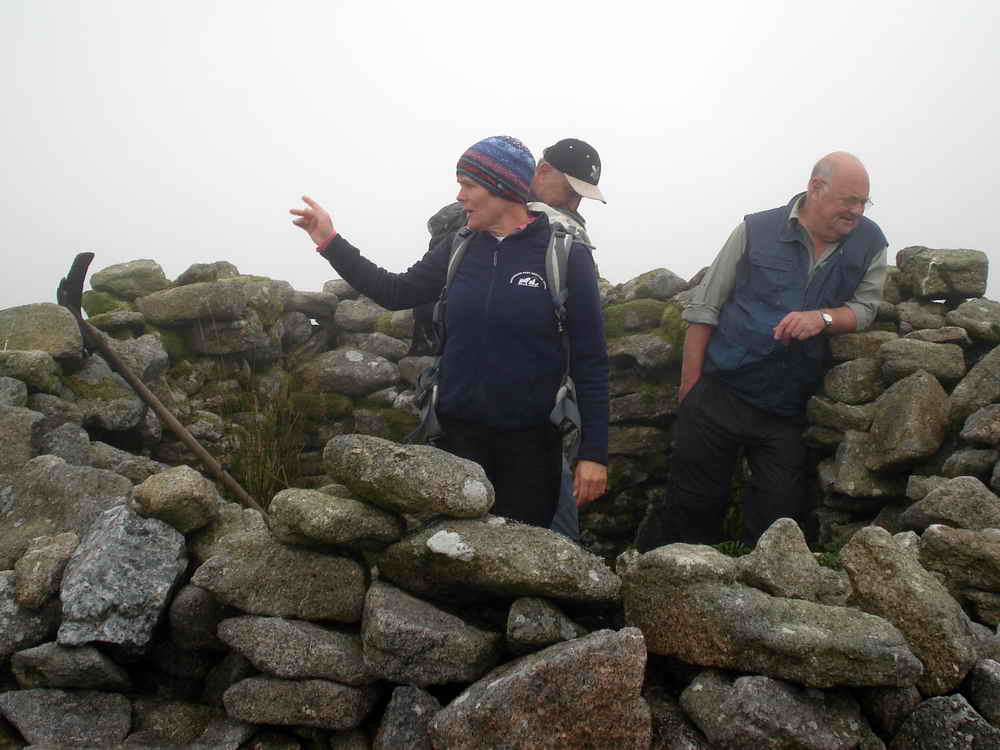 ..... or is it that way?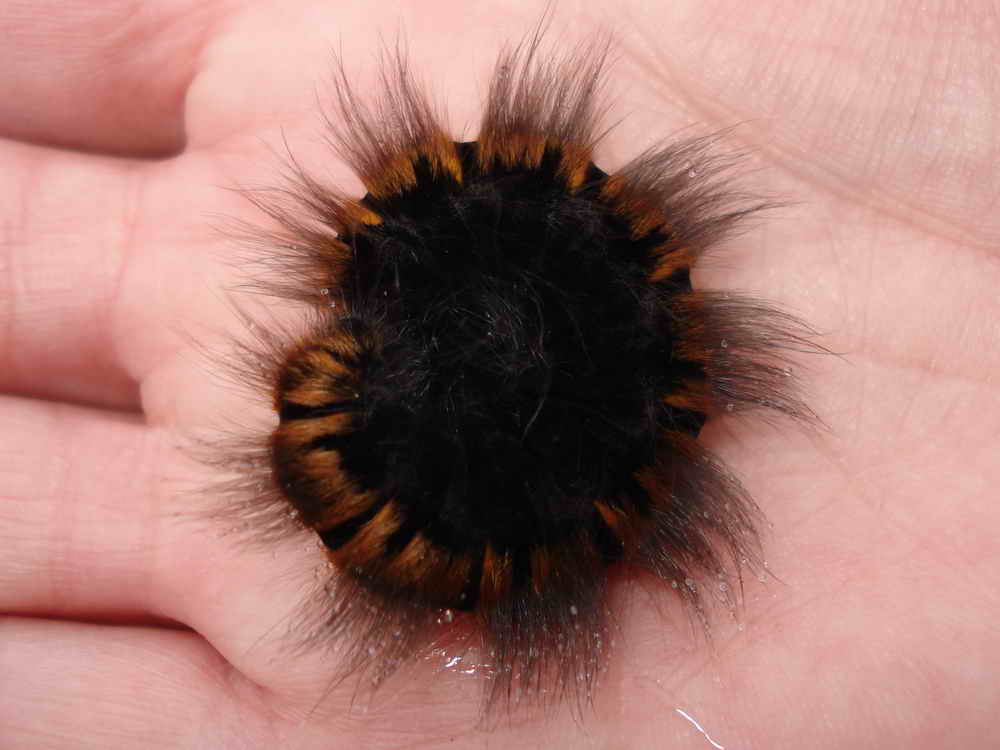 Fox Moth caterpillar (common during July-October), up to 8 cm / 3 inches in length. Heather, bramble, and bilberry are among its food plants. It will be fully grown by the autumn. It will then hibernate, to emerge next spring without feeding, pupate in March/April and be on the wing in May. Click here for: a photo of an adult.
I copy this caption from walk to walk, year to year - at least the group will all know what a Fox Moth caterpillar looks like!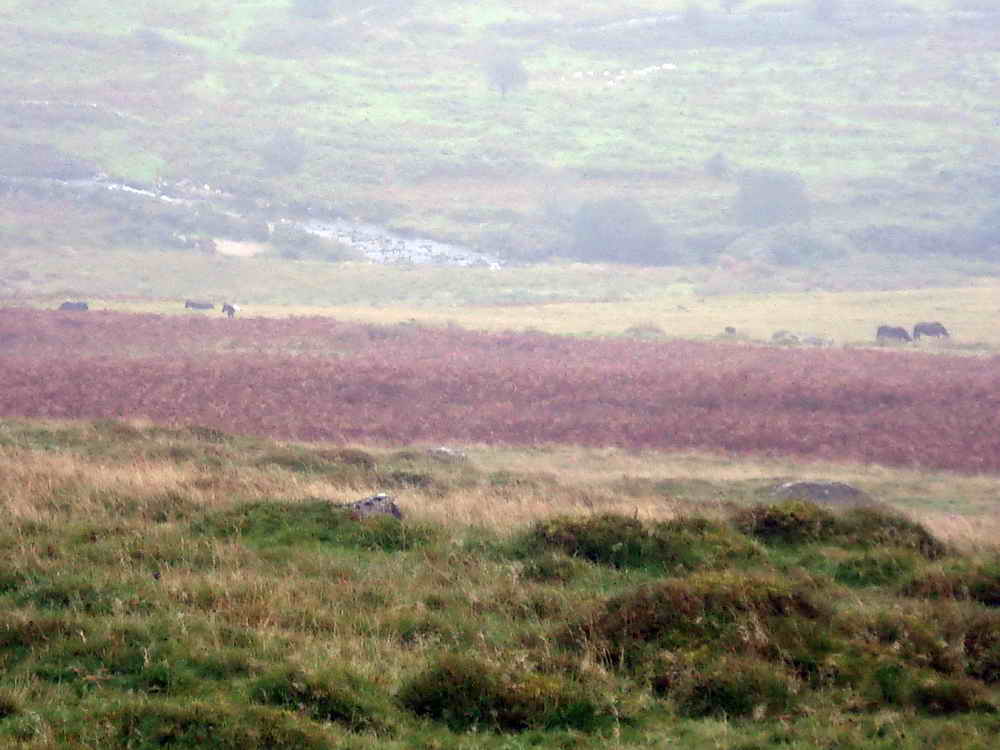 The Erme!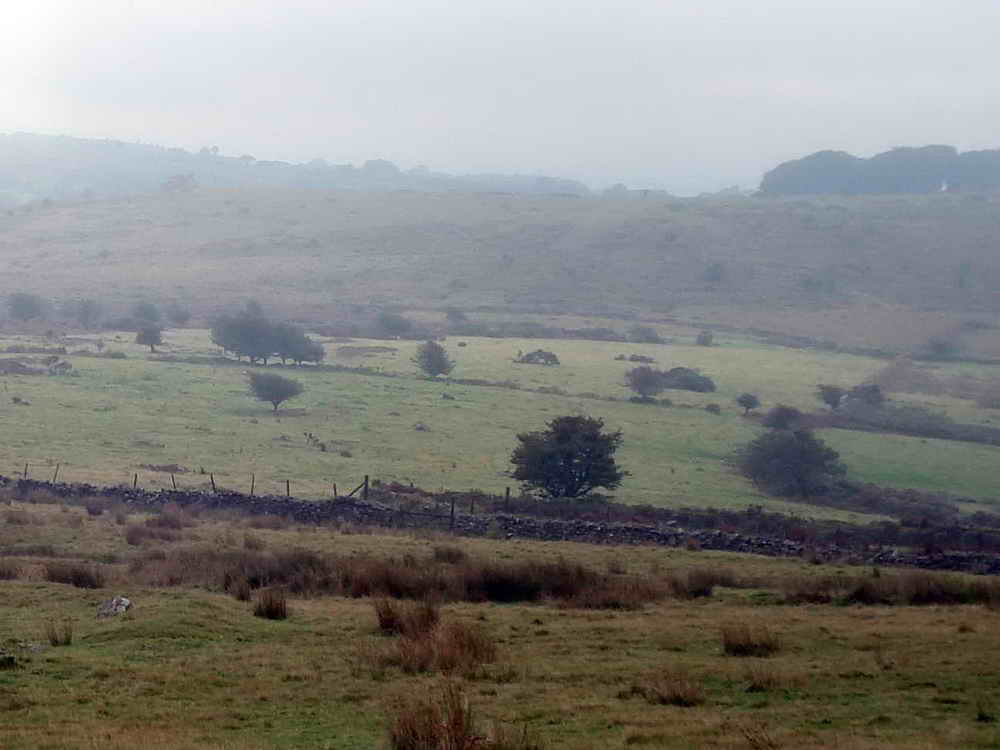 View to Tristis Rock - oh yeah! I'll have to go back on a sunny day.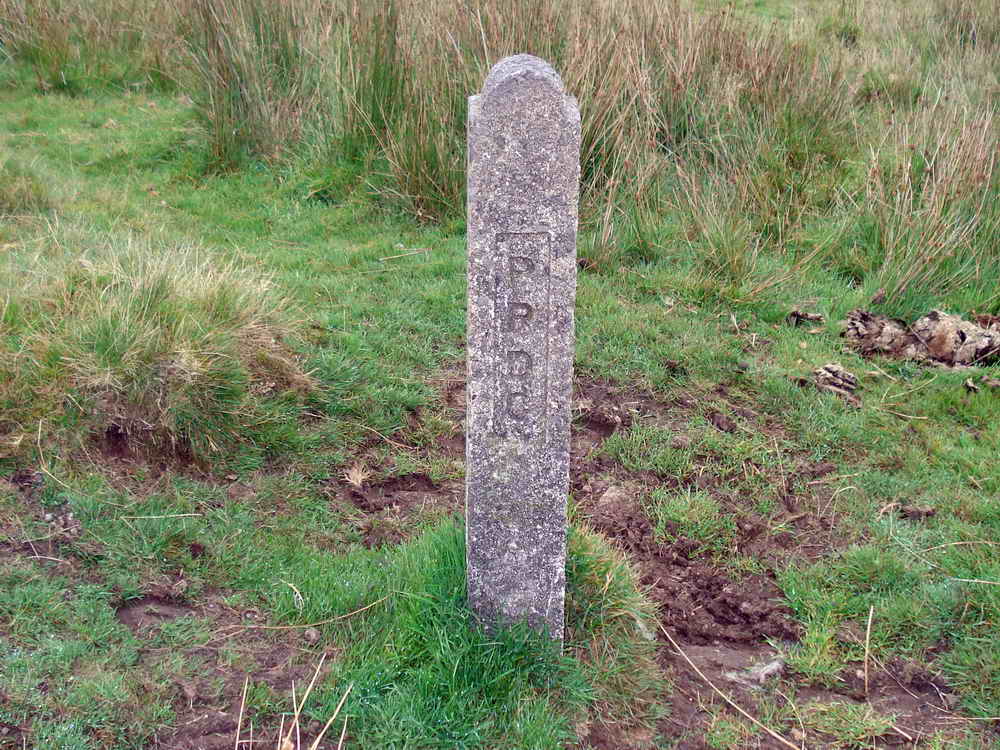 PRDC- marker for the catchment area of the to do with the water works/reservoir nearby, Plympton Rural District Council?
"On April 1st 1967 part of Plympton St Mary Rural District Council was absorbed into the City of Plymouth. What remained of the Plympton St Mary RDC was transferred in to South Hams District Council in 1974, as a result of the Local Government Act 1972." Source: Plympton.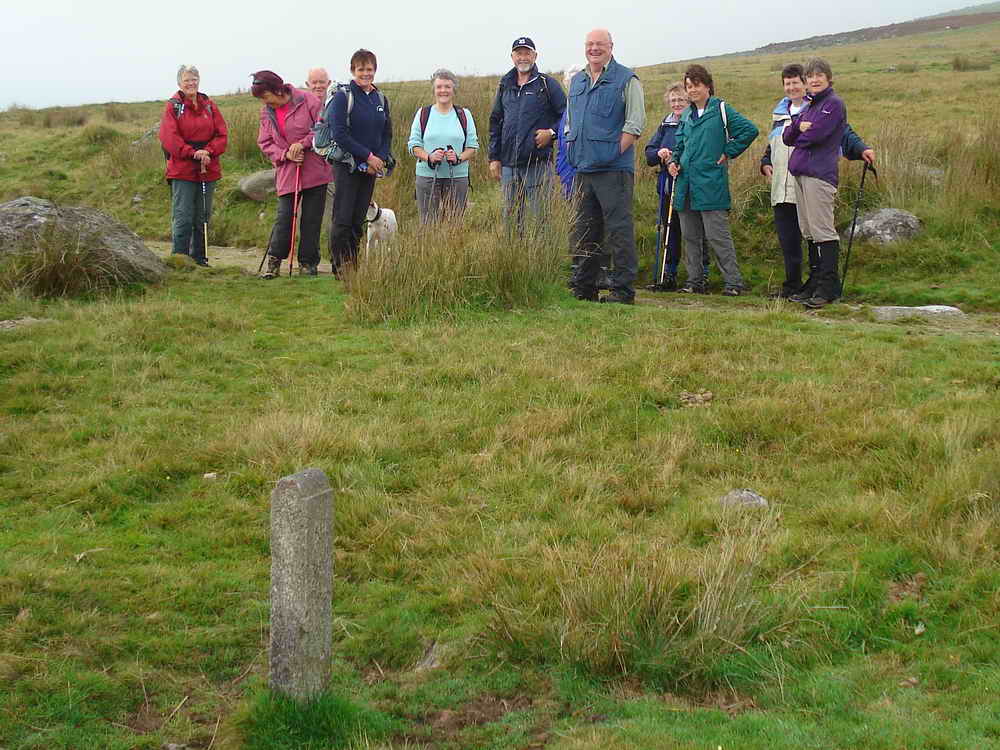 Smiles as the mist begins to clear.
Small clapper bridge near the reservoir.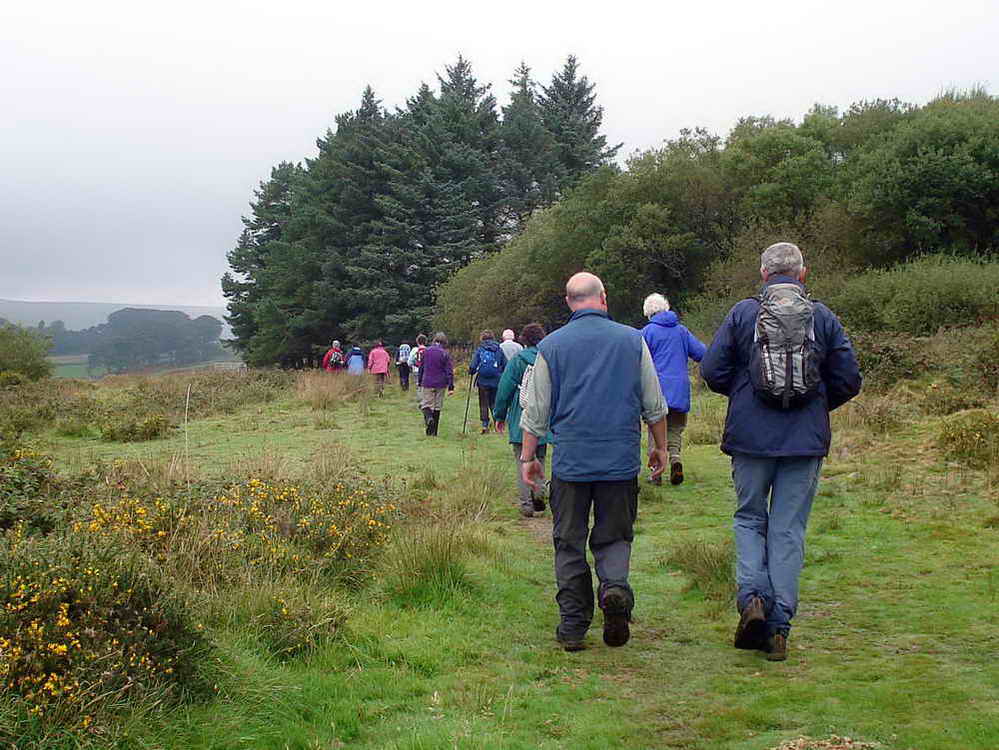 The pace picks up - its the attraction of the The Cornwood Inn, y'know!
MAP: Red = GPS satellite track of the walk.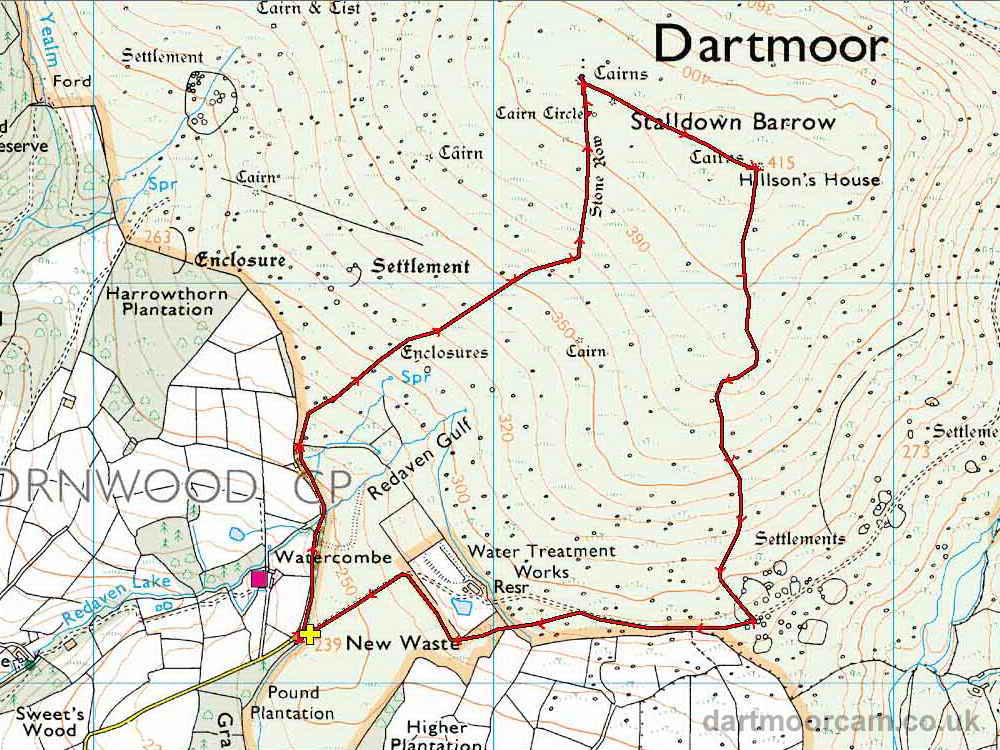 Ordnance Survey © Crown copyright 2005. All rights reserved. Licence number 100047373.
Also, Copyright © 2005, Memory-Map Europe, with permission.
This walk was accessed via Cornwood, heading north-east from the village square, taking the third road on the left, at Torr - ignore a small green lane shortly following the first road on the left - then immediately right, finally bearing left to the car park at the yellow cross symbol on the map above.
Statistics
Distance - 5.92 km / 3.23 miles
All photographs on this web site are copyright ©2007-2016 Keith Ryan.
All rights reserved - please email for permissions