This walk: 2011-1-19. A sunny walk on a very cold day, with black ice and an articulated lorry stuck on the approach road into the forest. Fernworthy Reservoir, round house, ice crystals, Lowton Brook settlement, Asacombe Hill / Assycombe Hill, double stone row, blocking stone, Asacombe Brook settlement, Asacombe Farm remains, pixie's matchsticks, steaming tree trunks, frost crystals on a gate.
Walk details below - Information about the route etc.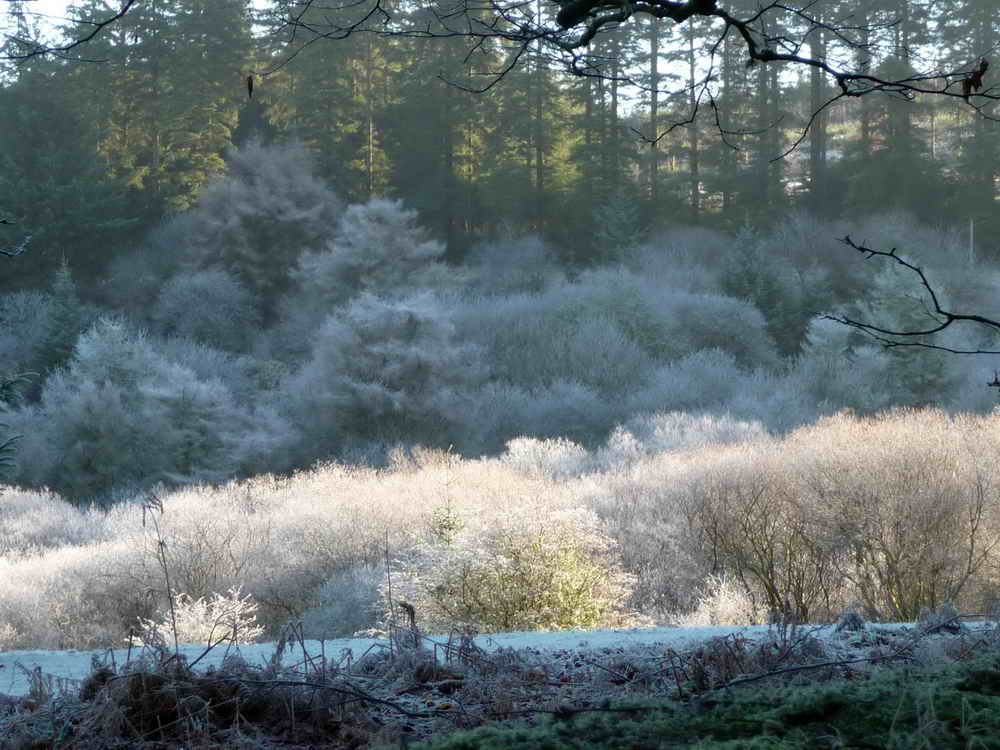 Some cold trees in the valley near the old forestry workers' shed, now a store, where we parked. The forest is mainly of Sitka spruce, planted 1919-1921 when there was a shortage of soft wood. This covers approx. 1500 acres - "about 1499½ acres more than presently necessary (M. Brown)".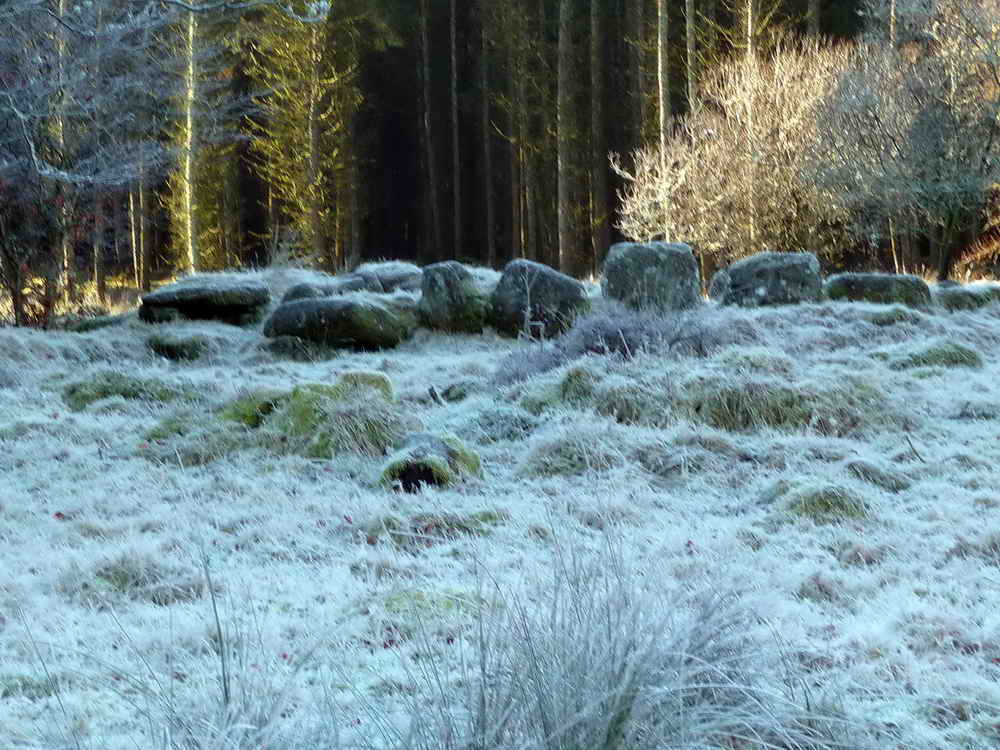 Round house at SX6624 8344.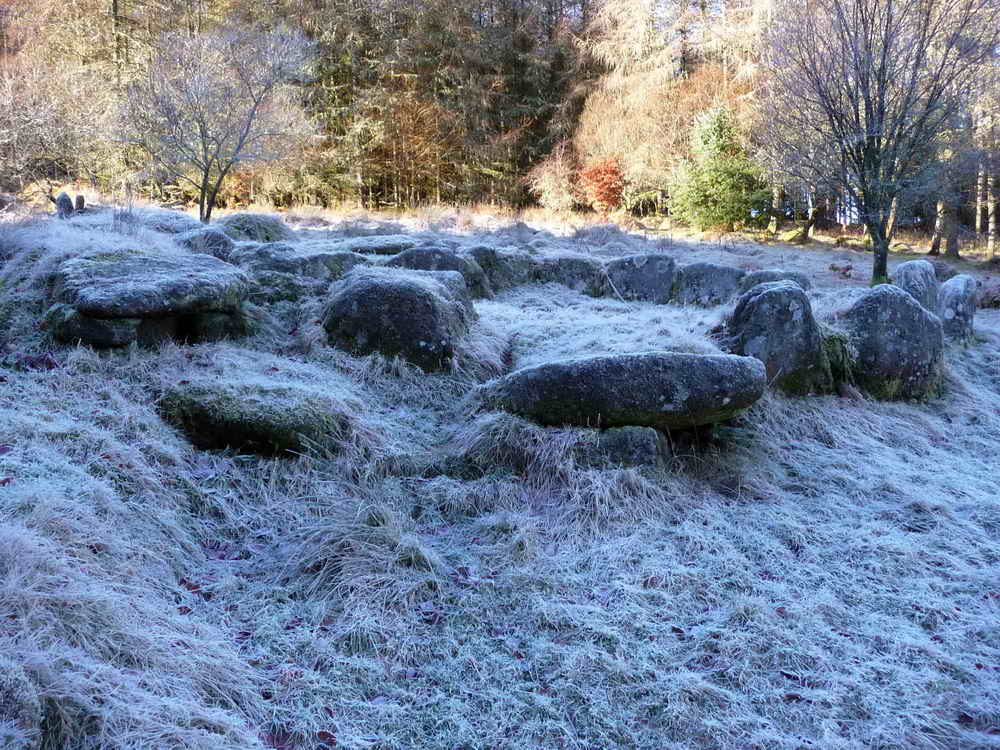 As previous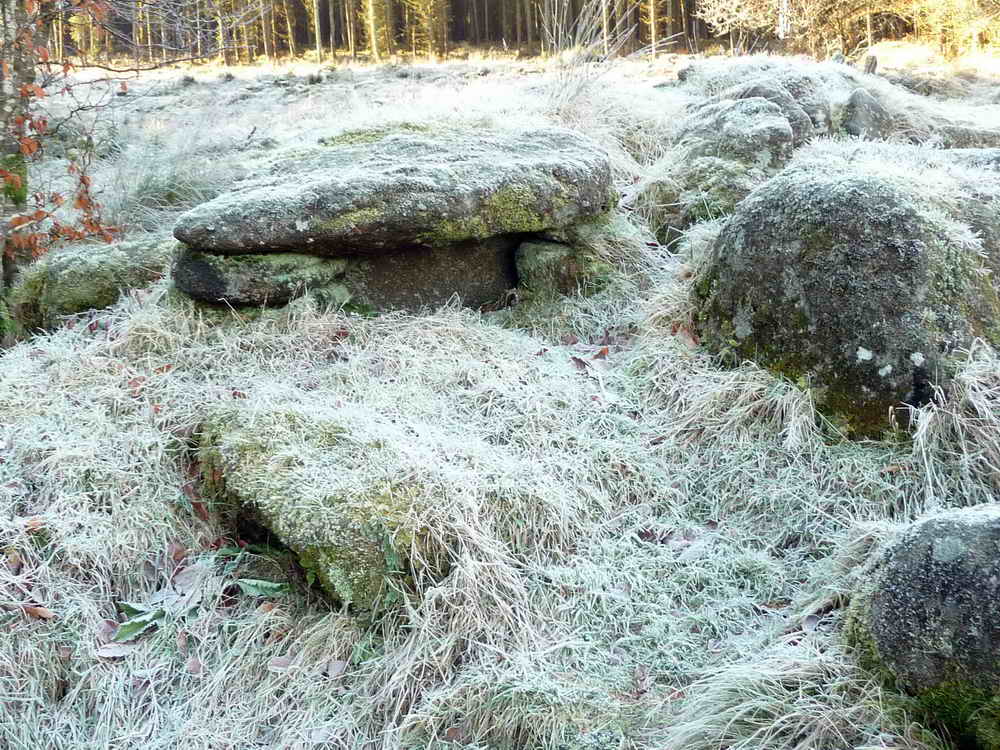 Detail of the roundhouse showing a central stone that has slots cut into it i.e. a slotted gatepost ??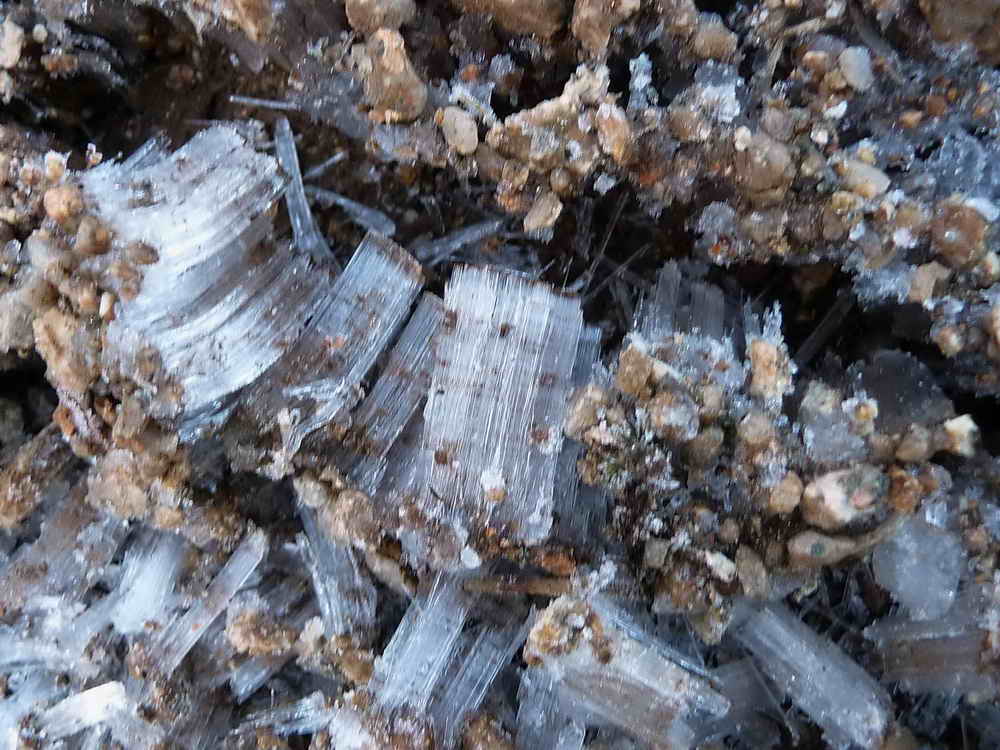 Large ice crystals that had grown (by water molecule migration) in the ground at high sub-zero temperatures in the freezing weather (in the same way that ice crystals grow in ice cream that is kept for too long in a domestic freezer). The crystals were approx. 1 cm long.
The crystals would be of 6-sided hexagonal ice, which is the only form of ice to exist in nature (there being 17 forms of solid water known) - except for cubic ice that occurs in the high atmosphere (under reduced pressure conditions), as in the halo seen sometimes around the sun or moon. See also Ryan, K.P. (1991). Rapid cryogenic fixation of biological specimens for electron microscopy. Plymouth: Polytechnic South West. 303p. (Ph.D. doctoral thesis). The quest of this thesis was the pursuit of the solid, vitreous, amorphous, non-crystalline form of frozen water.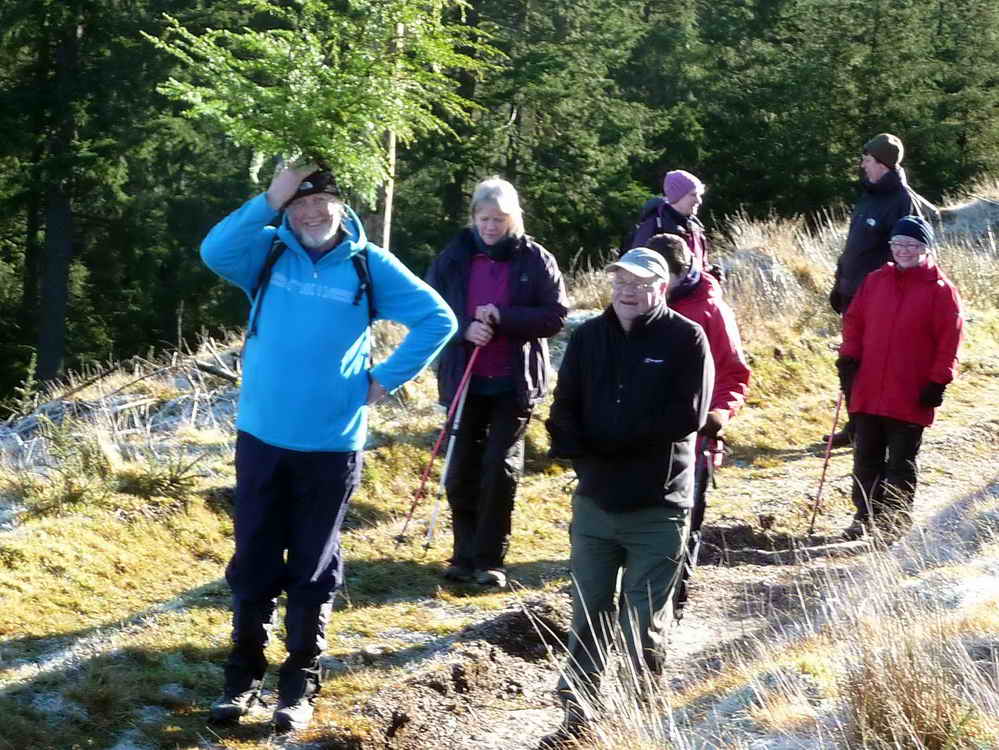 Fir-ry hat? Hugh models the latest in woodland headwear. Hugh gets spruced up.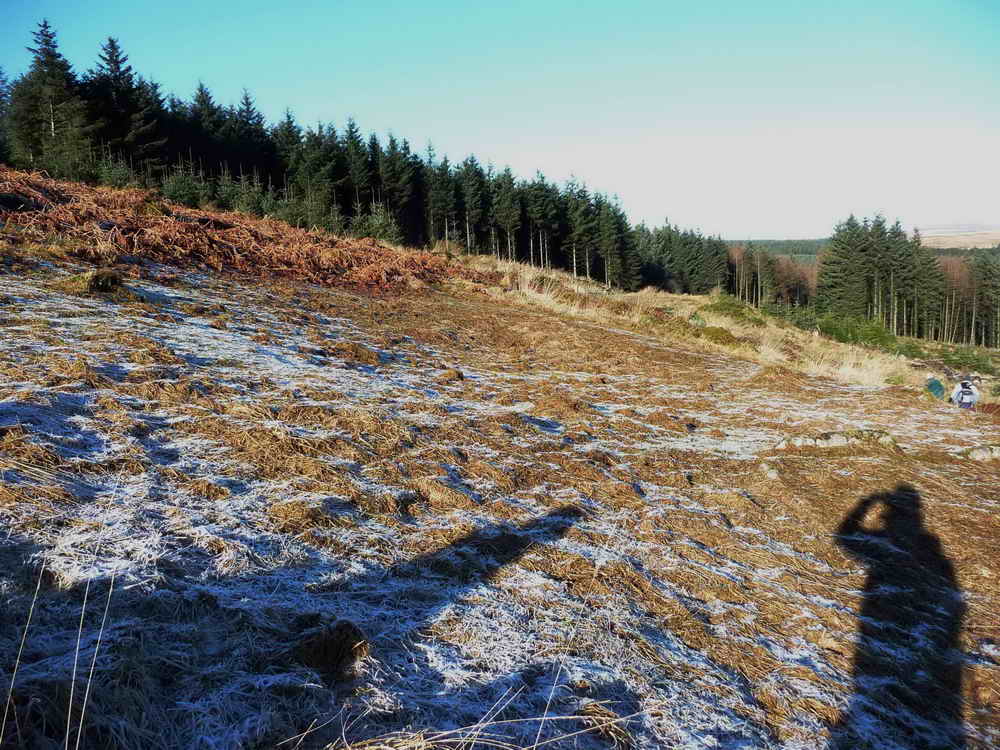 Lowton Brook area - a once major prehistoric settlement of 11 roundhouses - supplanted by modern Higher and Lower Lowton farms, abandoned by the 18th Century, lately over-planted with conifers.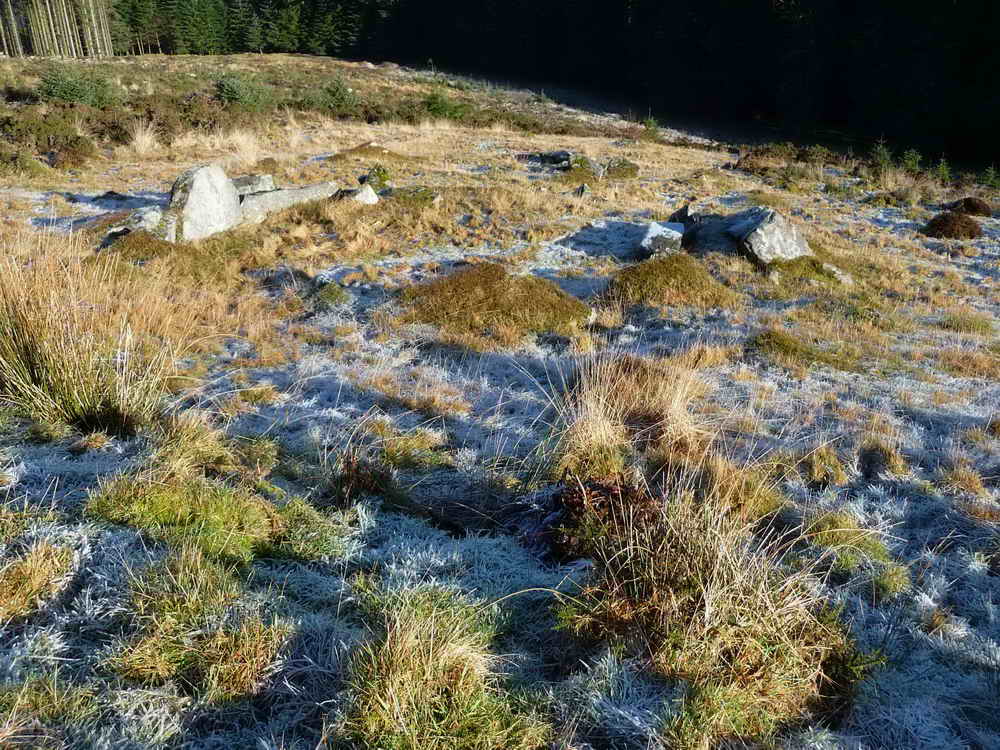 Another bronze age round house in the Lowton Brook area .....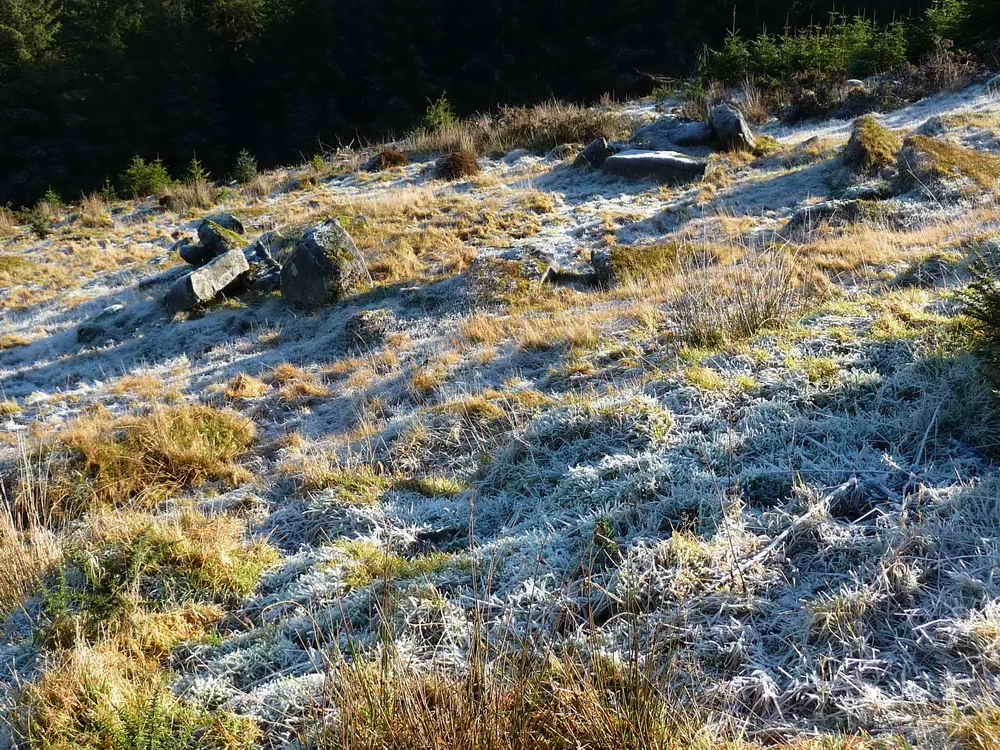 ..... and another.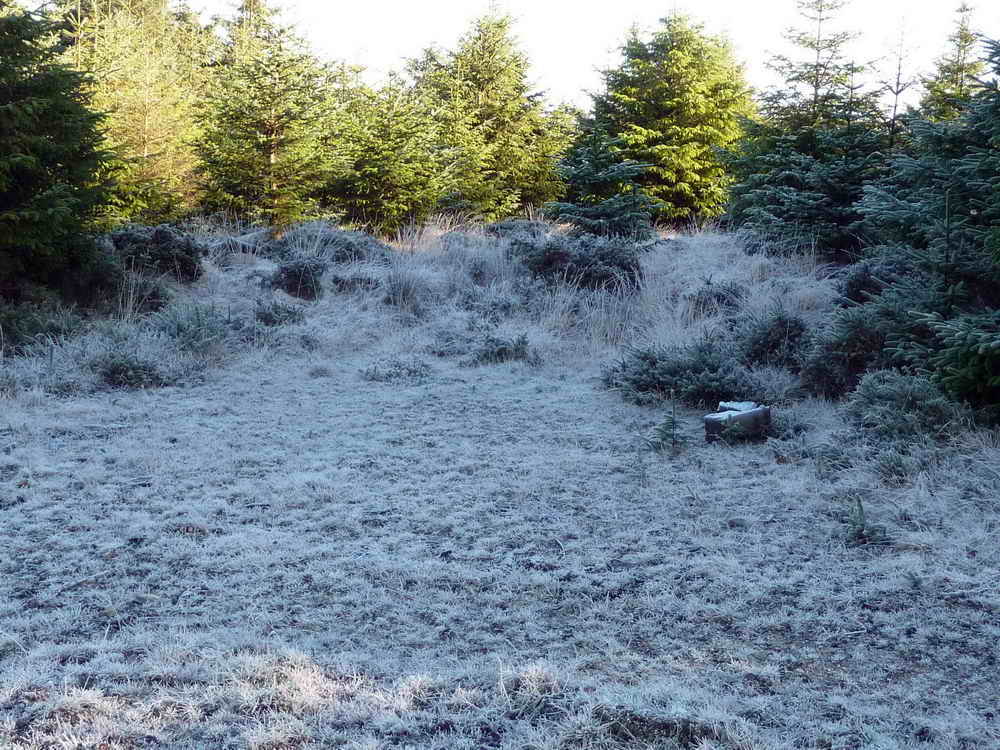 This was where we "regrouped" at SX6619 8303 part way up Asacombe Hill; just a pretty frost scene!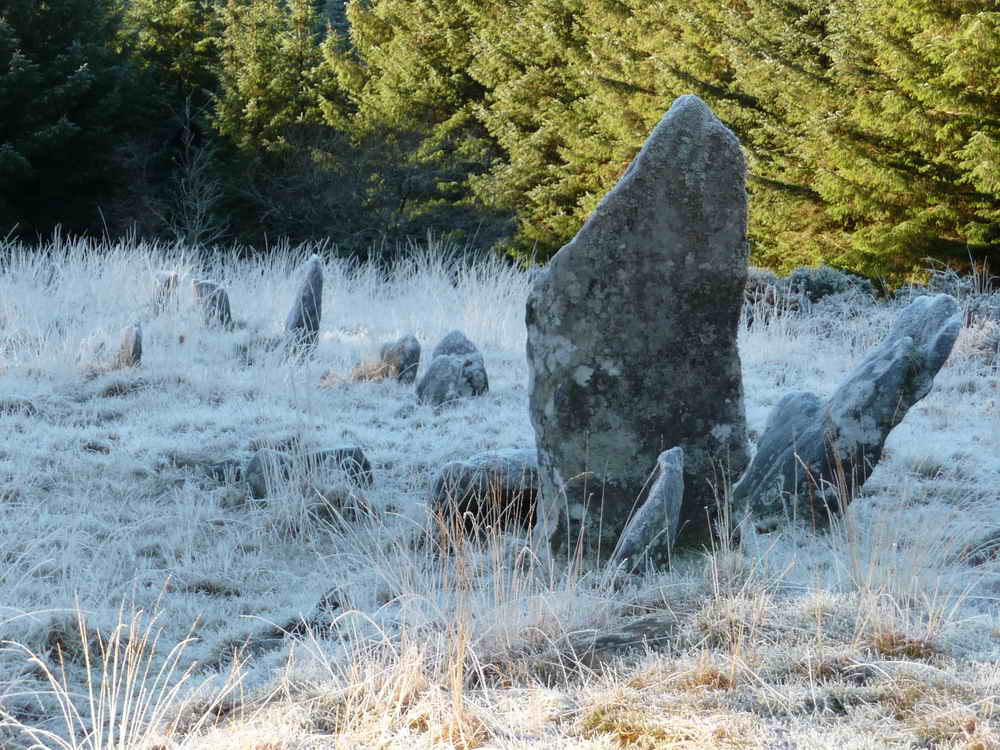 Double stone row, restored in the 1890s, descending downhill from a cairn to a southern end blocking stone, see below ..... Perhaps a northern blocking stone has been carted away?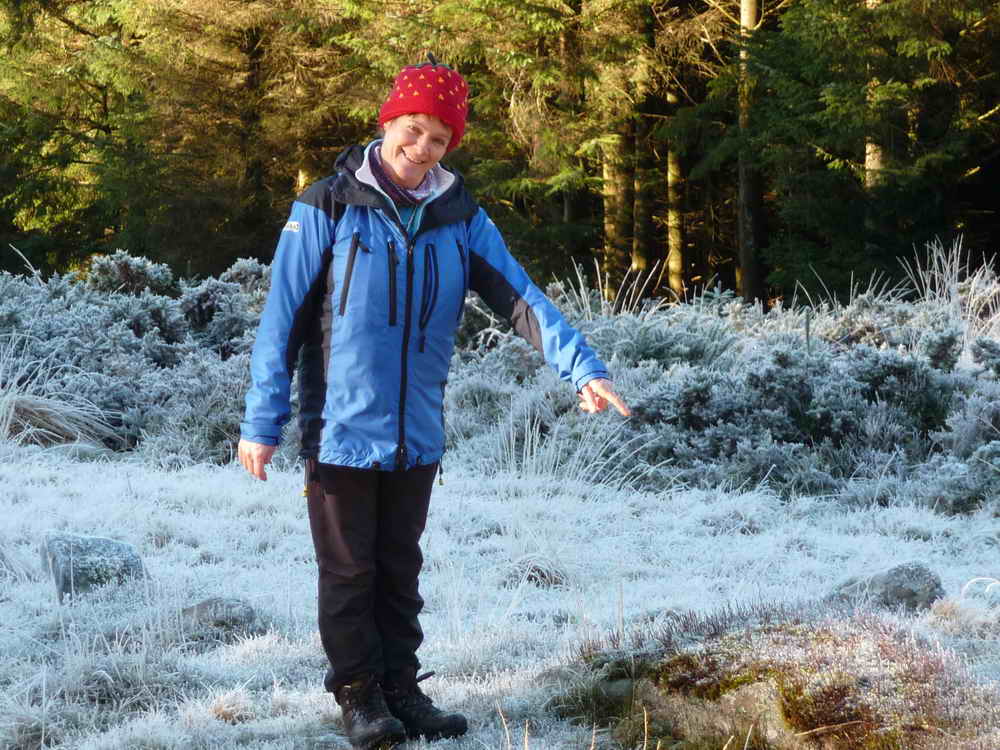 Cue inane "grin and point" routine: I'm pointing at the cairn and cist here!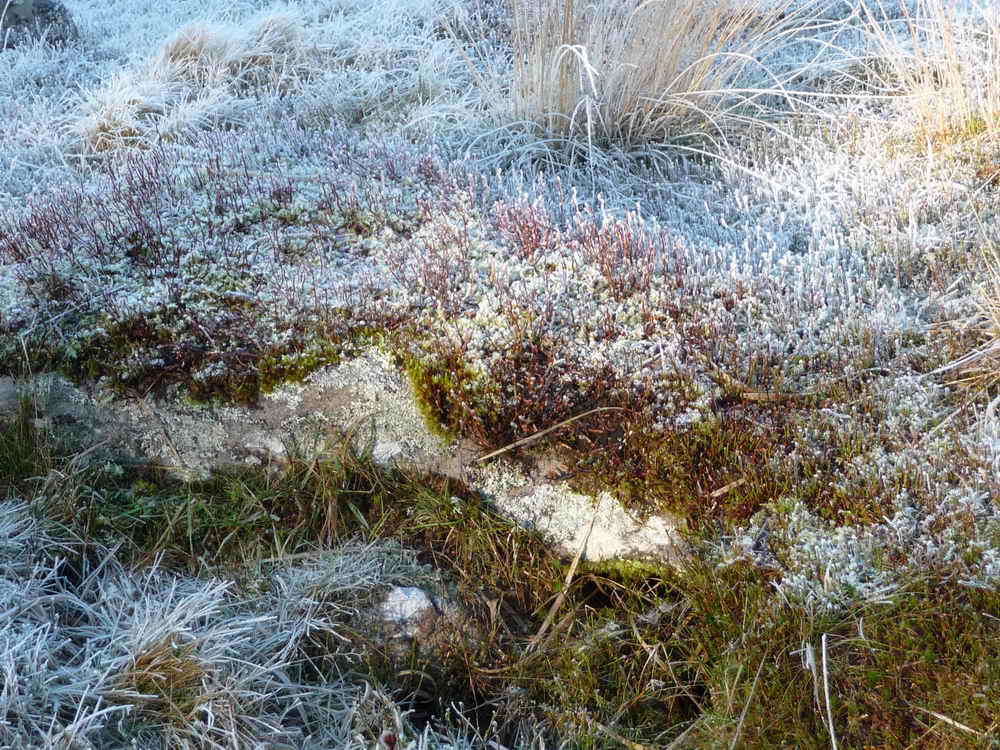 Centre of the cist; only one side slab remains.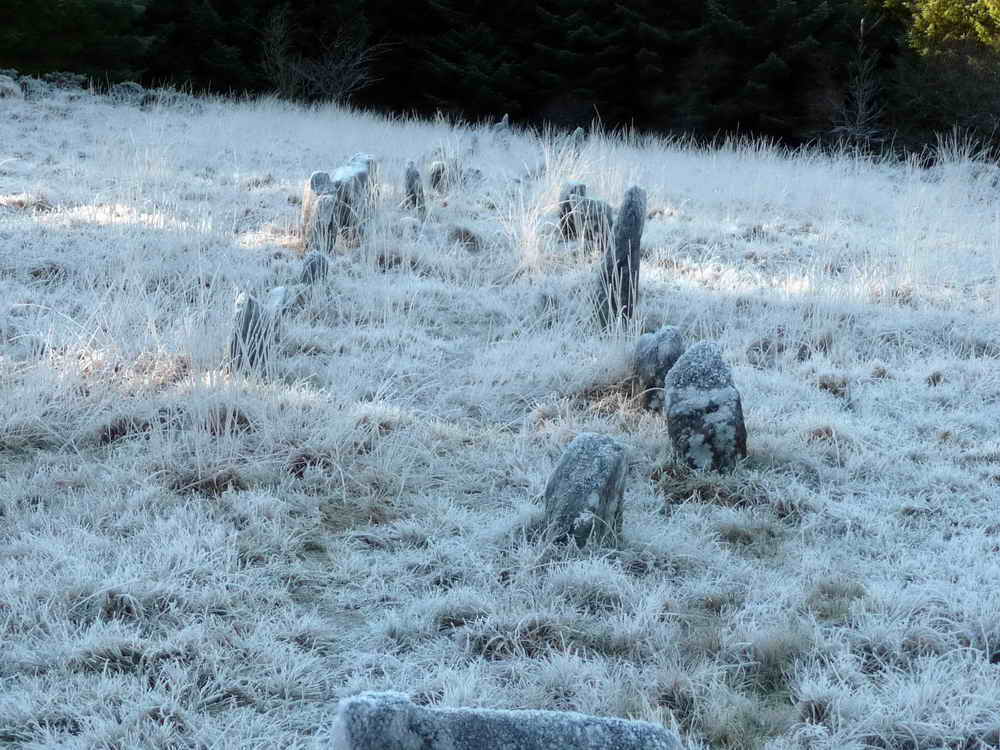 Looking south west down the row.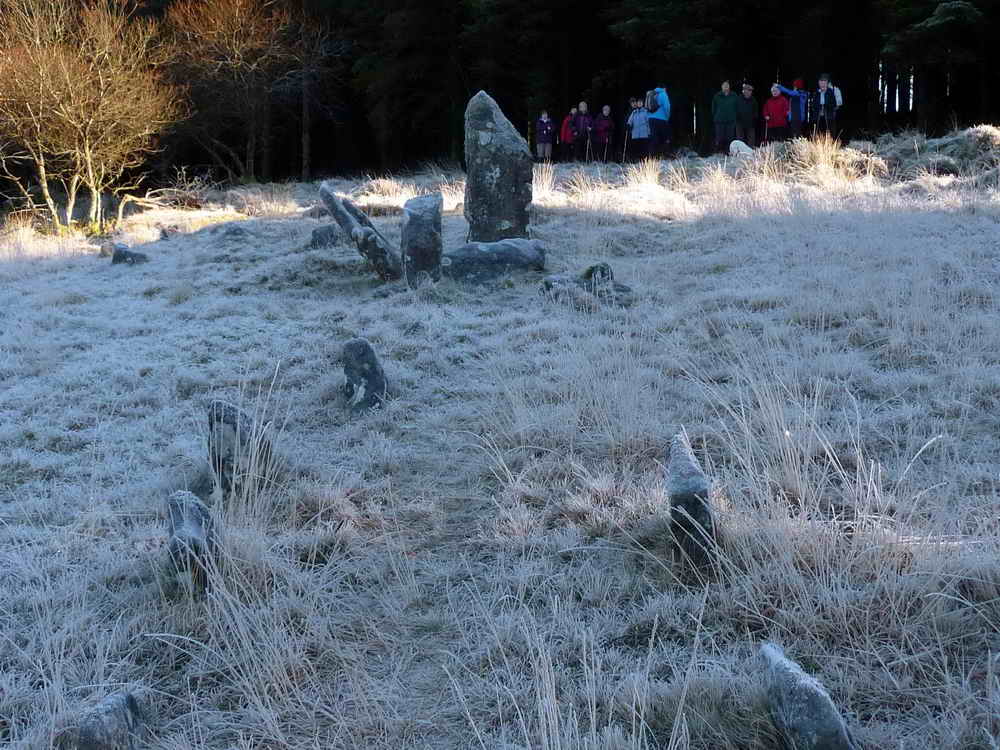 The Assycombe Hill stone row, SX 66058 82618, is described in J. Butler Atlas of Antiquities II (1991) 35.19, page 166. This row is similar to its neighbour on Hurston Ridge, visited 1st Dec. 2010, just a kilometre distant - and seen on the map below.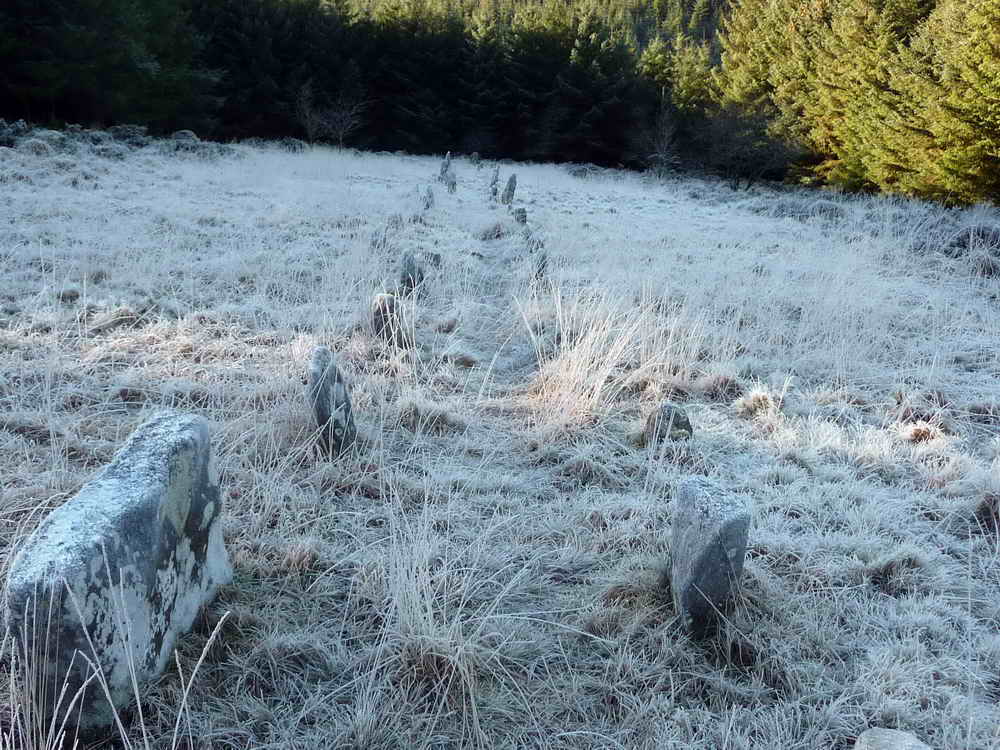 Looking south, down the row.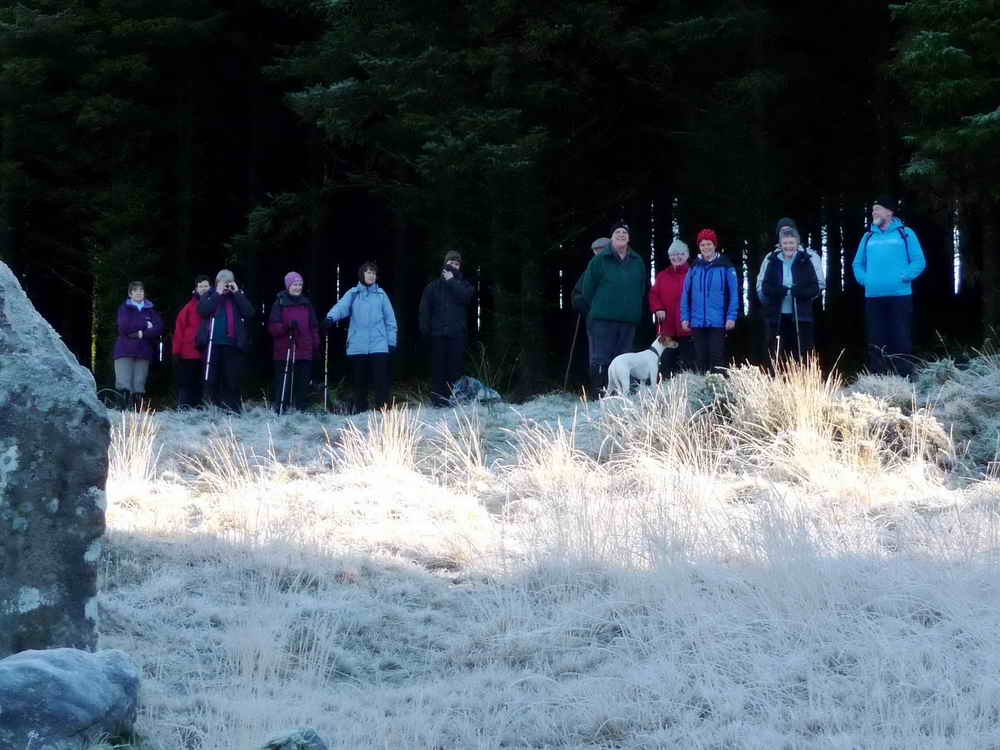 Looking up from the row at the Strollers looking down on the row……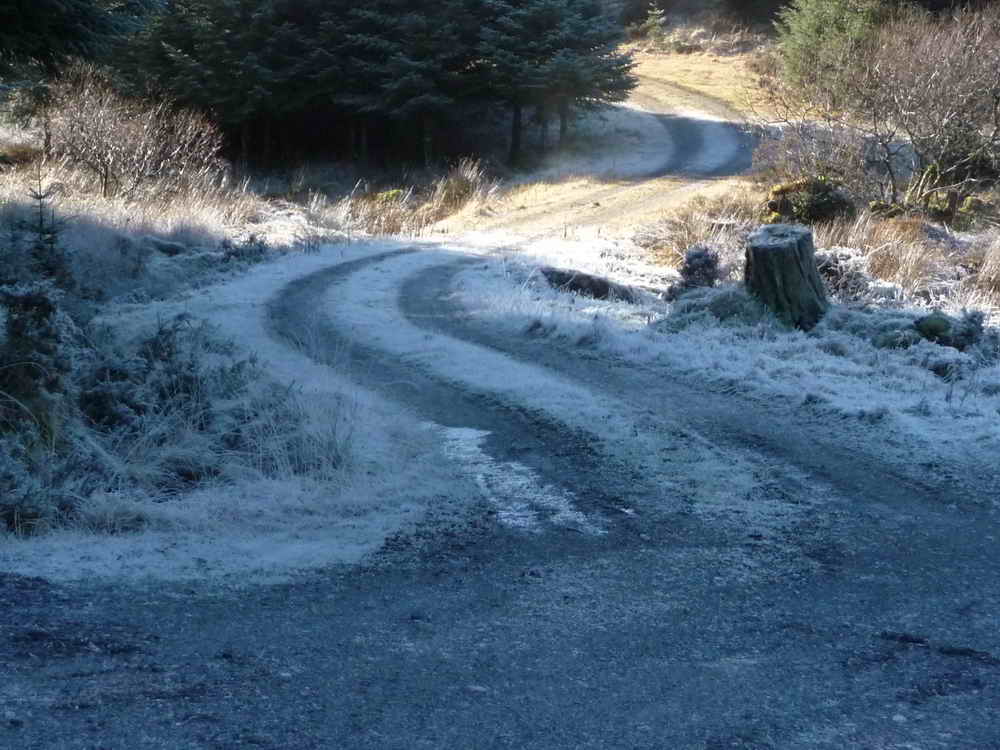 Our route took us down the west side of Asacombe Hill along forestry tracks.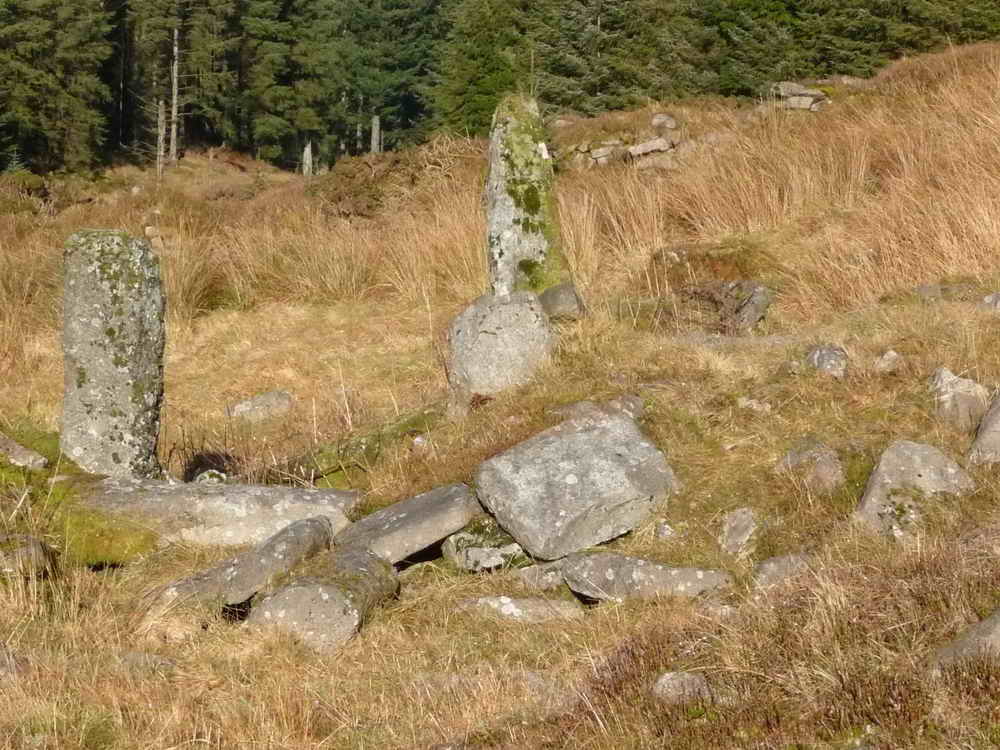 Assycombe Brook settlement, fragments of 8 huts recently recovered from the plantation. Some were incorporated into Assycombe Farm.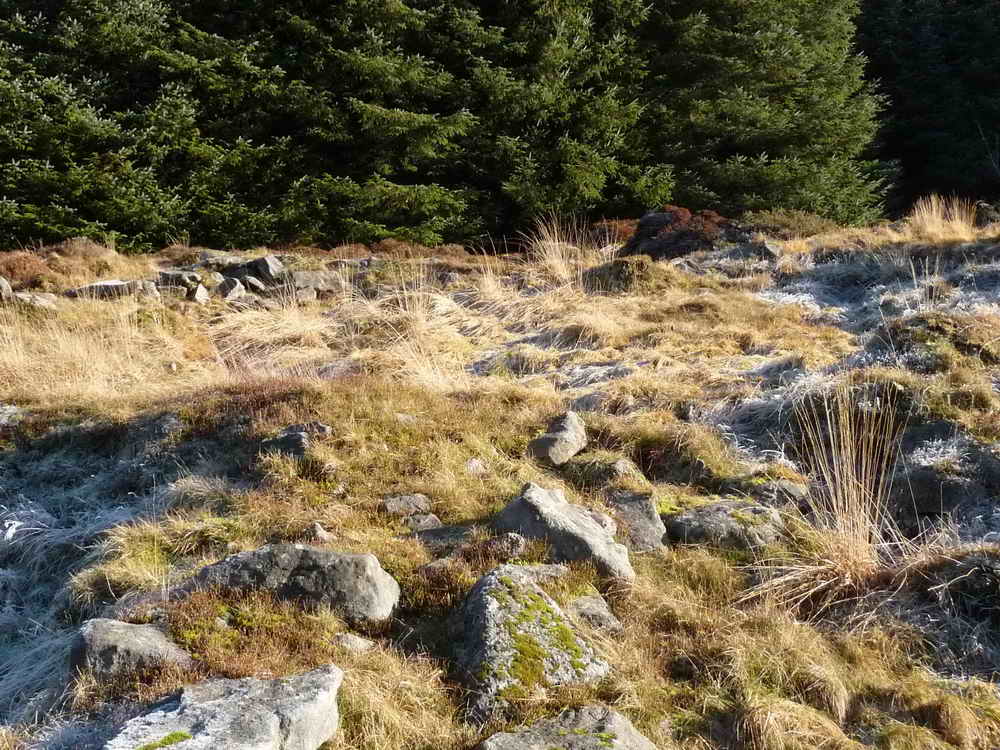 There was a good round house here which we guessed had been reused when the farm was built.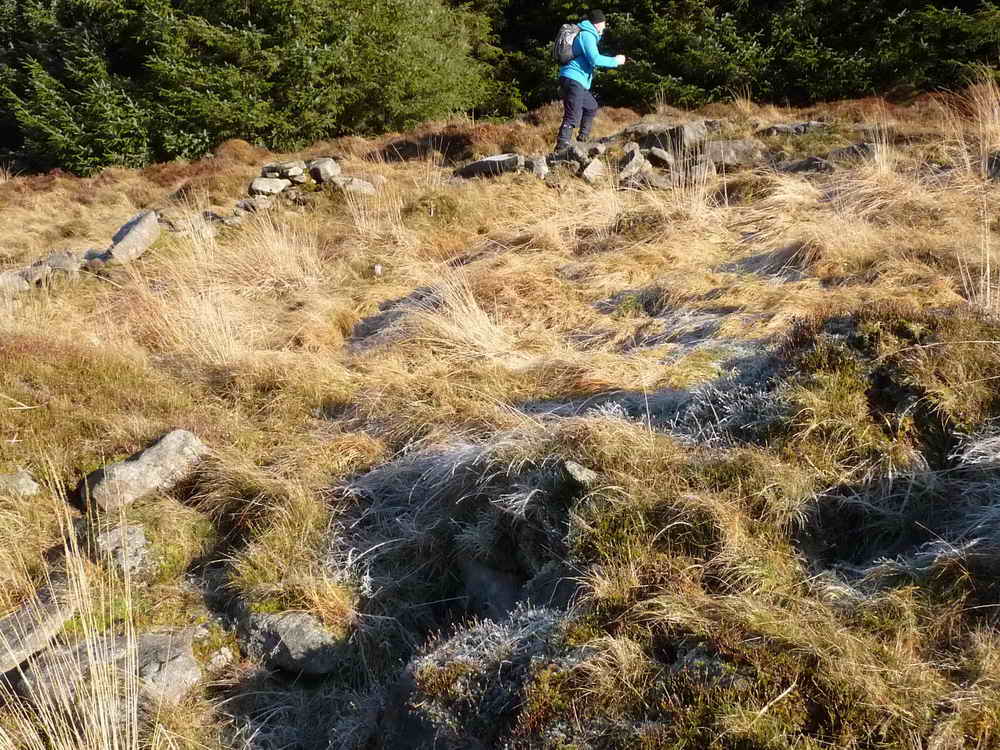 Hugh on a fruitless mission to find a tor.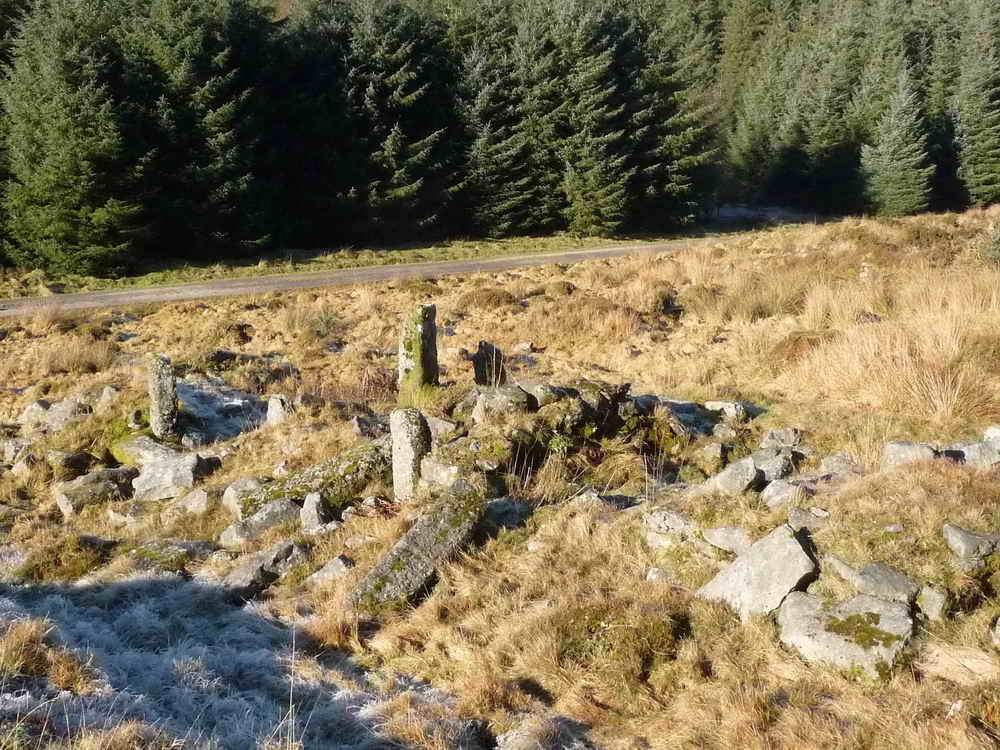 Remains of Asacombe Farm.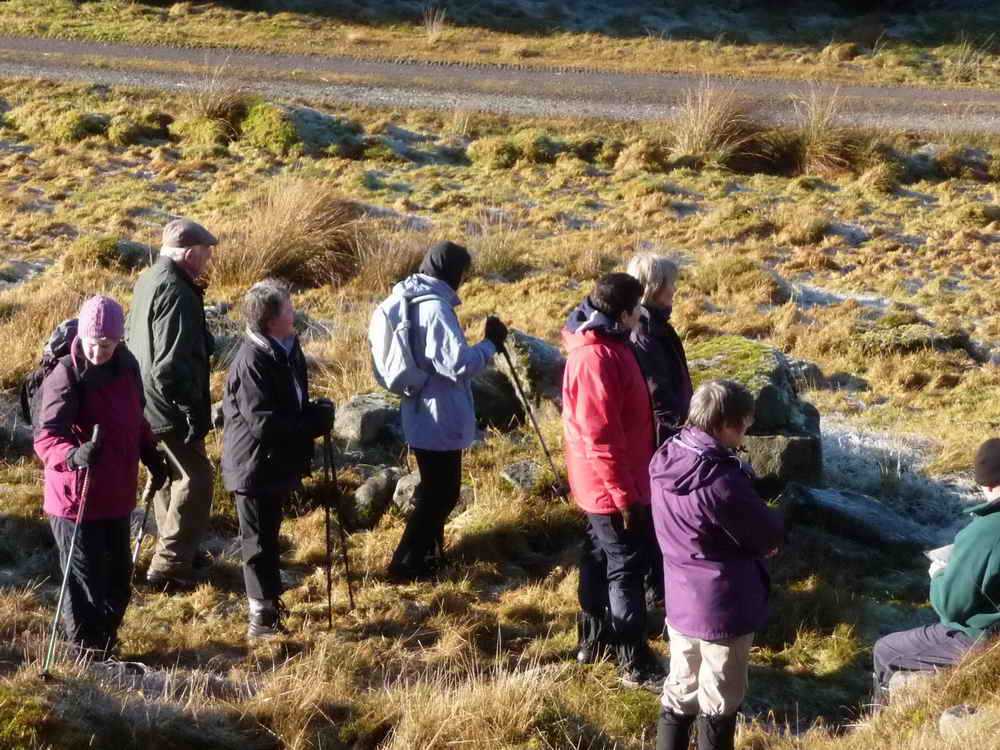 Exploring the ruins.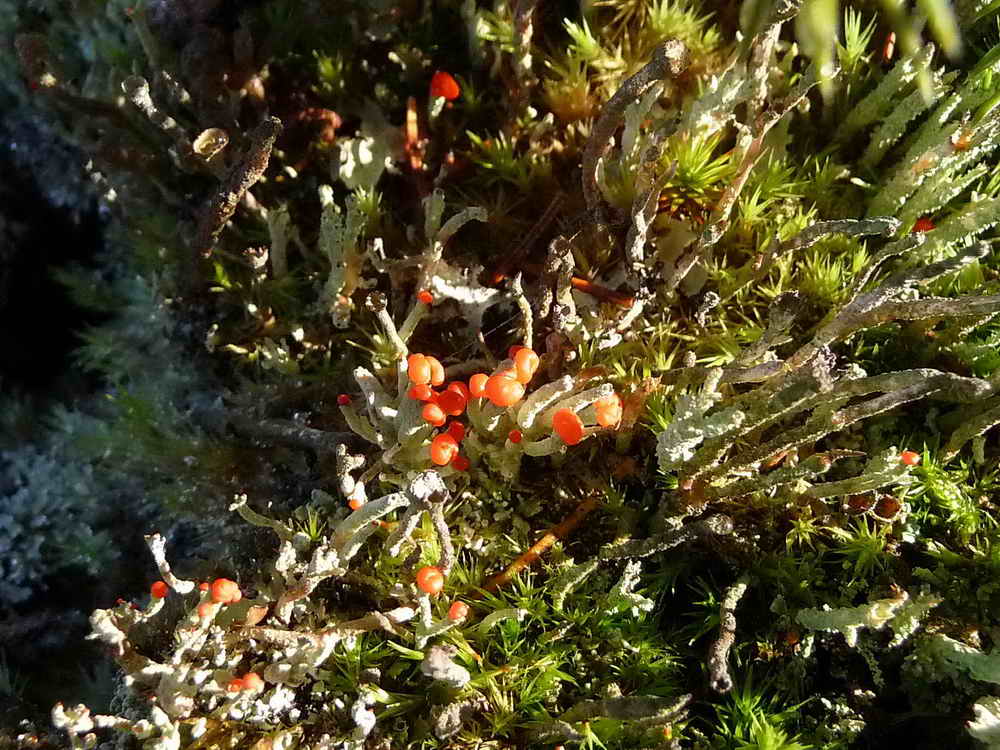 Pixies matchsticks - believed to be the red tipped fruiting body of Cladonia floerkeana, known locally as Dartmoor matchsticks, pixies' matchsticks or as devil's matches - this species is very like a matchstick. Alternatives would be C. diversa (fruiting stalk is branched), C. macilenta (red tip is very narrow compared to diameter of the stalk) and Dibaeis basomyces (fruiting bodies are short and fat). Several Cladoniaspecies can be seen here.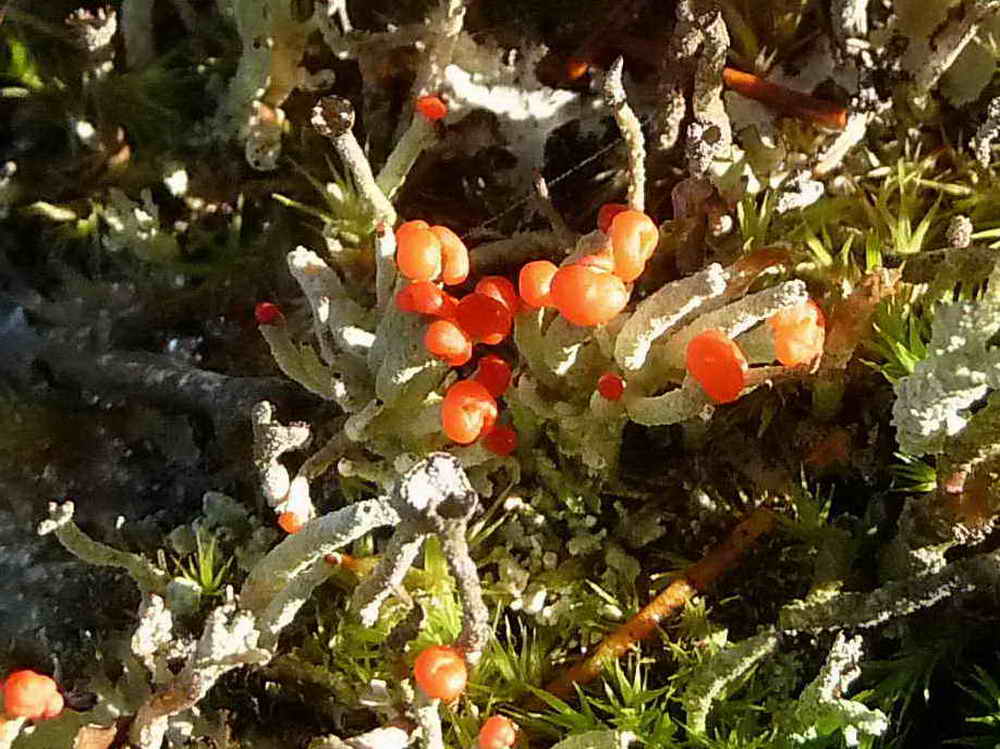 Detail from previous photo.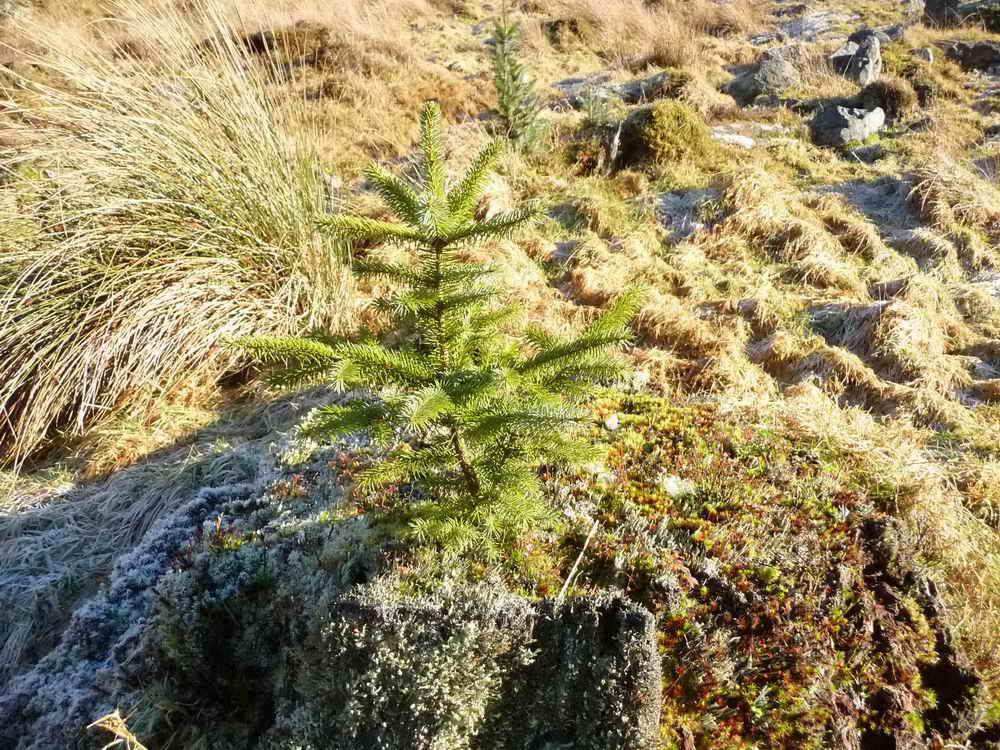 A young spruce growing, apparently, from a rock.
Art class?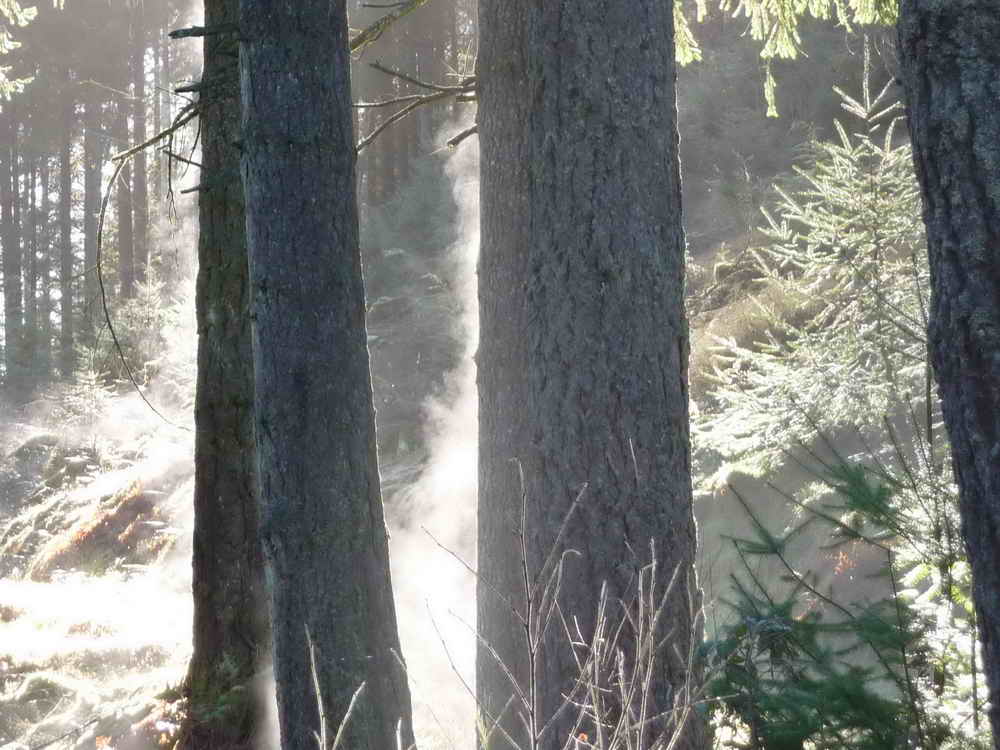 Steam coming off the tree trunks warming in the sun - very artistic, Jim!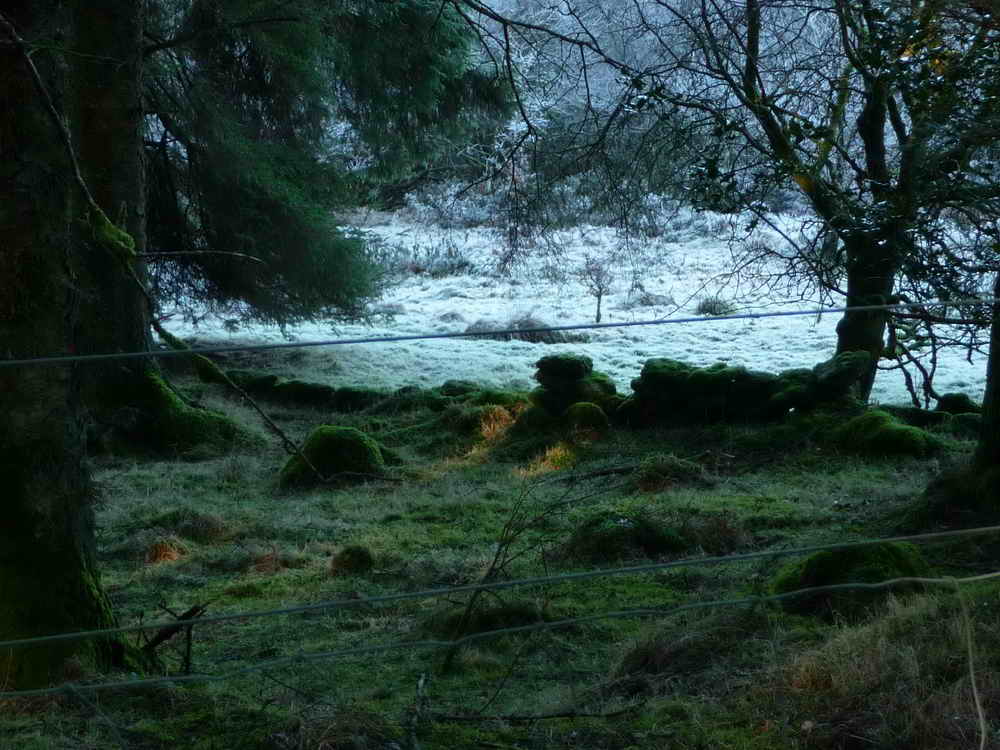 Frosty scene.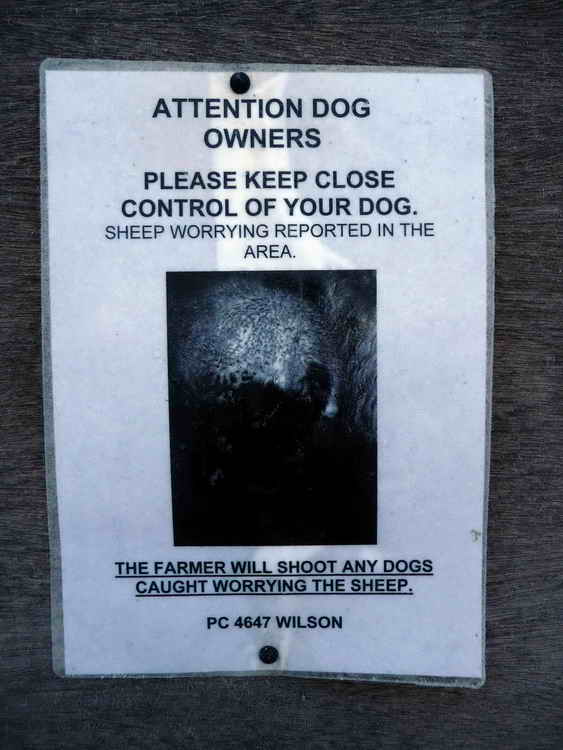 Notice attached to a shed door.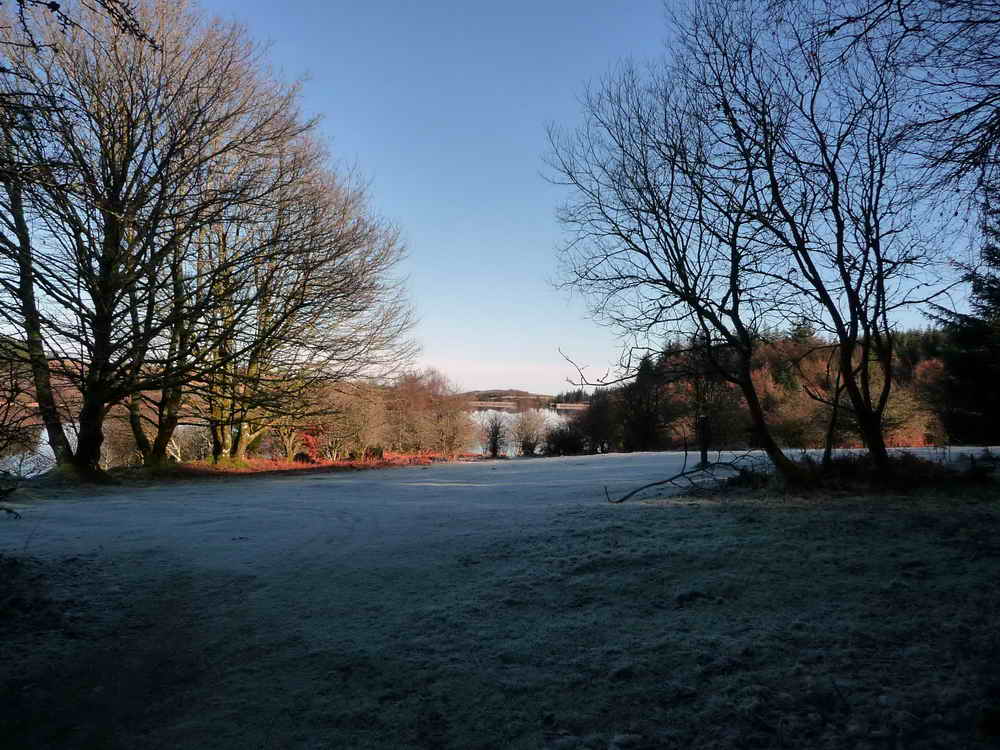 View from the parking area down to the reservoir.
Ice crystals (i.e. frost) on the top of a gate into the bird hide area.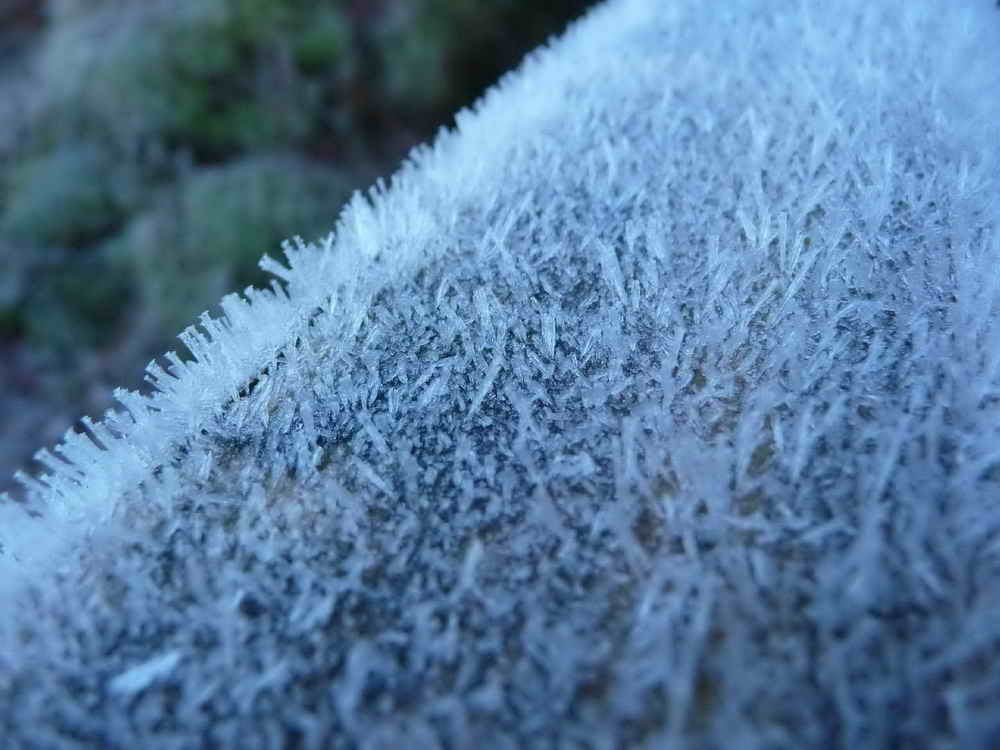 Another view of the ice crystals.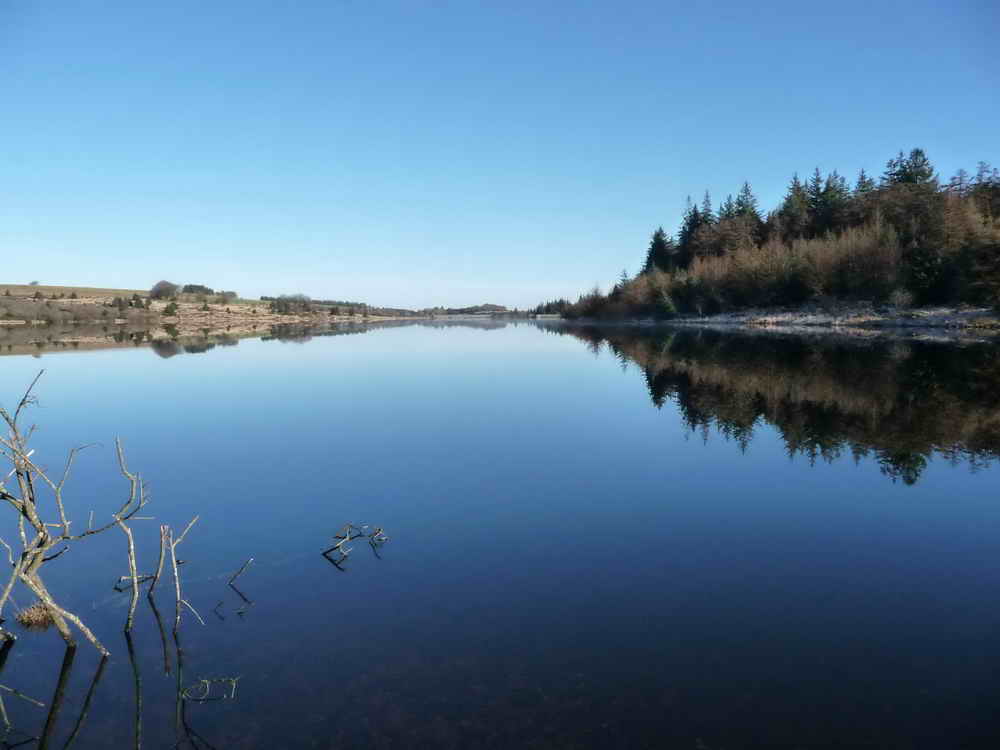 Fernworthy Reservoir - built 1936-1942 by Torquay Water Authority. This is the last granite dam built on Dartmoor, at a cost of £246,000, twice the original tender, covering 76 acres, holding 380 million gallons, being 63 feet deep. The water is pumped to Trenchford Reservoir.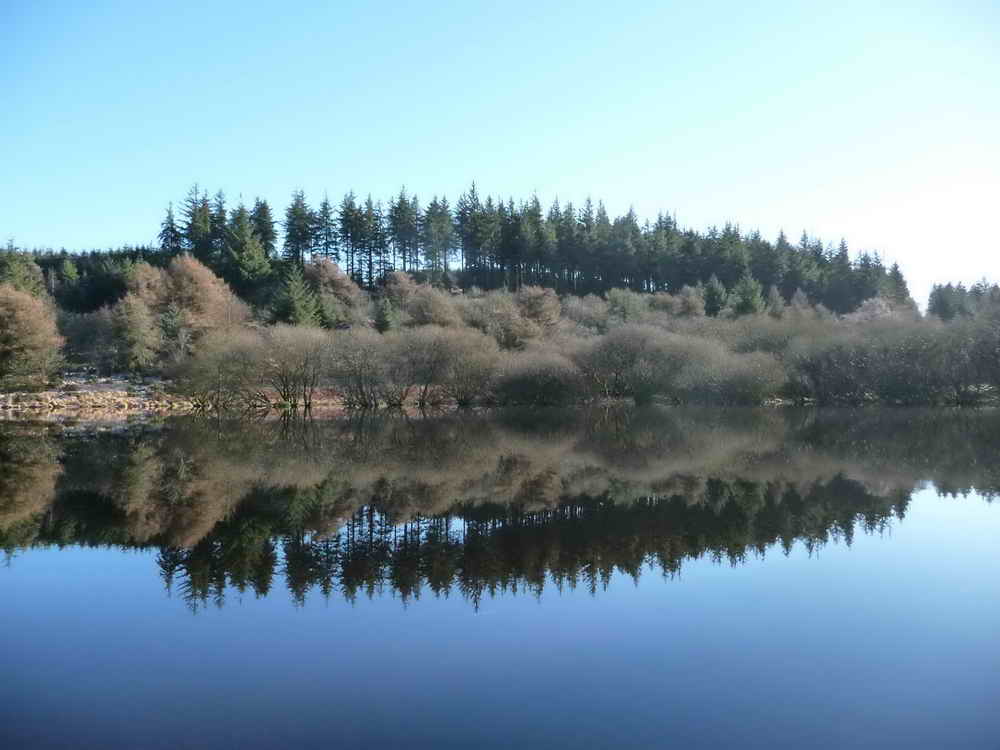 Scenic reflection .....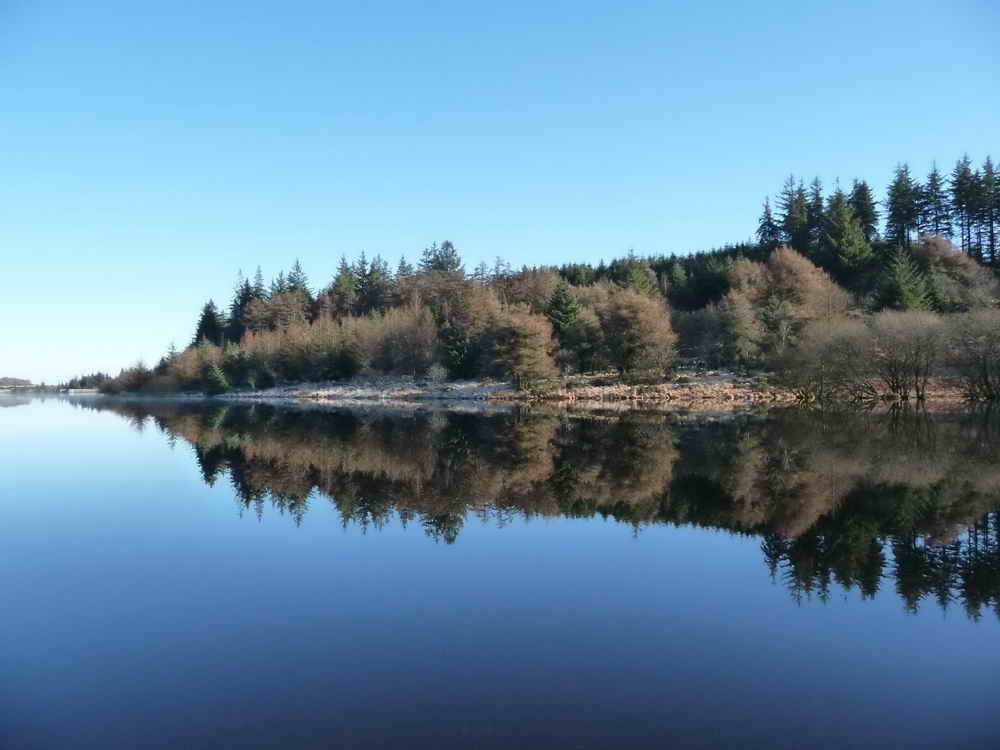 Scenic reflection .....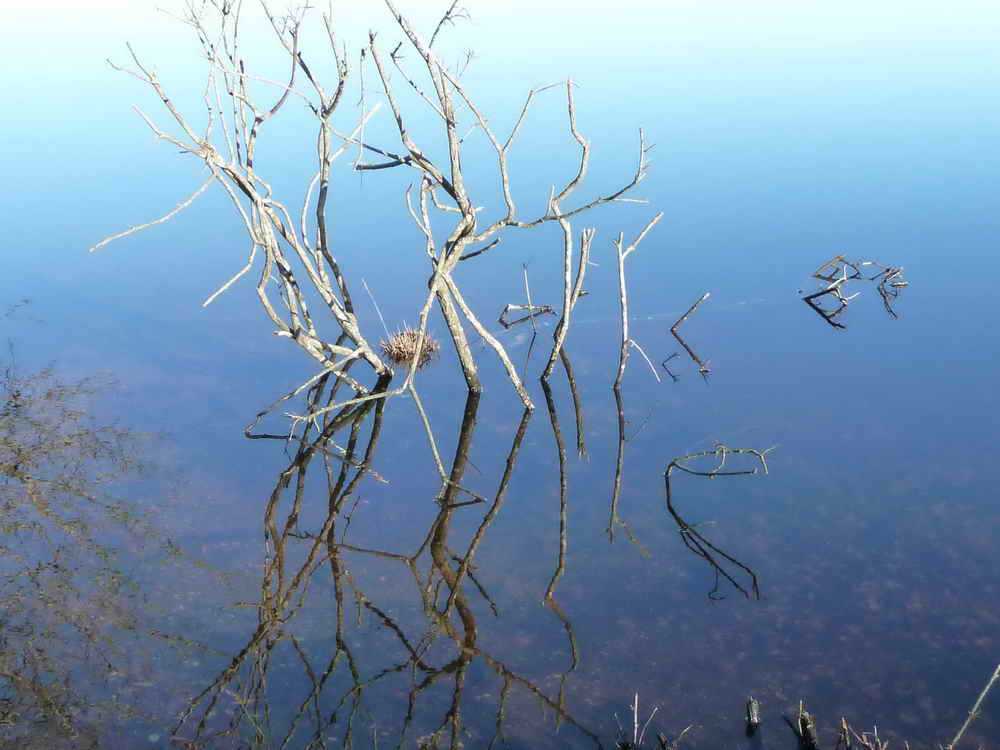 Detail of twigs in the water.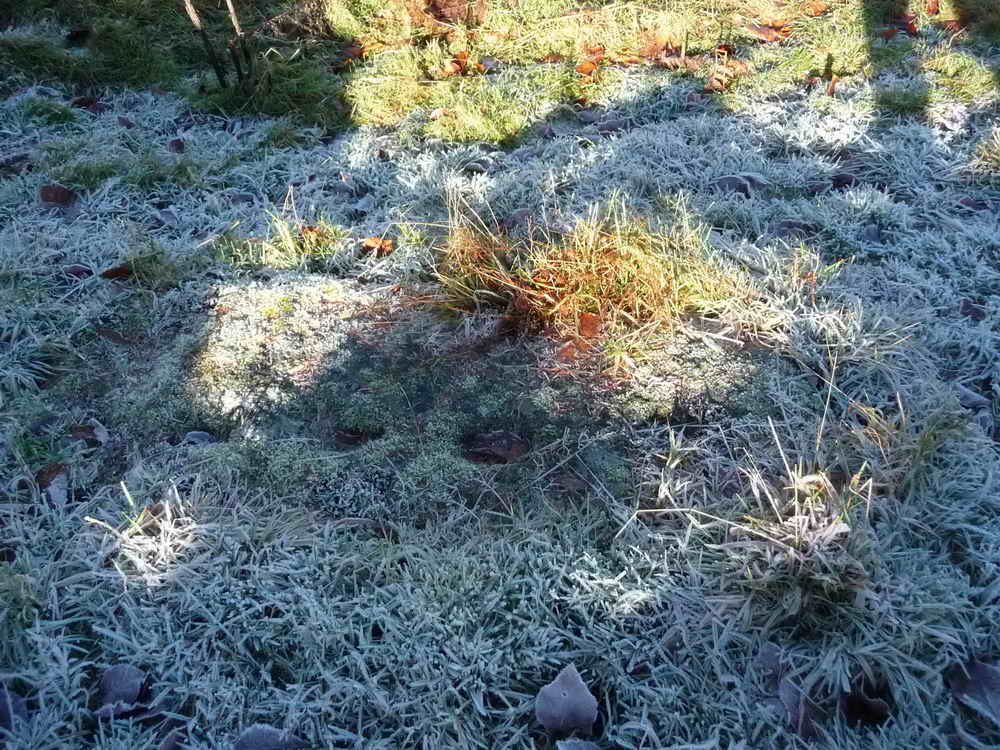 The round house seen at the start of the walk - showing a stone with slots cut in it (a recent gatepost?)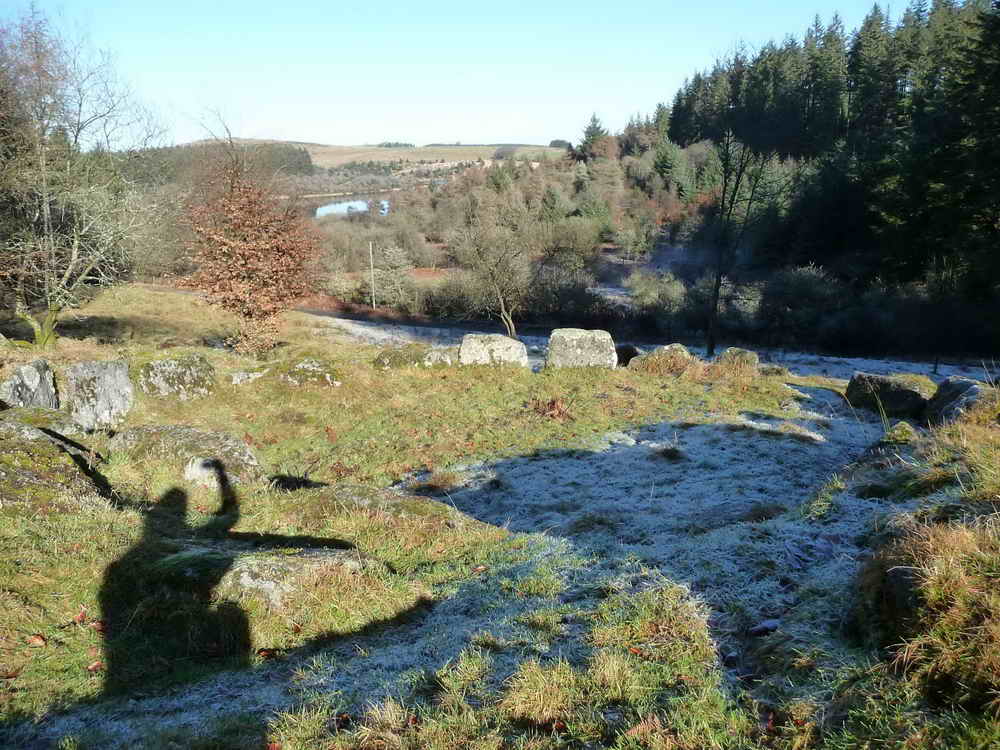 As previous.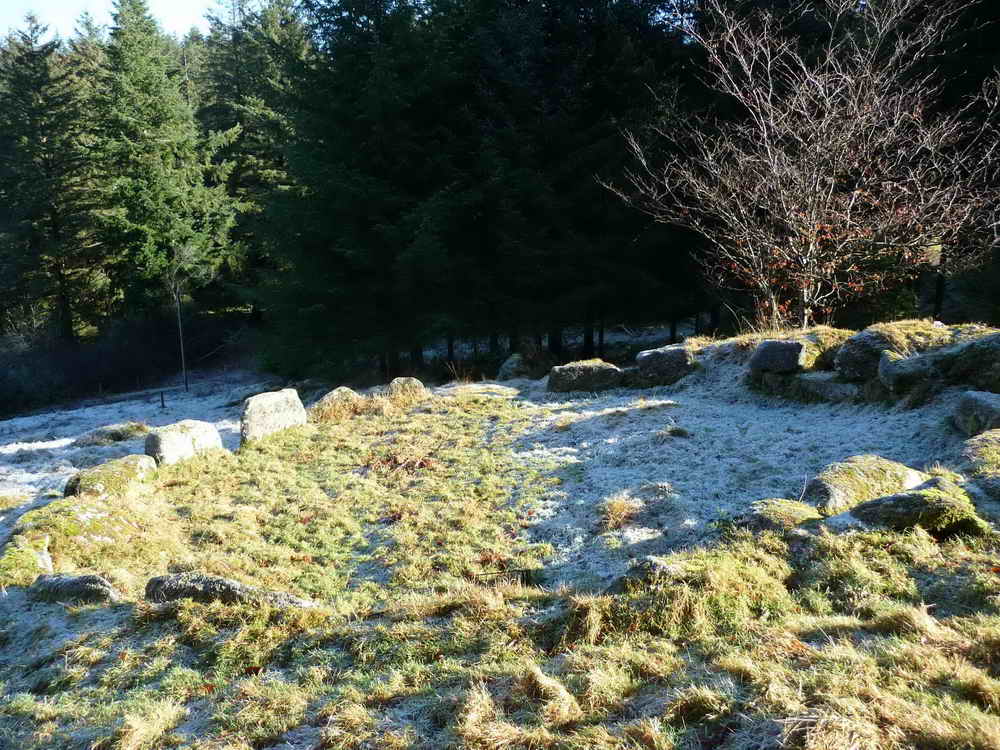 As previous.
MAP: Red = GPS satellite track of the walk.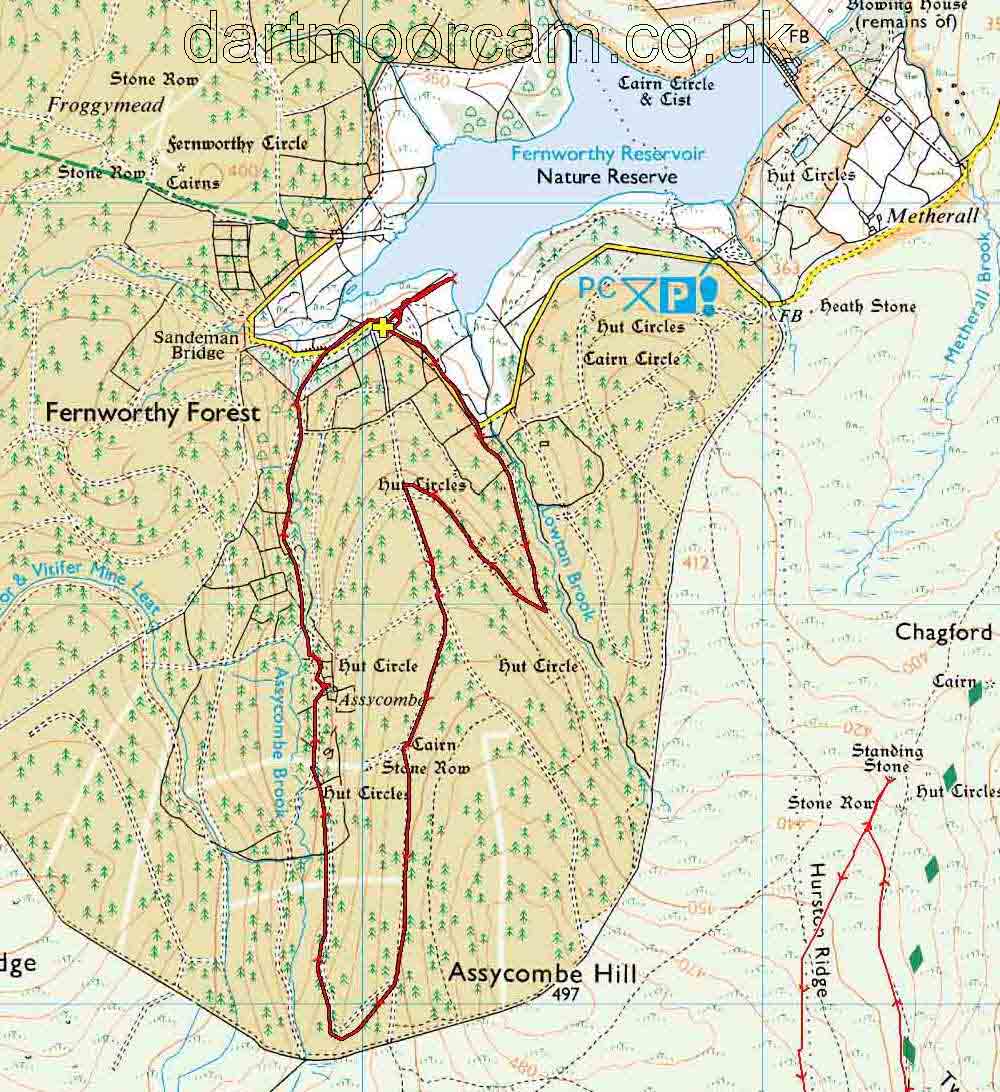 Ordnance Survey © Crown copyright 2005. All rights reserved. Licence number 100047373.
Also, Copyright © 2005, Memory-Map Europe, with permission.
This walk was reached from the B3212 road running from Postbridge to Moretonhampstead, turning north after the Warren House Inn to Jurston, Tunnaford, and then to Fernworthy. Parking is available at the entrance to the forest where there are other facilities (see map), by the storage shed (yellow cross) or at the extreme end of the tarmac road.
Statistics
Distance - 5.48 km / 3.4 miles

All photographs on this web site are copyright ©2007-2016 Keith Ryan.
All rights reserved - please email for permissions