This walk: 2011-1-5. Bagtor Down, leat, manorial boundary stone between Ilsington and Bagtor manors, Bag Tor, rock pan, tinner's gert, Bagtor Cottages, stream, clapper bridge, slotted five-barred gateposts, Happy New Year!
Walk details below - Information about the route etc.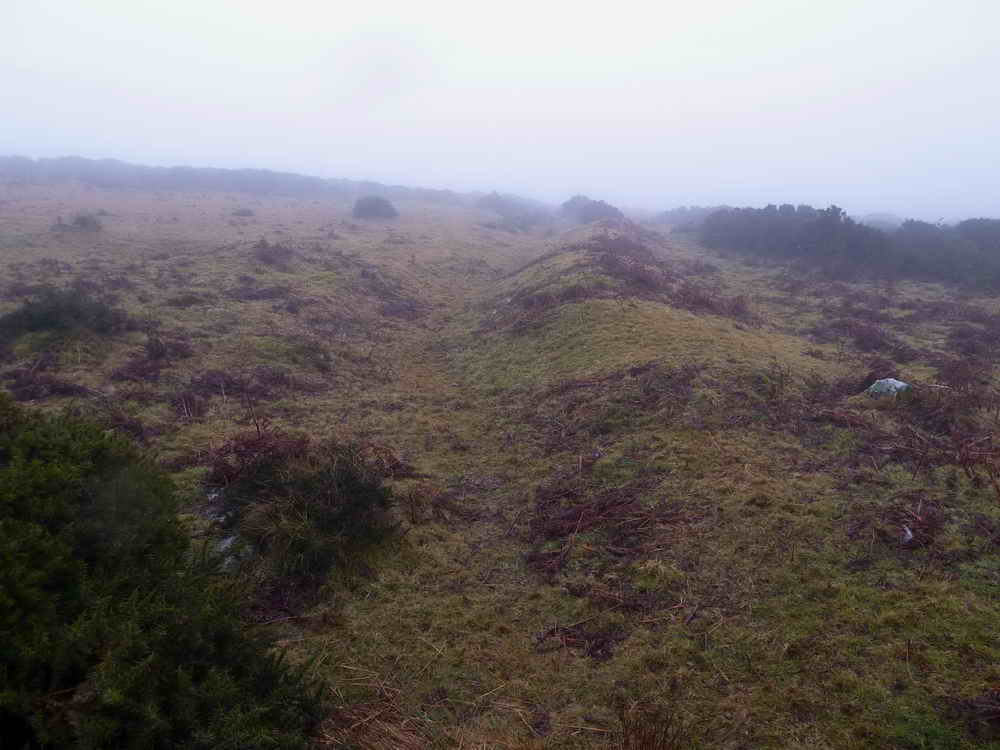 Following an old leat on Bagtor Down, associated with Bagtor Tin Mine ..... not shown on the usual OS map .....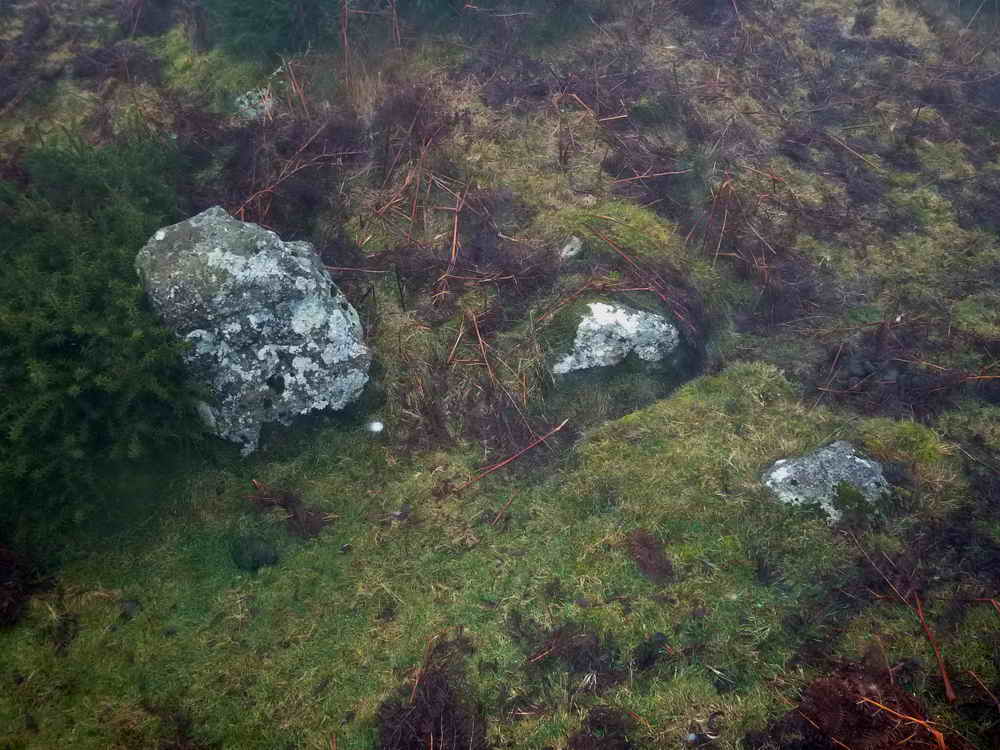 Sluice point or choke point in the leat (between the two small stones), with the leat running from bottom left to top right. The large stone is a manorial boundary stone between Bagtor Manor and Ilsington Manor (see the "I" on the back, 2nd/3rd photos below) ..... This stone is mentioned in Dave Brewer's Dartmoor Boundary Markers, Halsgrove, 2002, on page 100 under "29". It is described as being, when walking in a south-easterly direction, up the leat from another "I" and "B" set stone at SX 7600 7630 - it must lay between "29" and "30" in the map (Fig. 33) on page 98 - both marked on the map below .....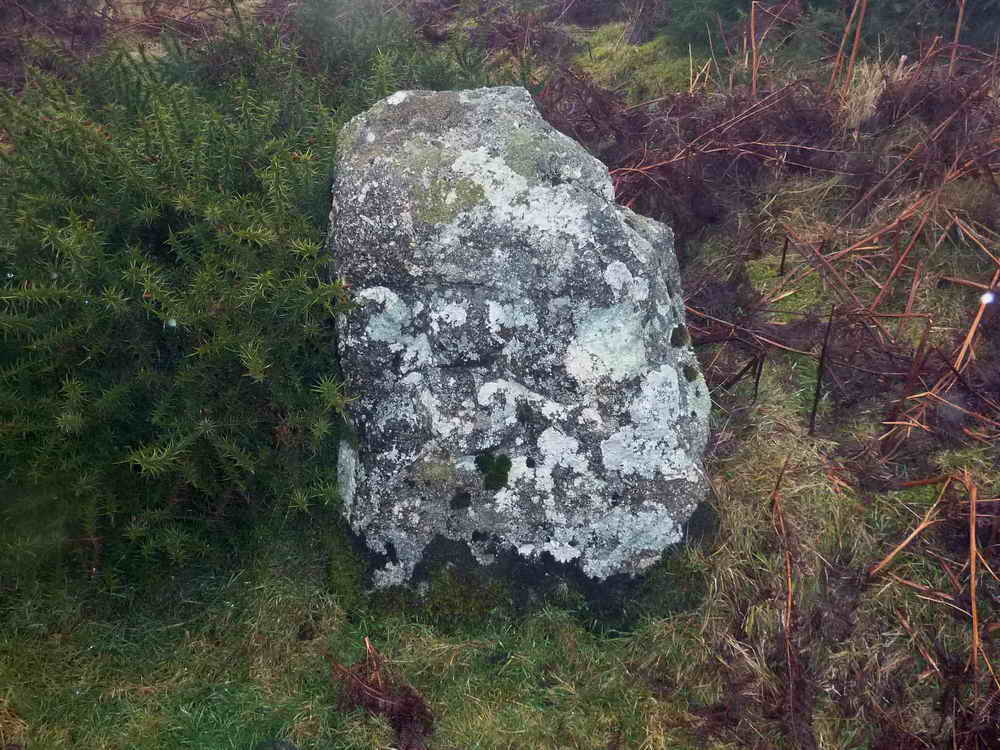 The boundary stone, showing, ostensibly, "B" for Bagtor Manor .....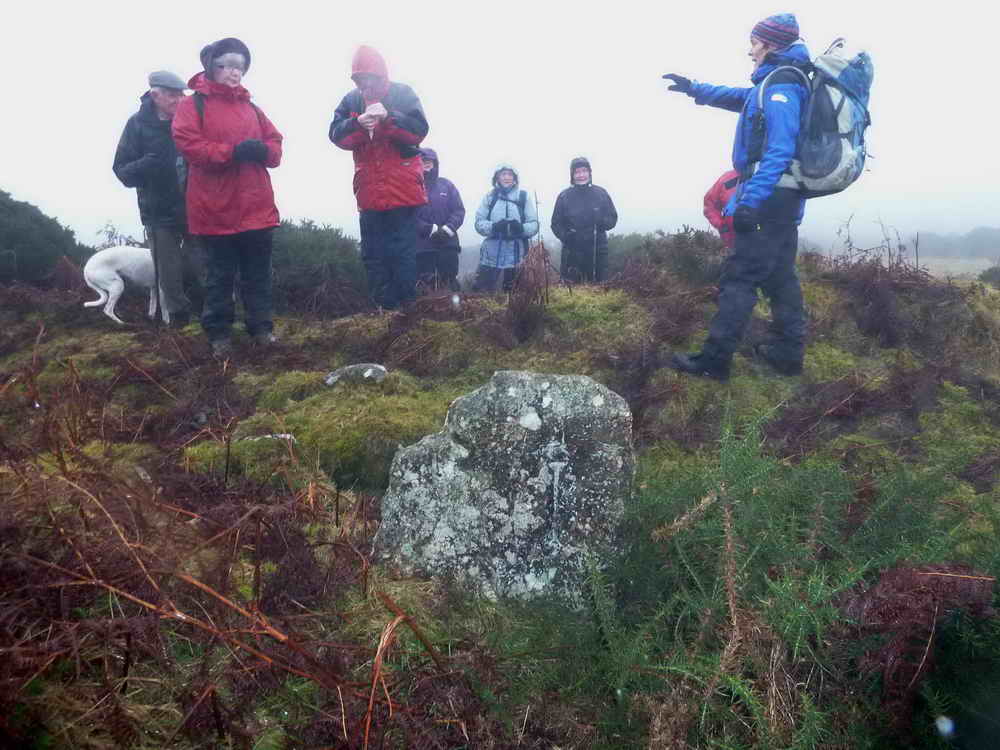 The lecture ..... involving "I" for Ilsington Manor .....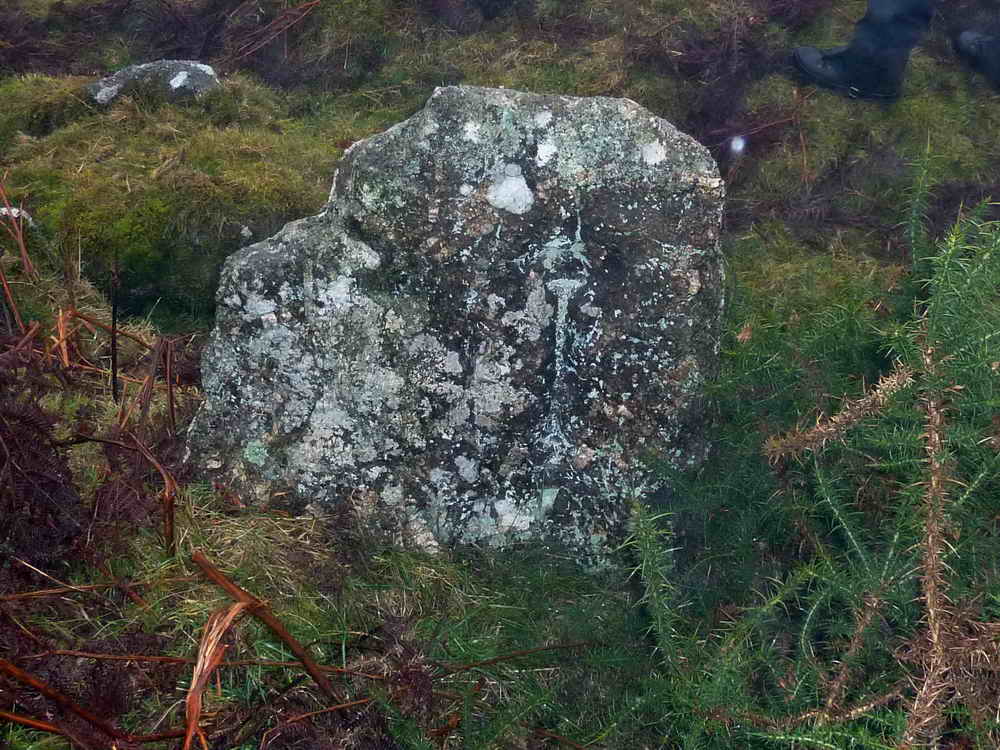 More detail, with the "I".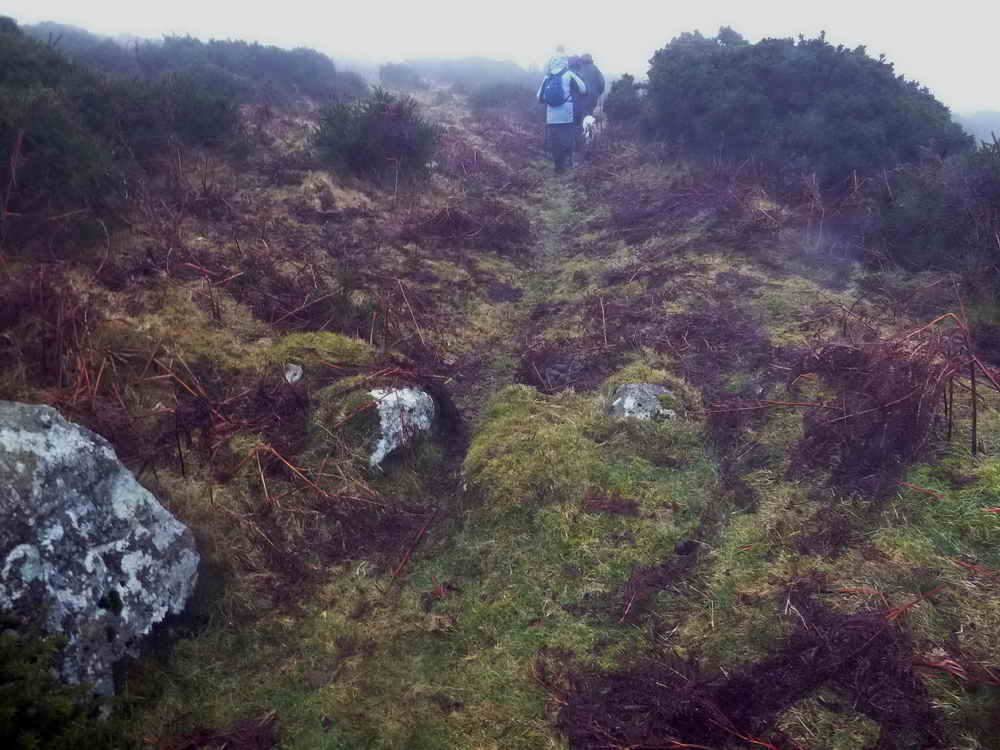 Setting off along the leat again.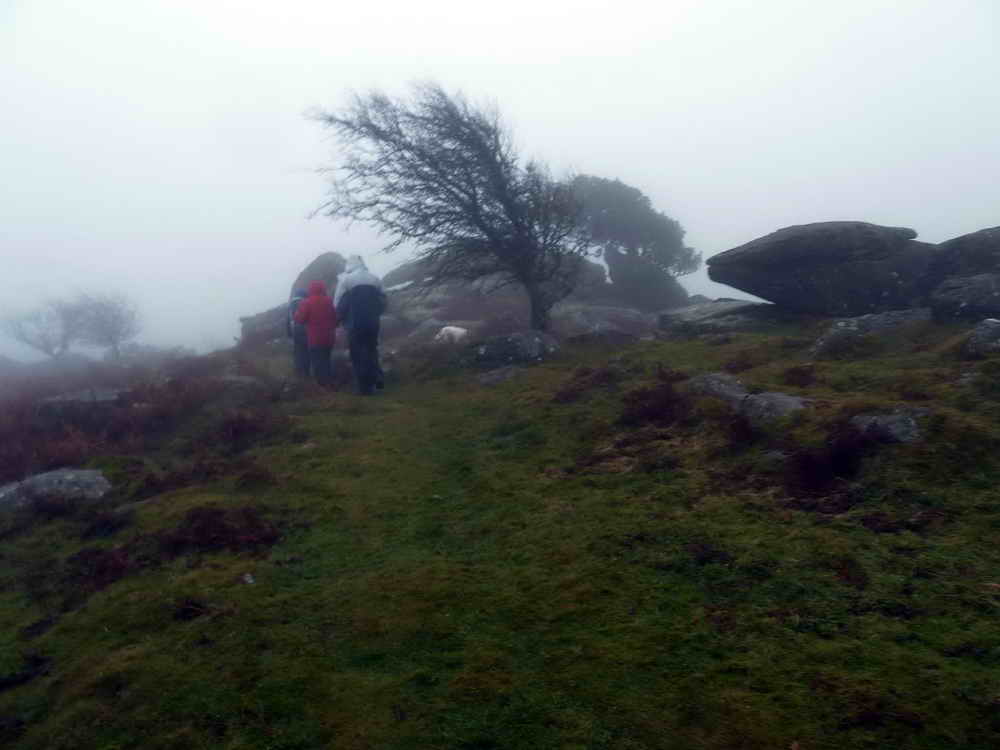 Approaching Bag Tor.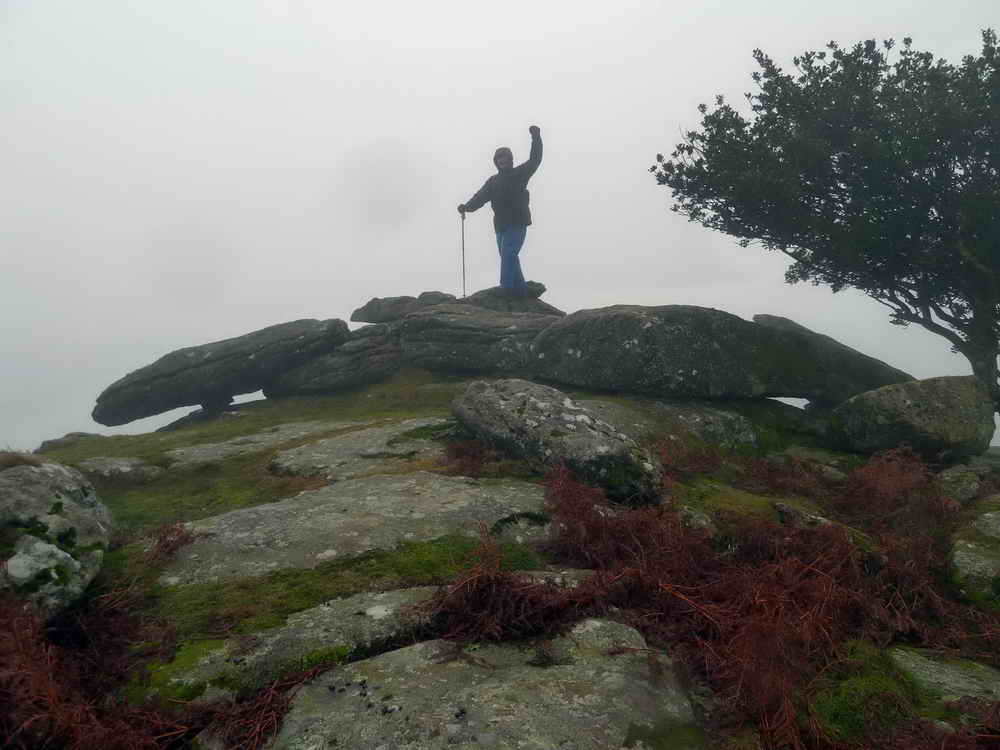 Hugh atop his 66th tor.
Rock pan on top of Bag Tor.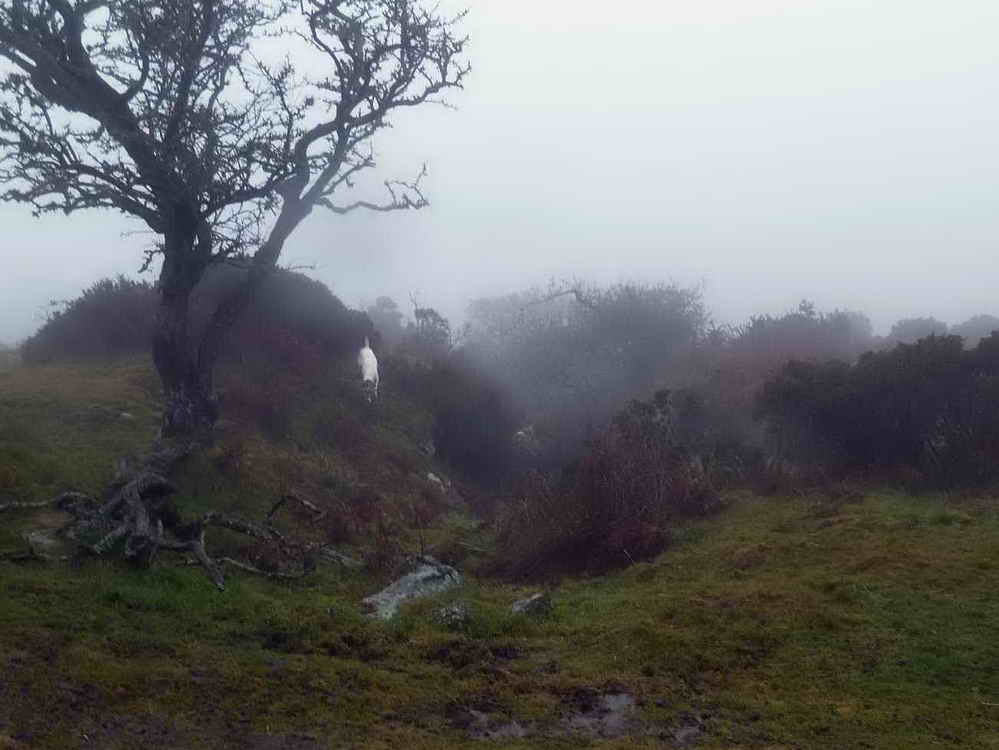 One end of a tinners gert between Bag Tor and Bagtor Cottages - with Jess, the dog, exploring as ever.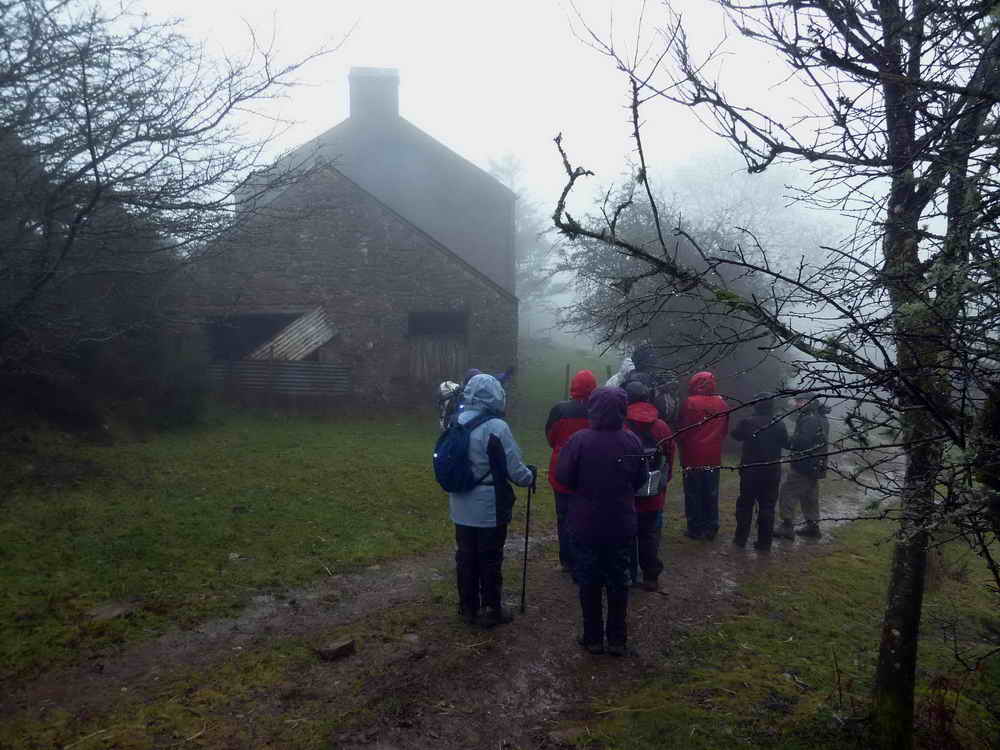 Bagtor Cottages - originally three dwellings, later knocked into one .....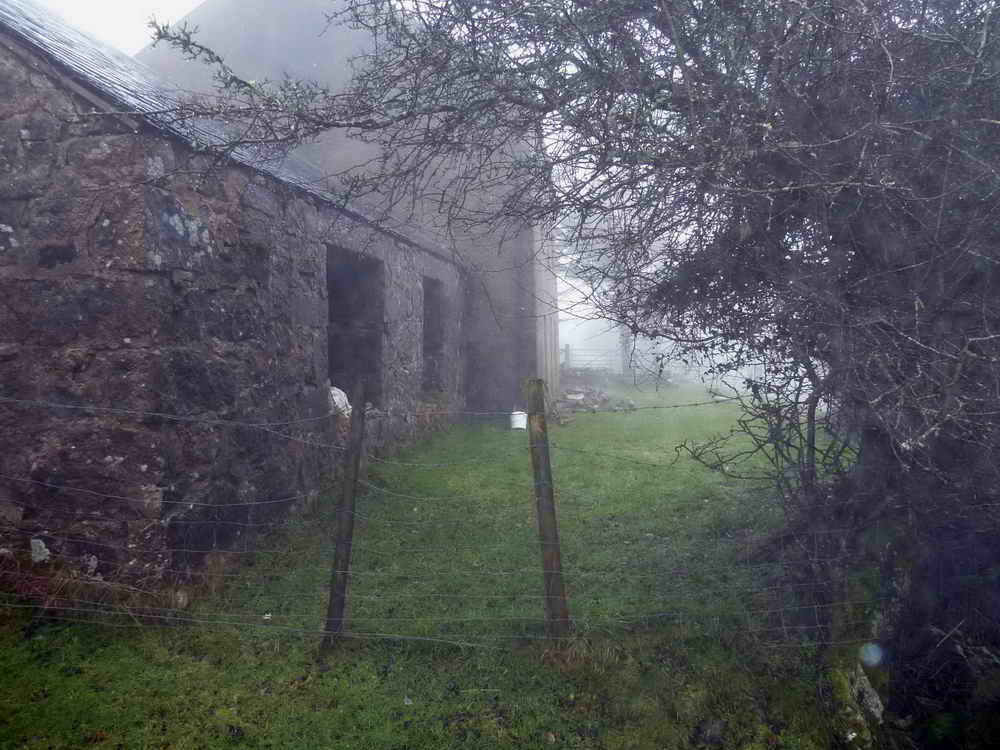 Another view .....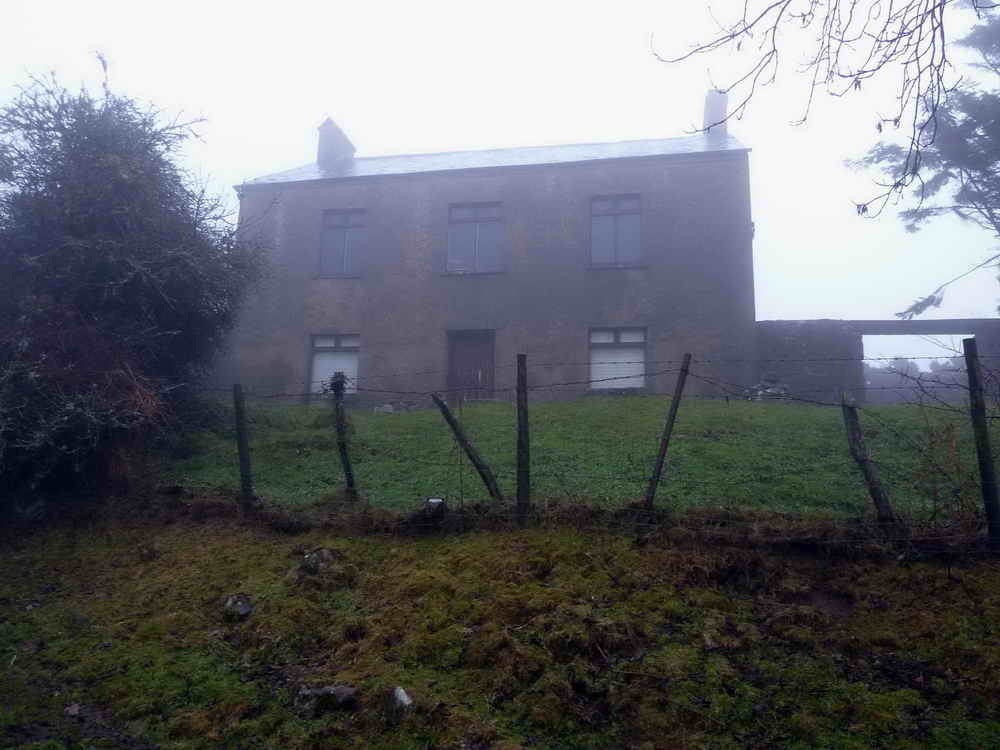 Front aspect .....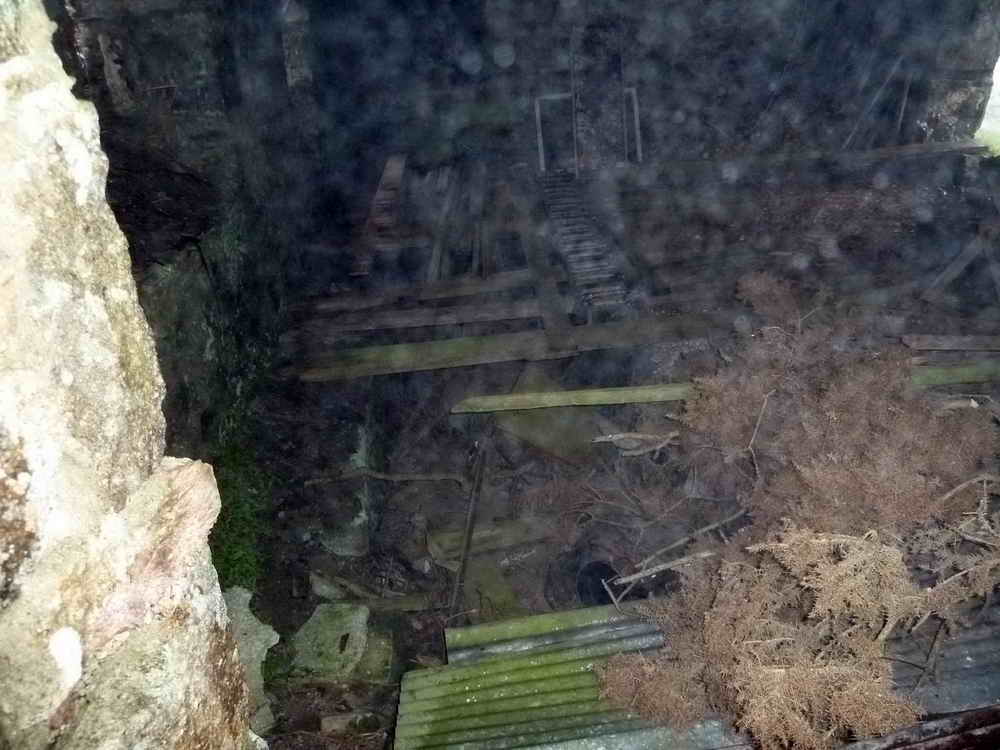 Looking in through the end window (in first photo), showing a lot of light scatter from the flash, probably from the mist.The photo shows (just) the large stone-lined pit; said by some to be a saw pit, others that it is a wheel pit. Perhaps it was a wheel pit later used as a large saw pit.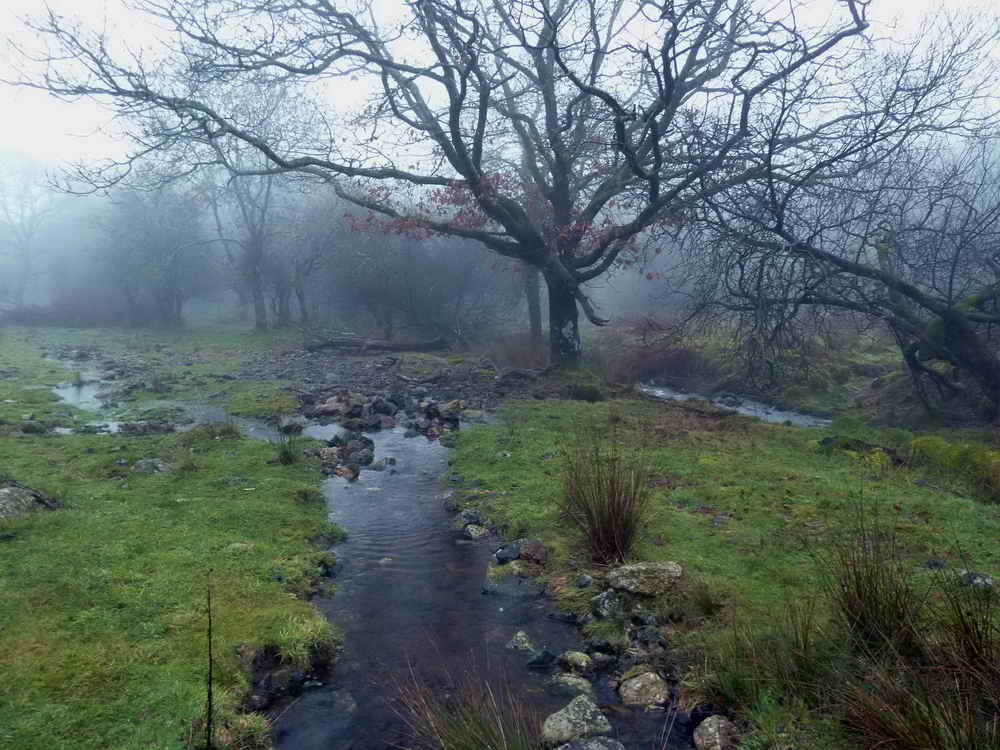 Approaching the stream below Bagtor Cottages ....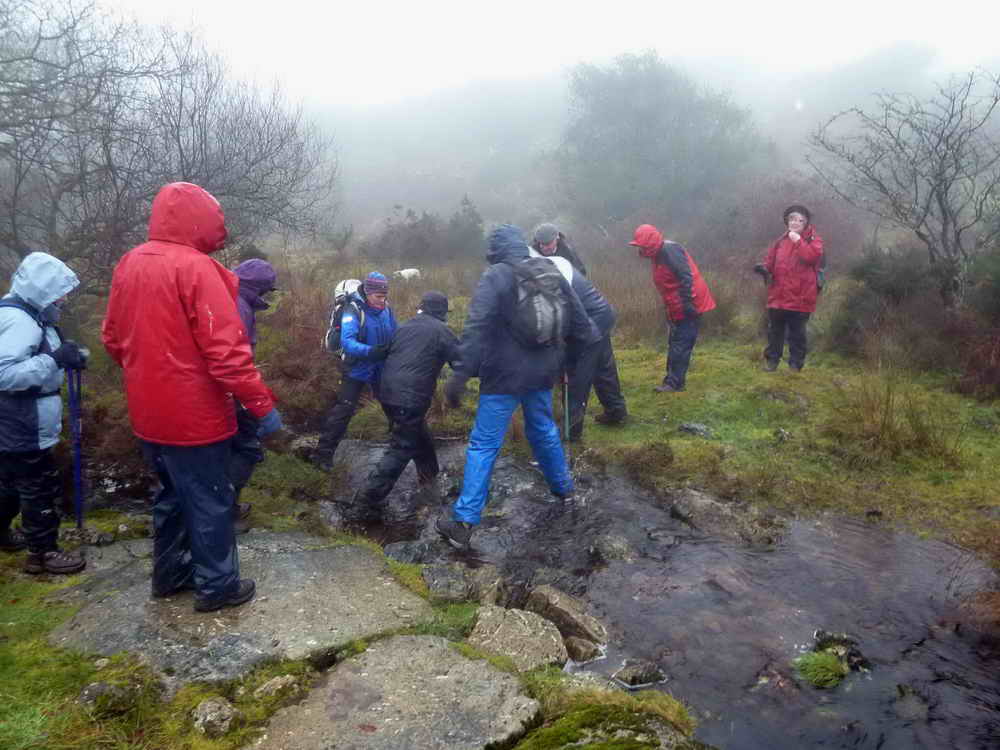 Fording the stream, note the old clapper bridge, perhaps the stream has moved since it was built or maybe there was just a lot of water - certainly a lot was falling at the time!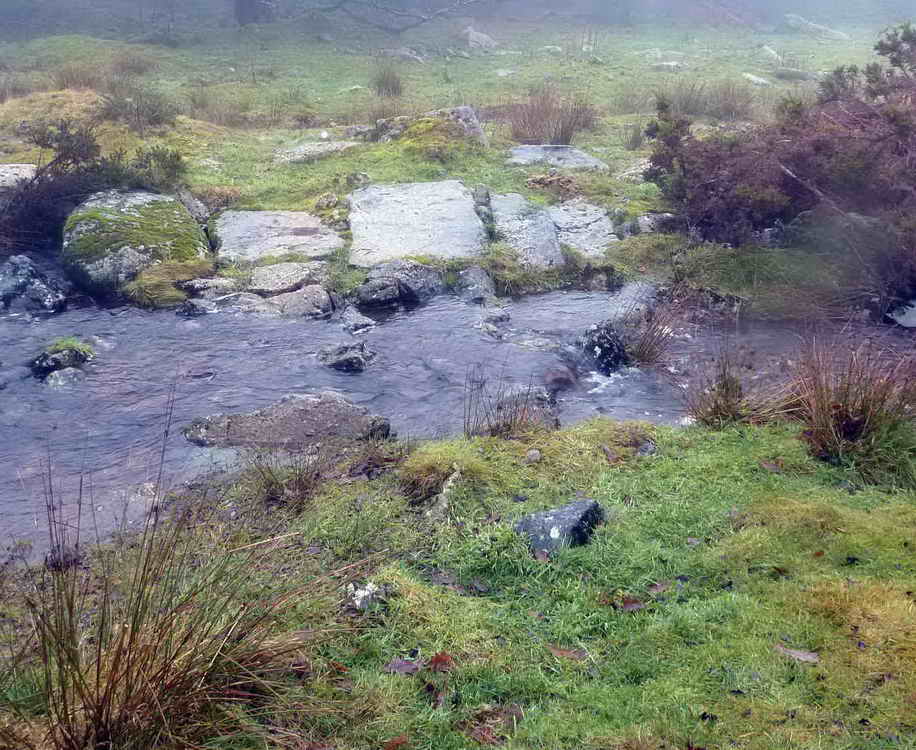 The clapper bridge.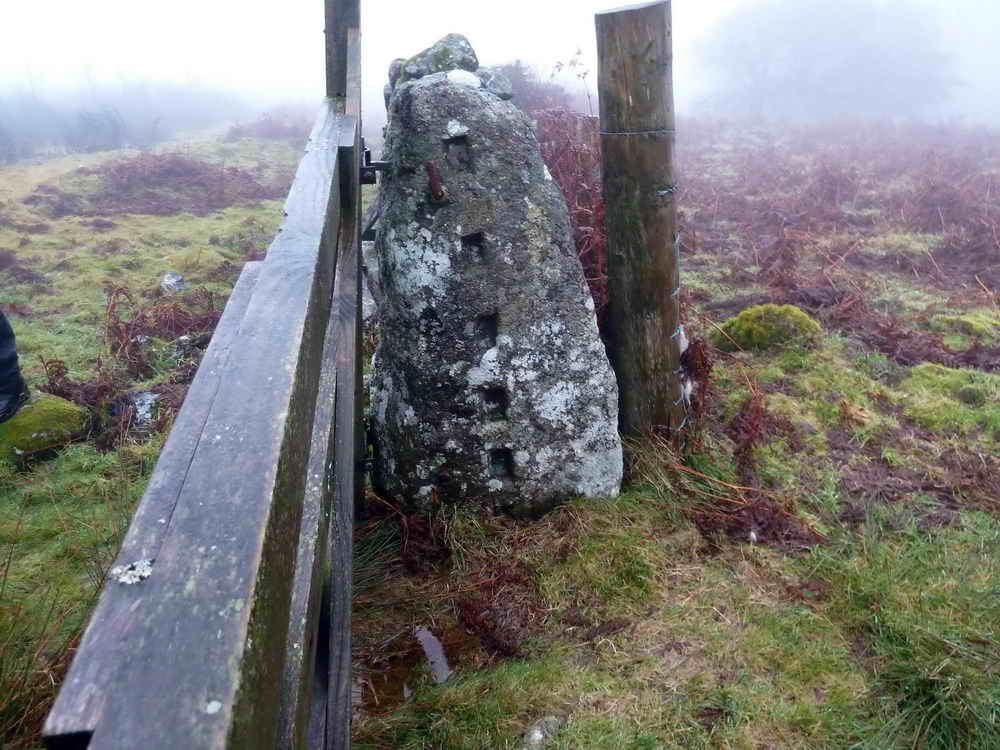 A five-bar slotted gate-post, showing the end in which the bars were first inserted .....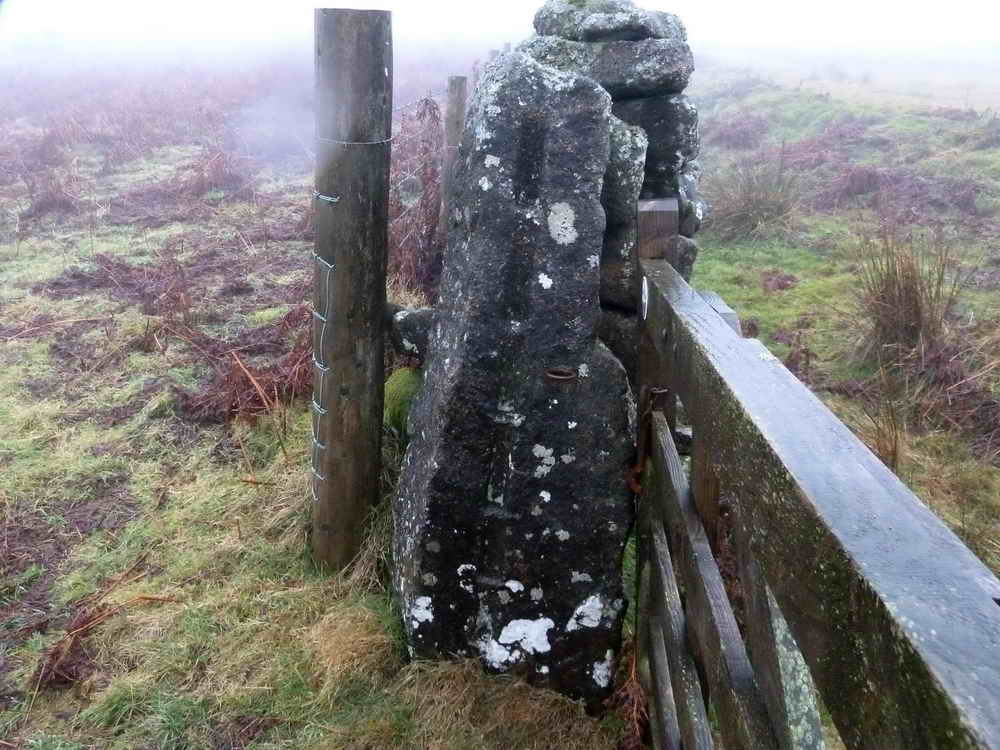 ..... and the second post where the other ends of the bars were inserted and slid down to rest.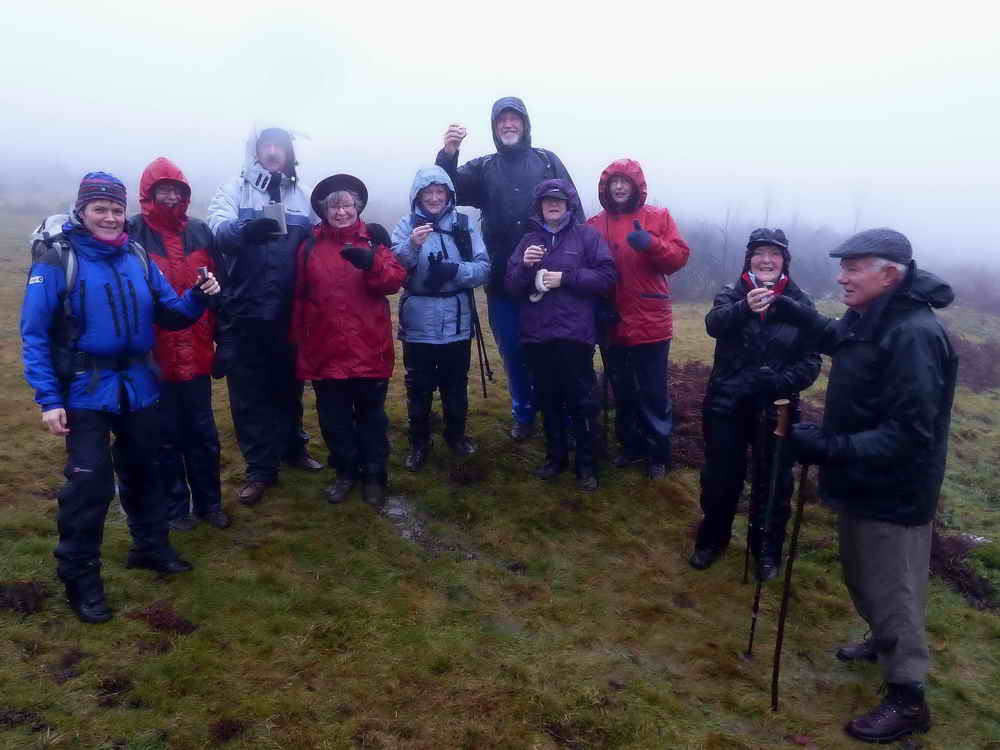 Happy New Year to missing friends!
MAP: Red = GPS satellite track of the walk.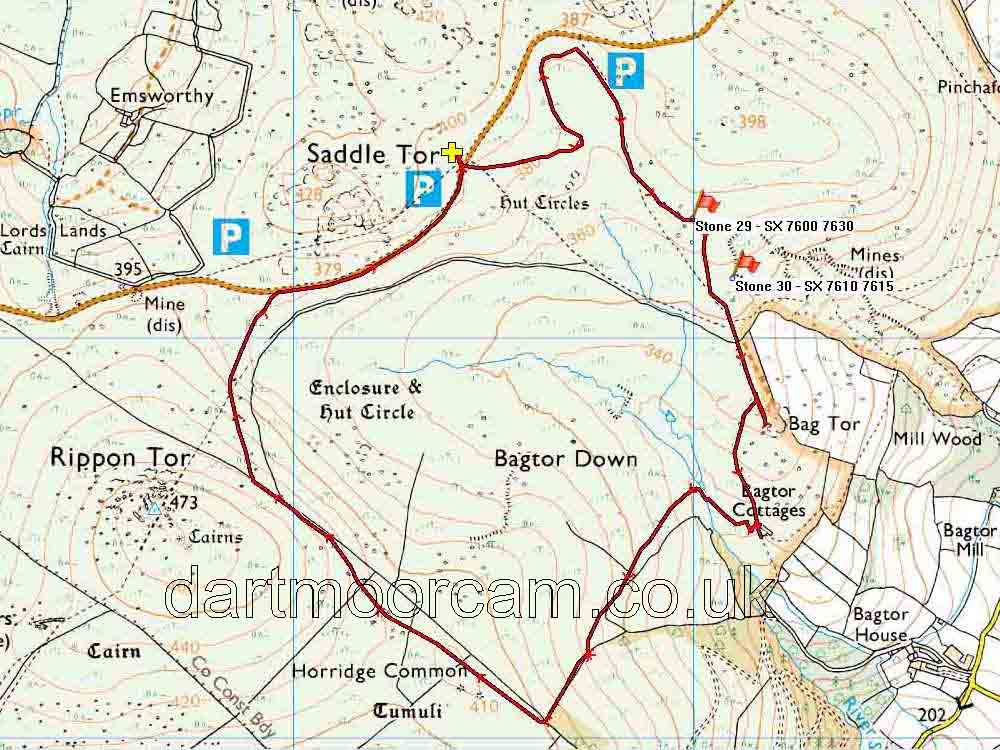 Ordnance Survey © Crown copyright 2005. All rights reserved. Licence number 100047373.
Also, Copyright © 2005, Memory-Map Europe, with permission.
This walk was approached in from Plymouth by driving up the A38 to the Newton Abbot turn-ff, towards Widecombe, via Hook's cross, Owlacombe Cross, Halshanger Cross, Cold East Cross and Hemsworthy Gate (turn right to Saddle Tor). We parked on the north side of the road shortly after passing Saddle Tor, at the position of the yellow cross on the map. The walk can also be approached from the other direction via Dartmeet and then Widecombe-in-the-Moor.
Statistics
Distance - 5.71 km / 3.55 miles

All photographs on this web site are copyright ©2007-2016 Keith Ryan.
All rights reserved - please email for permissions