This walk: 2011-11-18. Rough Tor, Roughtor or Rowtor.
Walk details below - Information about the route etc.
The quest to find Rough Tor, Roughtor or Rowtor was prompted after working with the DTRG - Dartmoor Tinworking Research Group on the Rough Tor Mines Project, in Roughtor Plantation.
The area was mined in the medieval period. An early mining conveyance (1705) refers to Great Rowter and the Mining Journal (1847) refers to Great Rough Tor Mine (Source: DTRG information).

The only description of Rough Tor I have found is by Eric Hemery, in High Dartmoor, publisher Robert Hale, London, 1983, reprinted 1993, on page 163:
"On the highest ground within Roughtor Plantation is the rock-pile from which the wood takes its name, Rough Tor (approx. 1,000 feet). This small but rugged tor ..................................... The summit rock has a well-formed basin, sixteen inches in diameter, five inches in depth, and with a distinct lip; two smaller basins in a lower rock show by their angle that the rock has tilted."
The location of the feature we found is SX 57430 68557 ± 6 metres (subject to improved GPS location). Its elevation is about 303 metres (1007 feet), from the Ordnance Survey map, although we omitted to record a GPS elevation at the tor - although a GPS error of ± 6 metres in elevation is probably best omitted!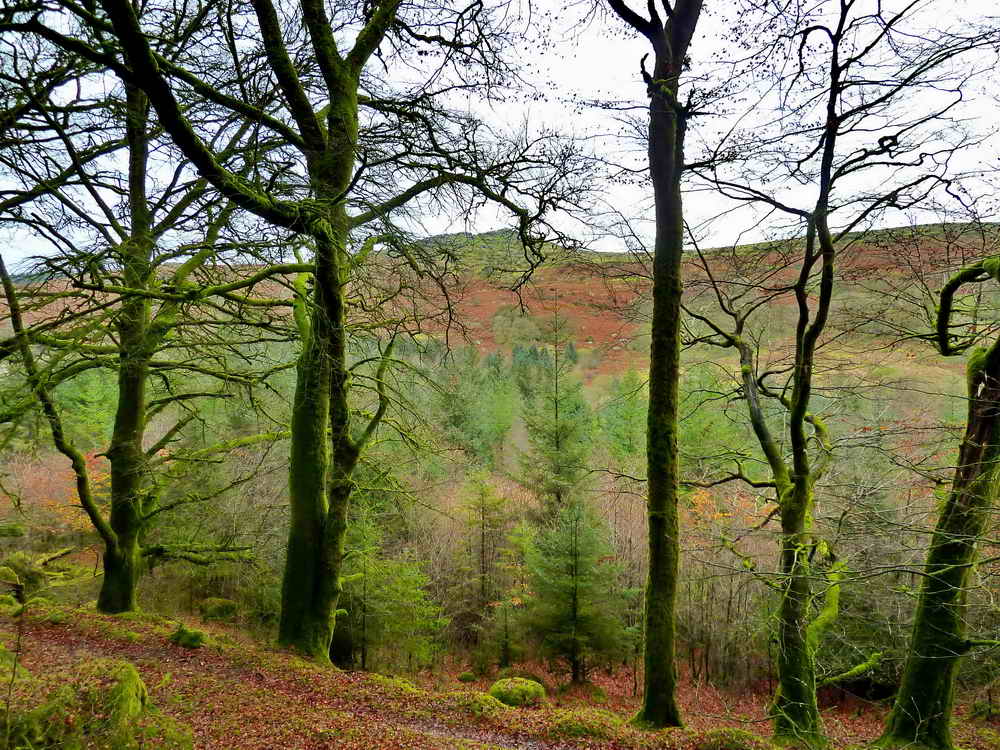 Looking across the valley to Leather Tor.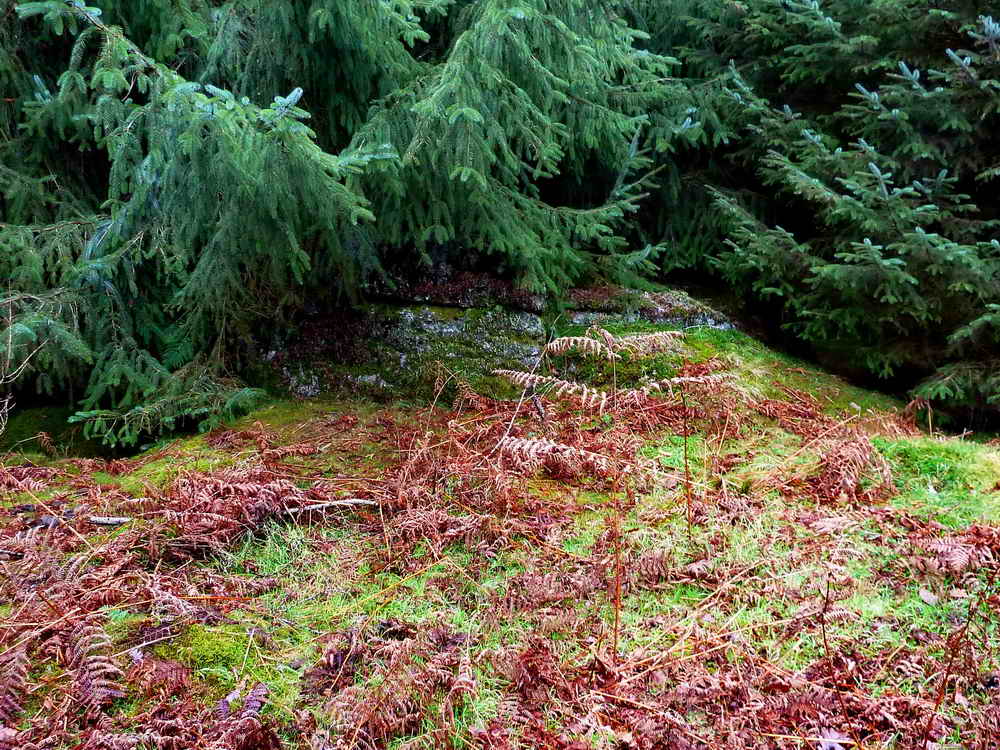 Believe it or not, this is Rough Tor, one of Dartmoor's minor tors, hiding under a spruce tree, at SX 57430 68557 ± 6 metres.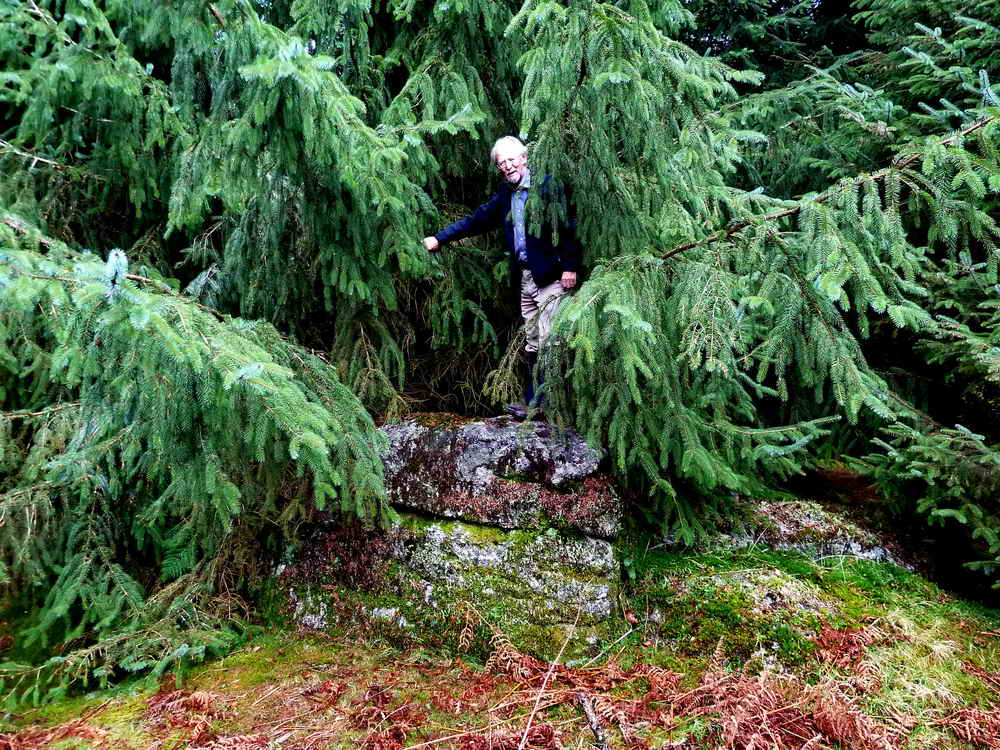 Keith trying to hold back the tree branches and show off the tor .....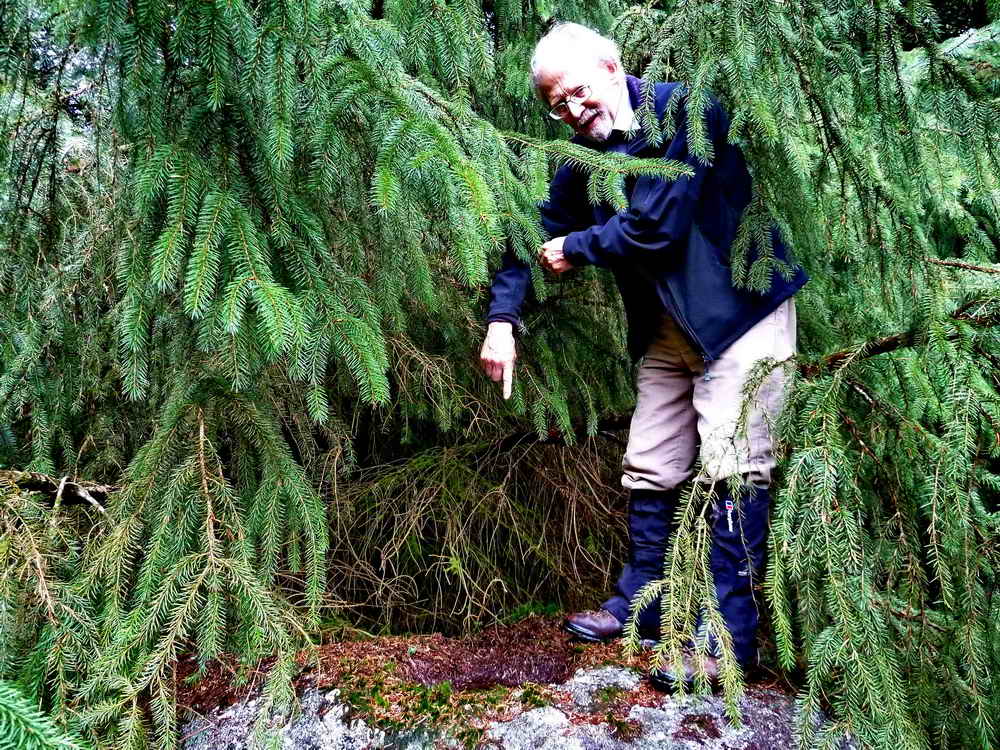 Here is the summit basin .....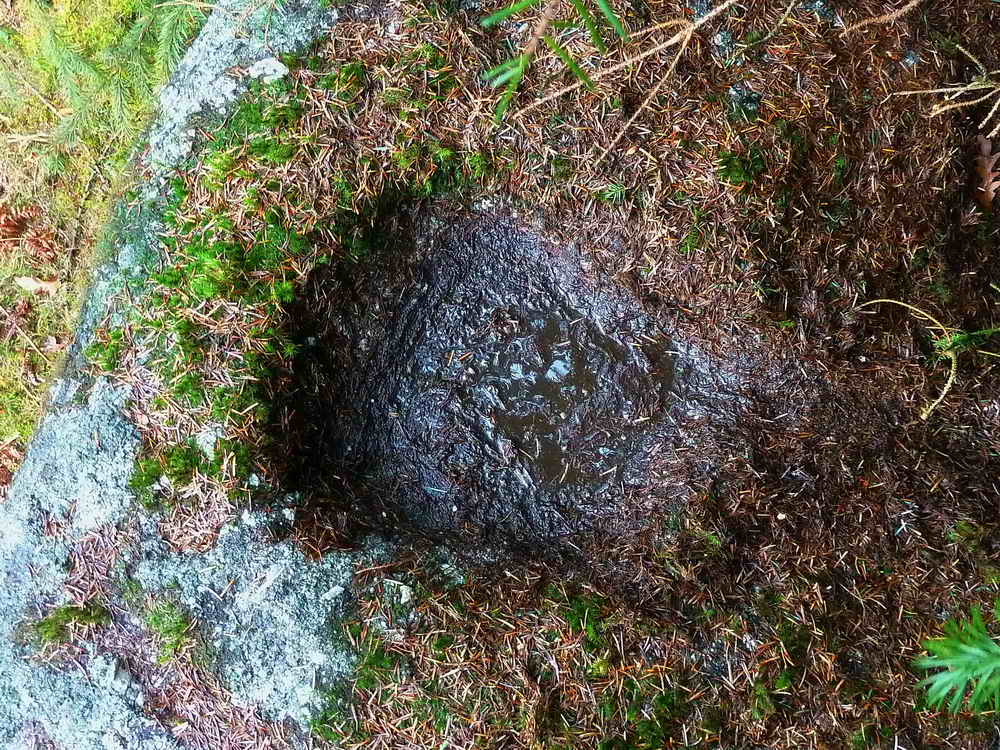 The basin, matching Hemery's description above - the "lip" runs out to the right.
The subsidiary basins are covered by a thick layer of detritus and we didn't properly locate them on this visit.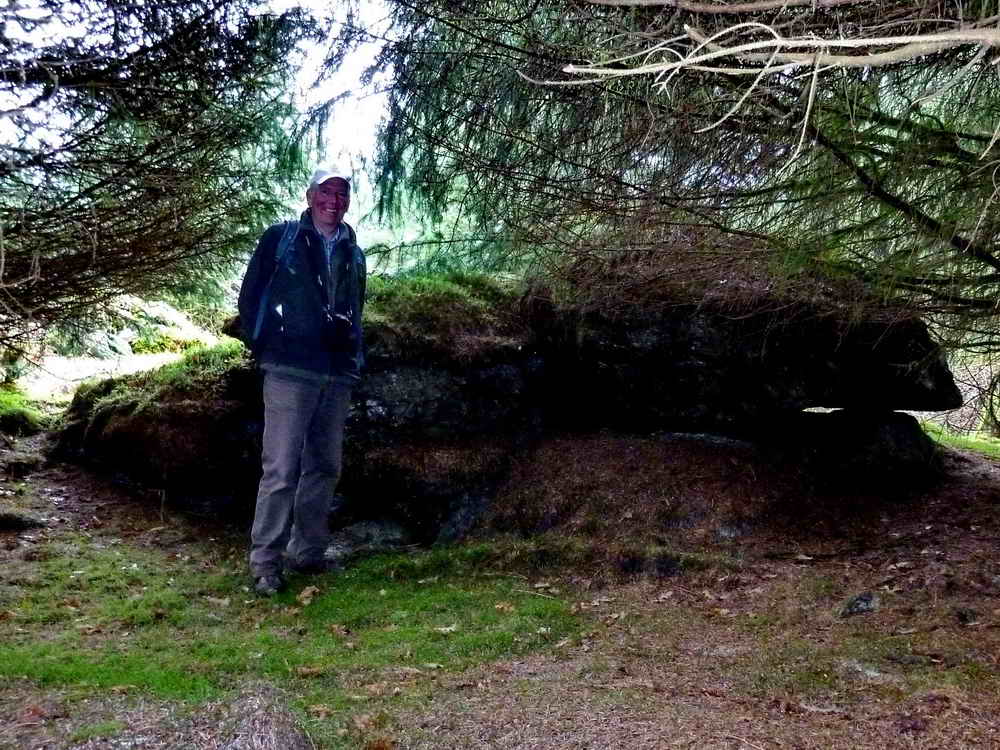 Ron, photographed at the "back" of the tor, inside the trees. It is definitely not a great rock pile! The subsidiary basins are thought to be on the sloping surface at upper right side of this photograph.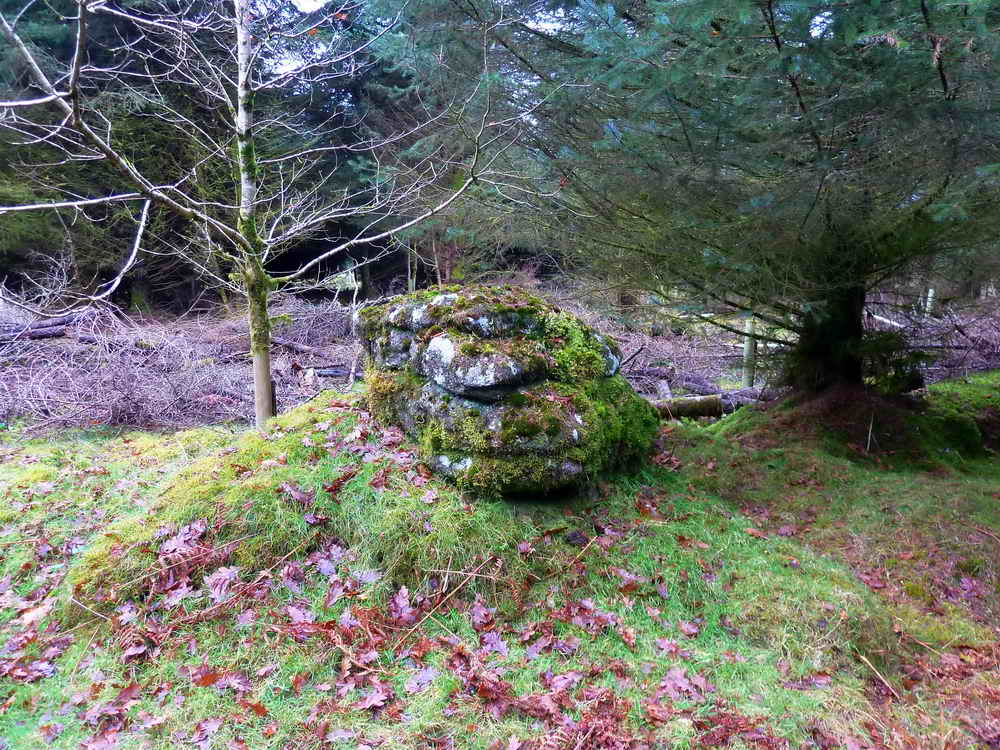 A nearby rock, not quite as tall as the rock pile with the basin.
Another scene, looking away from the tor, part of an old wall or boundary? .....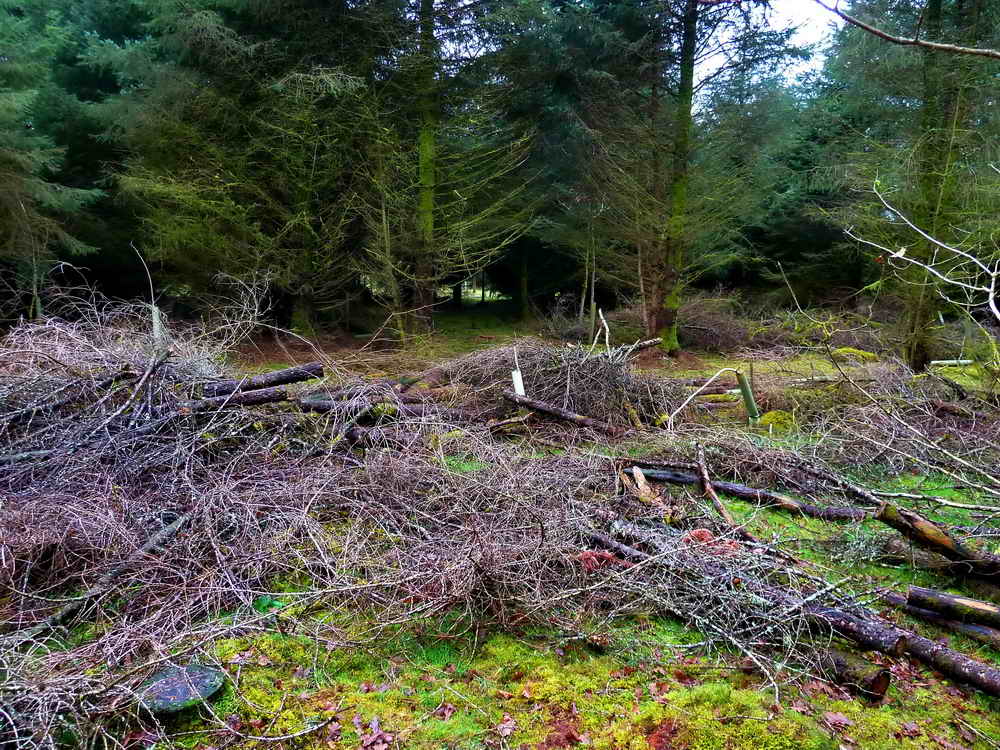 As previous photo .....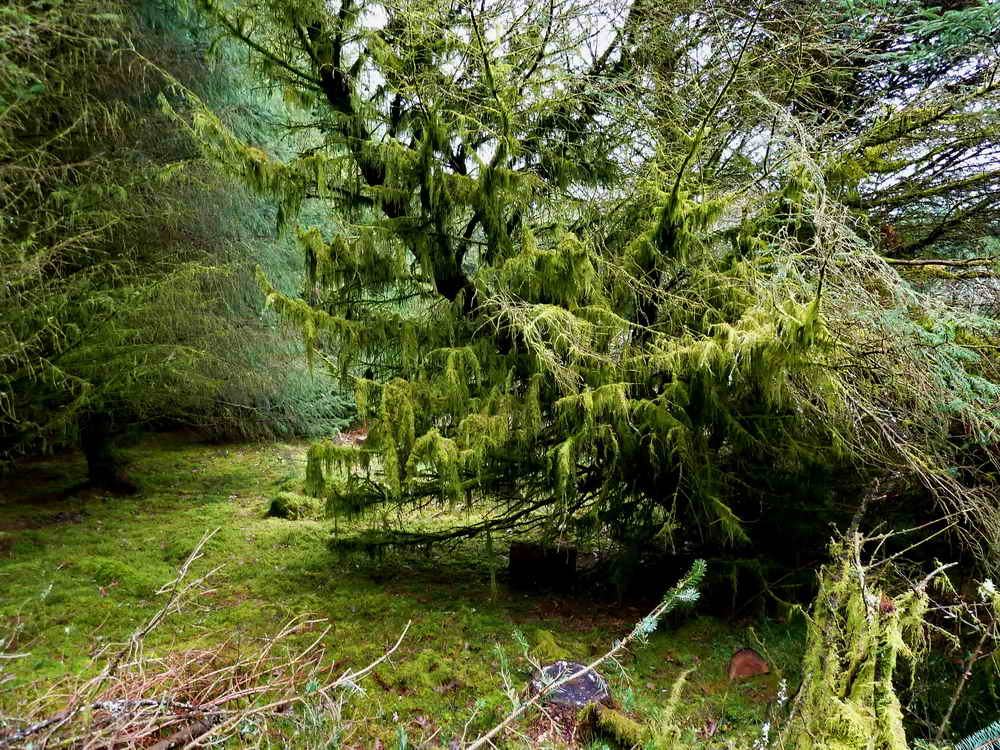 As previous photo, a tree with hanging festoons of Sphagnum moss.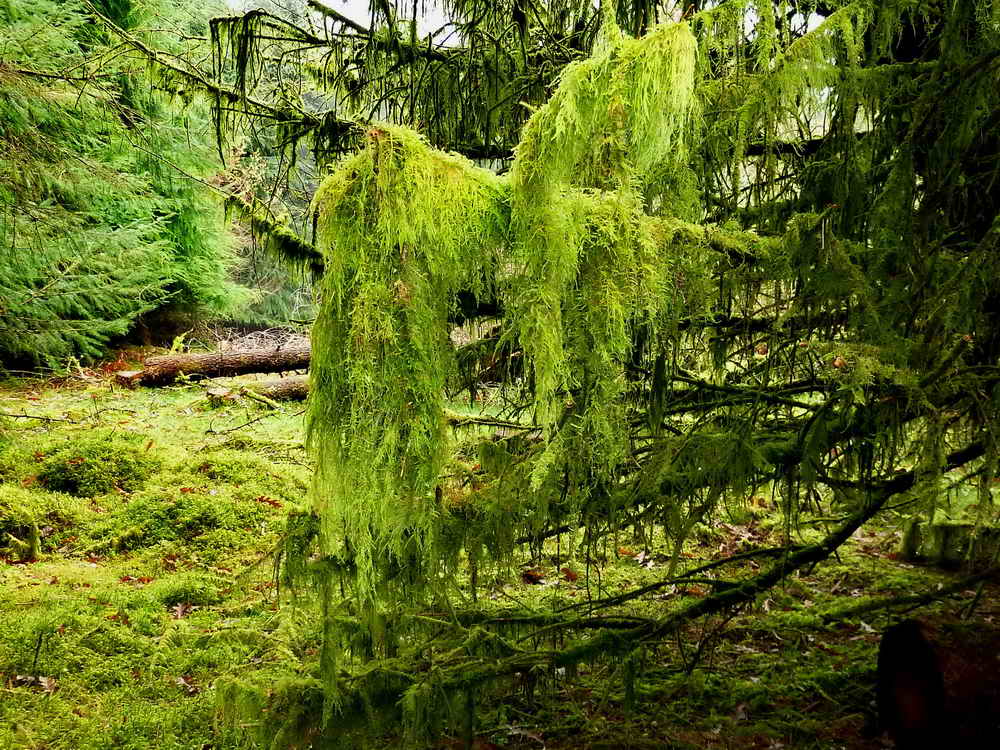 As previous photo .....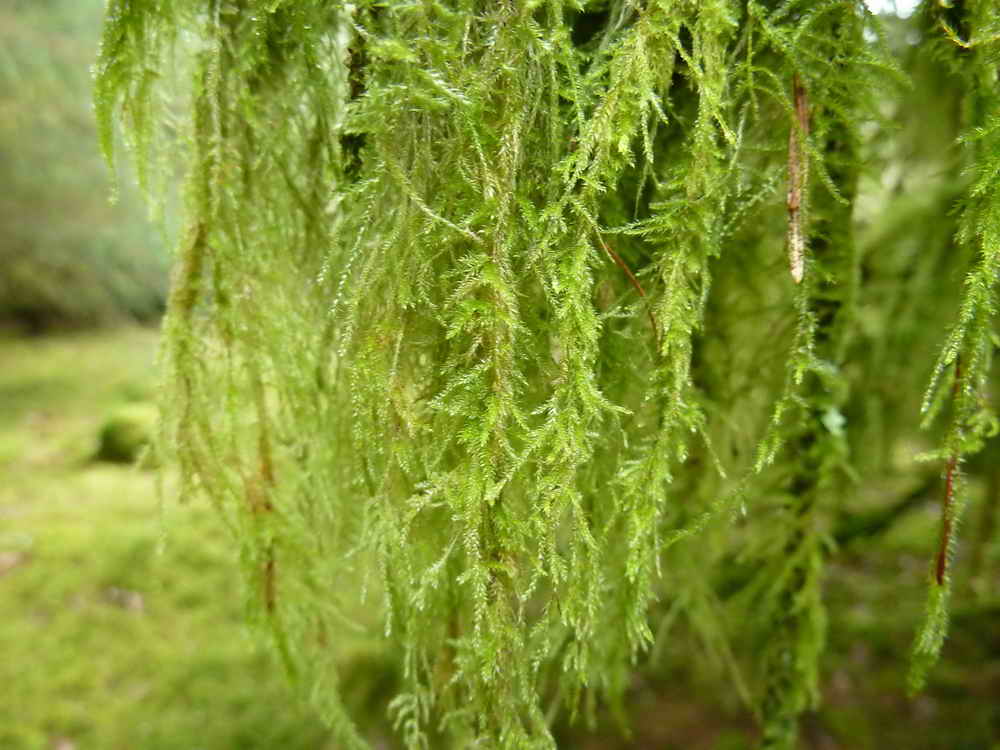 Closer view of the hanging moss - usually you see bearded lichen hanging like this.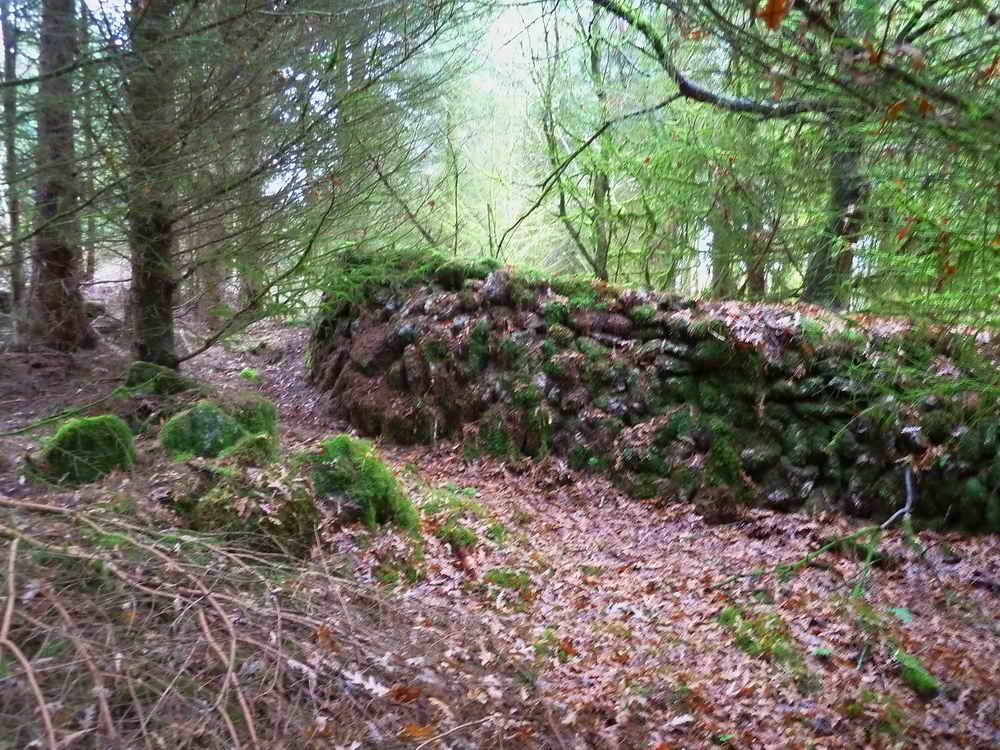 Nearby wall at a field corner.
MAP: Red = GPS satellite track of the walk.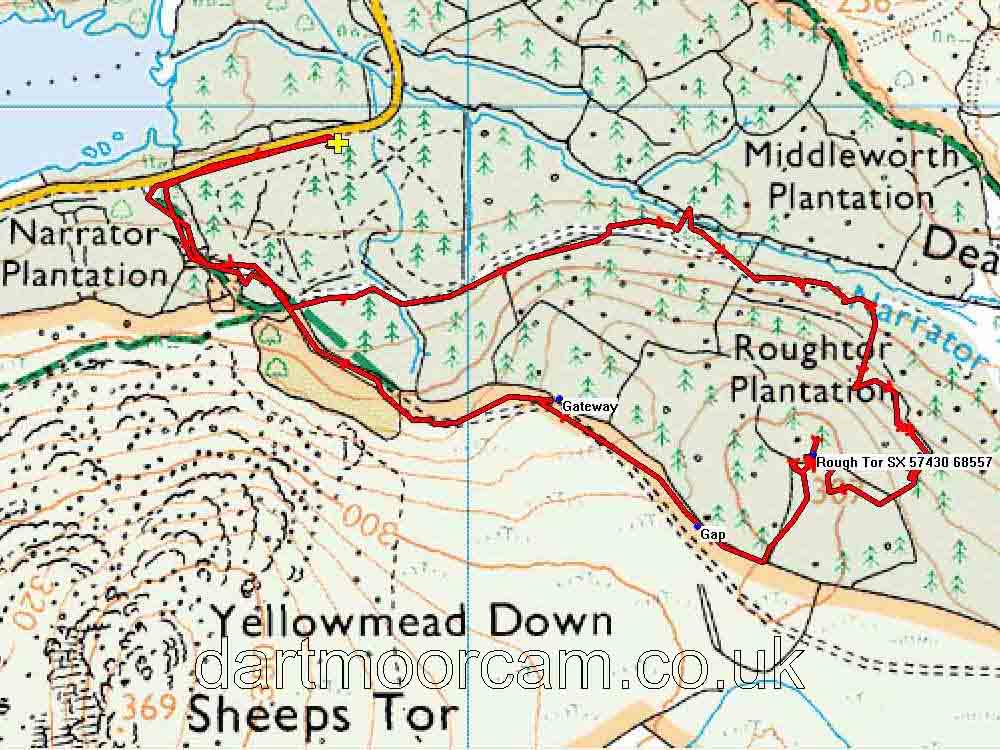 Ordnance Survey © Crown copyright 2005. All rights reserved. Licence number 100047373.
Also, Copyright © 2005, Memory-Map Europe, with permission.
This walk was reached by driving to Dousland, turning at the Burrator Inn crossroads towards Meavy, then left to Burrator Reservoir, continuing past the dam and around the top end of the reservoir to park at the Arboretum (indicated on the map by the yellow cross).
Statistics
Distance - 3.4 km / 2.1 miles.

All photographs on this web site are copyright ©2007-2016 Keith Ryan.
All rights reserved - please email for permissions