This walk: 2011-11-23. Norsworthy Bridge, Bal mine, whim stone, wheel pit, Leather Tor, Sharpitor, lichens, yellow fungi, Down Tor, Burrator Reservoir, corn ditch, Kingsett Farm, hut circles, Peek Hill, lomghouse, Newleycombe Lake, Crazy Well (Classywell) Farm, girt, three cists, Newleycombe Farm, Newleycombe Cross, cist, Combshead Tor, Cuckoo Rock, Snappers Tor.
Walk details below - Information about the route etc.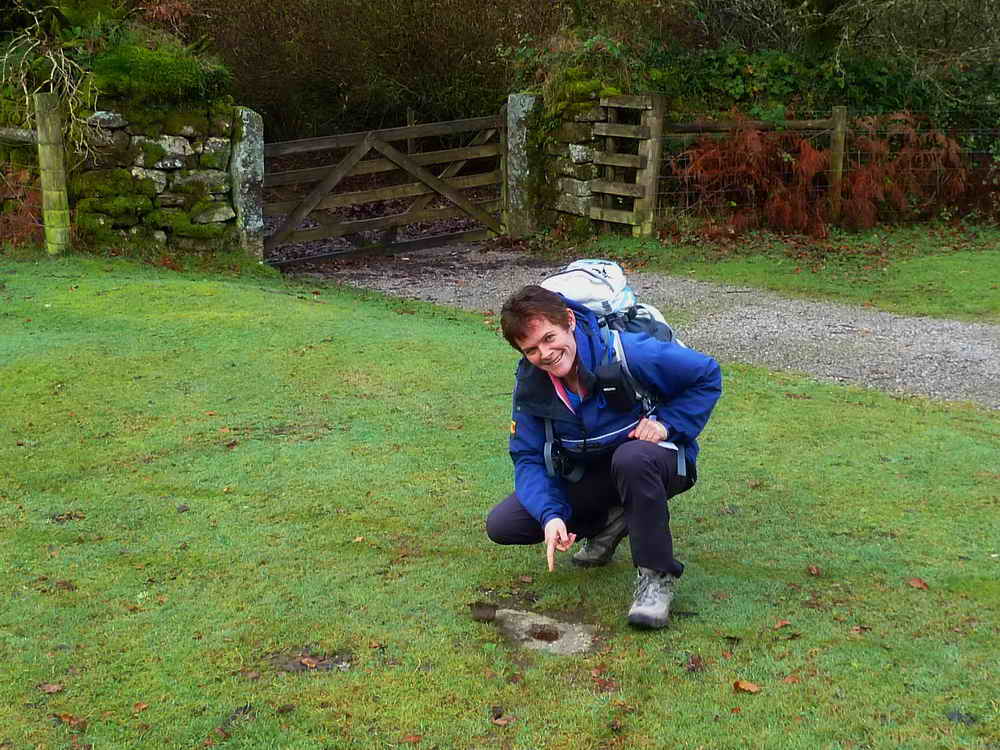 Believed horse whim stone in the Norsworthy Bridge car park area .....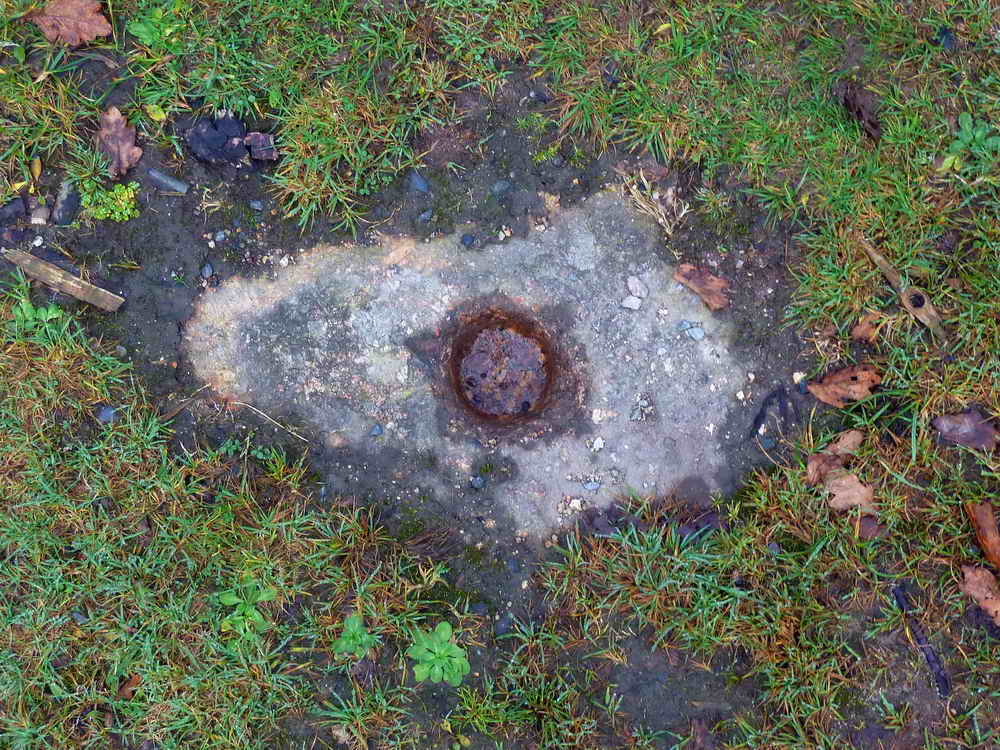 Horse whim stone.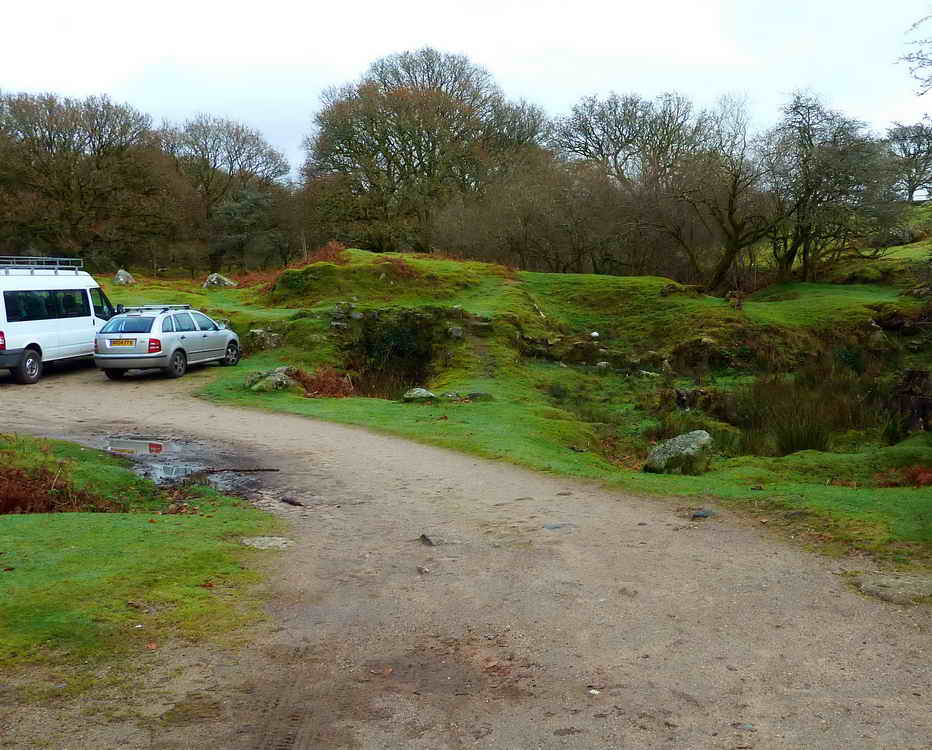 Norsworthy Bridge car park is on the site of the old Bal Mine ..... early 19th century dressing and smelting site.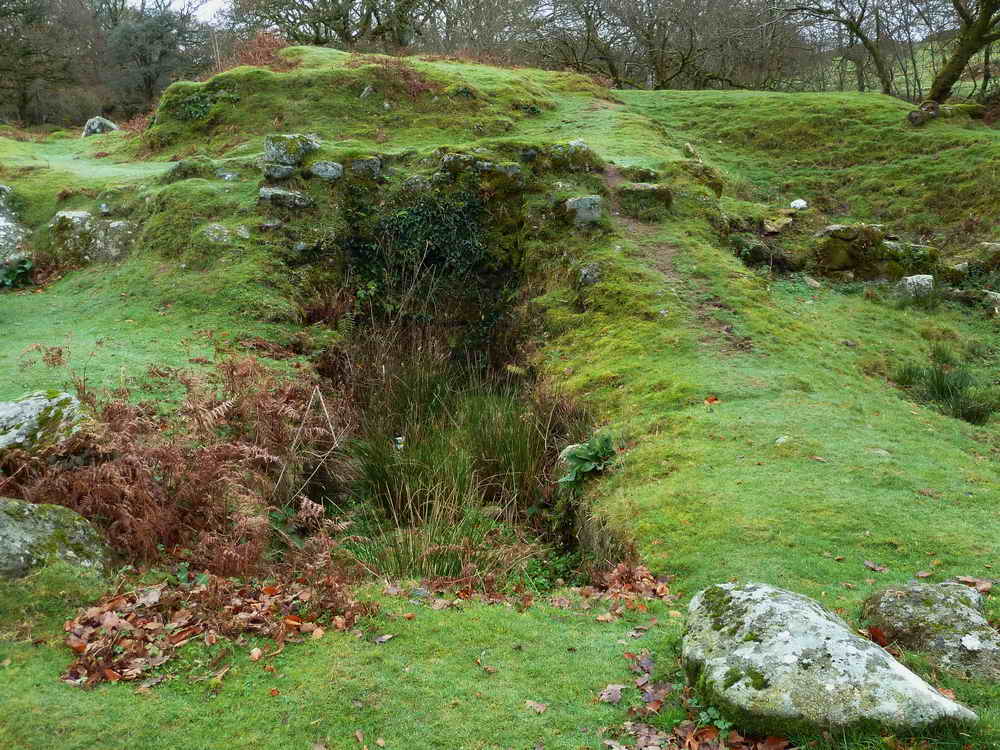 Wheel pit with raised leat bank behind - this housed a wheel of improved design and therefore probably from the mid-1880s. Legendary Dartmoor's Tin Mills web page lists 96 tin mills, where tin ore was stamped or crushed prior to smelting or "blowing". There may be other sites that are now lost and others awaiting discovery. There are four "Norsworthy" entries, the nearest map reference to this site being "Norsworthy Bridge Mill B" (SX 5687 6942) although this site is at SX 5687 6931, 110 metres distant. The four Norsworthy entries are located at or north and west of the old bridge.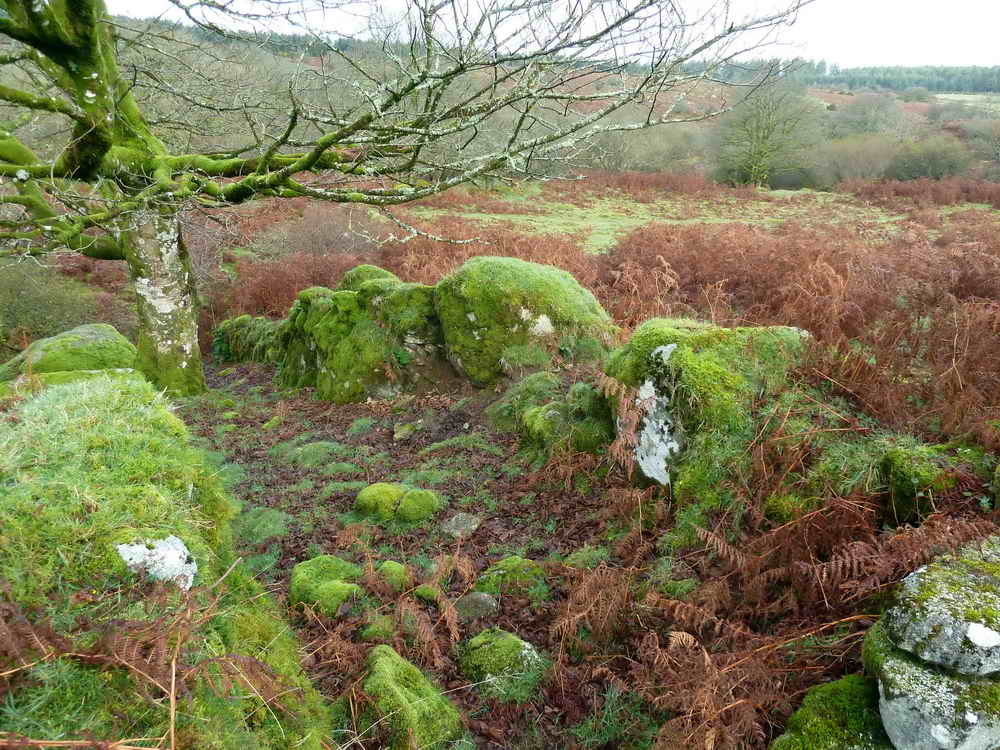 Walls close together.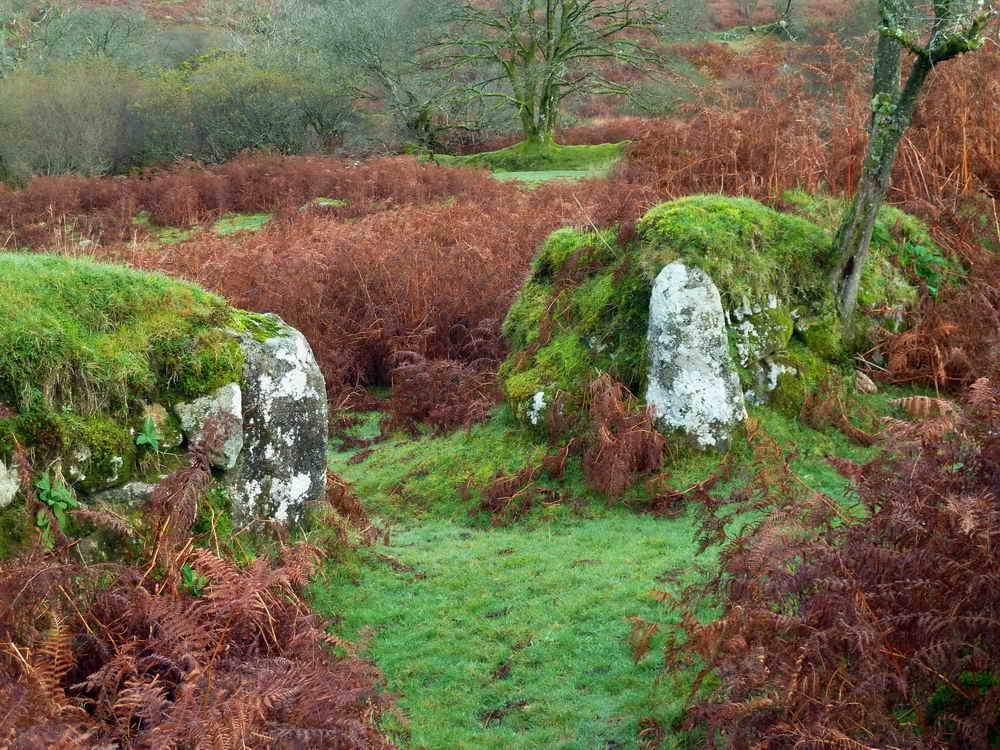 Gateway into an abandoned field, full of bracken.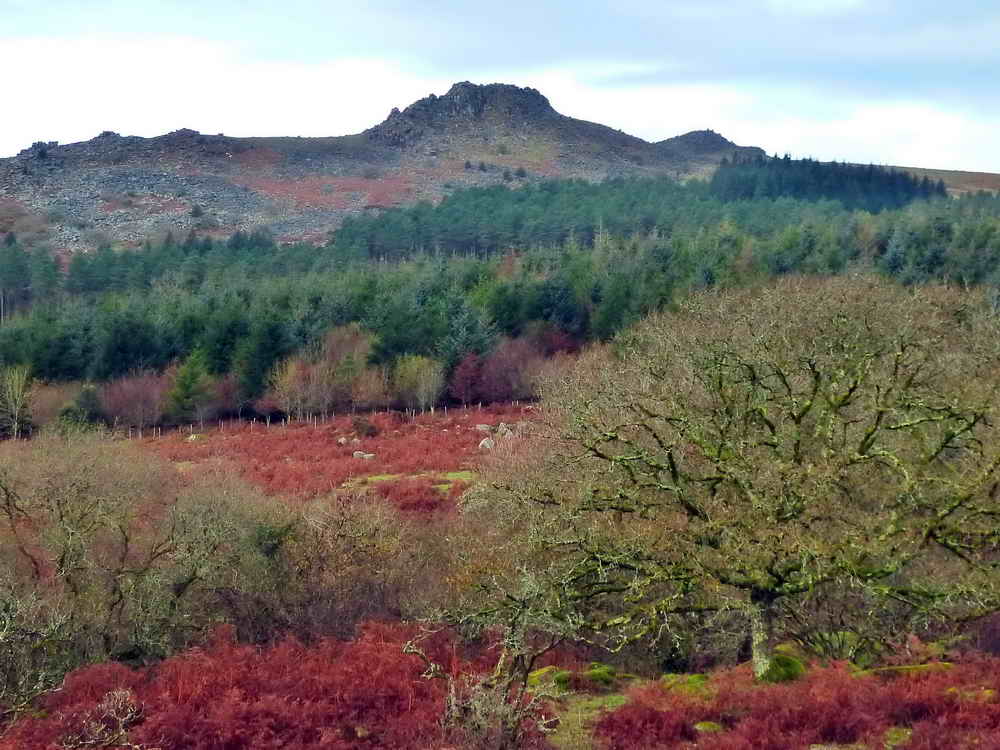 View to Leather Tor with Sharpitor behind (on the right).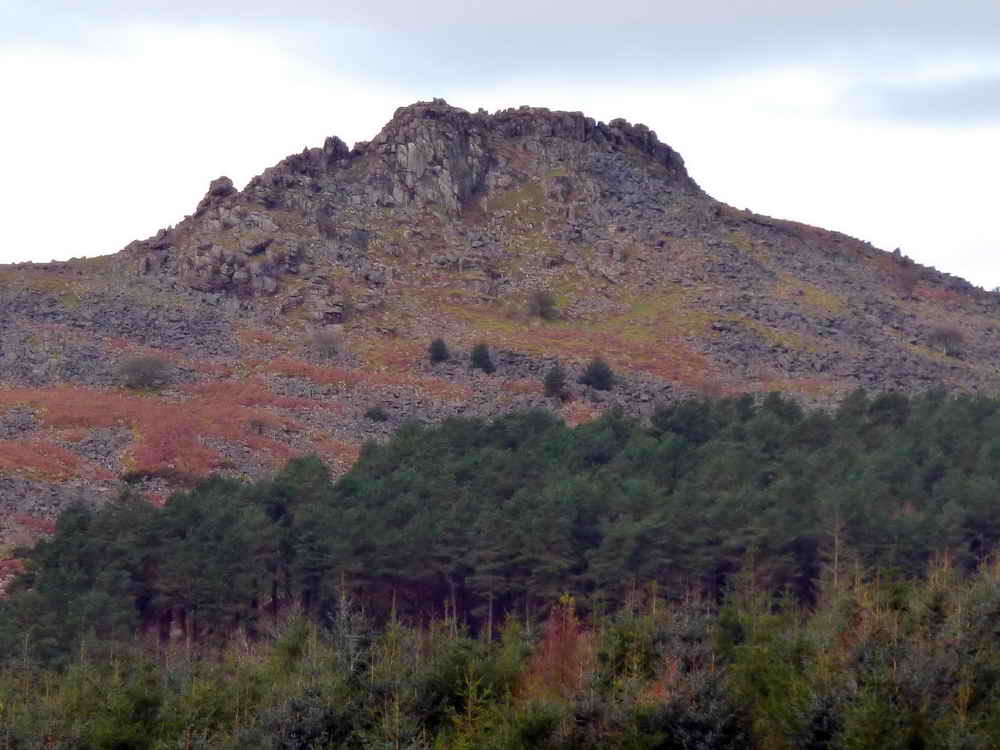 Closer view of Leather Tor, SX 563 700, elevation 380 metres (1246 feet).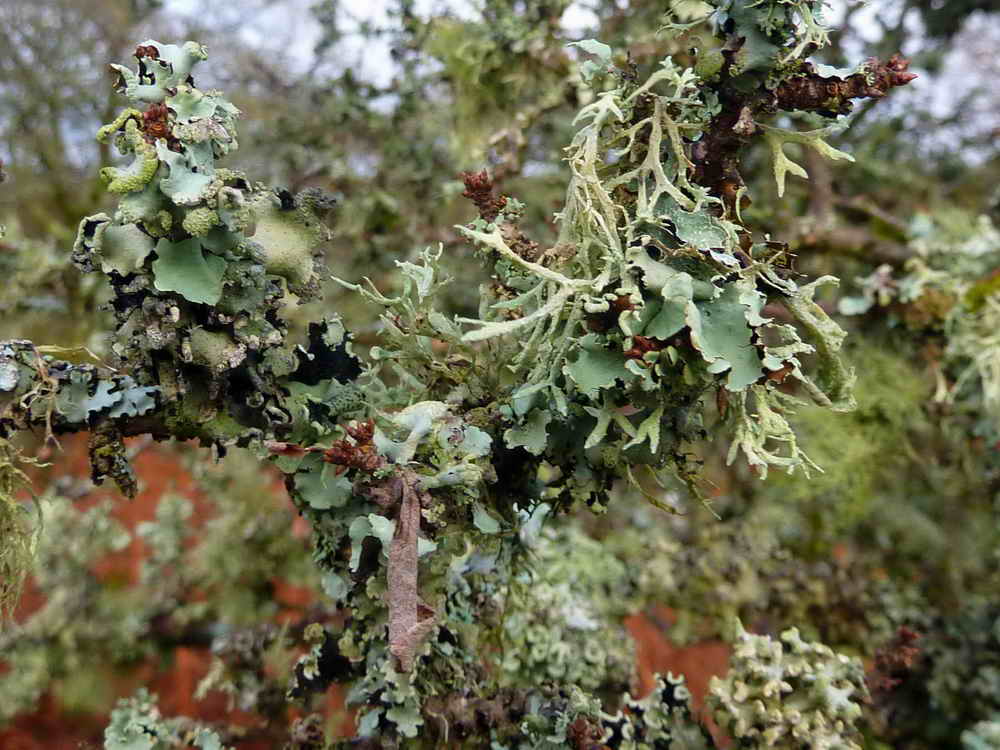 Unidentified lichens covering a small tree.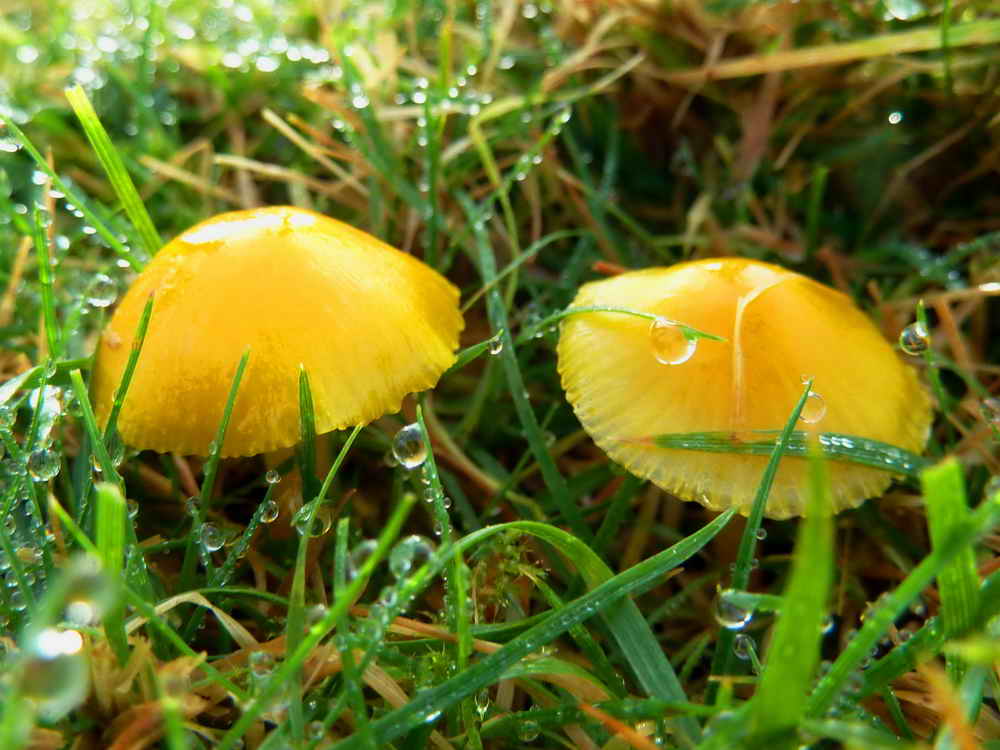 Unidentified yellow fungi.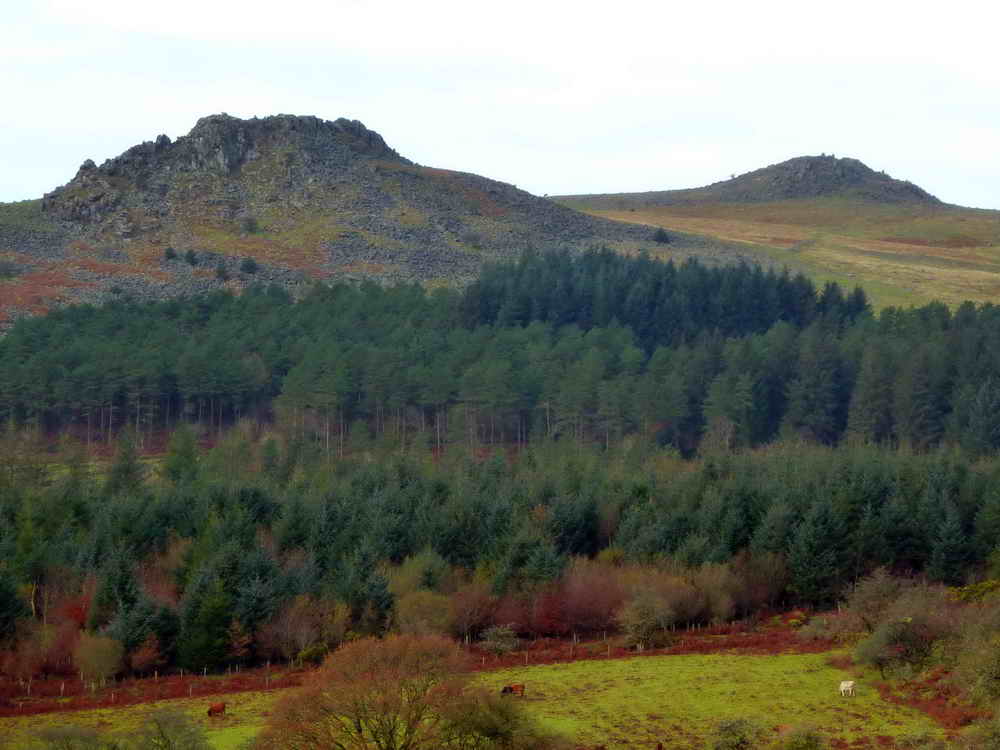 Leather Tor and Sharpitor, right, SX 560 703, elevation 410 metres (1345 feet).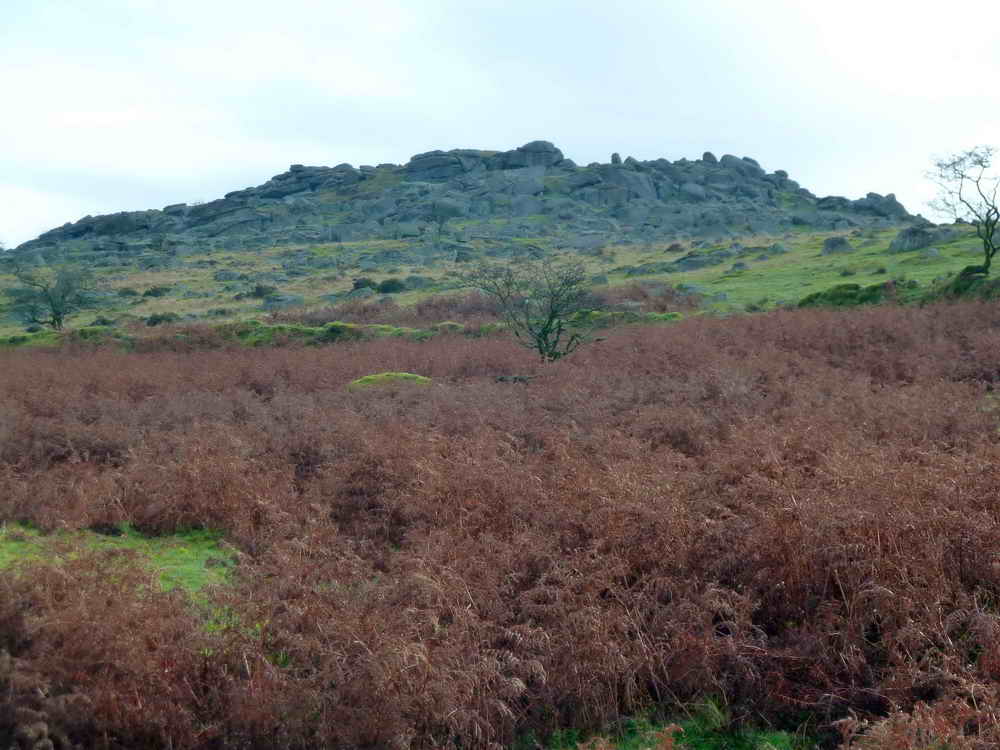 Down Tor, SX 580 694, elevation 366 metres (1200 feet).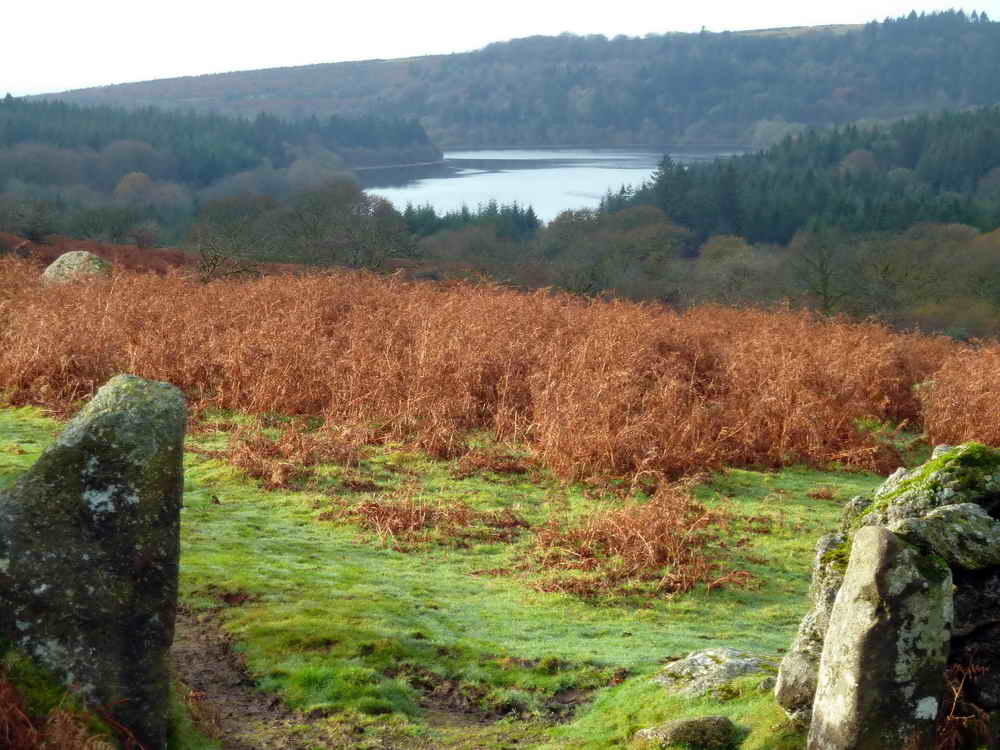 Looking through an old gateway to Burrator Reservoir.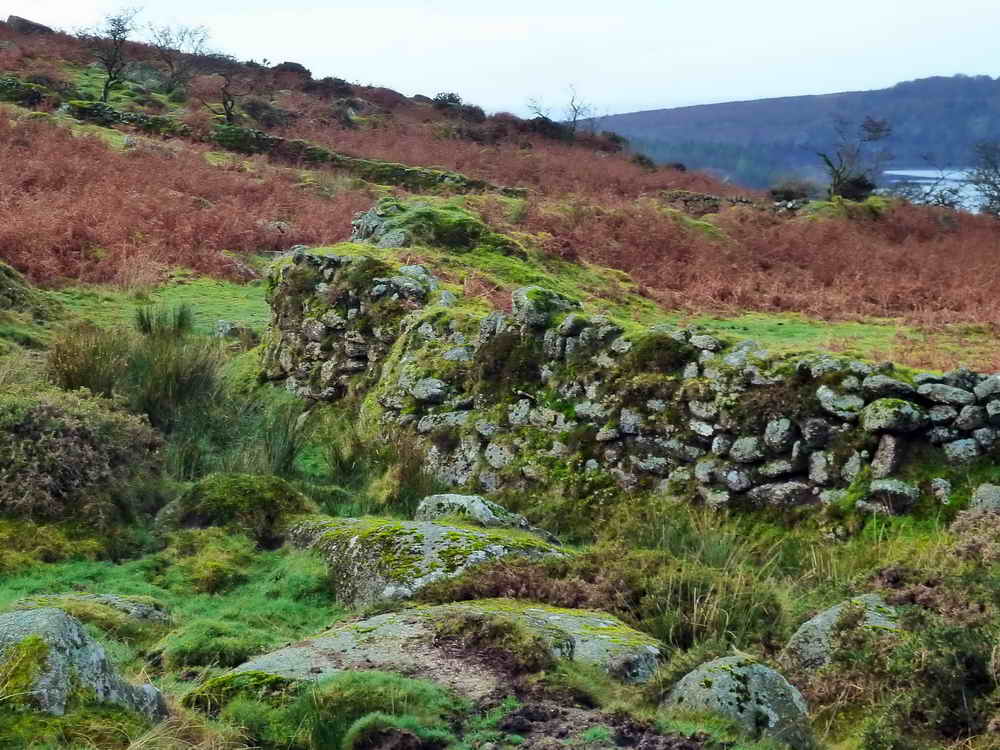 A corn ditch: these originate from the time when Dartmoor was a royal hunting area and there was a need to keep the King's deer out of the cultivated land. A stone revetted wall and external ditch faced onto the open moor which deterred deer and other animals from jumping over, whilst the sloping grassy bank on the inner face allowed those animals which had entered to exit again without difficulty. Source.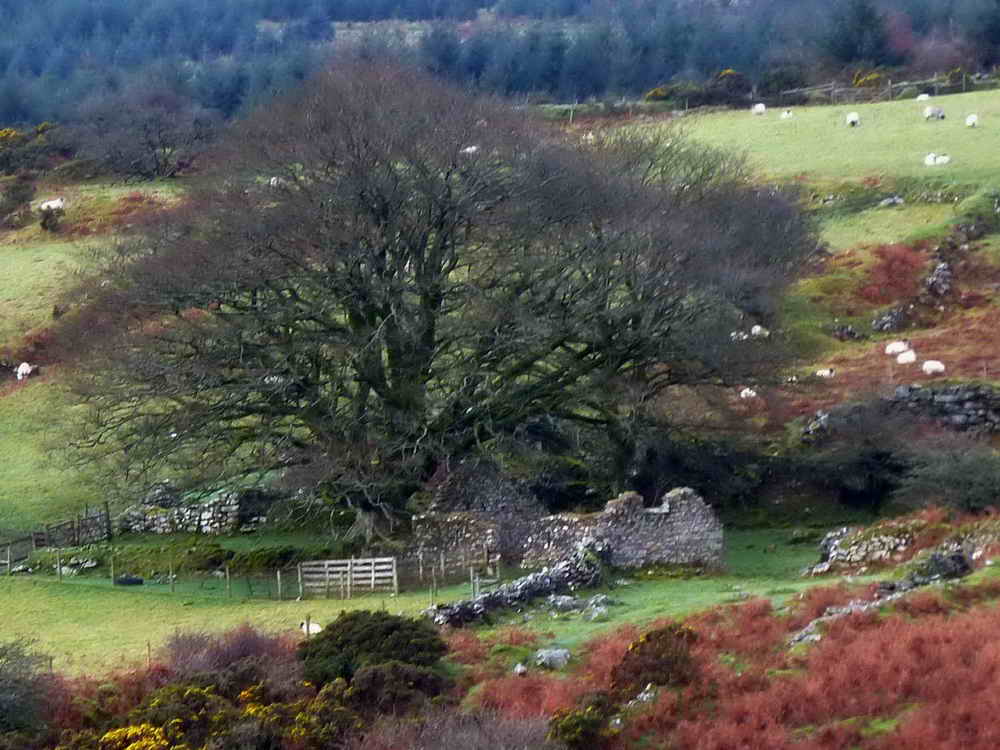 The ruins of Kingsett Farm, SX 57695 69920, it paid taxes in 1333! Vacated Sept. 1924 (Paul Rendell (2007) Exploring Around Burrator, page 17.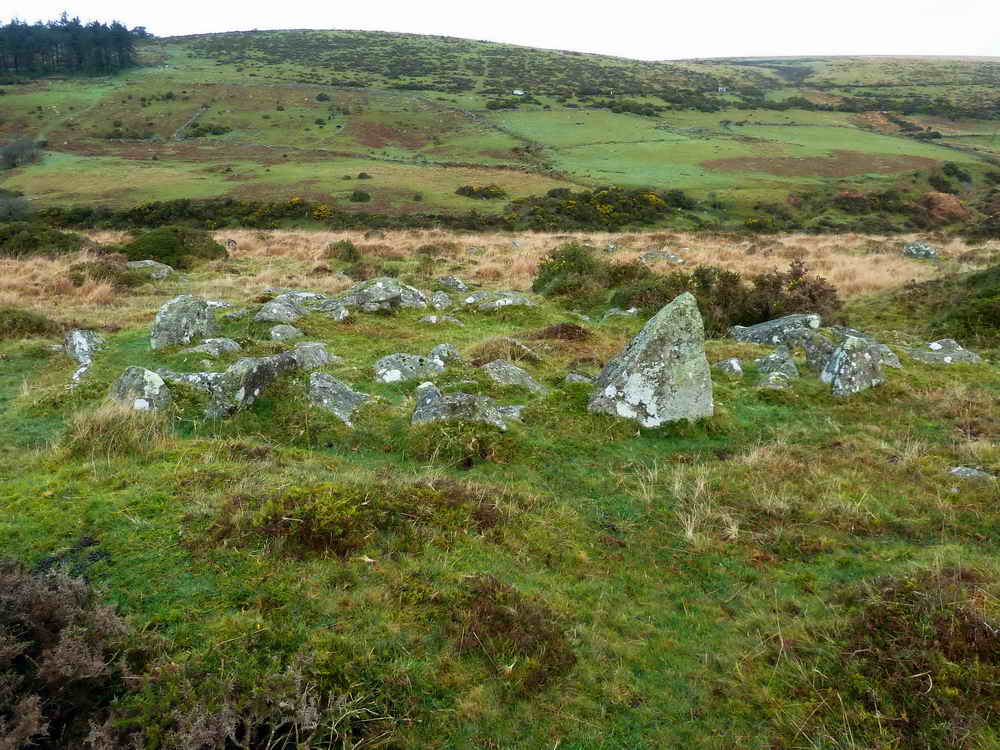 Hut circle at SX 58017 69735, described by J. Butler (1994), Dartmoor Atlas of Antiquities Vol. 3 - The South West. Map 47: 1 Down Tor North (fig. 47.1) page 63.
Work being done on the track below Crazy Well Pool.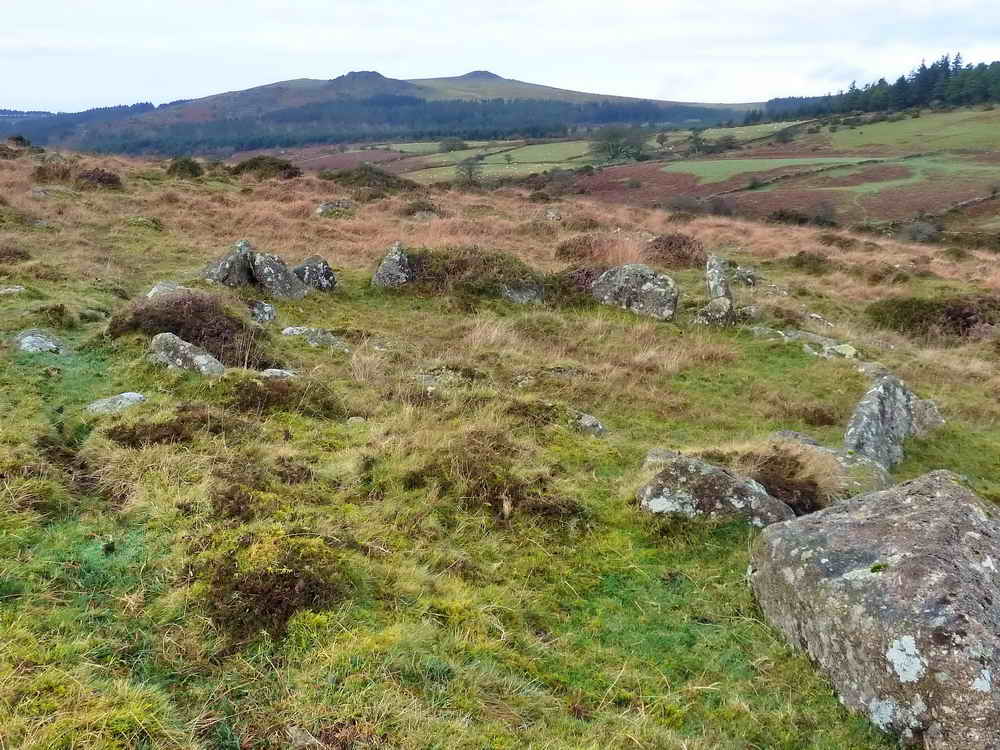 Second hut circle, at nearby SX 58035 69750.
Another view to Leather Tor, with Peek Hill (left) and Sharpitor (right).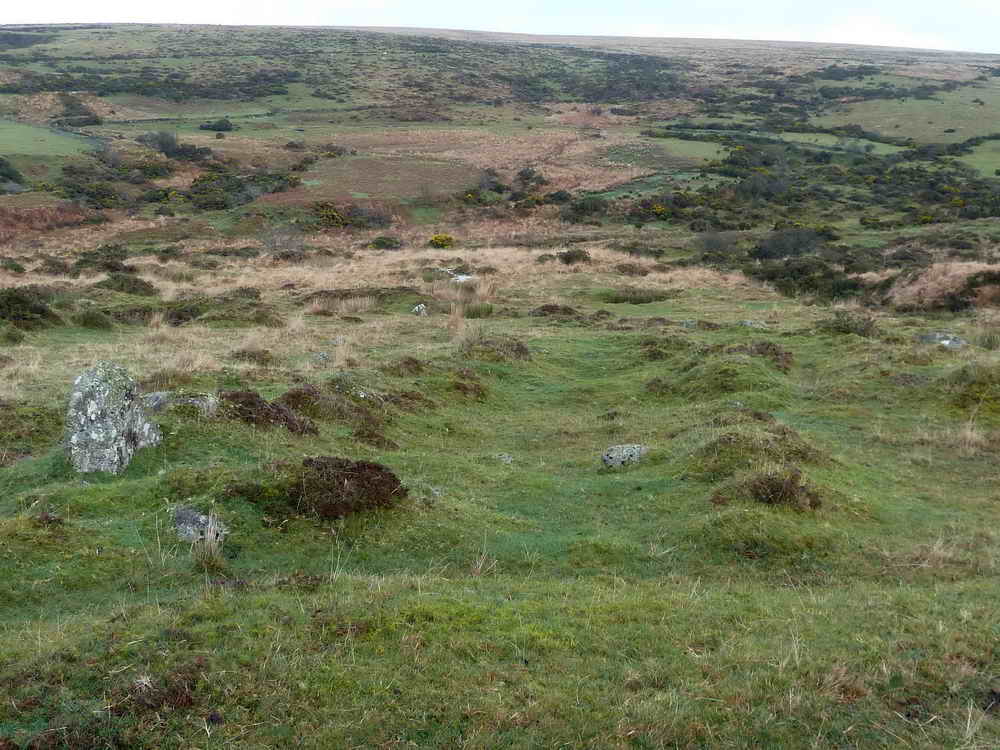 Remains of an old longhouse, at approx. SX 58132 69708 ..... illustrated by Phil Newman (2011) The Field Archaeology of Dartmoor, English Heritage, fig. 7.22, page 134.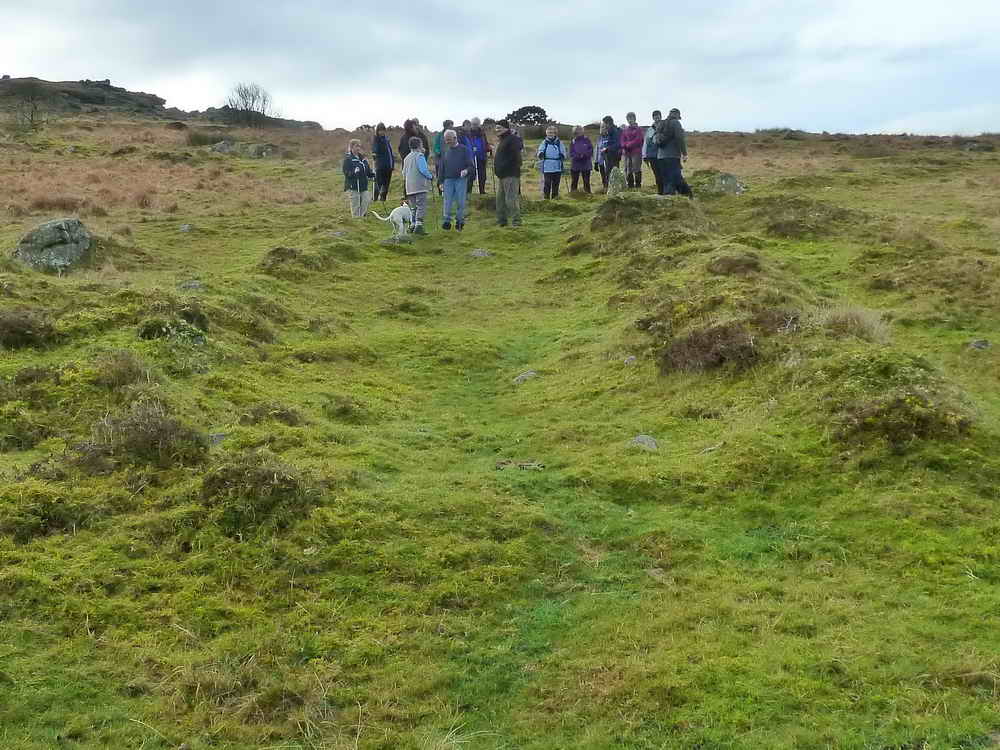 Longhouse showing the human scale.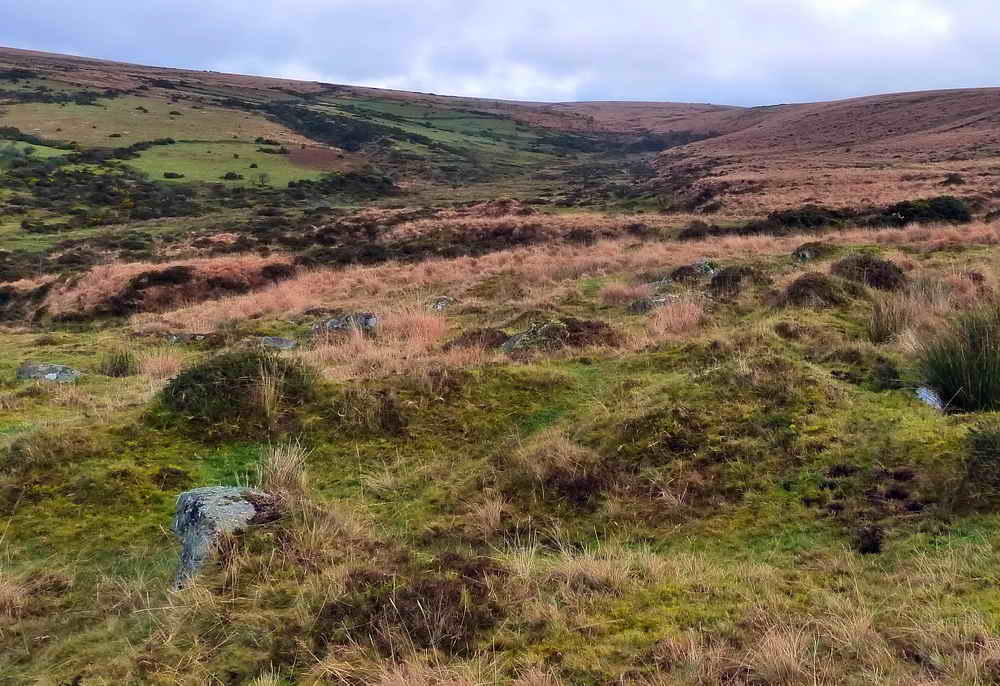 A general view up the valley of Newleycombe Lake.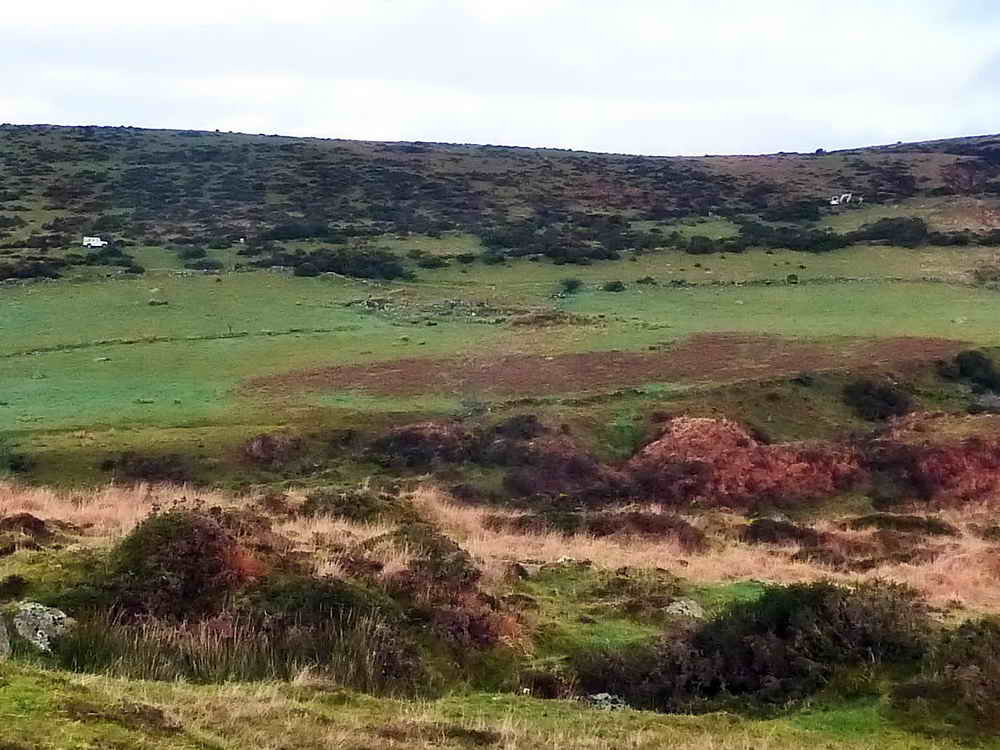 The ruins of Crazy Well or Classywell Farm .....
As previous photo, note the intact lintel at left.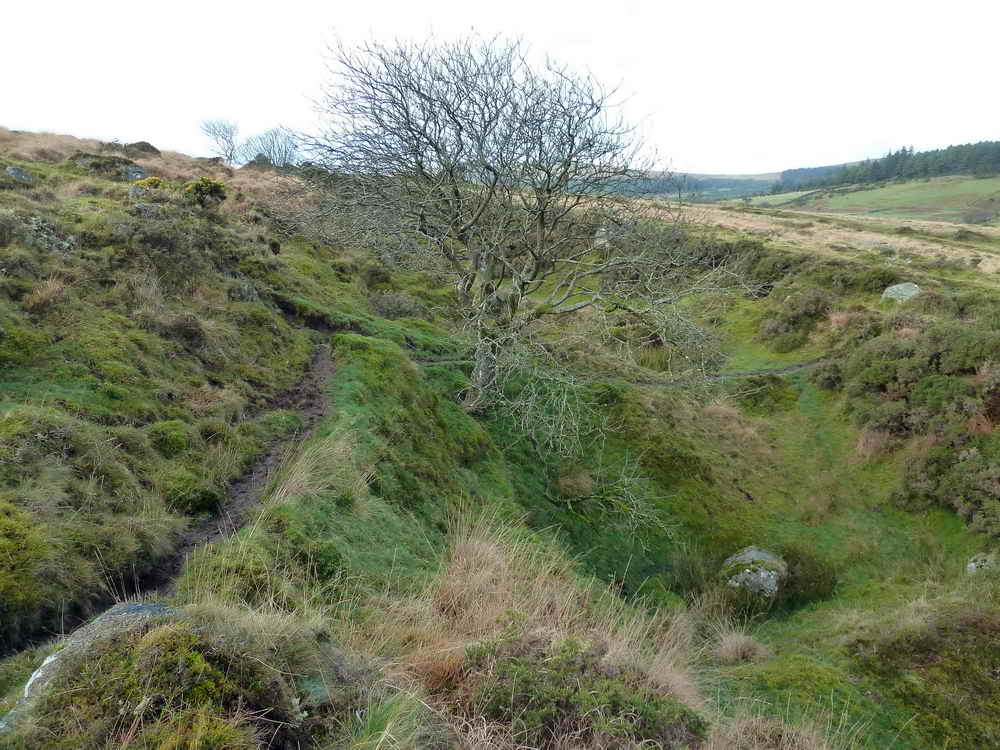 Phot 1 of a girt .....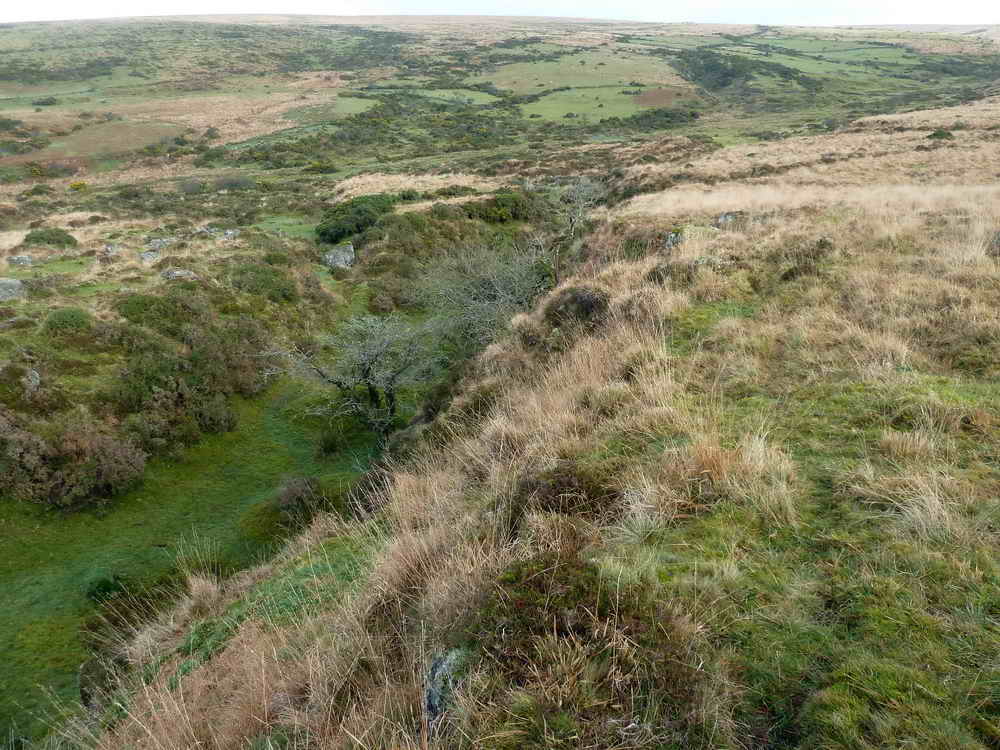 Photo 2 of a girt .....
Dartmoor CAM movie

A scanning panorama of a tinners' girt ......

Click the photo to download

File size: 3 MB.
Time to download: e.g. 13 secs
Length 15 secs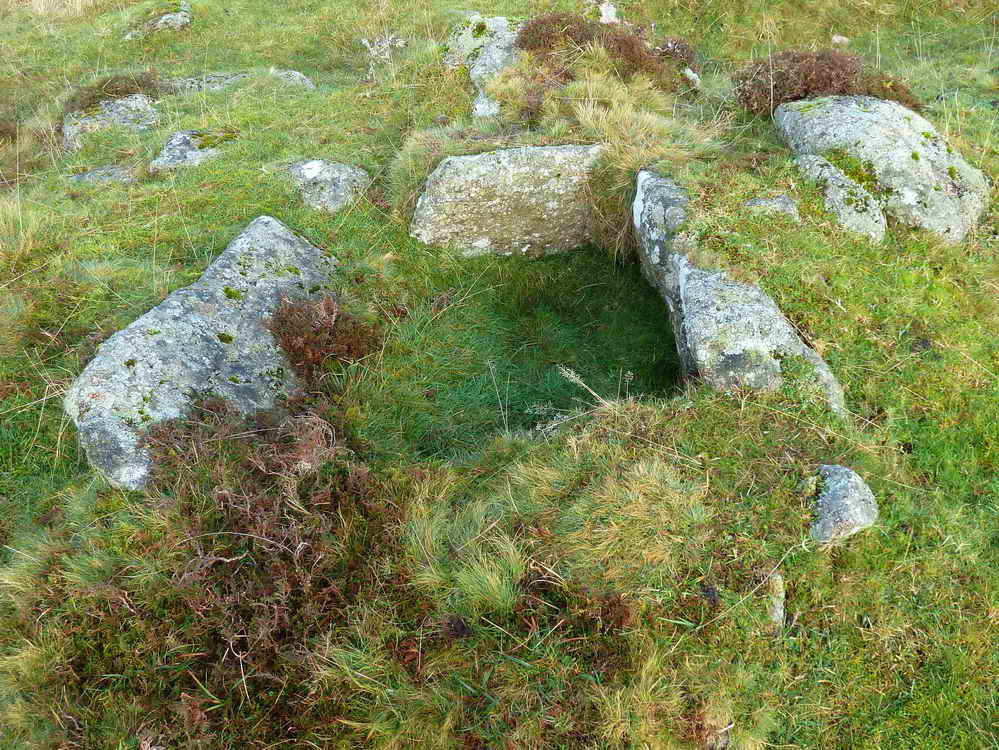 The first of three cisted cairns, first recorded in 1958: a GPS 'fix' taken on a previous walk (5 Feb. 2009, also 2 Sep 2010) gave SX 58392 69565 ± 5 metres. The cists are all within a very few metres of each other and are described by J. Butler (1994), Dartmoor Atlas of Antiquities Vol. 3 - The South West. Map 47: 12, 13 Hingston Hill and cairns (fig. 47.10) page 72.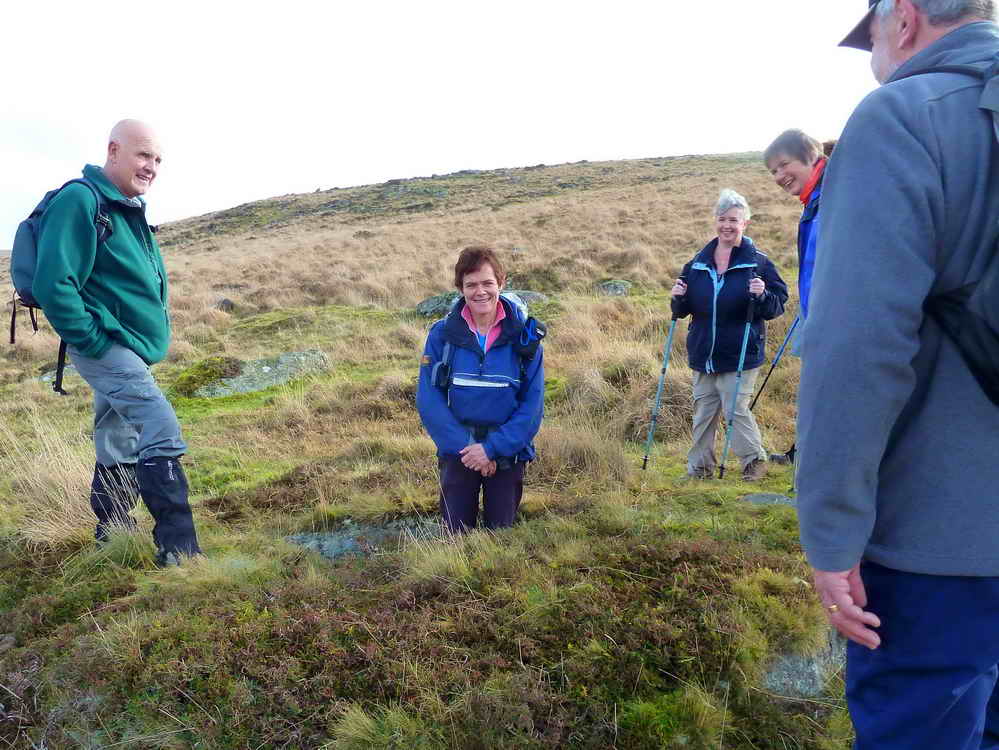 Standing in the second, largest cist in a cairn.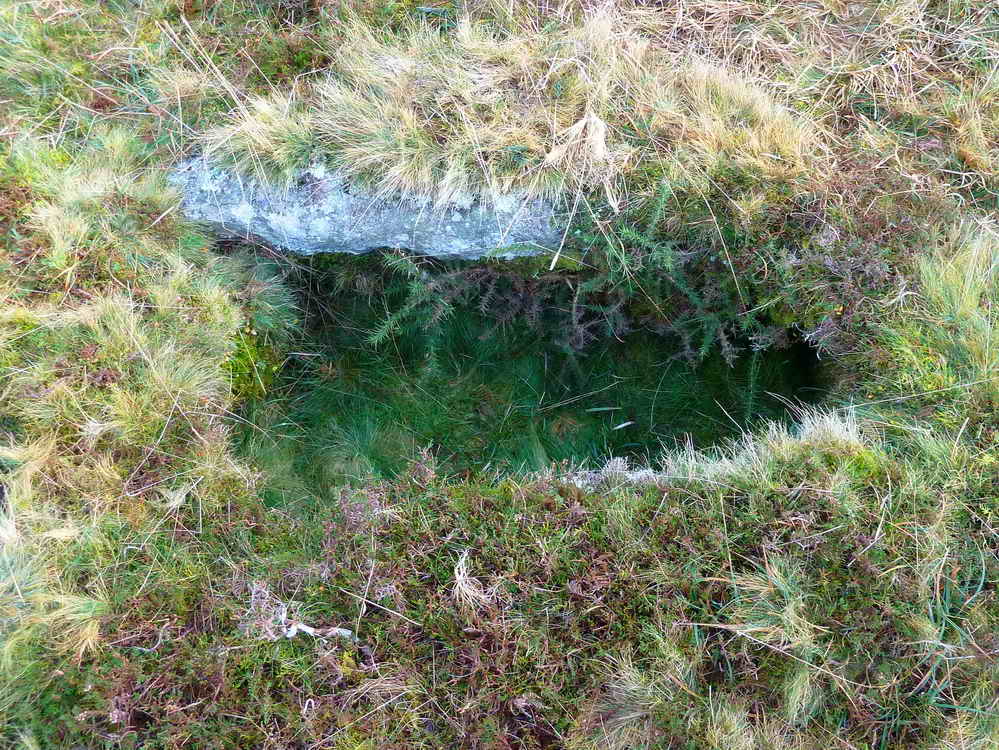 Looking into the largest cist.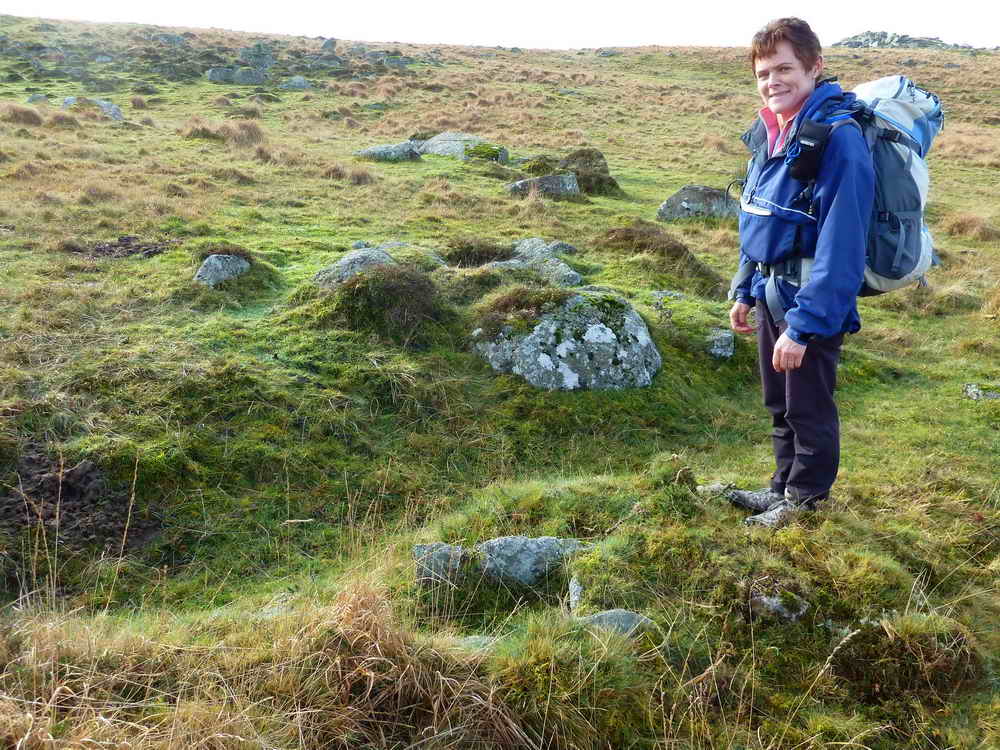 Nearby small cist, possibly the smallest on Dartmoor. Behind the cist can be seen the tinners' leat that was dug between the three cairns.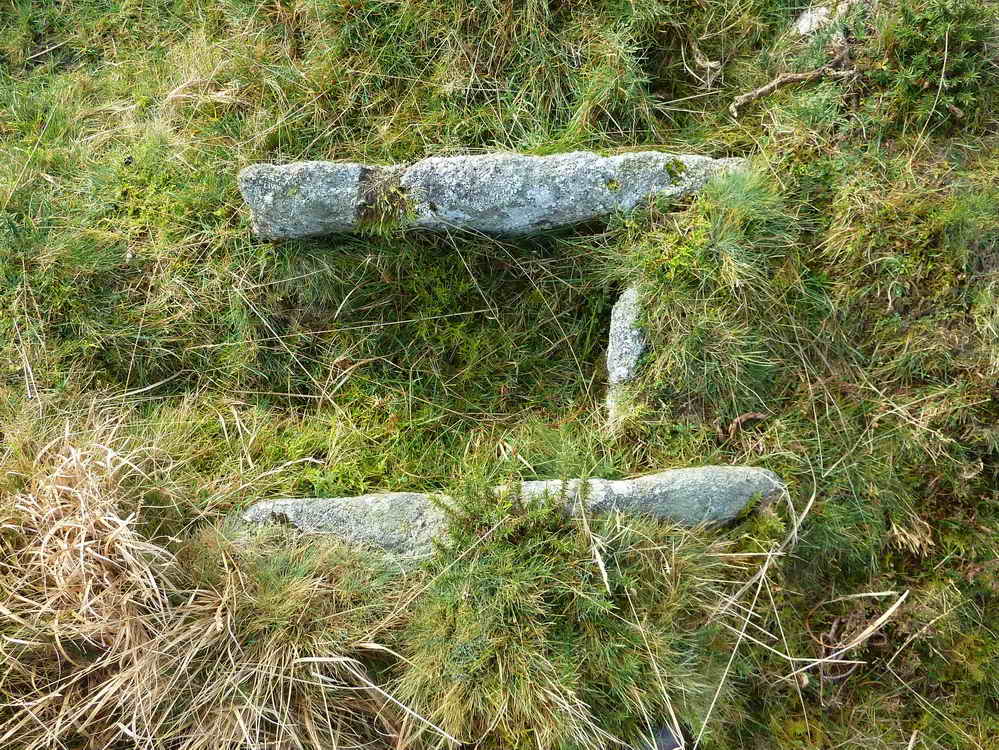 The small cist .....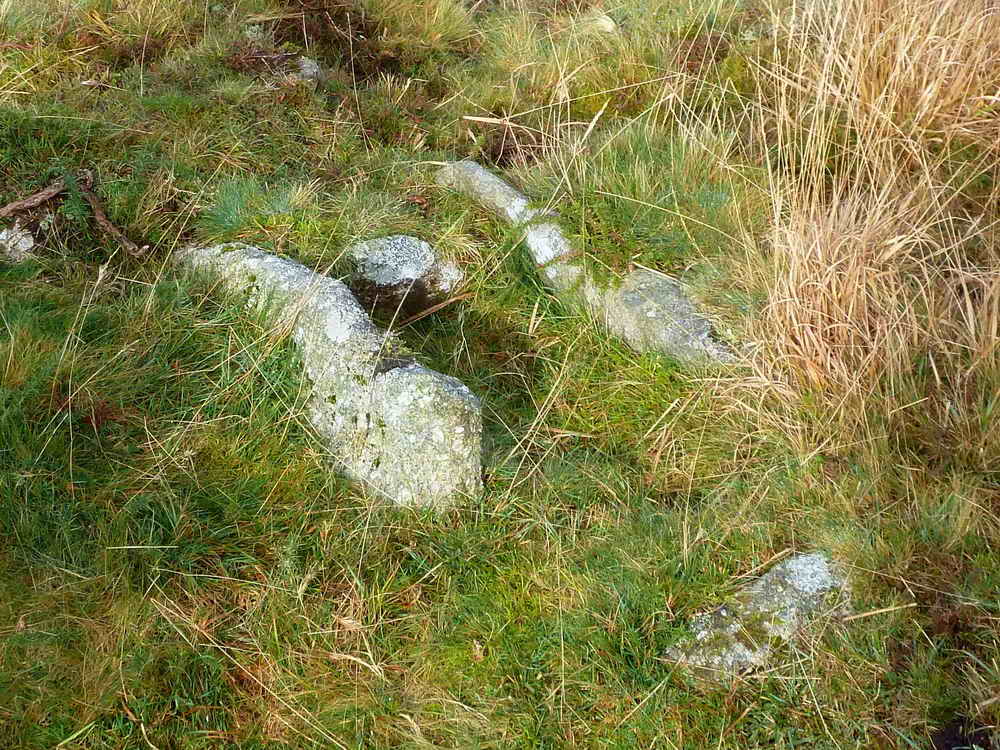 The small cist.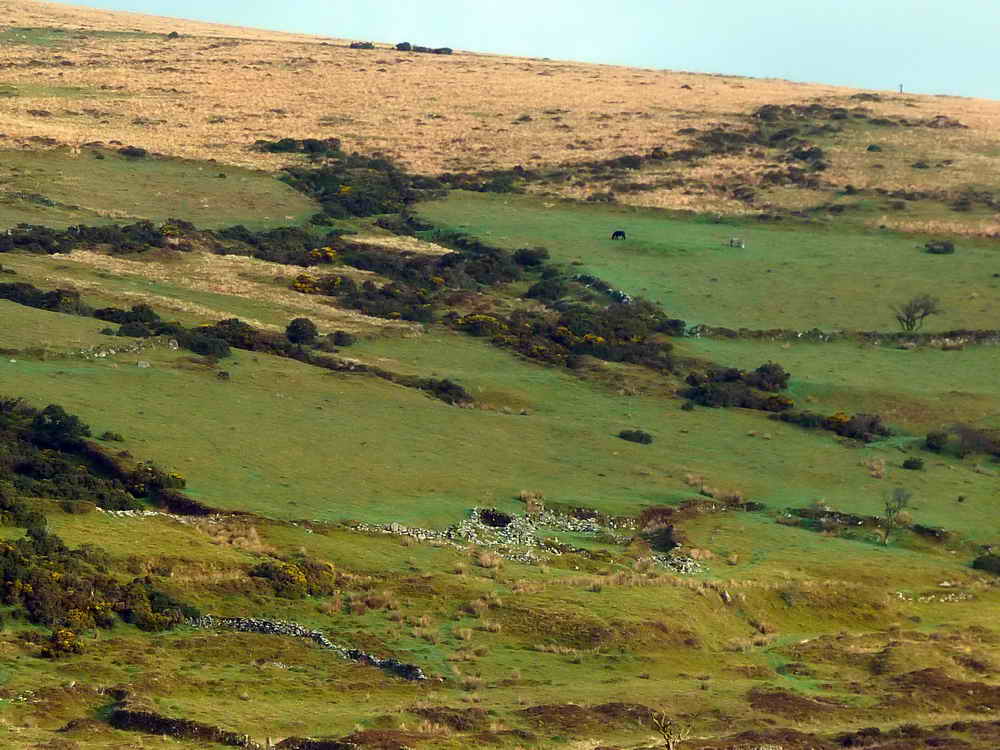 The ruins of Newleycombe Farm, at SX 58765 69935 ...... on the skyline at right can be seen Newleycombe Cross .....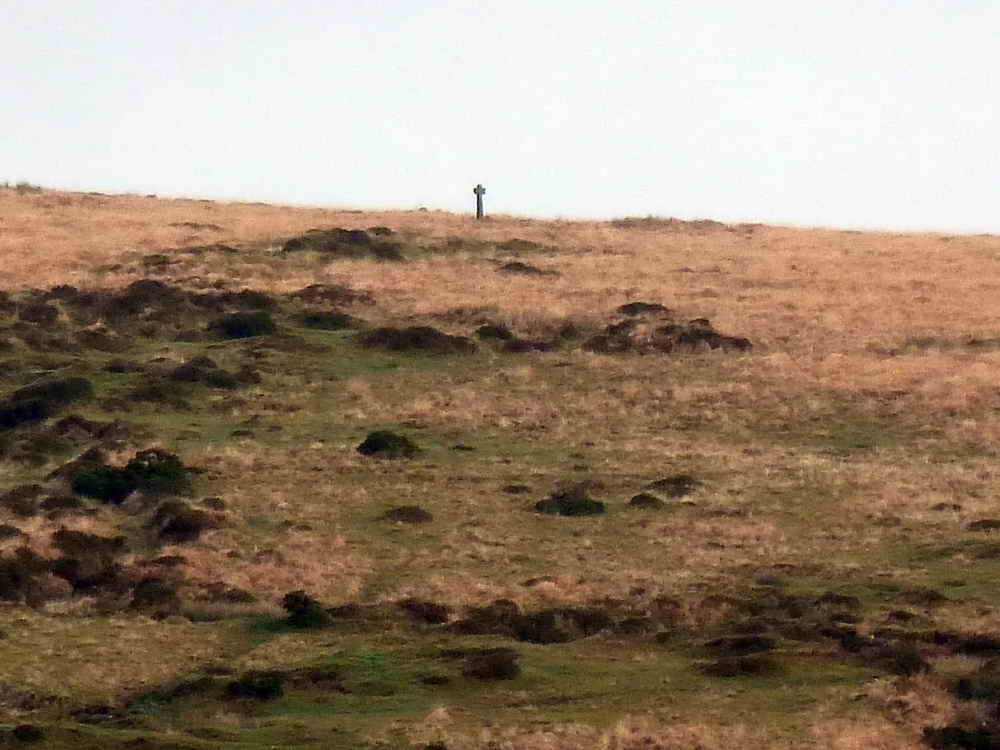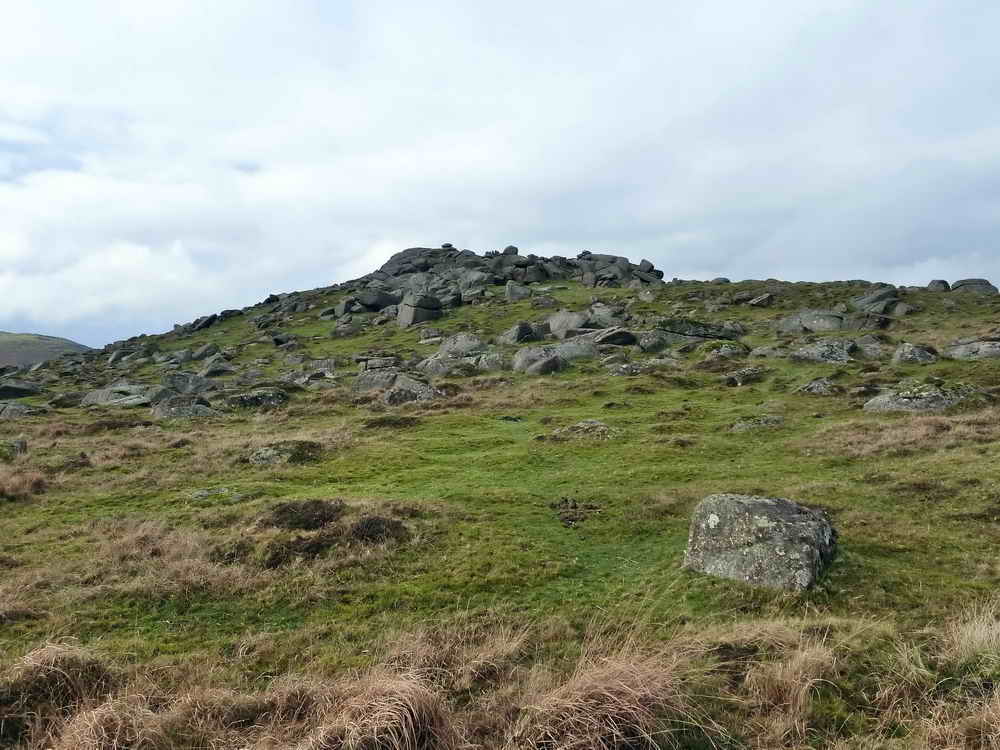 Passing Down Tor on the south side.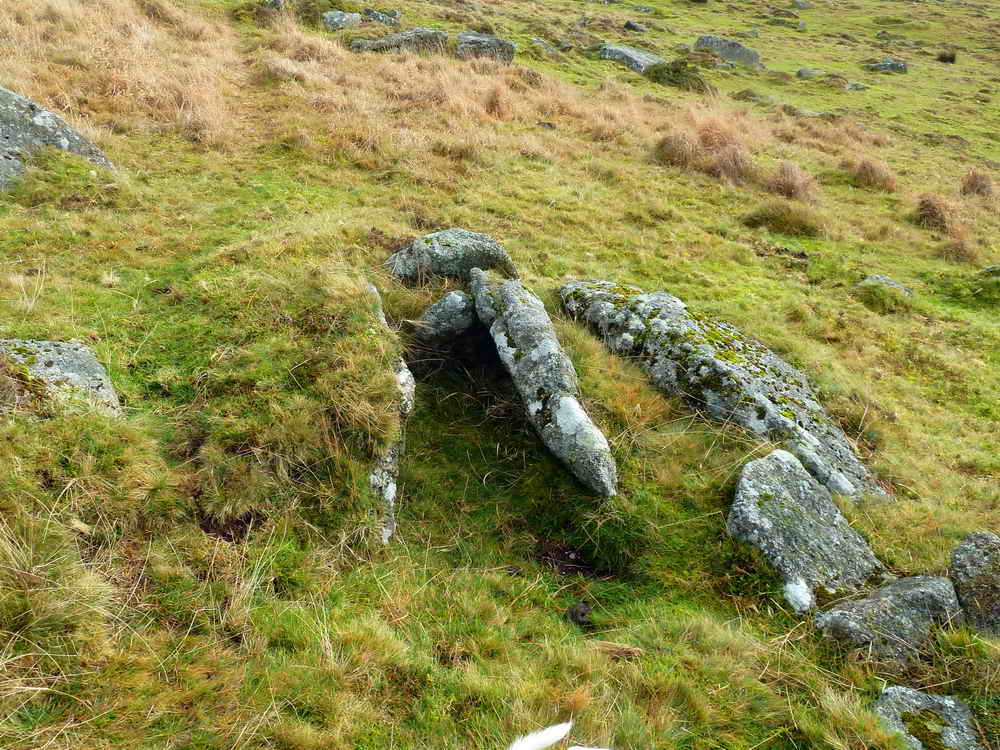 Down Tor South cairn and cist, described by J. Butler (1994), Dartmoor Atlas of Antiquities Vol. 3 - The South West. Map 47: 4,5,6 Settlements along Narrator Brook (fig. 47.4) page 67.
Cist (foreground) showing its displaced capstone with Down Tor behind.
Zoomed view to Combshead Tor, SX 58572 68830, elevation 371 metres (1217 feet).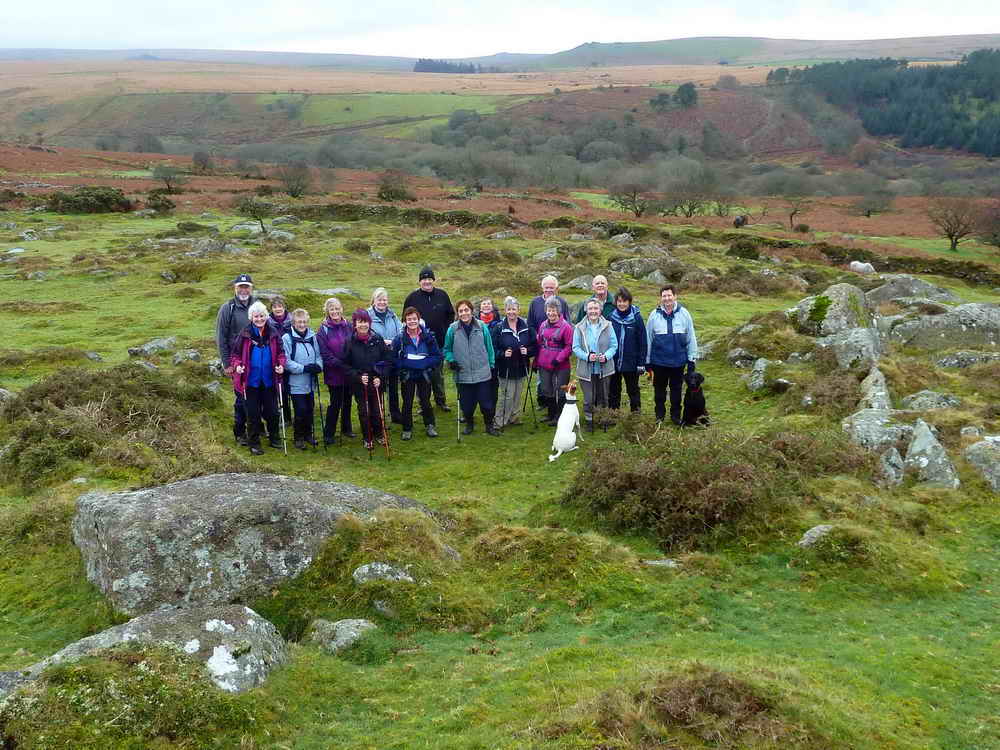 A large hut circle at SX 57990 69243 .....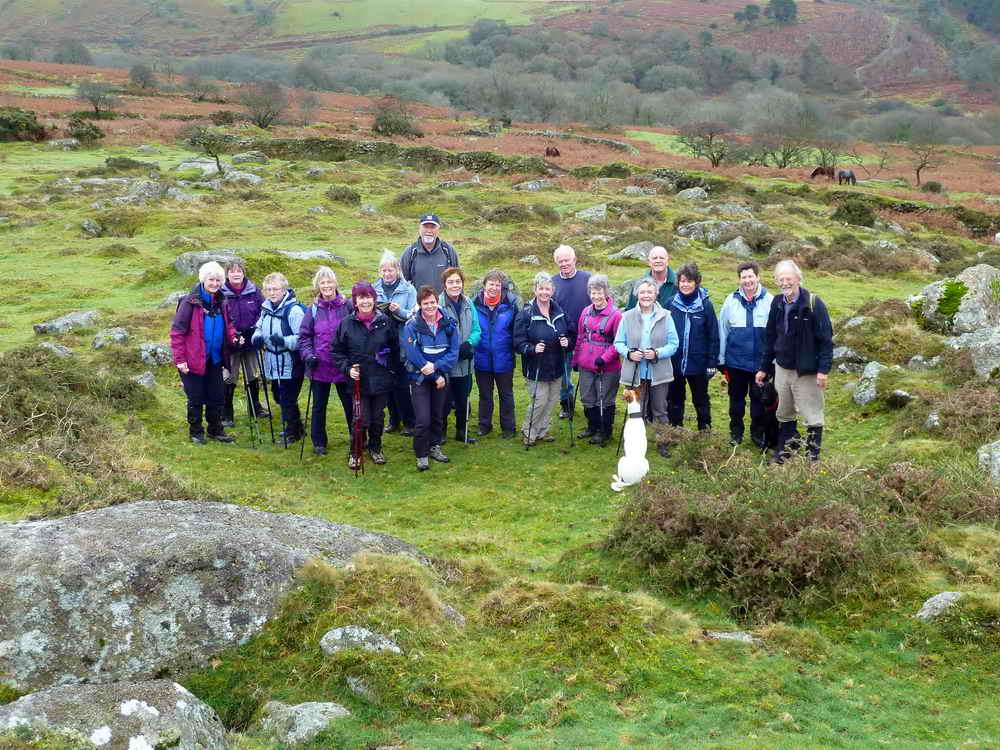 Moor Strollers at hut circle below Down Tor, on the south slope.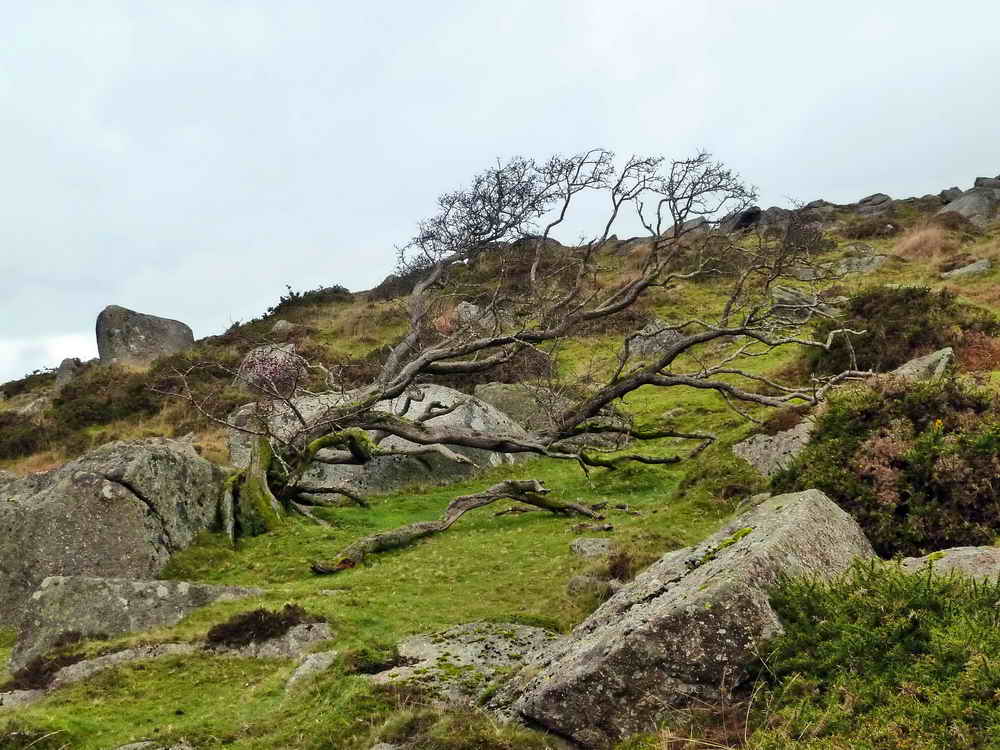 Picturesque tree.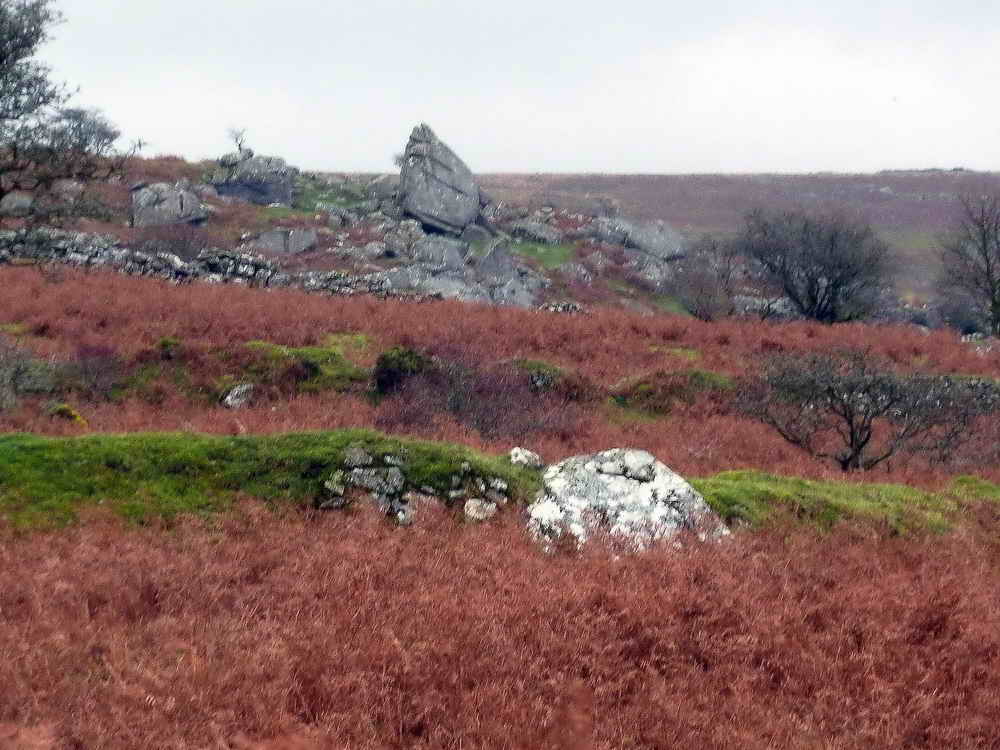 Zoomed view to Cuckoo Rock, blurred with camera shake.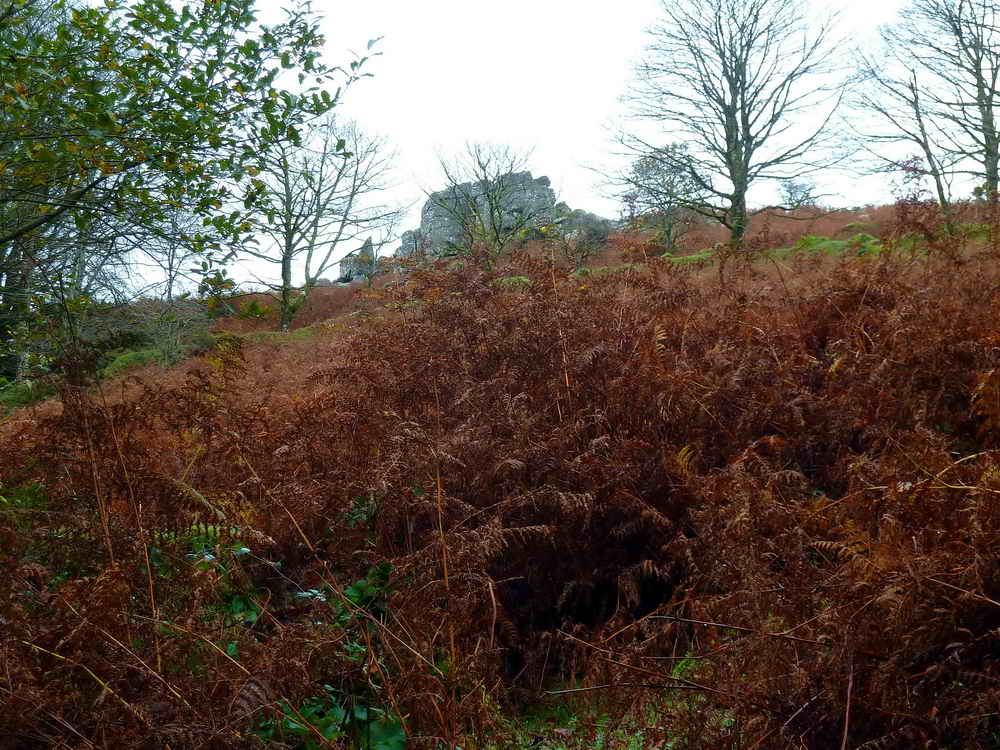 Looking up at Snappers Tor (SX 57335 69308) or is this Middleworth Tor (SX 5725 6935) ? Must check it out one day - believed to be Snappers.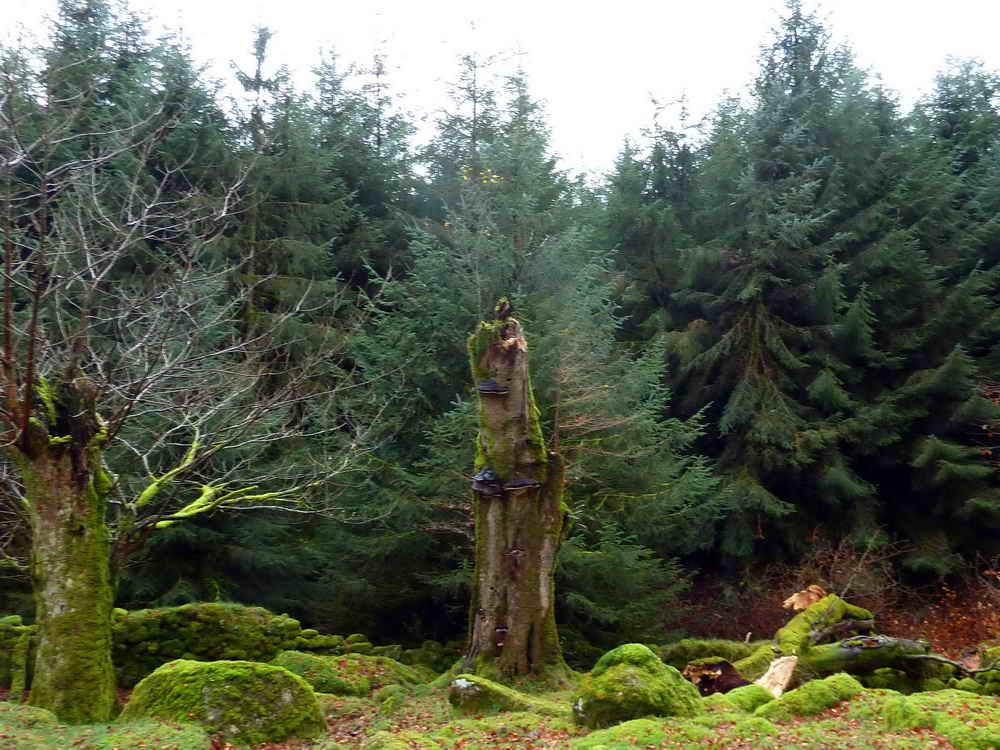 Dead tree stump with young tree growing out of the top .....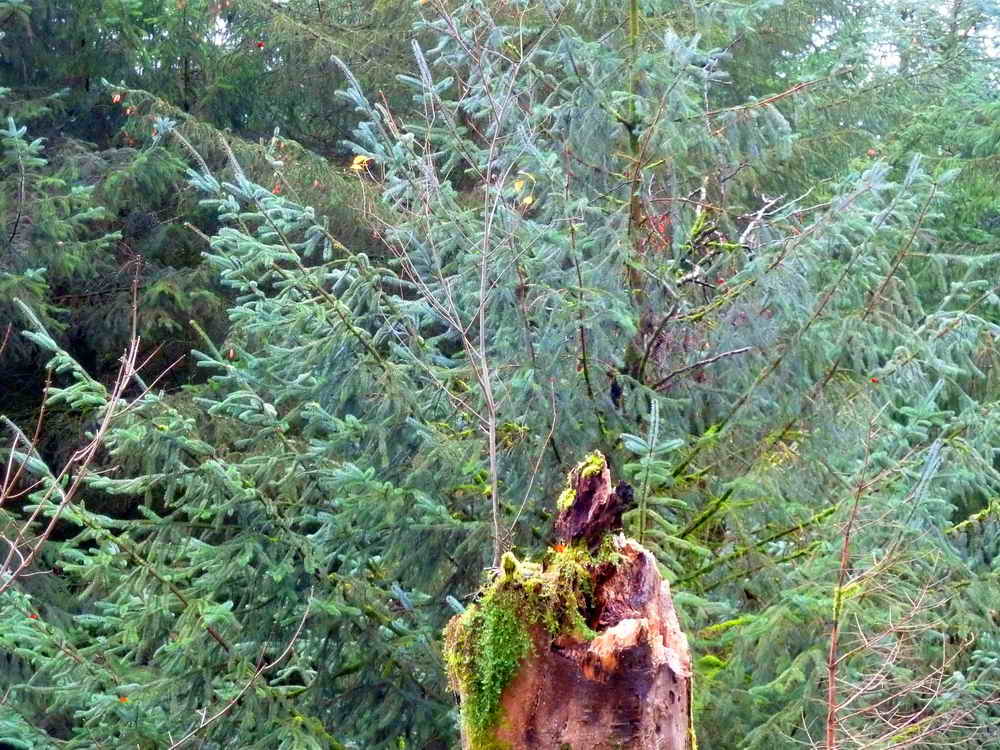 An attempt to show the young tree sapling .....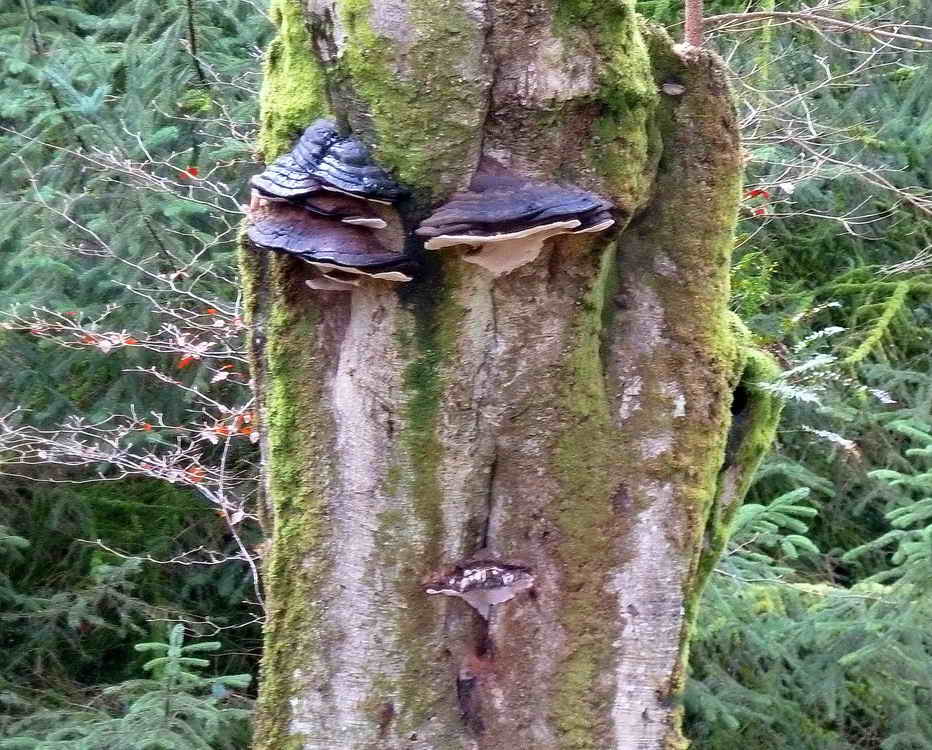 Is it a face?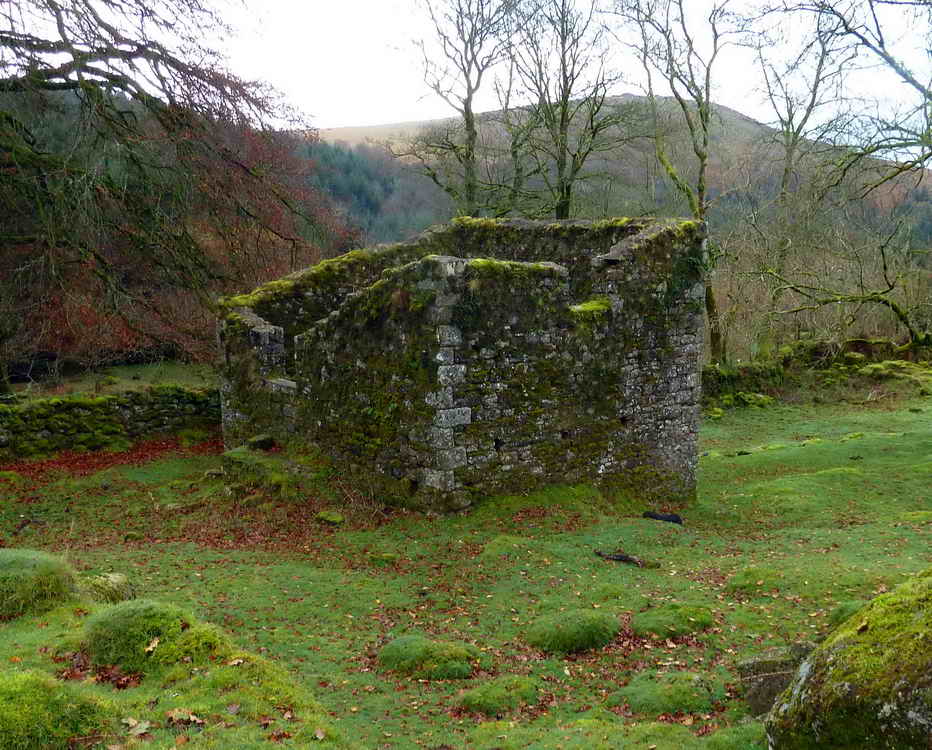 Unusual view of the ruins of Middleworth Farm with Sheeps Tor behind.
MAP: Blue = planned route, Red = GPS satellite track of the walk.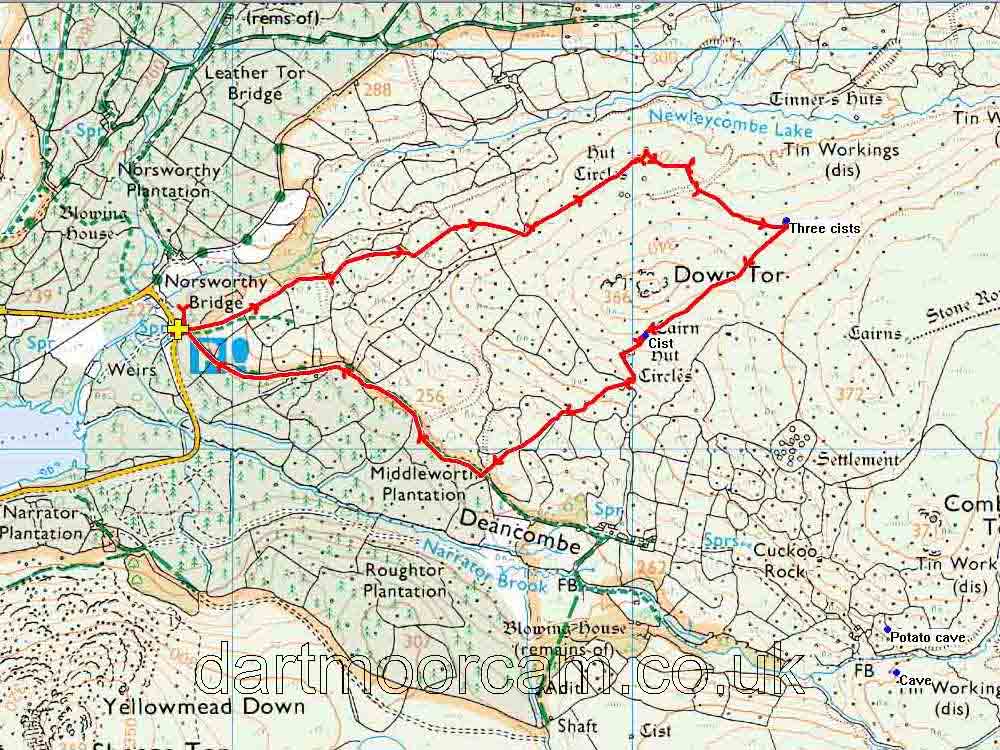 Ordnance Survey © Crown copyright 2005. All rights reserved. Licence number 100047373.
Also, Copyright © 2005, Memory-Map Europe, with permission.
This walk was reached by driving to Dousland, turning at the Burrator Inn crossroads towards Meavy, then left to Burrator Reservoir, continuing past the dam and around the top end of the reservoir, over the small bridge (Norsworthy bridge) and parking in that area, indicated on the map by the P symbol and the yellow cross.
Statistics
Distance - 4.47 km / 2.8 miles.

All photographs on this web site are copyright ©2007-2016 Keith Ryan.
All rights reserved - please email for permissions