This walk: 2011-8-24. Round house, medieval lazy beds, Dunstone and Bittleford Downs, Rowden Ball, French's Lane, slotted gate posts, Devil's Bit Scabious, Alder, Bird Cherry, oak leaf galls, pig pen, Jordan, Indian Bean Tree, linhay, mowhay, wall-built stiles, sheep creeps, tractor, livestock feeder, gorse and heather, Hutholes, Wind Tor, Honeybag Tor, Chinkwell Tor, Belted Galloway cow, Two Crosses stone.
Walk details below - Information about the route etc.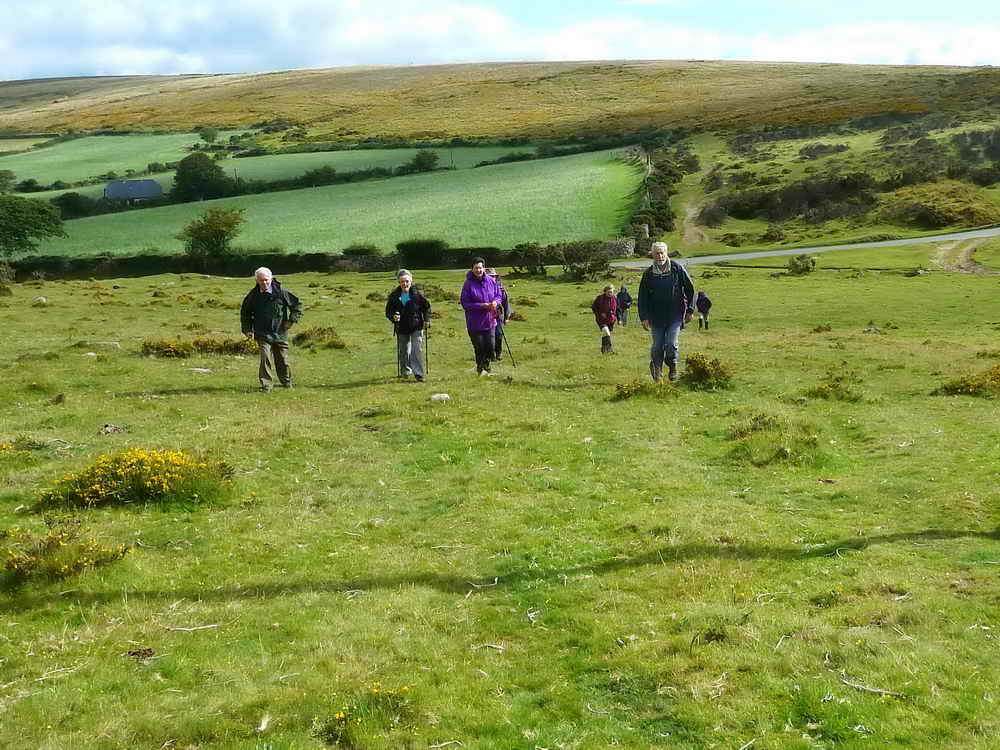 Walking south-west from the car park towards East Shallowford.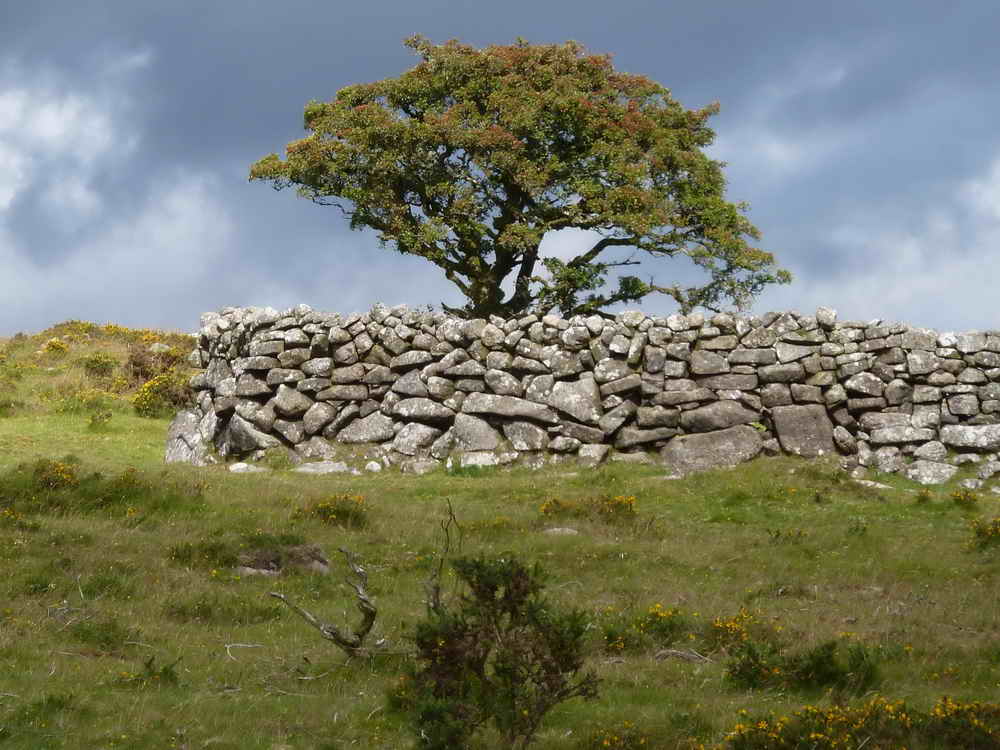 Picturesque wall corner, believed at SX 70003 76086,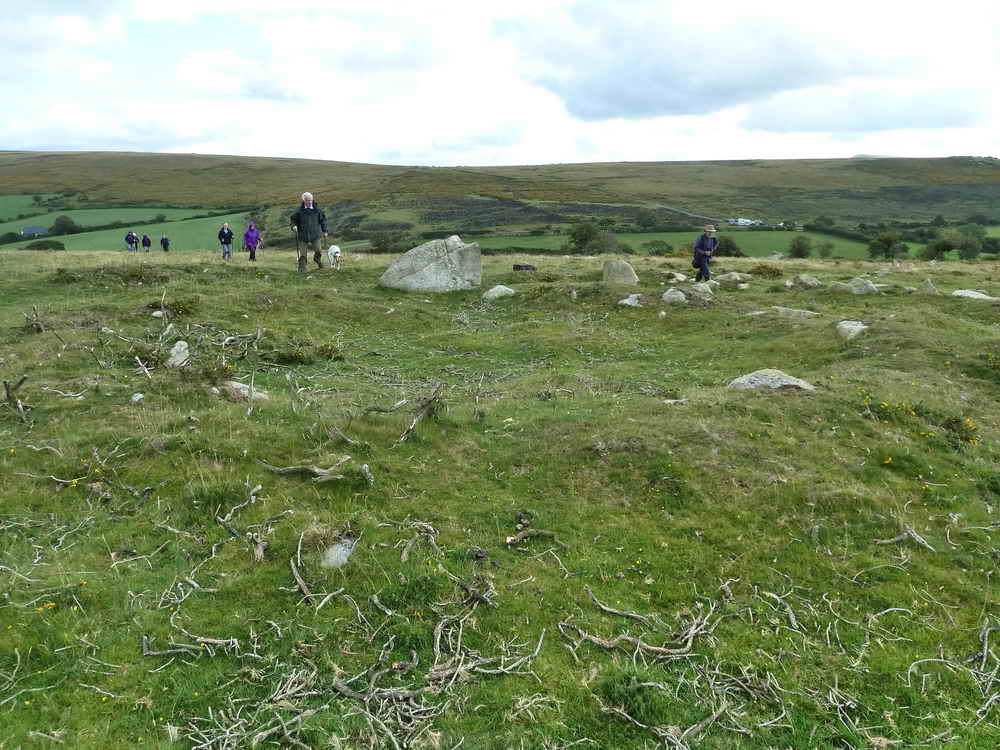 Seven-metre diameter round house in a small field plus an outer enclosure, in the region of SX 69940 75942. There are Medieval field systems in this area. Some details in Butler J (1991), Vol. I, 19.2 page 140 (also, see Map 19, item 2).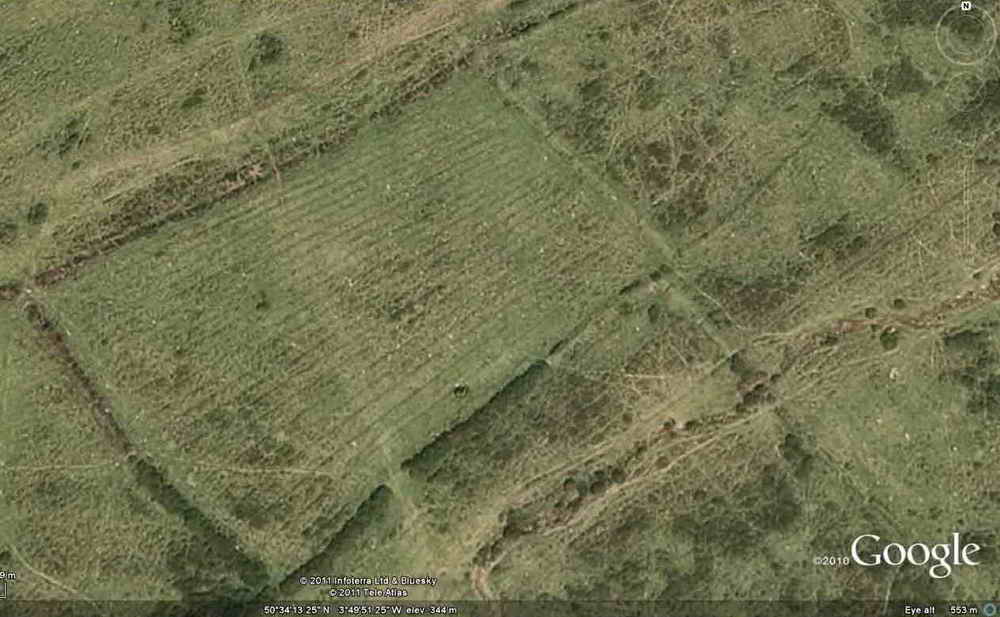 Google Earth image of raised beds in a nearby field ....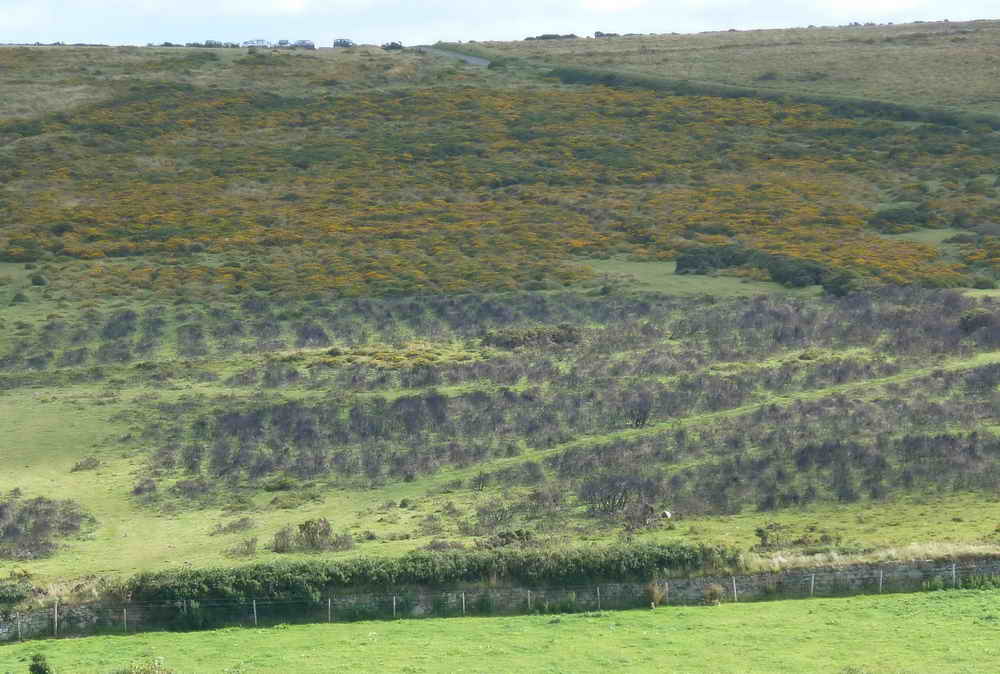 Dunstone and Bittleford Downs show signs of Medieval raised beds, lazy beds or ridge and furrow fields, now reverted to moorland.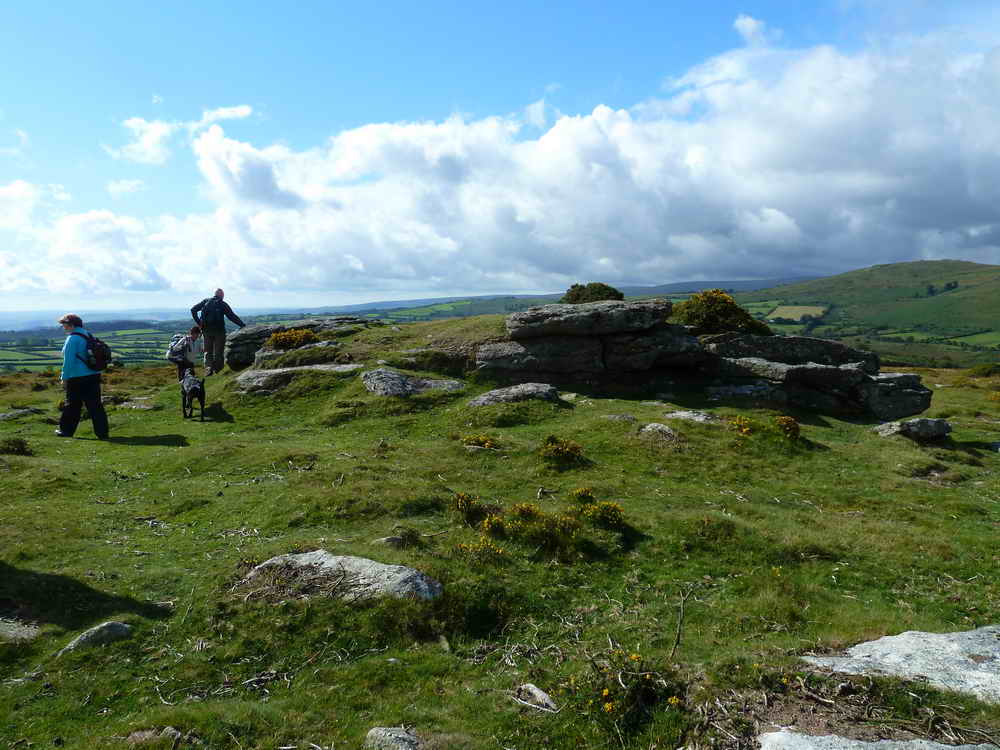 Rowden Ball, stony outcrop, SX 699 759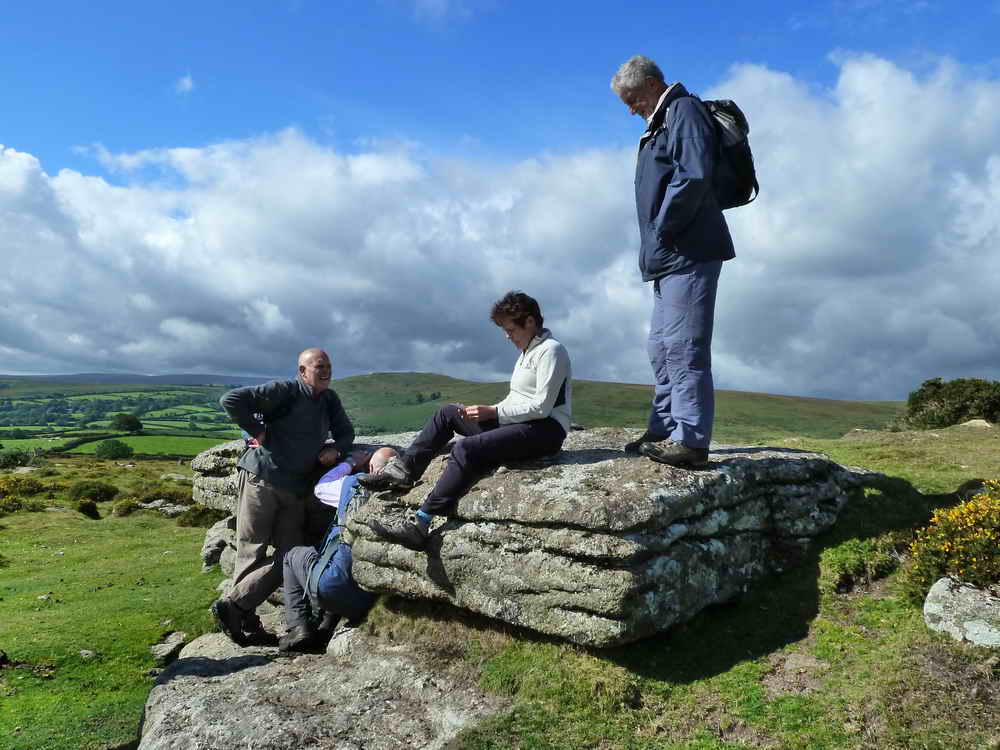 Investigating two small plaques attached to this minor tor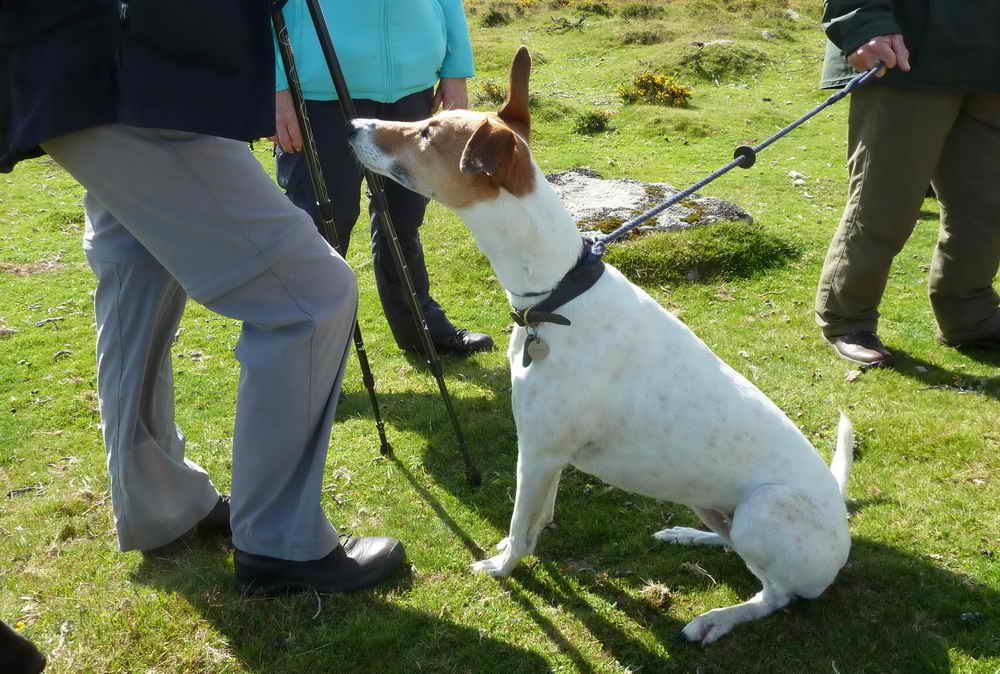 Jess waiting expectantly.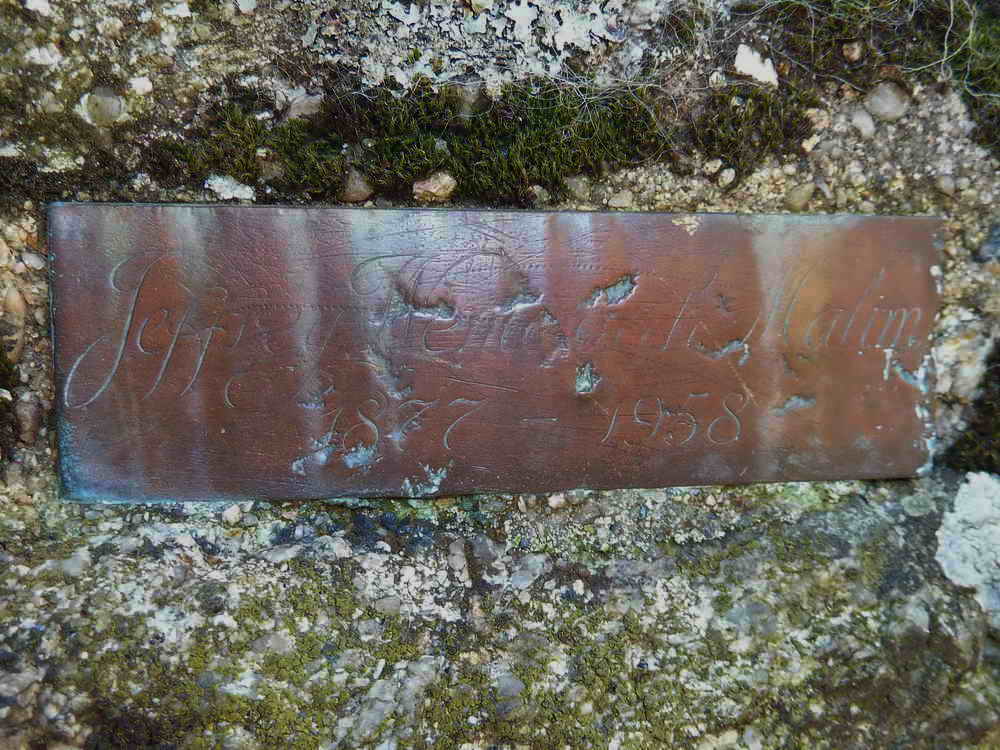 Jeffrey Wentworth Malim, 1877-1958, author of The Romance of Dartmoor.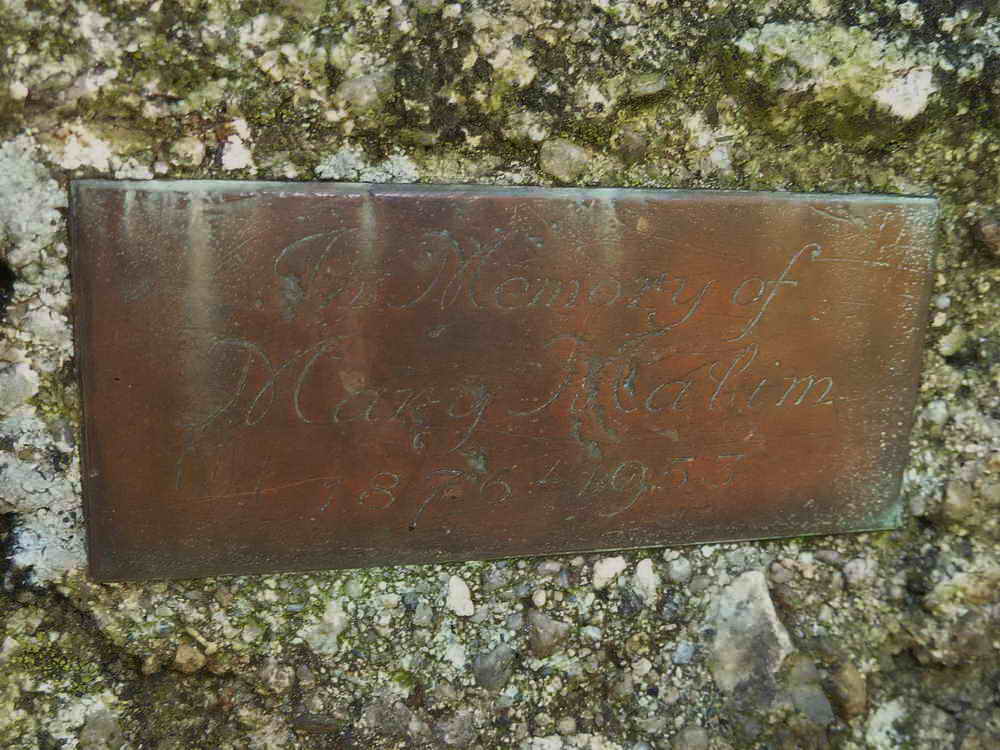 In Memory of Mary Malim, 1876-1953.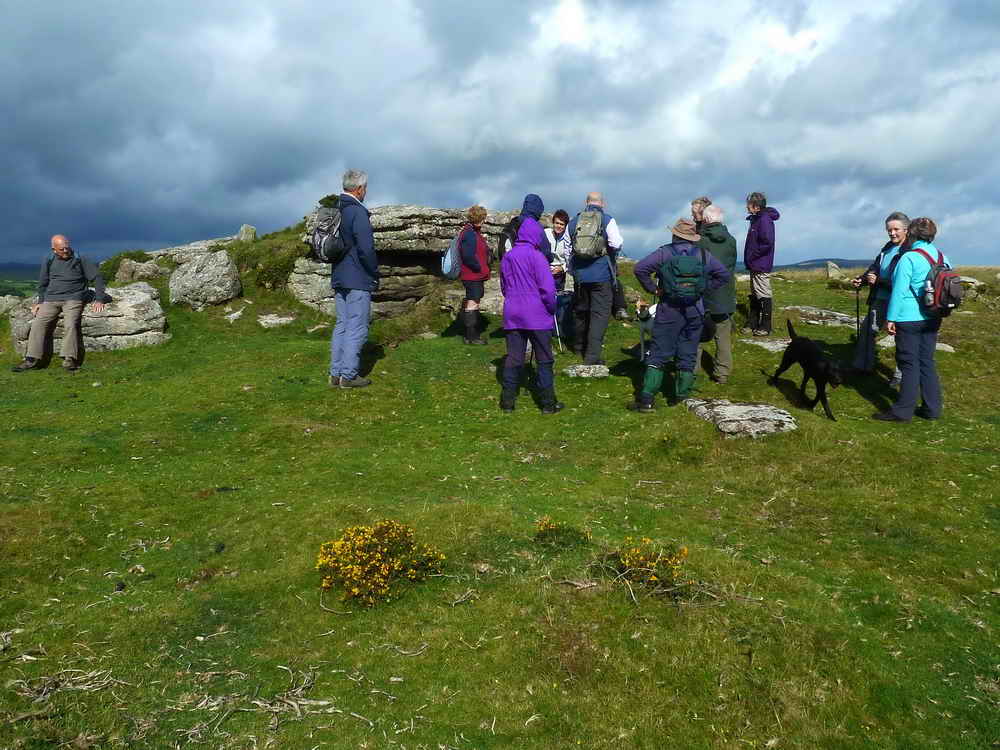 Moor Strollers at Rowden Ball.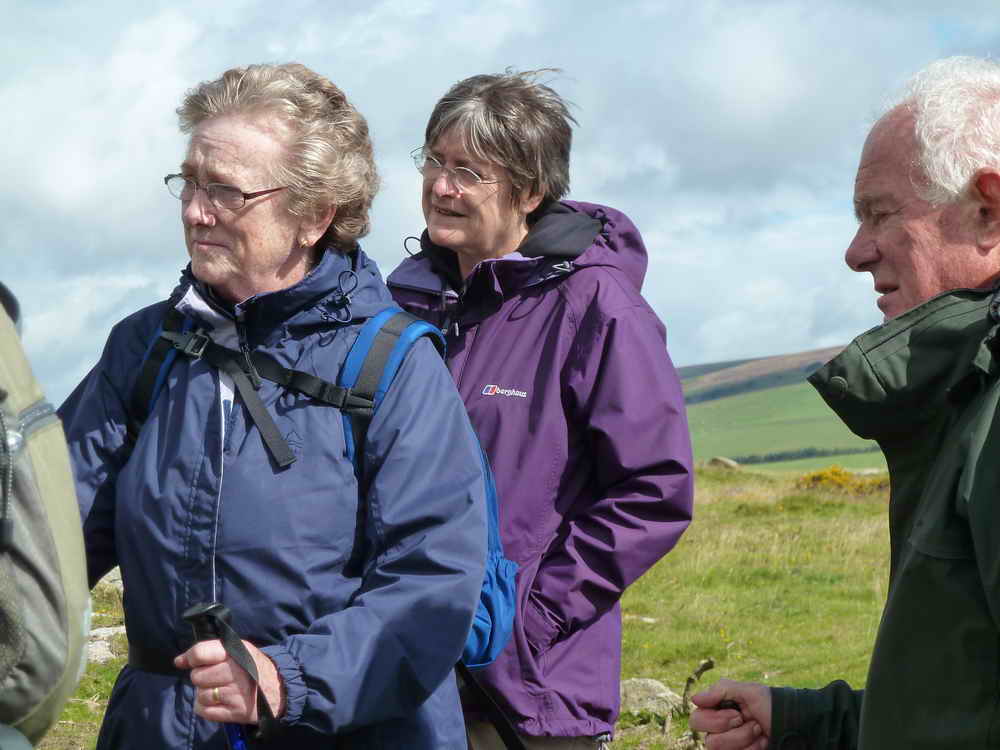 Strollers paying attention .....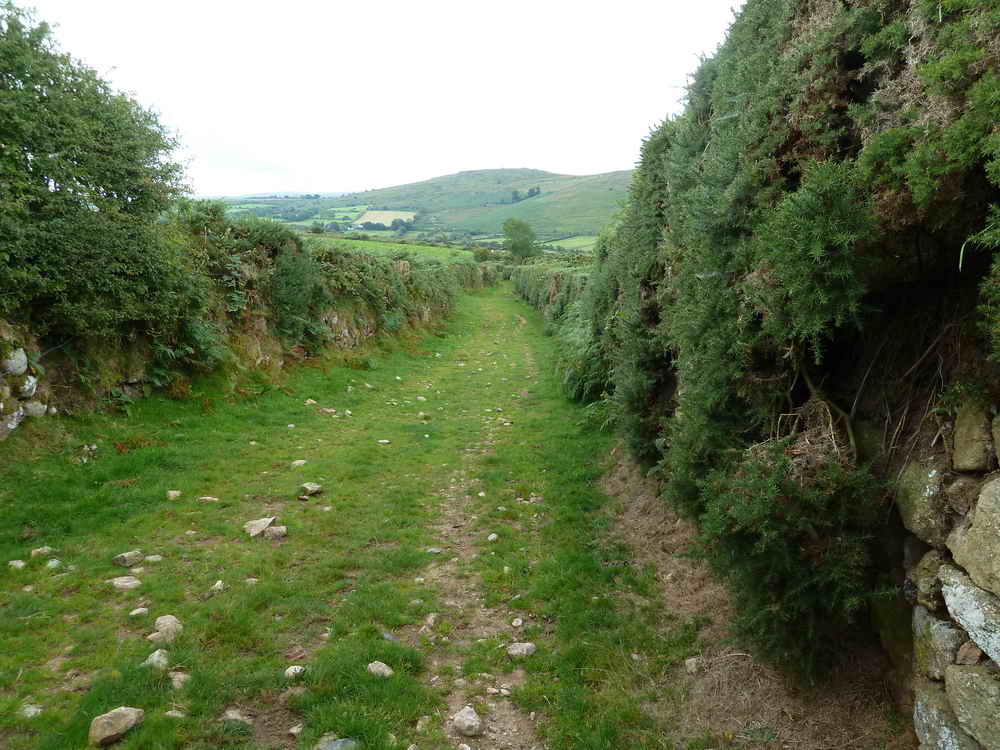 French's Lane, starting at SX 6980 7572, an old drovers lane going towards East Shallowford and Jordan and part of the old Church Path to Widecombe.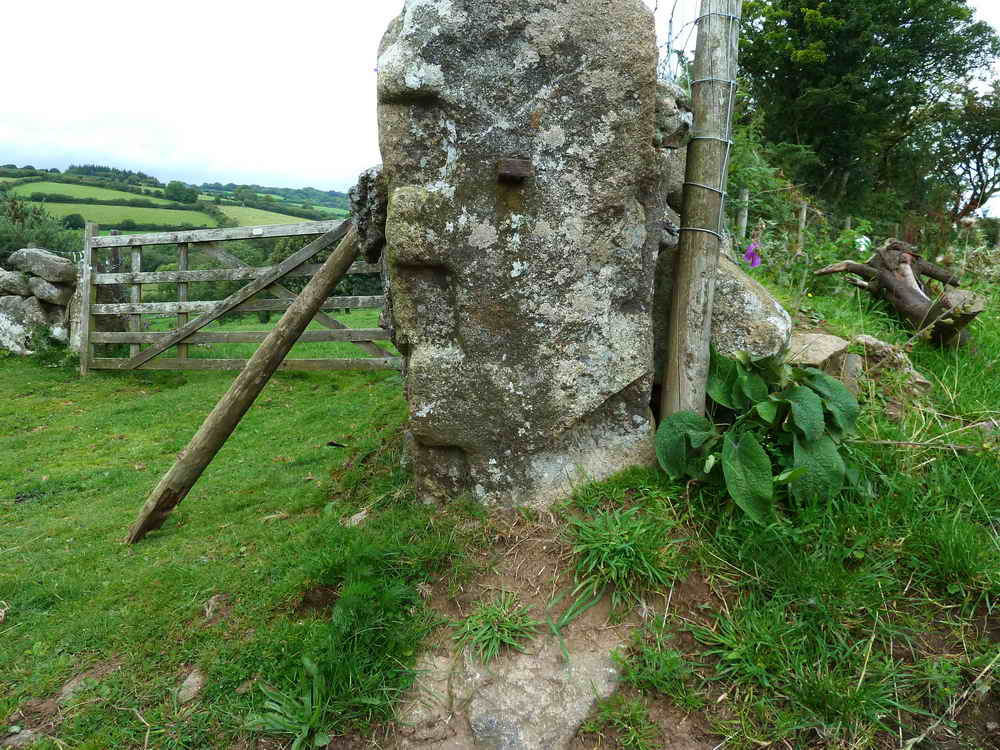 Slotted gatepost, later fitted with iron gate hangers.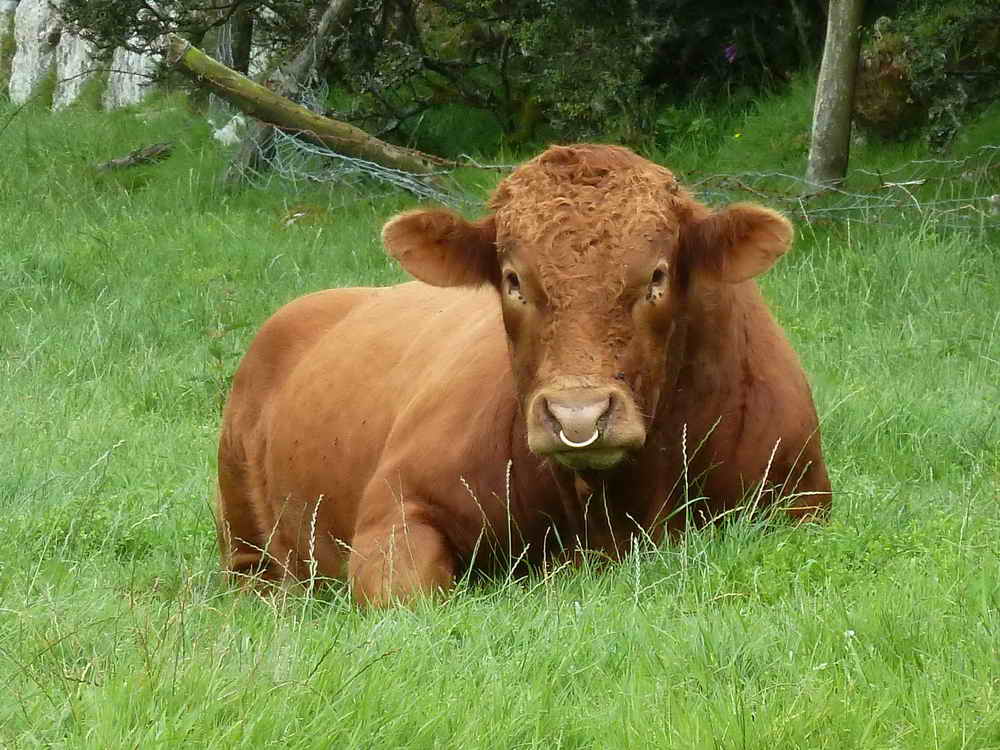 Bertie, the bull.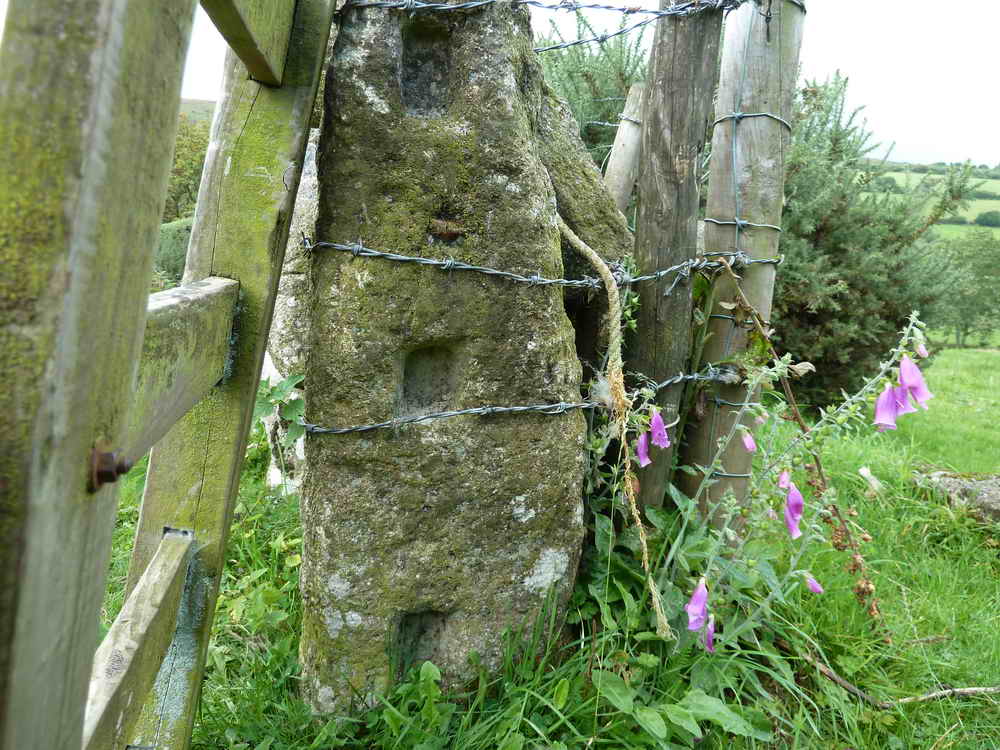 Another slotted gatepost with a slightly different design.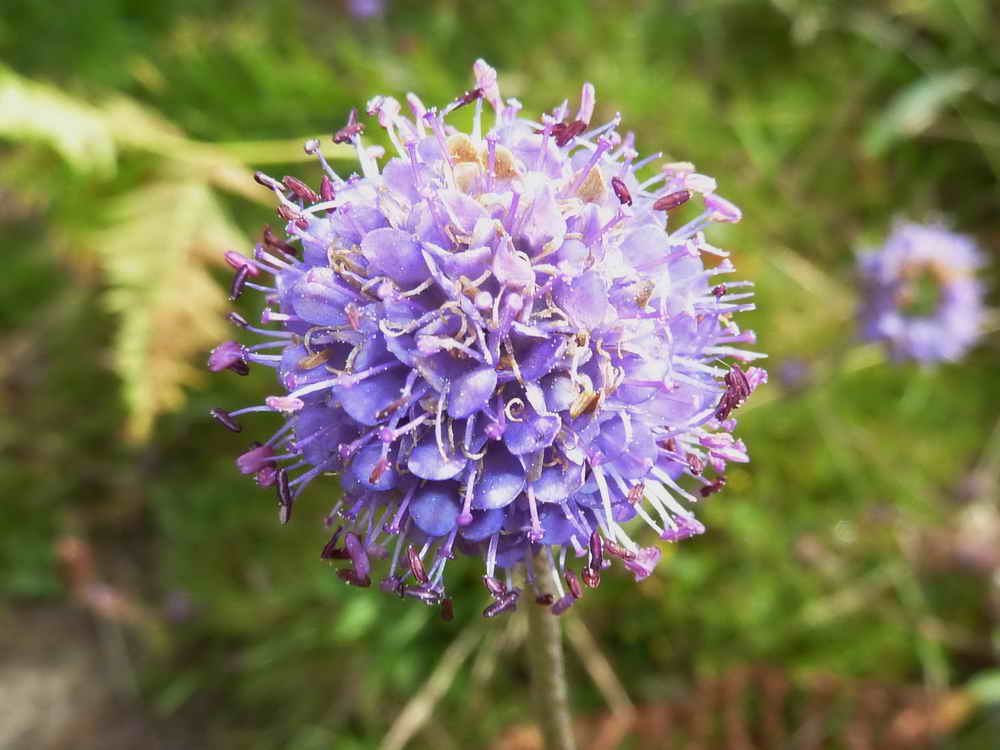 Devil's Bit Scabious, Succisa pratensis,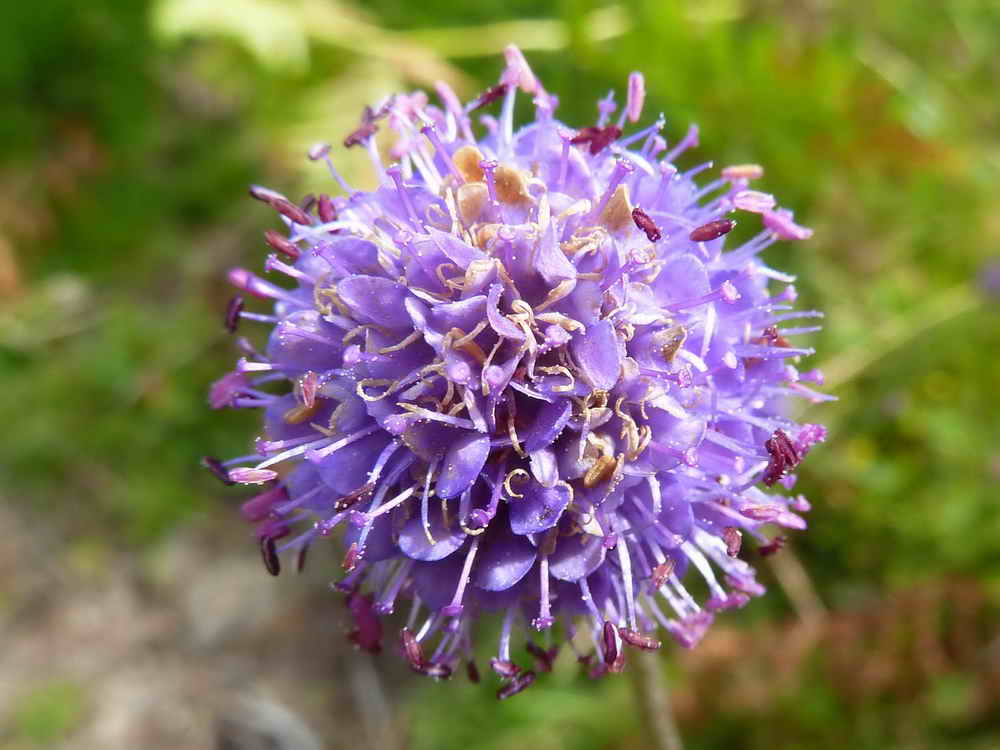 Another flower head .....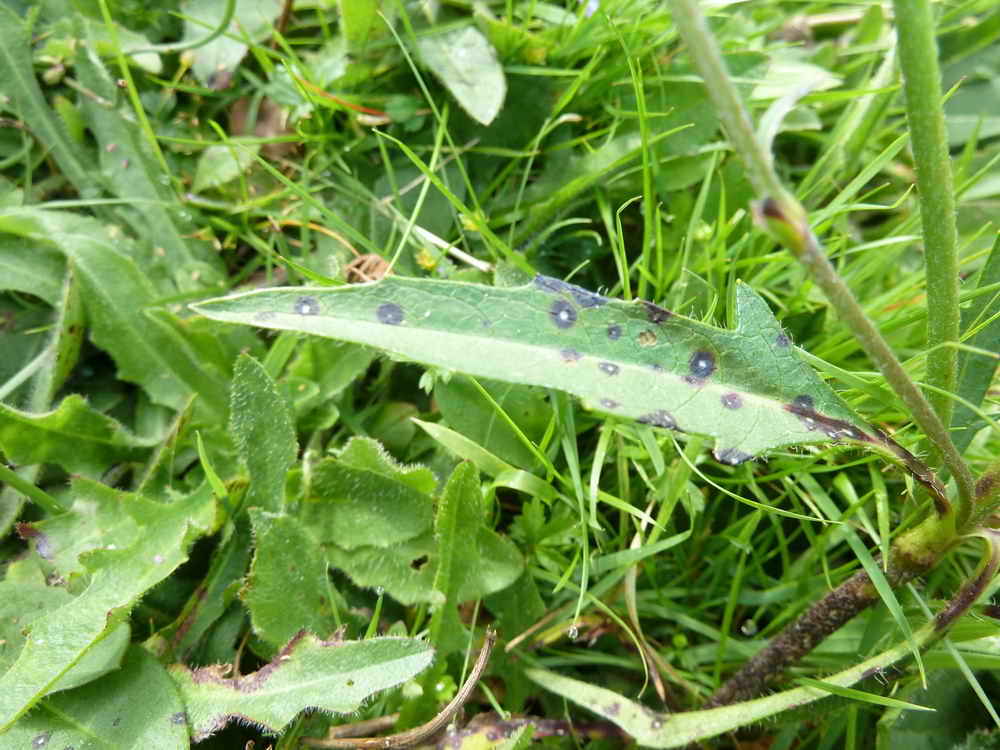 The leaf, unlobed, unlike that of Field Scabious, Knautia arvensis (click on "leaf 1").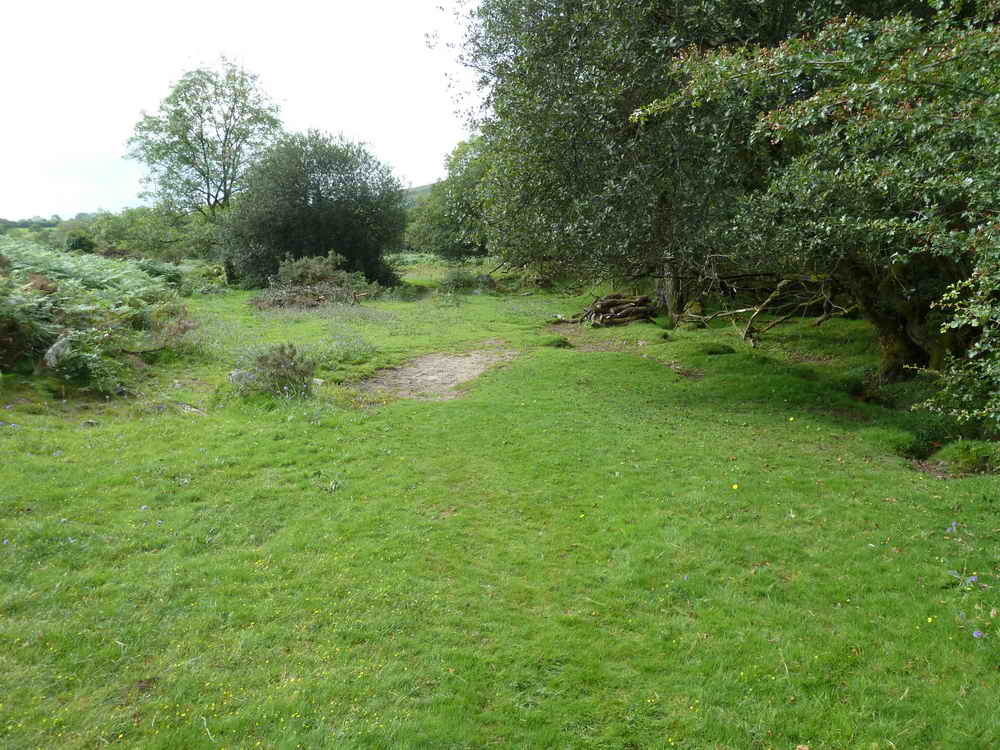 General view along the path .....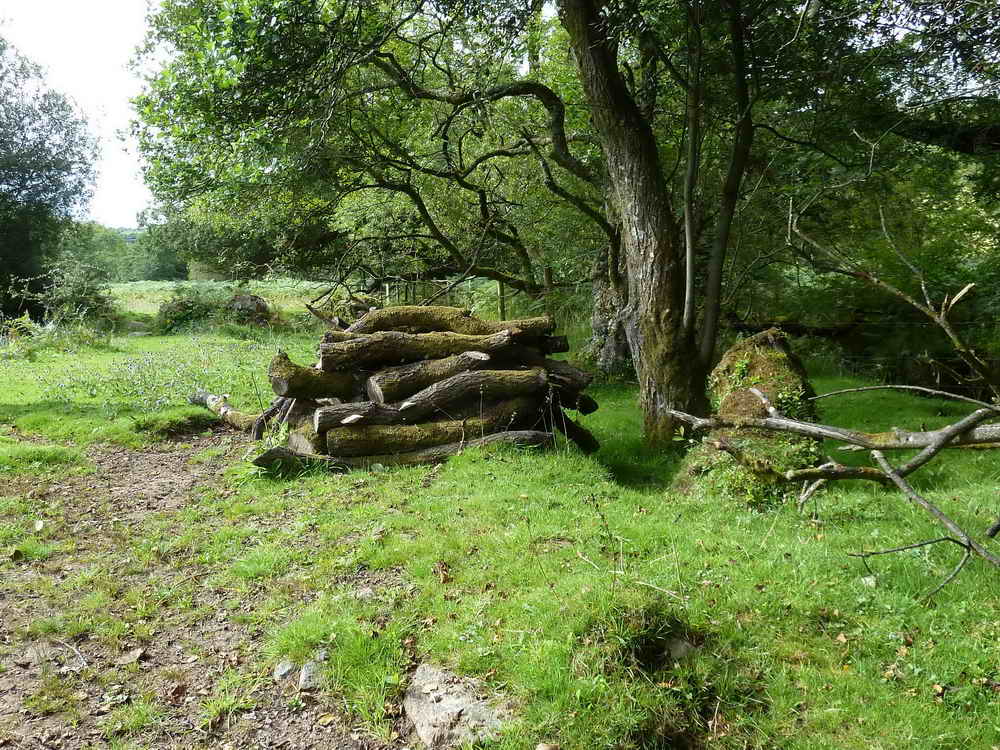 General view II.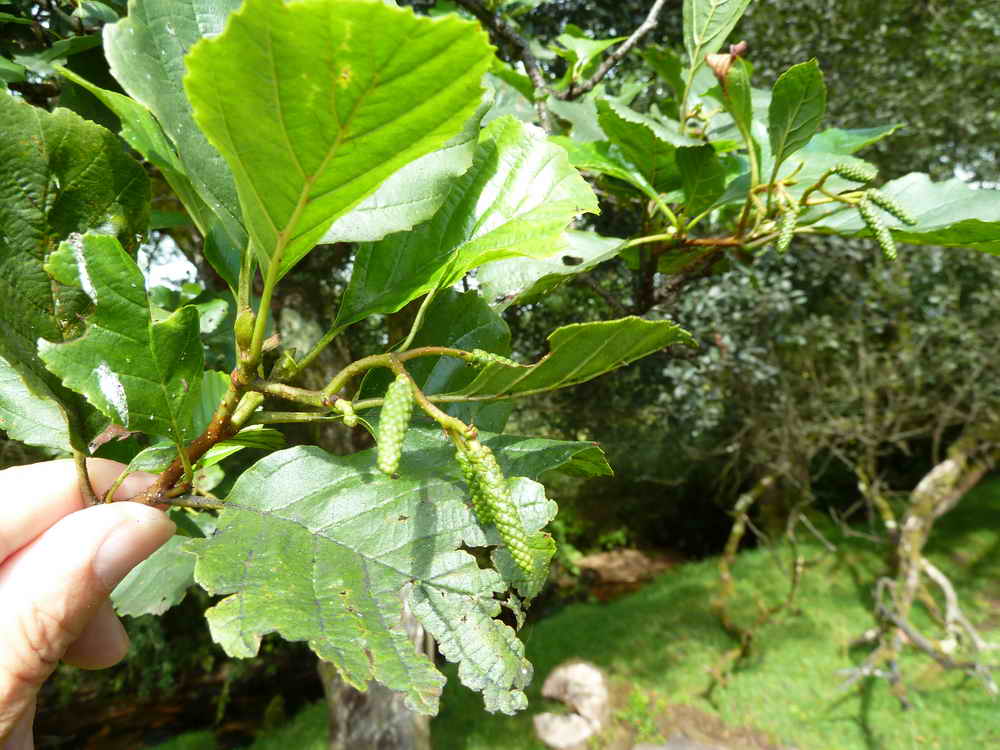 Alder, Alnus glutinosa.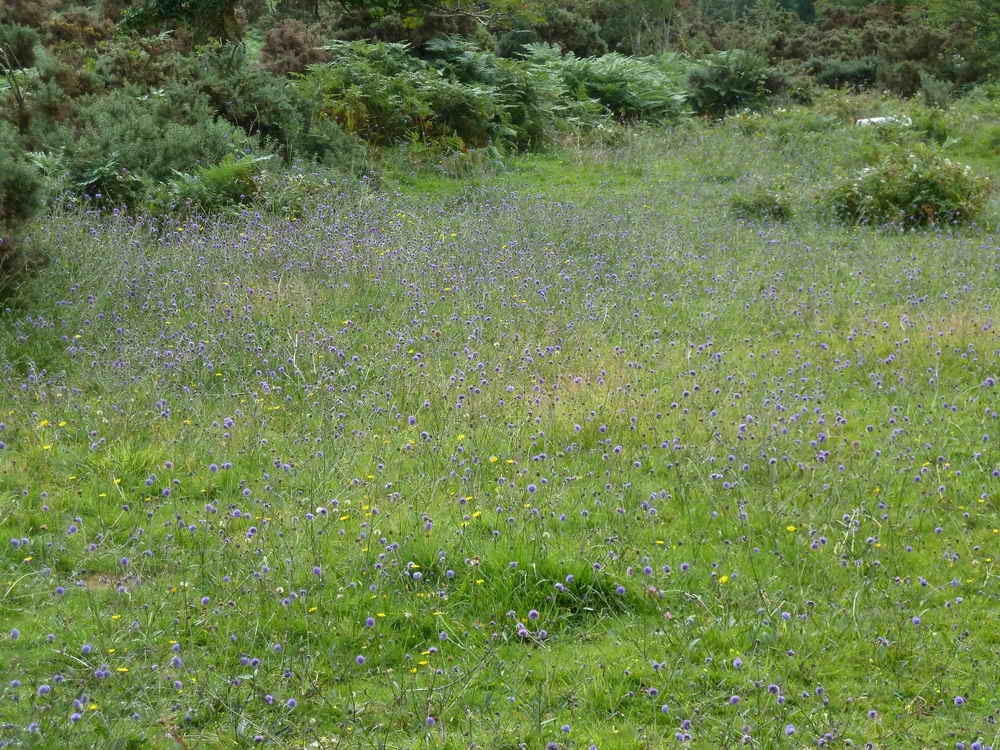 A clearing of Scabious.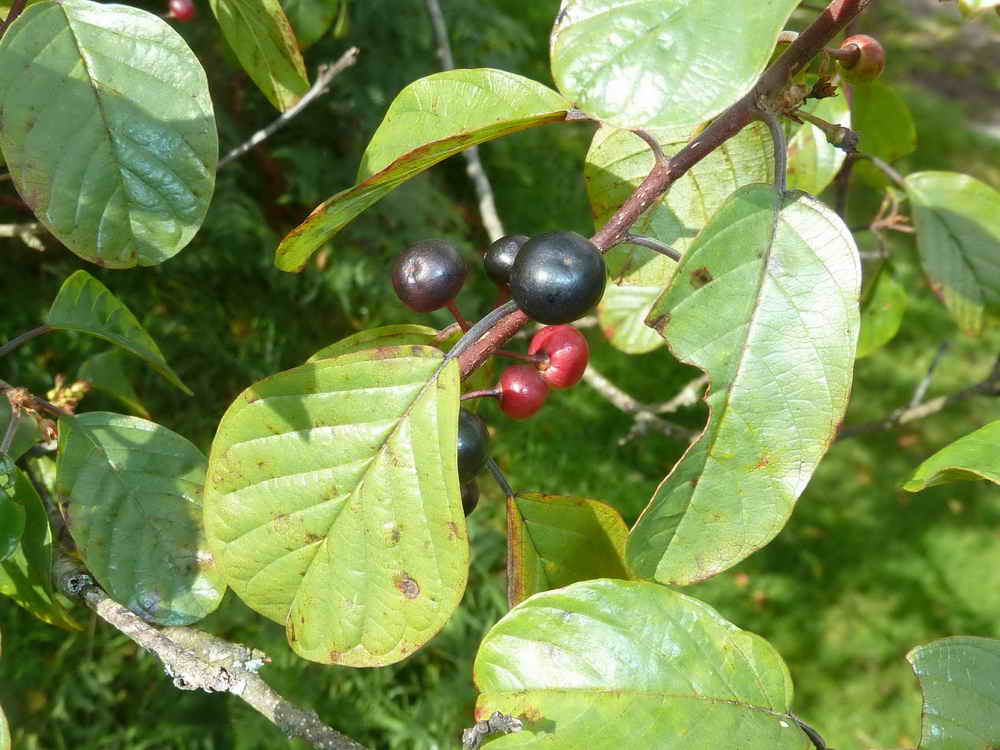 Bird Cherry, Prunus pradus, also known as Hackberry .....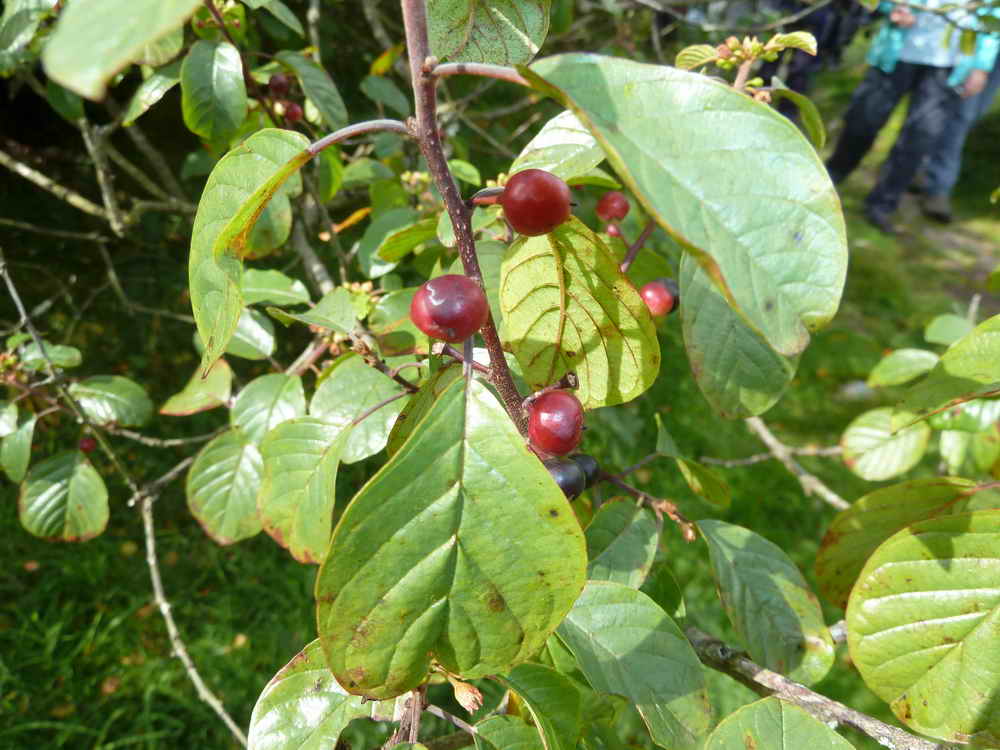 Unripe Bird Cherries which are black when ripe .....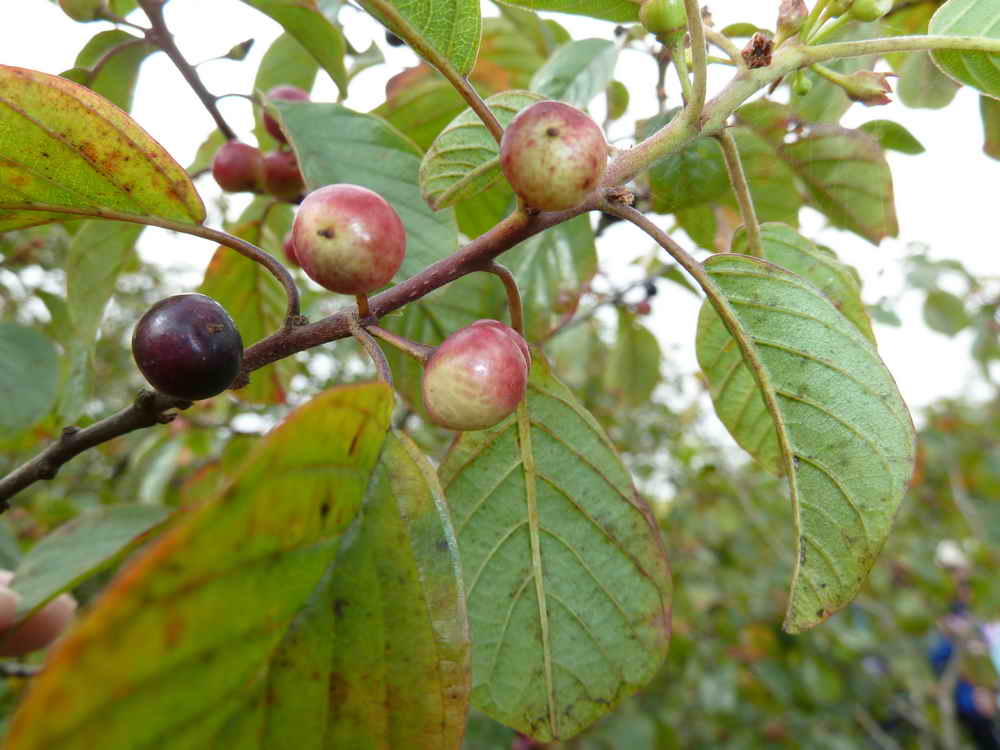 Bird Cherry III.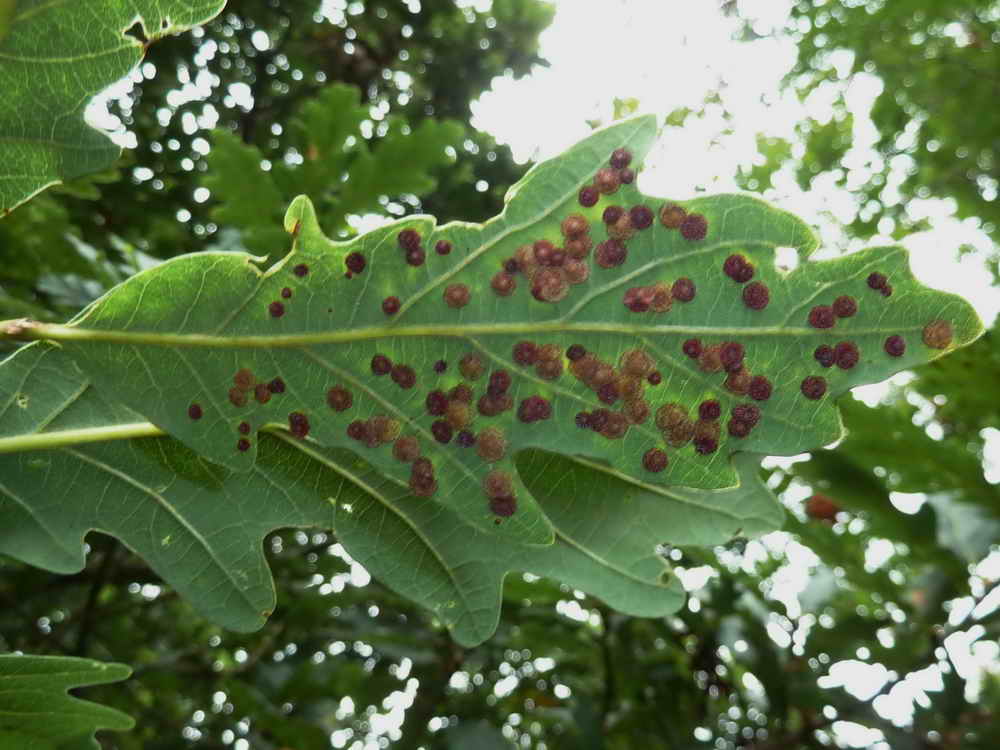 Underside of an sessile oak leaf, covered with small galls (insect-induced).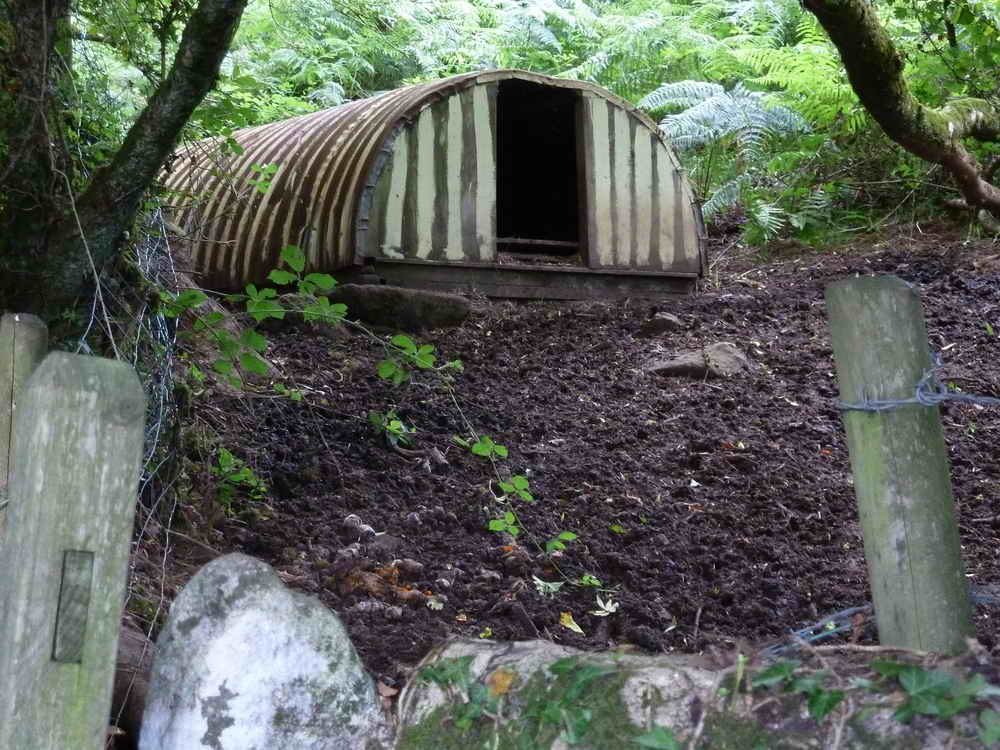 Pig pen.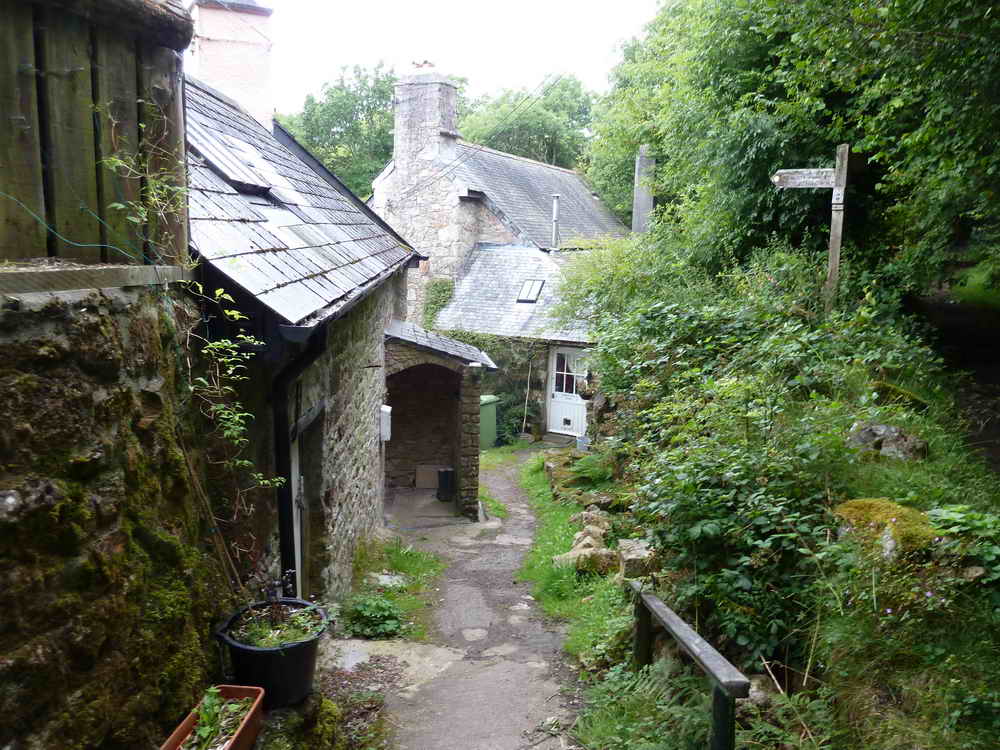 Jordan & Jordan Mill. In the 1850s, Abraham Kivil was the miller, linked to the Kivills of Walkhampton parish. Both a corn mill and a fulling mill existed here in 1603. The mill ceased operating in the 1930s. There are rick staddles opposite Jordan long house.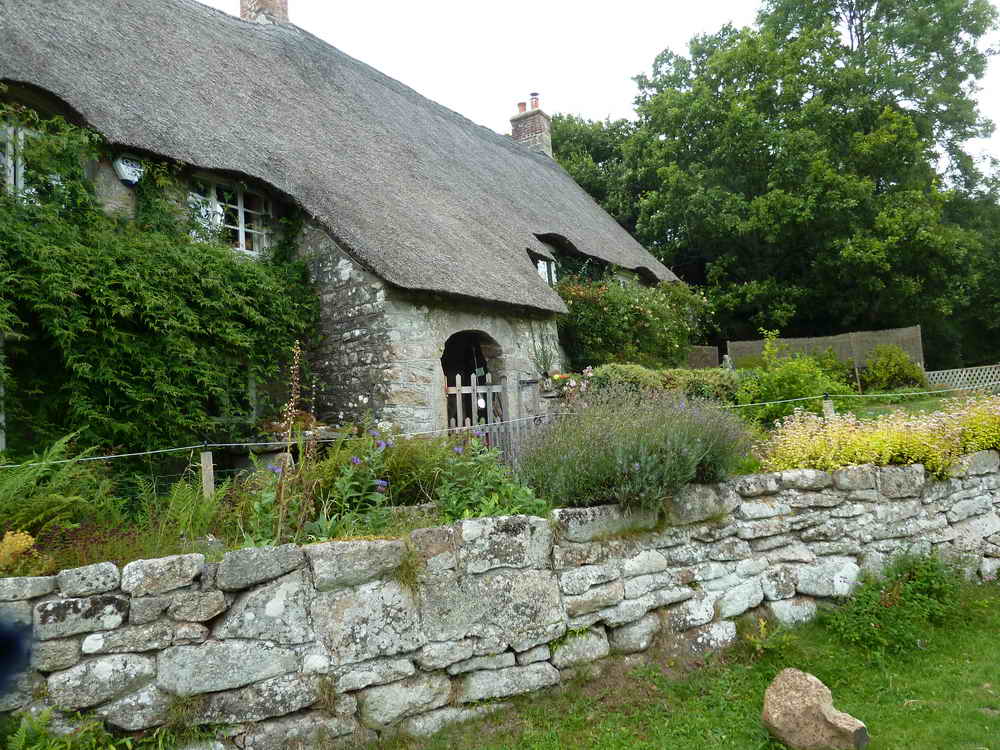 Jordan Manor.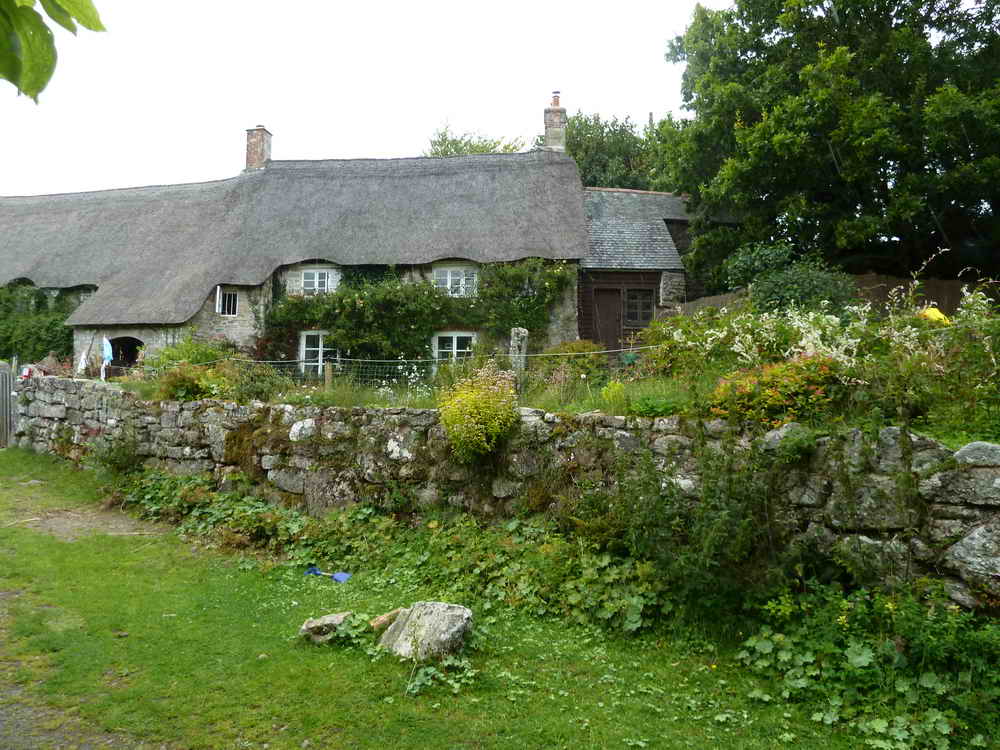 Jordan Manor II.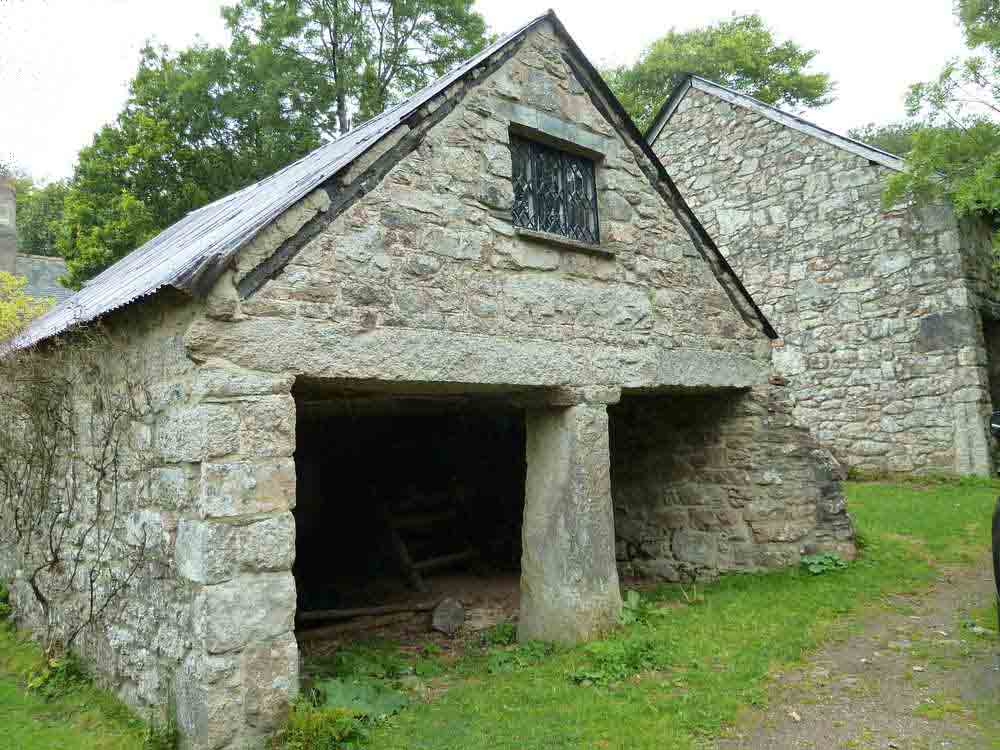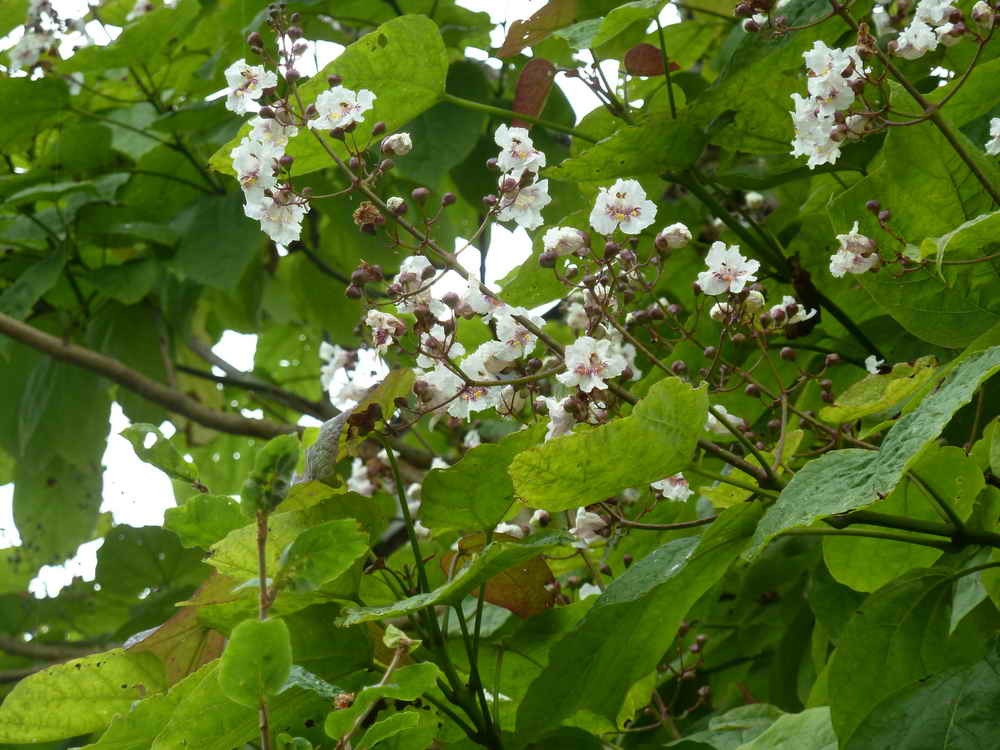 Something you don't see every day - the Indian Bean Tree, Catalpa bignonoiodes ..... blossom .....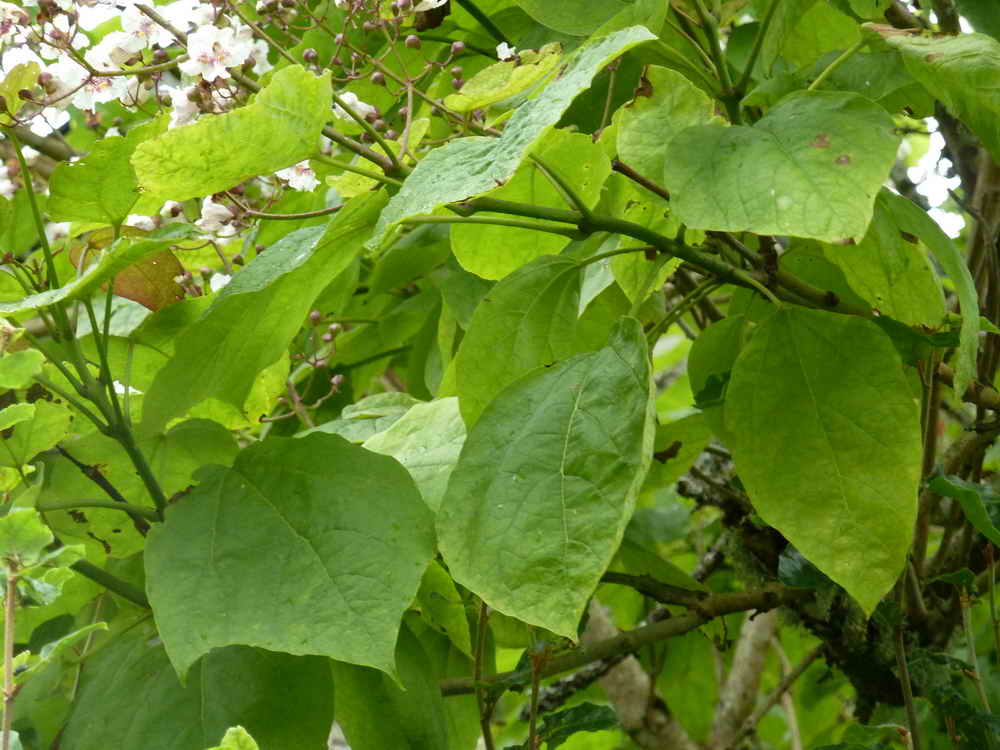 Indian Bean Tree leaves.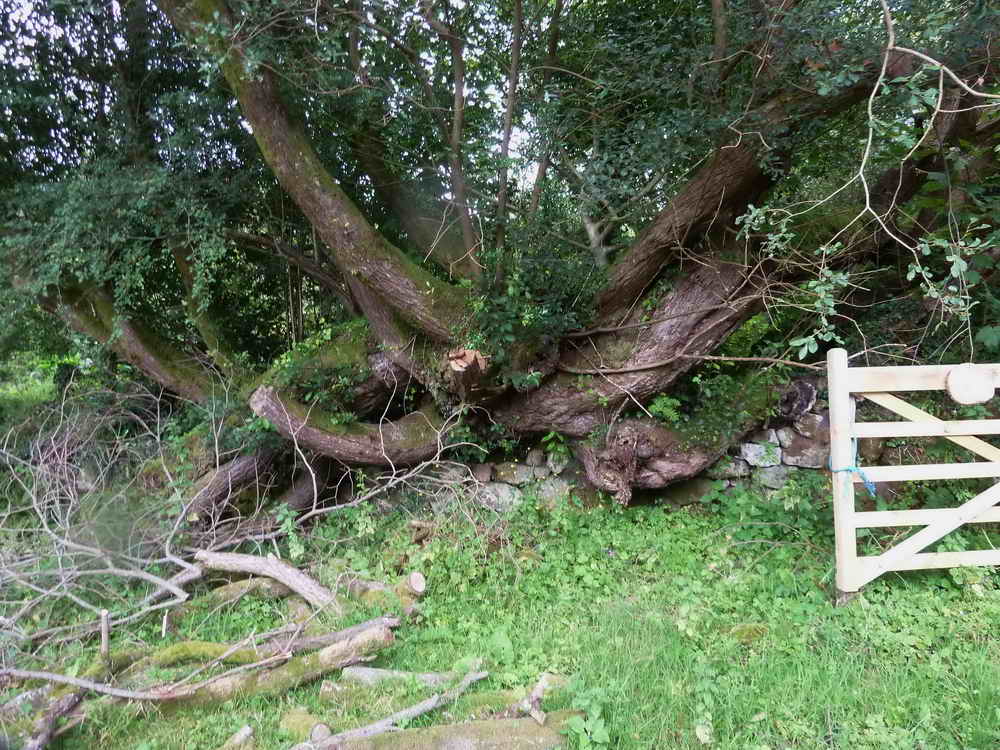 Impressive tree bole, growing in a hedge.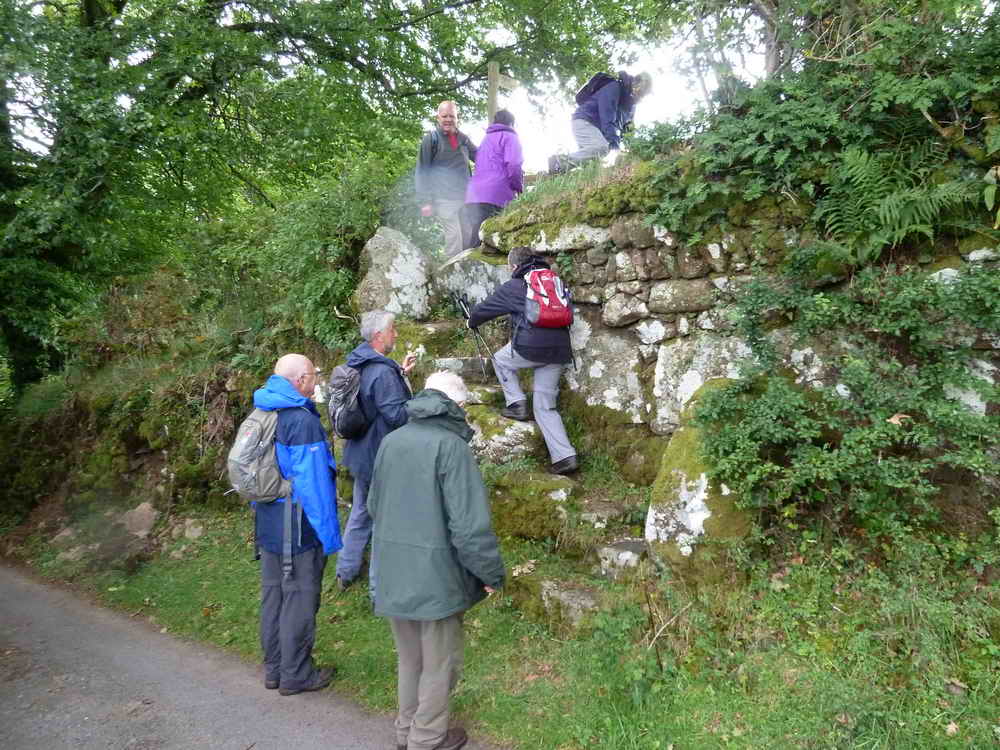 Interesting stile built out of the hedge (rain or condensation on camera lens - that sort of day!).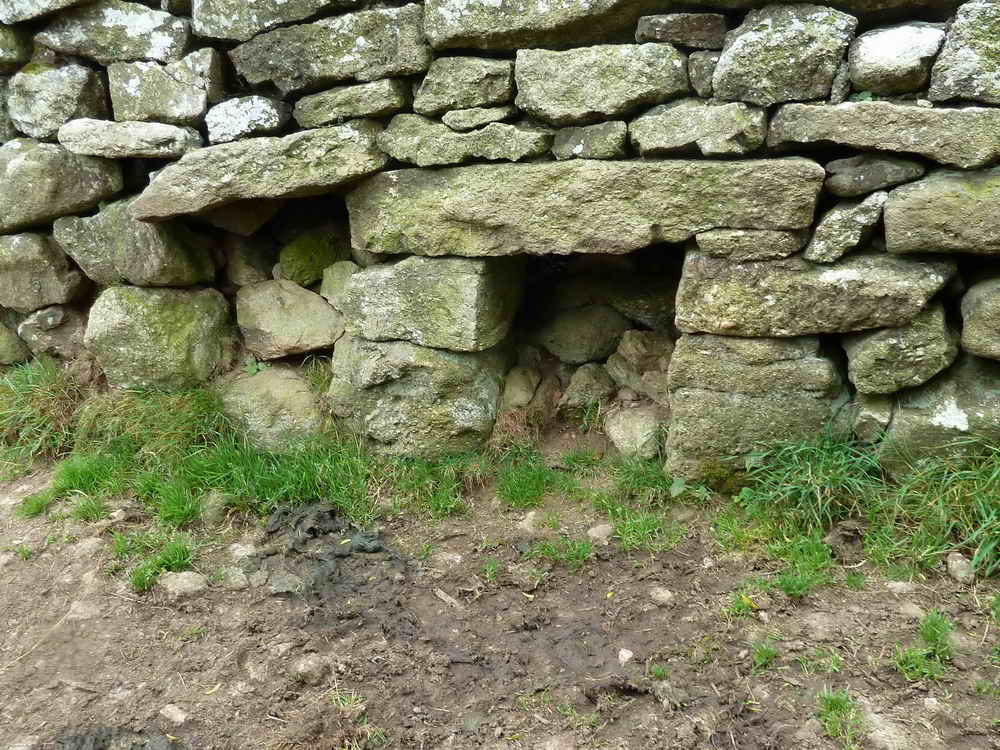 Sheep creeps I ......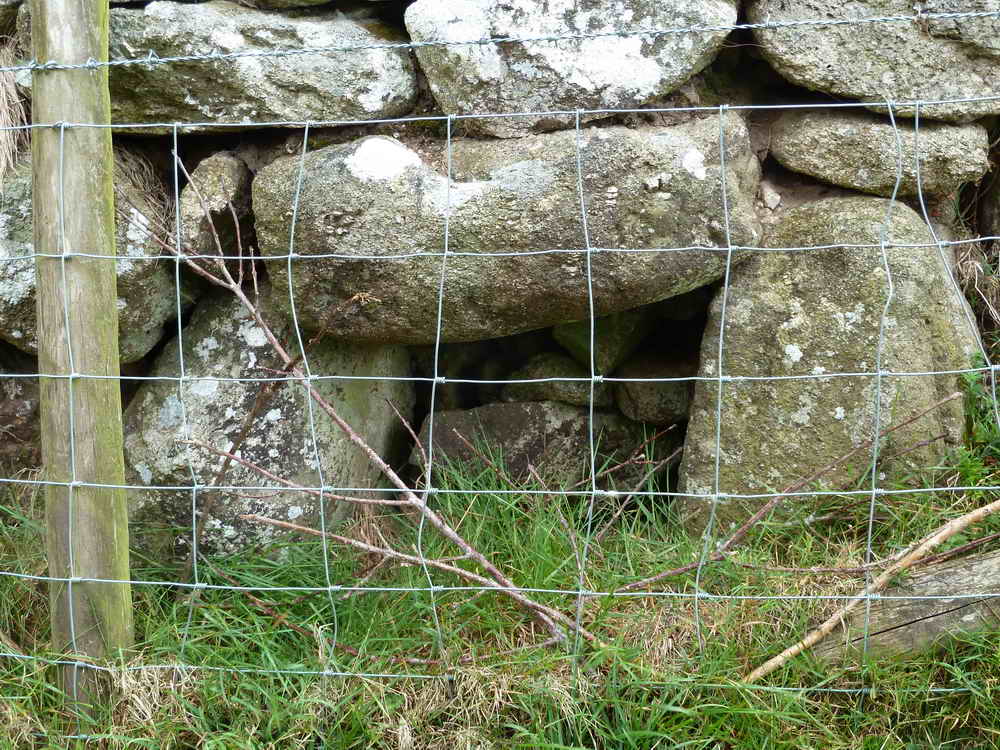 Sheep creep II, these are opposite each other at a narrow point between the fields, at SX 7026 7494.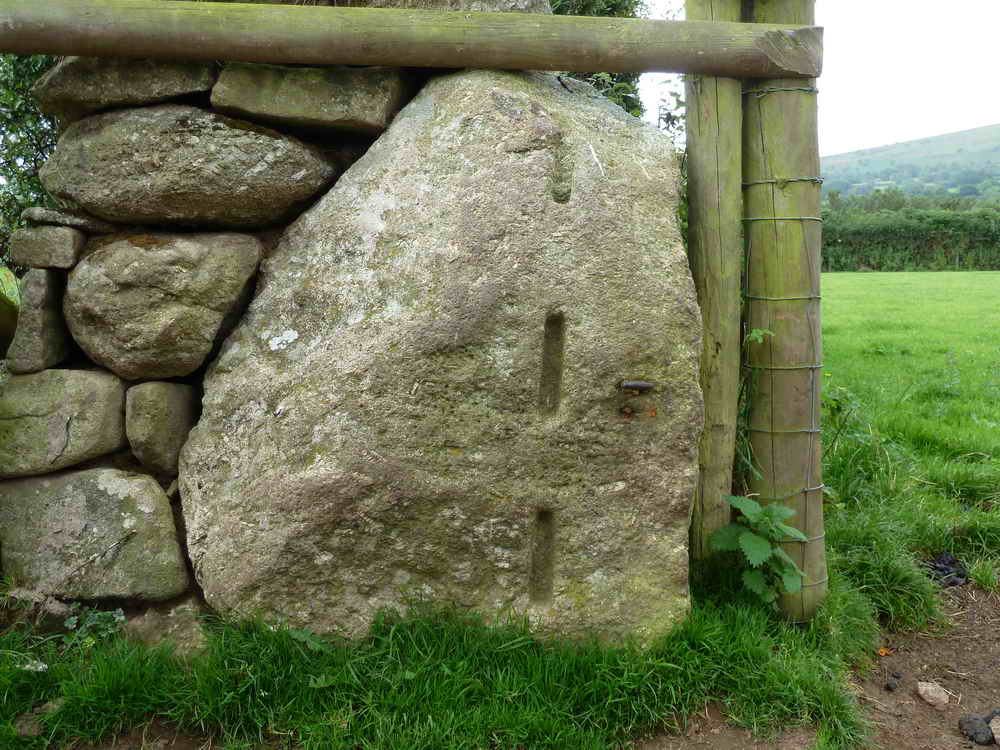 Another slotted gate post, with quite narrow slots.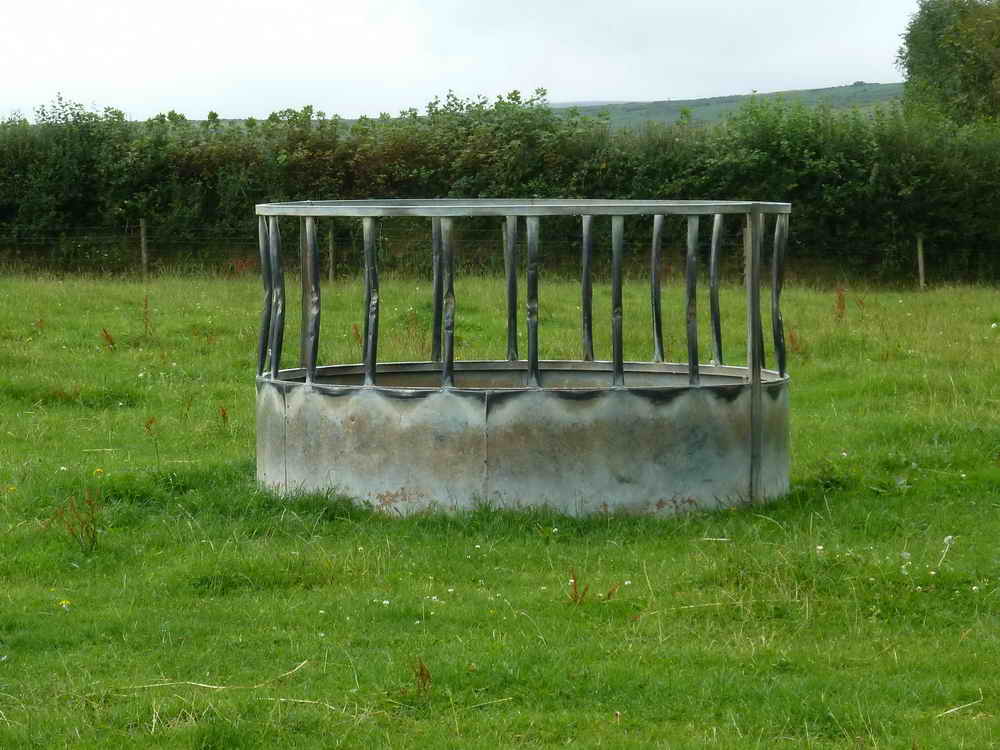 Feeding station for livestock in the middle of a field.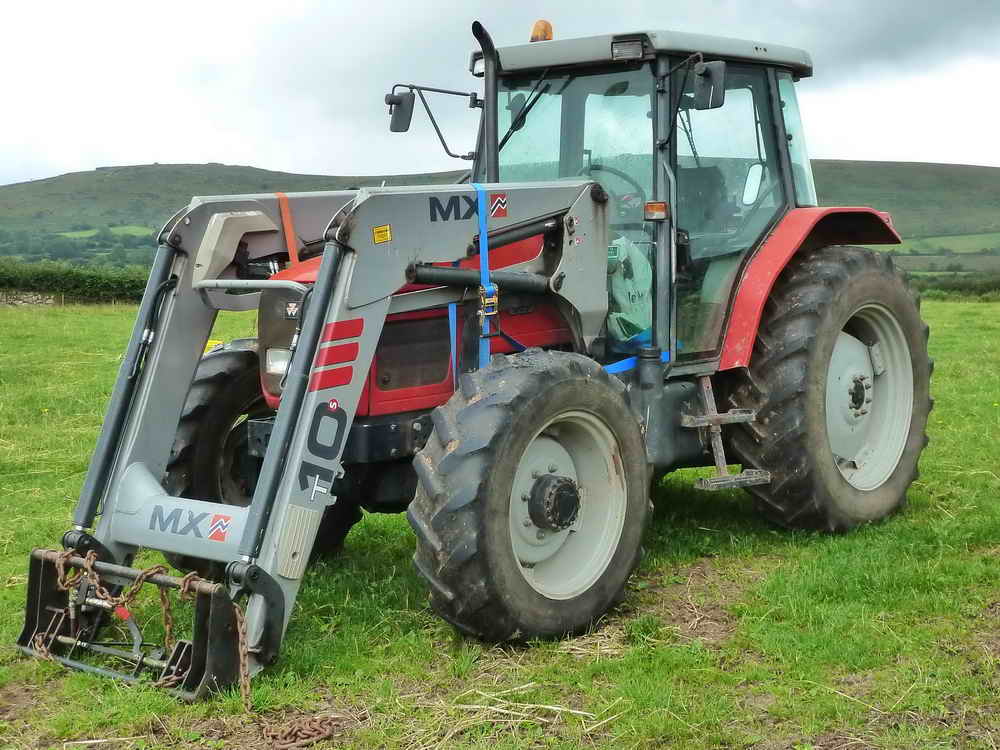 Believed Massey Ferguson 5470 Dyna 4 with MX 10 loader.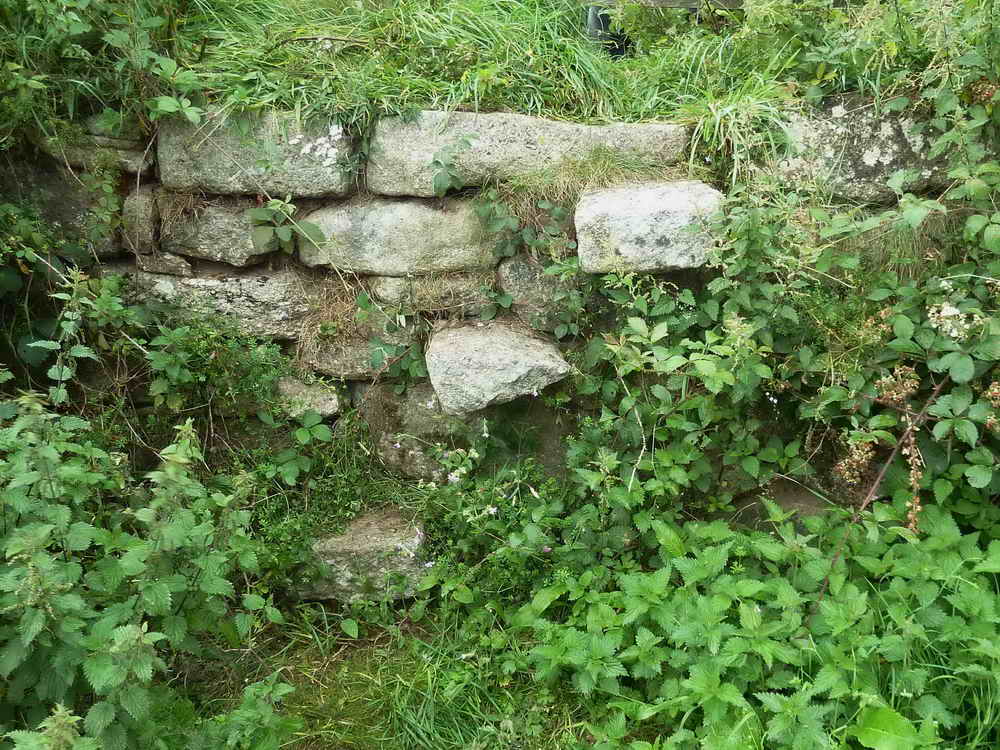 Another wall-mounted stile.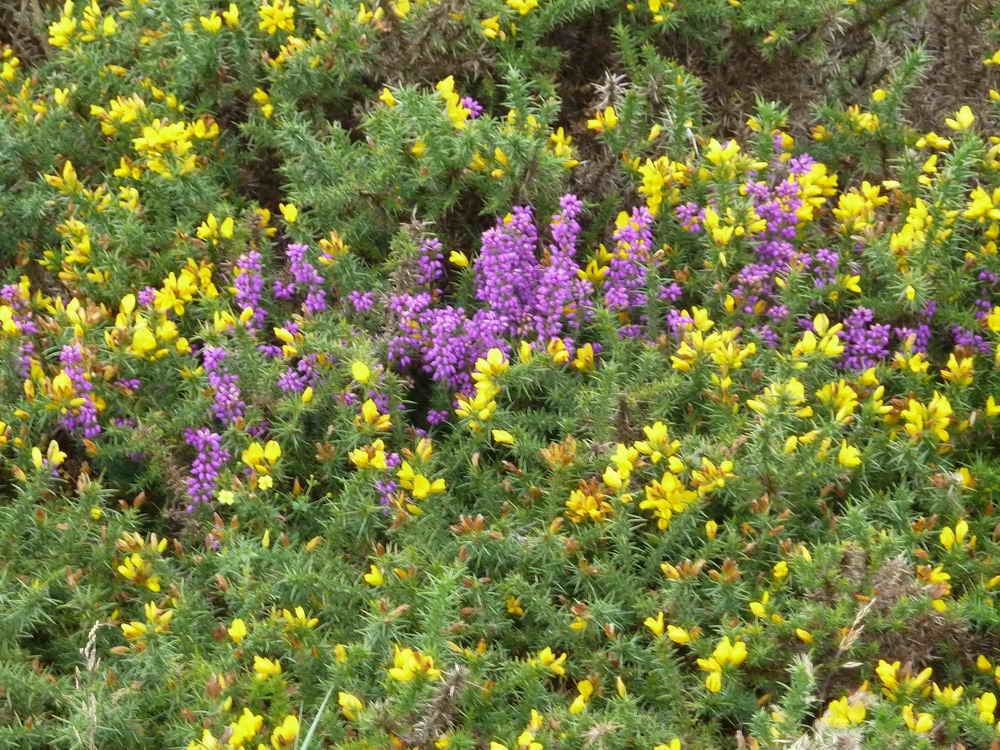 Purple & yellow, the colours of bell heather and gorse.
View to Rowden Ball.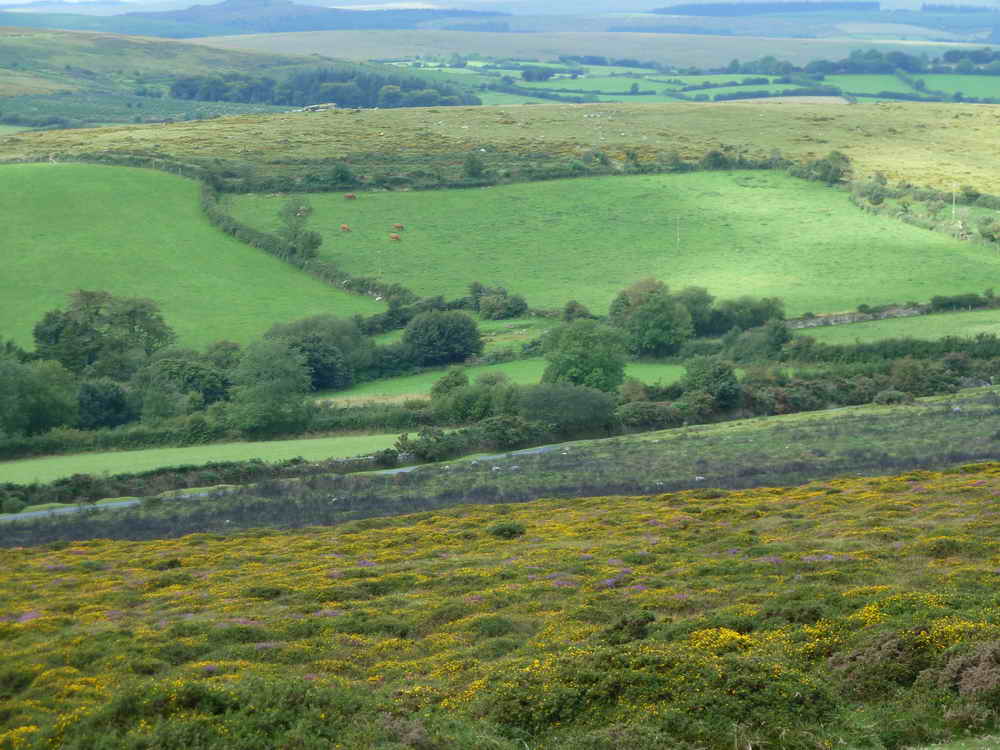 View to Hutholes, Medieval village at SX 7019 7585.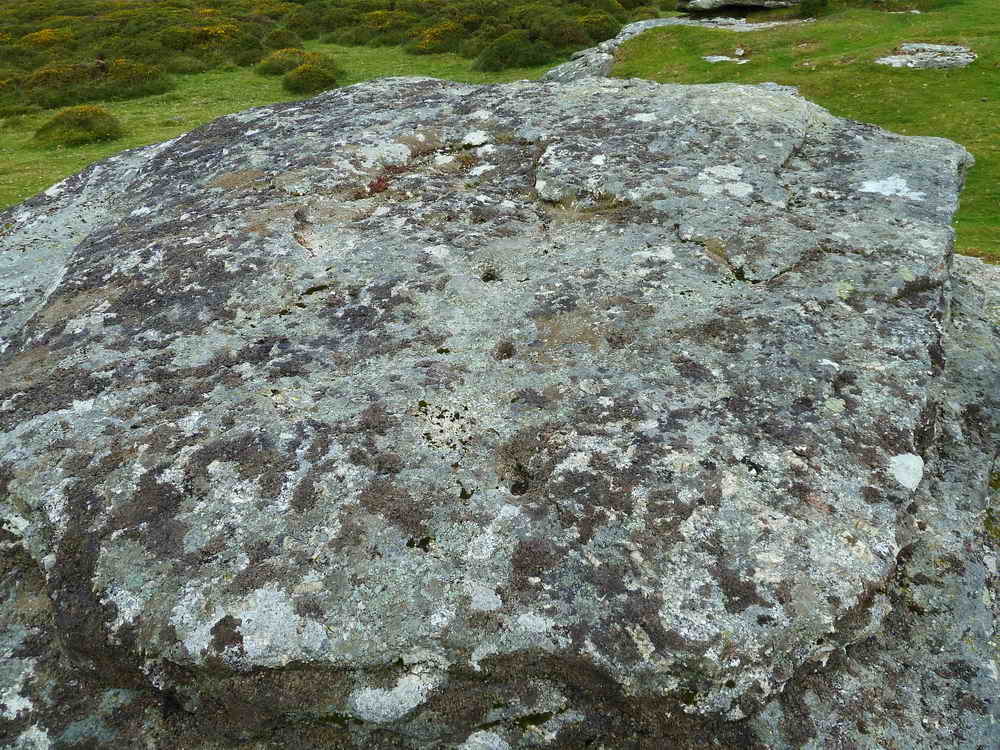 Abandoned attempt at cutting a stone? Or was it that fox that was the devil-transformed as he chased across the moor and where he touched the ground, his feet melted it?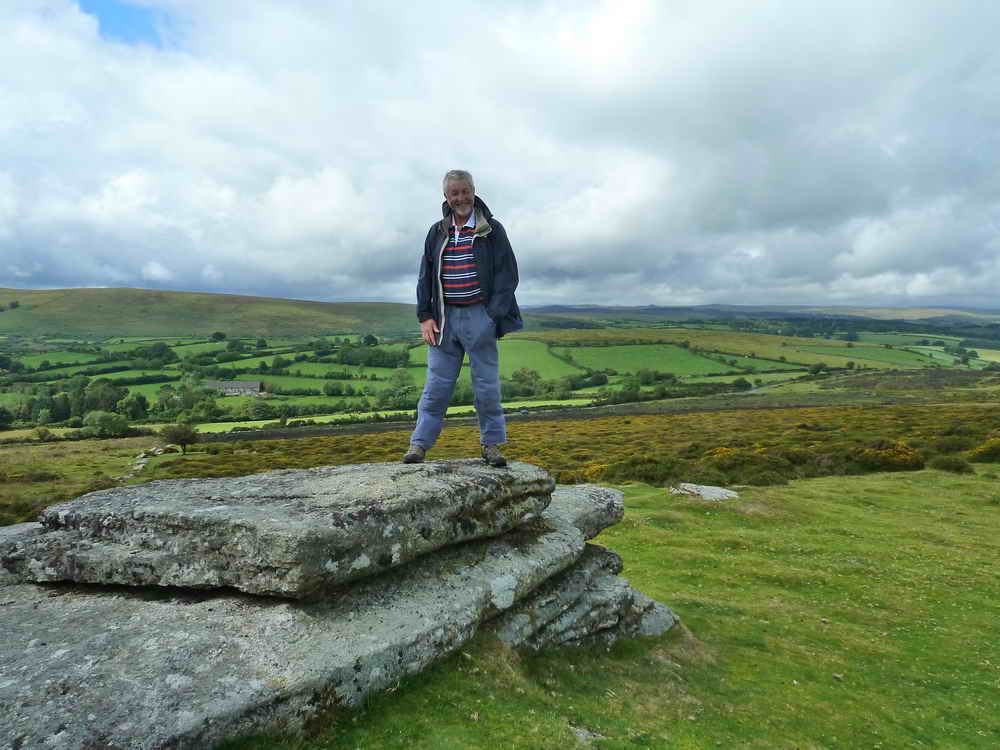 Wind Tor, at SX 7078 7576, elevation 375 metres (1230 feet).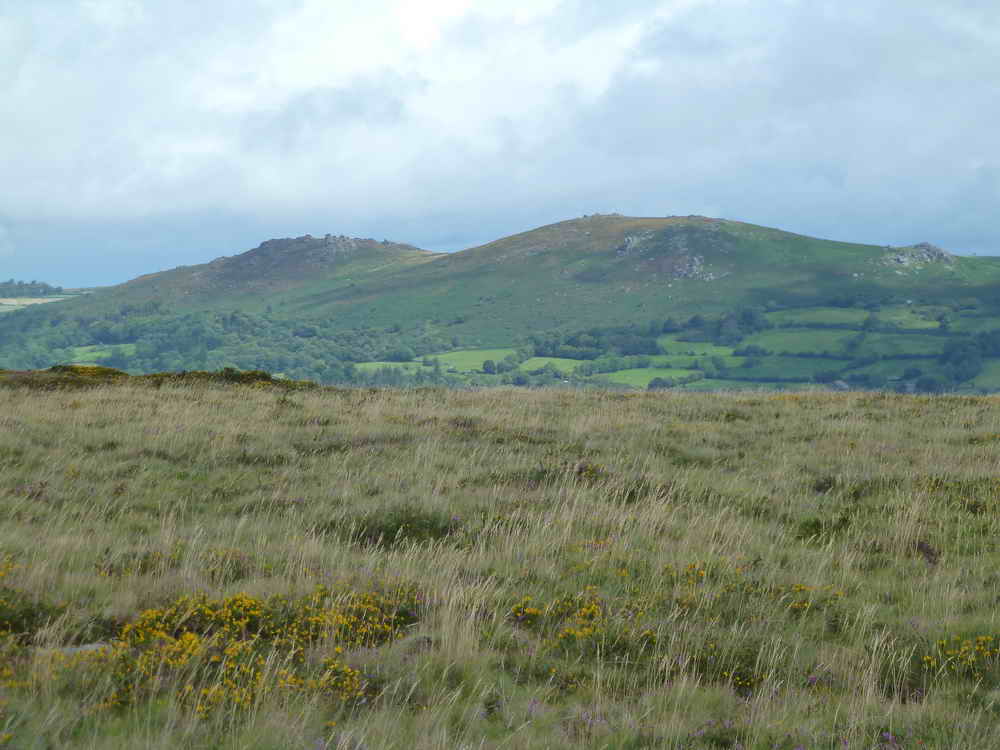 Honeybag Tor (left) and Chinkwell Tor (right).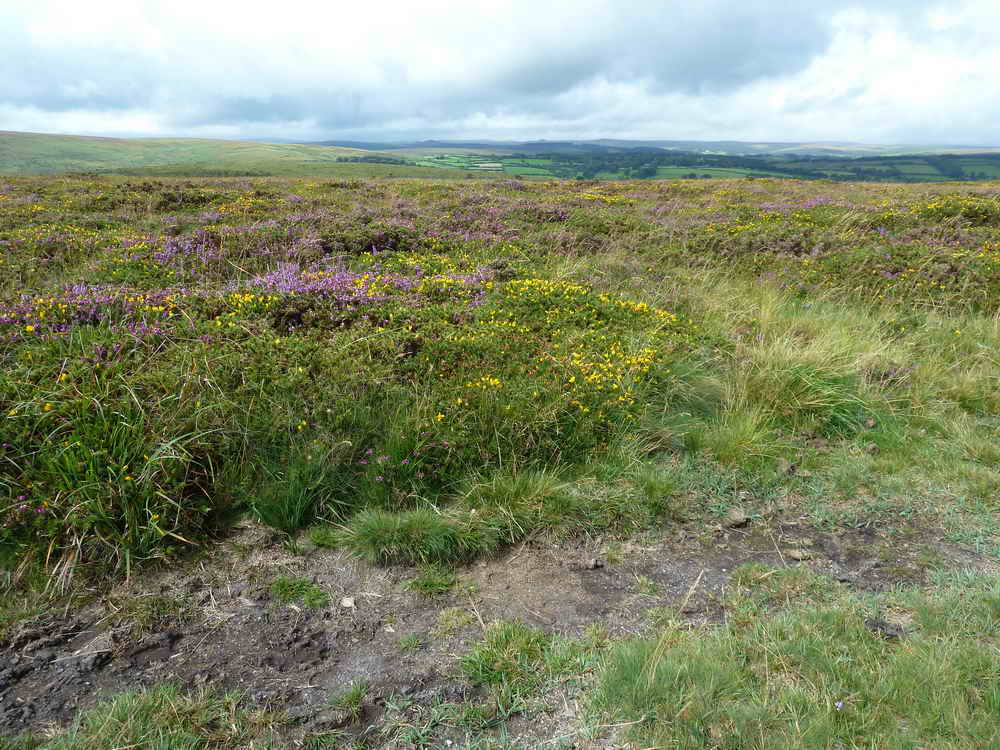 More purple & yellow.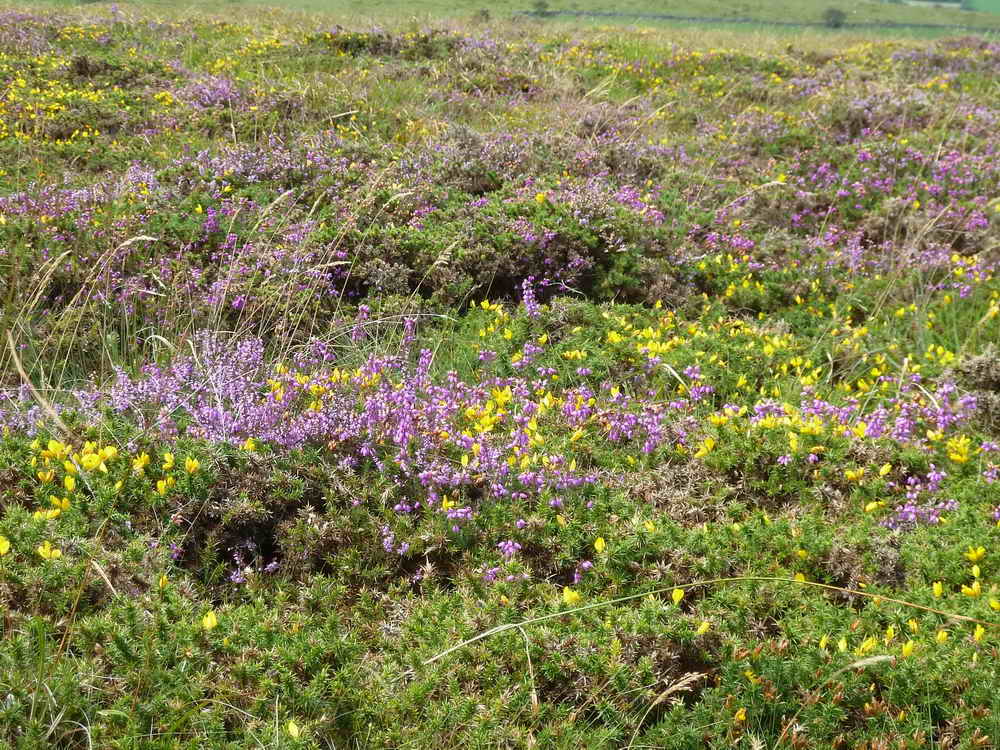 As previous photograph.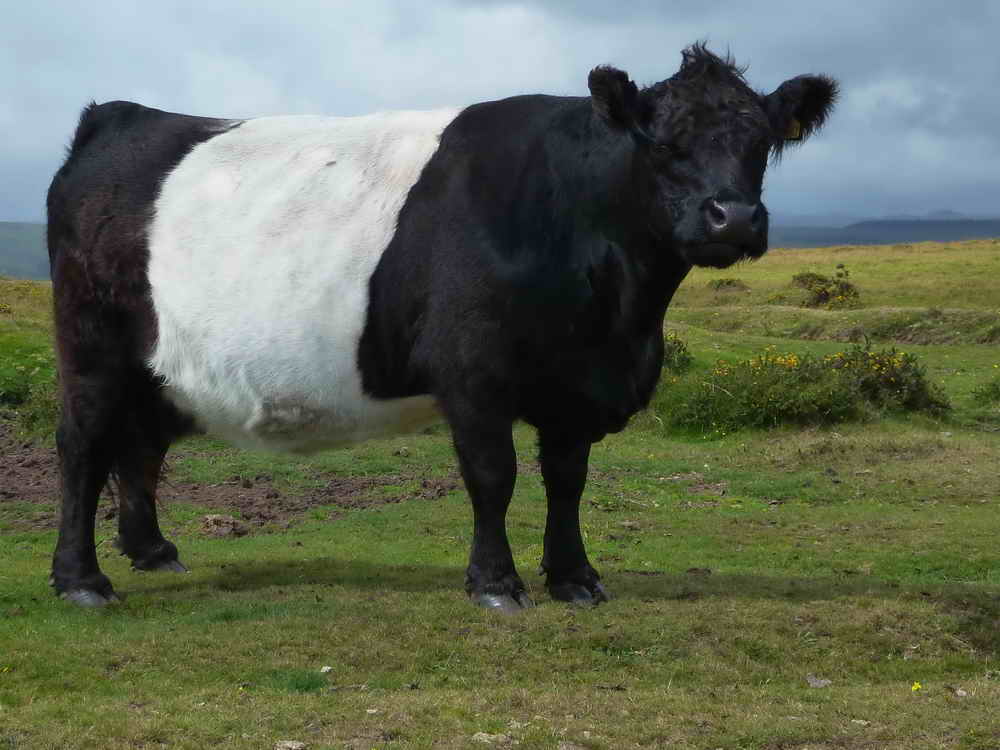 Black Belted Galloway cow.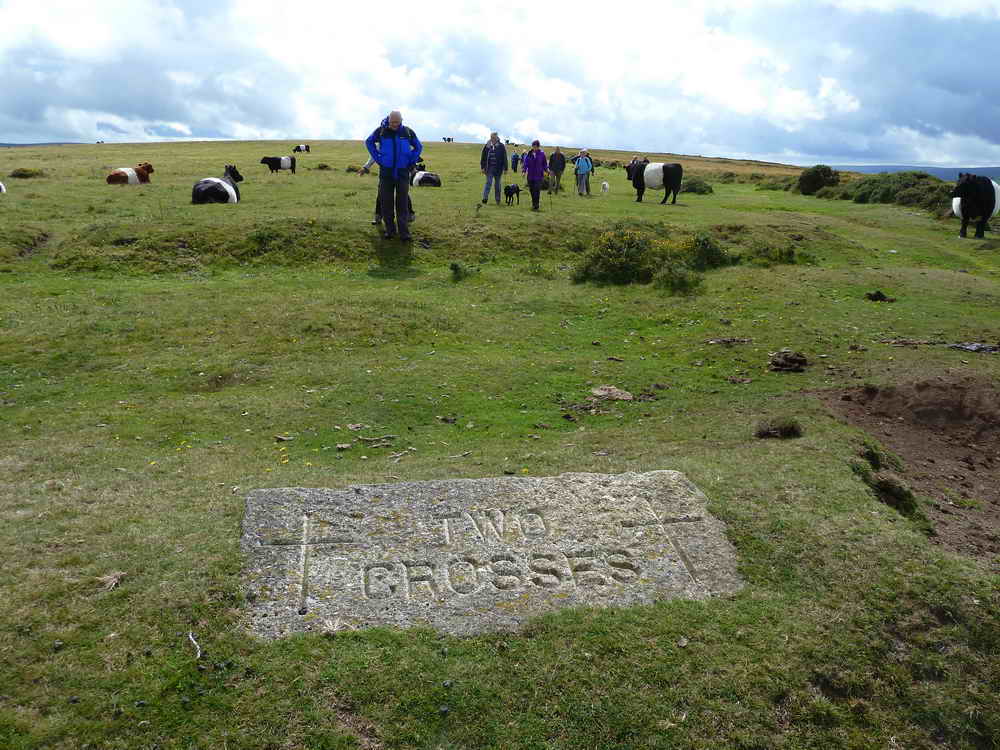 Approaching the Two Crosses stone, instigated by the Widecombe History Group, placed where the manors of Dunstone, Jordan, Blackslade & Widecombe border each other. The stone is a donated gatepost and was inscribed by the Dartmoor National Park Authority's stonemason, Andy Cribbet. Originally, the Lord of the Manor of Dunstone had planned to erect either two crosses or a cross with four arms, but he died before it was done. For a long time afterwards, two crosses were cut in the turf each year.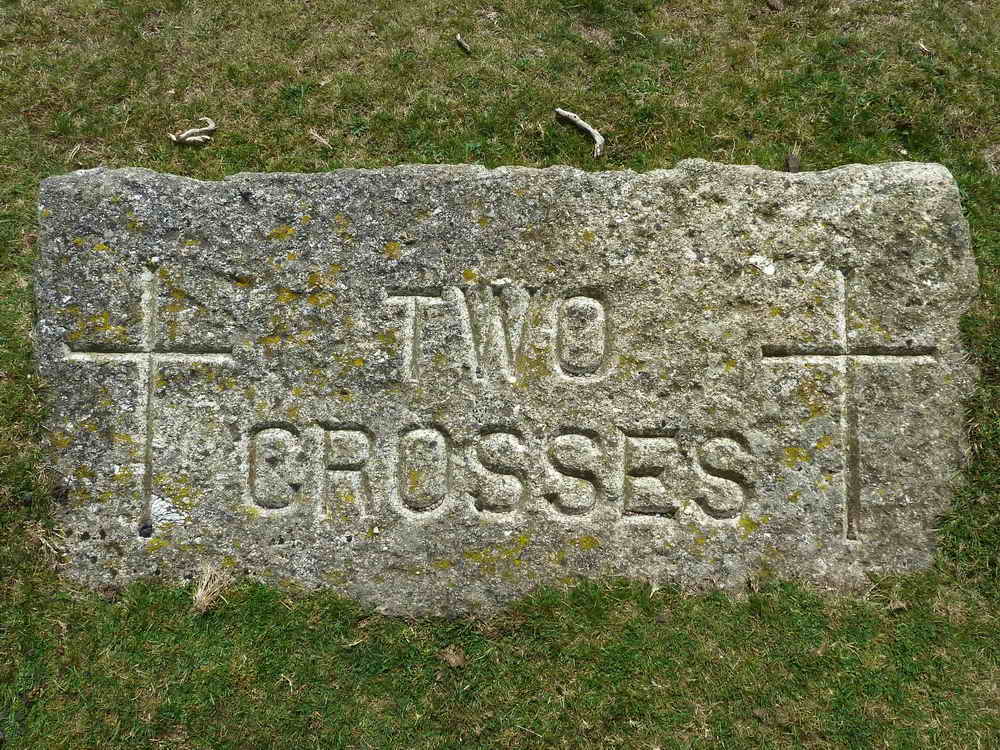 An iron gate hanger can be seen at the rear edge (near the right-hand end), showing the stone was formerly a gate post.
MAP: Red = GPS satellite track of the walk.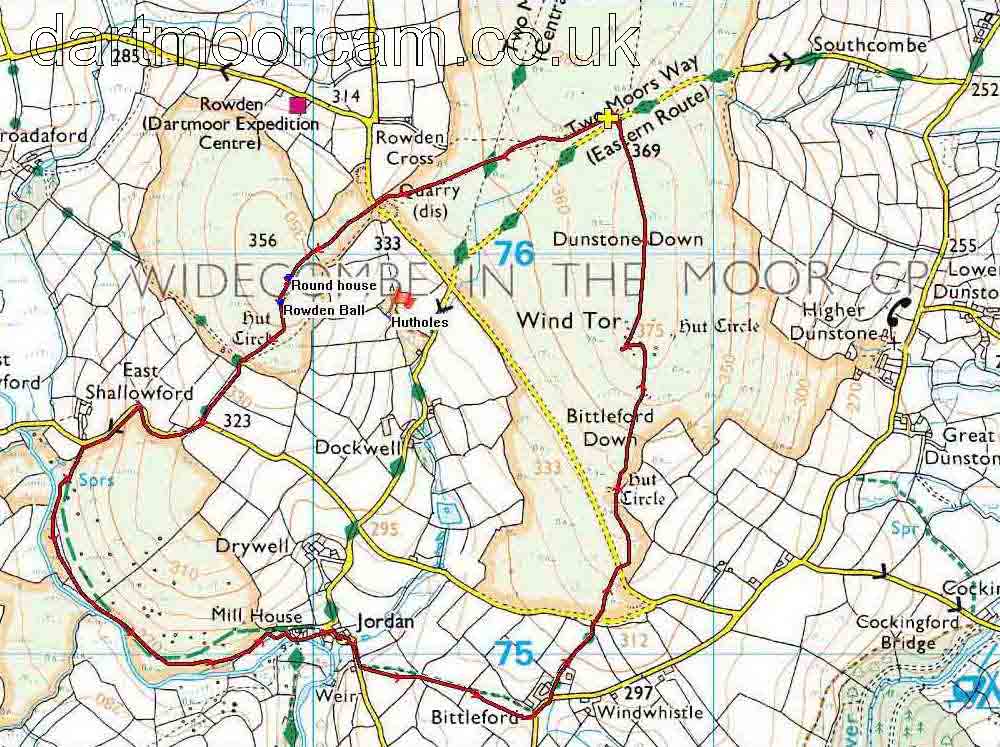 Ordnance Survey © Crown copyright 2005. All rights reserved. Licence number 100047373.
Also, Copyright © 2005, Memory-Map Europe, with permission.
This walk was reached by driving to Widecombe-in-the-Moor. About 200 metres south-west of the village, take the road heading west, through Southcombe to the summit of Dunstone Down to the small car park on the north (right) side of the road, marked by the yellow cross on the map.
Statistics
Distance - 5.38 km / 3.34 miles

All photographs on this web site are copyright ©2007-2016 Keith Ryan.
All rights reserved - please email for permissions