This walk: 2008-5-22. A leaden sky for this visit to Hound Tor, cairn circle and cist (kistvaen), bluebells, Medieval settlement, Greator Rocks, Holwell Lawn, waterfalls, elusive boundary stone.
This walk relates to earlier walks where we were looking for, among other things, boundary stones including one that was not seen previously ..... (it was not located this time, either).
Walk details below - Information about the route etc.
View of Hound Tor approaching from the car park
A view of an incomplete cairn circle with a cist in the centre, at SX 74106 78771 ± 4 meters (GPS 'fix').
As previous photo.
View of the cist and circle with Hound Tor in the background.
Greator Rocks (at SX 747 786), with Haytor Rocks at far right. Note the blue tinge of the bluebells.
Bluebells, Hyacinthoides non-scripta.
Another photo taken for the blue tinge of the bluebells - if only the sun was shining!
Closer view of Greator Rocks.
Medieval Settlement, at SX 746 787.
Medieval Settlement.
Medieval Settlement, with bluebells!
As previous photo.
An area of bluebells.
More bluebells.
Stitchwort (Greater, Lesser has much narrower petals)
Close-up of a head of bluebells.
Bluebells and the white flower .....
Down in the woods, searching for the elusive boundary stone. We searched a fairly wide area on the east side of the stream but eventually gave up on this last stone!
Looking down on Becka Brook running through the woods.
Another view.
A narrow waterfall.
A wide waterfall.
Clapper bridge over the stream.
Bluebells beside the path between the stream and Hound Tor.
Looking back at Greator Rocks.
Hound Tor in a rare moment of sunshine on this walk, taken from the car park.
MAP: Blue = planned route, Red = GPS satellite track of the actual walk.
The blue lines are the compass or GPS bearings. The red line is the route actually walked: it deviates sometimes from the blue lines to avoid obstacles such as thick bracken, gorse, bogs or clitter, and often to use paths or animal tracks that are not on the map.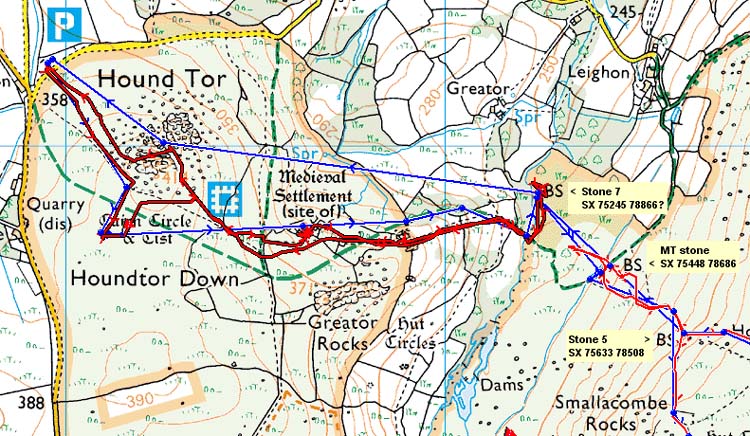 Reproduced from Dartmoor OS Explorer map 1:25 000 scale by permission of Ordnance Survey
on behalf of The Controller of Her Majesty's Stationery Office.
© Crown copyright. All rights reserved. Licence number 100047373.
Also, Copyright © 2005, Memory-Map Europe, with permission
Hound Tor was reached from Plymouth via the A38, Drum Bridges (i.e. Trago) turn-off, then the via the A382 to Bovey Tracey, following the sign to Haytor (at the second roundabout) along the B3387, passing the Tourist centre (and toilets/car park) below Haytor itself, turning off at Harefoot Cross, to the large car park at SX 73955 79221, marked as the P symbol on the map.
Statistics
Distance - 4.2 km / 2.6 miles.
Start 12.45 pm, Finish 3.25 pm, Duration 2 hr 40 min.
Moving average 3.1 kph / 1.9 mph; Overall average 1.5 kph / 0.9 mph.
All photographs on this web site are copyright ©2007-2016 Keith Ryan.
All rights reserved - please email for permissions
Sister web sites
Dartmoor Tick Watch
The Cornish Pasty - The Compleat Pastypaedia